Happy Friday, my friends! I'm back today with Part Two of this month's quick(ish) book reviews. This round-up includes a fairly random mix of titles. I enjoyed all six and truly loved a couple of them. Let's get to the reviews!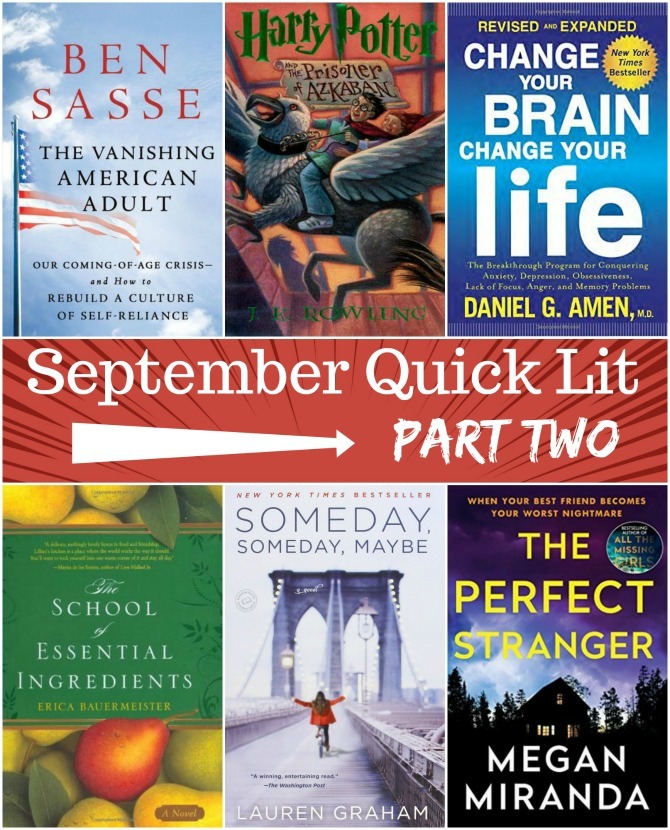 Change Your Brain, Change Your Life, by Daniel G. Amen: I followed up The Organized Mind (reviewed on Monday) with yet another book on brain science (I told you I was fascinated by the topic!). Dr. Amen came across my radar through a Shawn Stevenson podcast, and I was intrigued by his incredibly scientific approach to brain health. Daniel Amen is a neuropsychiatrist who uses SPECT studies (a type of brain scan) to identify over- and under-active portions of his patients' brains, allowing him to diagnose and treat neurological disorders.
In the book, Dr. Amen identifies the five sections of the brain and explains the function of each, as well as typical issues associated with each system. For example, problems within the deep limbic system lead to depression; anxiety is related to overactivity in the basal ganglia system; worry and obsessiveness are a result of malfunctions within the cingulate system; underactivity in the prefrontal cortex causes poor impulse control; and memory and mood disorders can result from problems in the temporal lobe. Chapters dedicated to each of these systems explain how to identify problems (without an actual brain scan) and then treat them through behavioral changes, diet modifications, and medicine. Dr. Amen also explains how to utilize this information in relationships, and he delves into how brain problems relate to violence and addiction.
The information in this book is incredibly interesting—I was amazed to learn how different issues can actually be identified by looking at a person's brain scan—and also highly applicable. I found Dr. Amen's suggested prescriptions to be an excellent balance between pharmaceutical and non-drug treatments, and I came away with lots of great ideas for healing some of my own brain problems. (His chapter describing problems in the cingulate system was especially helpful.) Many of these strategies weren't new to me, but I was intrigued to learn the science behind why they work and how they target specific parts of the brain. It really did help me to visualize these ideas and understand the intersection between biology and emotions.
While I loved the big ideas presented in Change Your Brain, I didn't love the proliferation of specific case studies. They are throughout the book and while some were interesting, they detracted from the key points being made. I would love to have a Cliff Notes (studies-free) version of this book to have on hand for personal reference.
My Rating: 4 stars.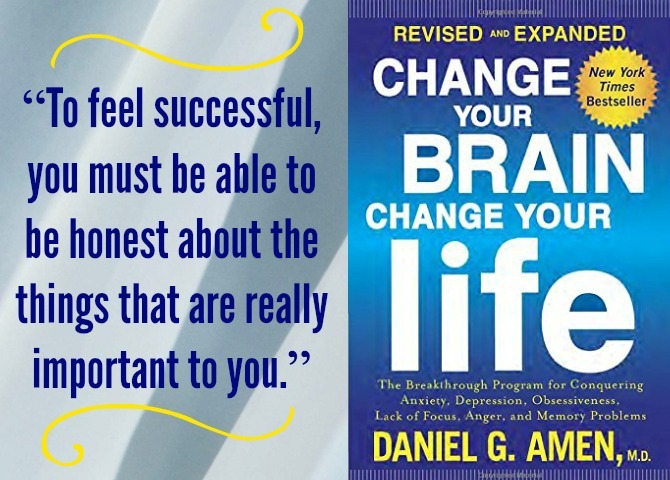 ---
The School of Essential Ingredients by Erica Bauermeister: Food is a powerful force: it nourishes our bodies, of course, but it can also provide comfort and healing for our souls. This is the premise behind The School of Essential Ingredients, a quiet story about eight students who attend a monthly cooking class, and the ways in which the class—and the foods they learn to cook—brings restoration to each of their lives. The class list includes a young mom struggling to reclaim the threads of an identity lost to motherhood; an aging couple whose marriage is not what it could be; and others who have lost love or never quite found it.
This is a sweet book, bordering on sappy at times but still very tender and poignant. I enjoyed seeing how this disparate collection of individuals, of varying ages and backgrounds, was able to gather around a common table and each discover pieces of themselves through each other and through the experience of cooking and eating food. There's a touch of magical realism in this book, which doesn't always work for me, but in this instance it serves the story rather than overpowering it. Like Anything Is Possible (another recent win for me), this book is remarkable not for the specific stories themselves but for the way in which the stories reflect pieces of our own lives in beautiful and insightful ways.
My Rating: 4 stars.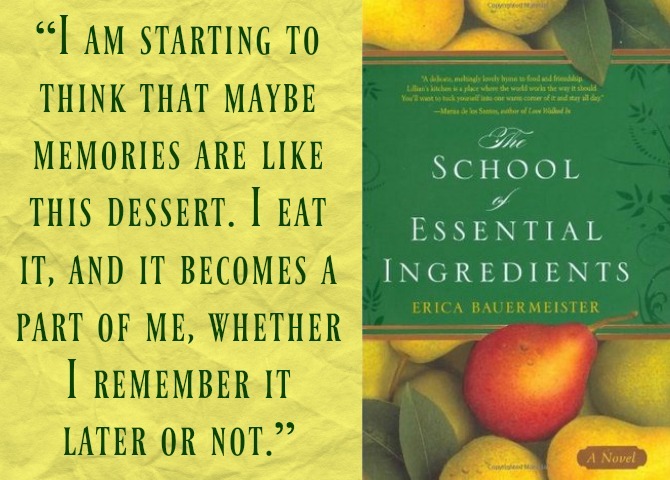 ---
Someday, Someday, Maybe, by Lauren Graham: The year is 1995, the setting is New York City, and Franny Banks is one of countless aspiring actresses trying to make it big before it's too late. After countless auditions and rigorous acting classes, she has nothing but a bit part in a sweater commercial to add to her résumé. With six months left on the three-year deadline she set for herself when moving to the city, Franny is close to giving up on her dreams; but with her next big break potentially just ahead, she is still holding onto the hope that someday, the world just might recognize the talent that she herself has begun to doubt.
This is a breezy but fun read that reminded me a lot of La La Land (in a good way). Franny is a delightful protagonist: witty and relatably awkward, she is exactly the character I would expect from the creative mind of Lauren Graham. The story is fairly predictable, but I loved the humorous 90s references and insights into the world of showbiz (which I assume are pretty accurate given the author's background). Lauren Graham's reading of the audiobook is predictably wonderful. I would love to see a sequel!
My Rating; 4 stars.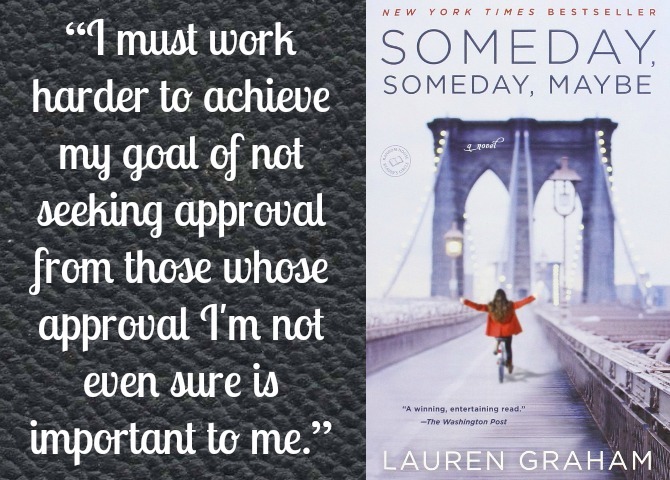 ---
The Perfect Stranger, by Megan Miranda: Leah Stevens was a successful Boston journalist when a few poor choices forced her to leave both her town and her career. Her ticket out of town appears in the form of Emmy Grey, an old friend who invites Leah to move to rural Pennsylvania where they can both get a fresh start. But the situation sours when a woman bearing a striking resemblance to Leah is attacked. Then Emmy goes missing, and as Leah works with the police to find her missing room mate, she begins to question whether the woman she knew as Emmy ever existed.
This novel's eerie atmosphere and dark, haunting mood immediately lured me in, and while I spent the entire novel questioning what was happening and who I could trust, I simply could not stop reading. The story revolves around a compelling and morally ambiguous theme of truth: does it even exist? If so, how do we know what it is? And if the truth (as we believe it exists) is hidden, what sacrifices are we willing to make in order for it to be revealed? I enjoyed exploring these ideas through Leah's narration, which conveys the meticulousness of a journalist but also the fear and uncertainty of a victim.
These evocative themes are woven into a story that required more than a few logical leaps for me to accept; even then, I wasn't completely satisfied with the conclusion. However, I still loved the totally twisty novel that kept me up way too late reading, but was completely worth it.
My Rating: 4.5 stars.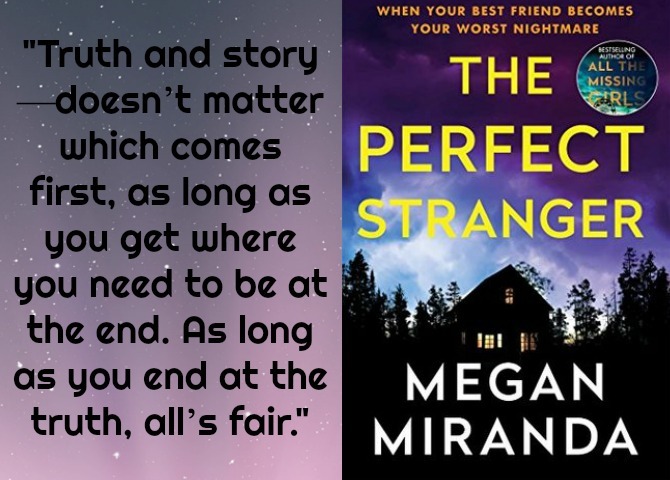 ---
Harry Potter and the Prisoner of Azkaban, by J. K. Rowling: I've read all of the Harry Potter books a handful of times, and most recently returned to the series in order to follow along with the Harry Potter and the Sacred Text podcast. I was so excited to dive into Prisoner of Azkaban, as it's always been my favorite of all seven books: though the first two books are great, it's in Book 3 that the series really hits its stride. The plots become more complex, and we begin to get a glimpse into the broader wizarding world beyond Harry's own life.
I especially love this book for the introduction of Remus Lupin and Sirius Black, two of my favorite Potter characters. The entire time-turner storyline is also pretty amazing/mind-blowing, and that climactic time-turning scene is arguably one of the best of the whole series.
My rereadings of these books has been greatly enhanced by the weekly discussions on the podcast. However, I really don't like reading just one chapter per week. Even being familiar with the text, I find myself forgetting plot points from week to week. I am contemplating waiting on reading Book 4 so that I can read it all at once and then binge-listen to the podcast coverage of the book.
Podcast aside, Prisoner of Azkaban fully lived up to my previous impressions of it and once again has me in awe of J.K. Rowling's ingenuity and literary prowess.
My Rating: 5 stars.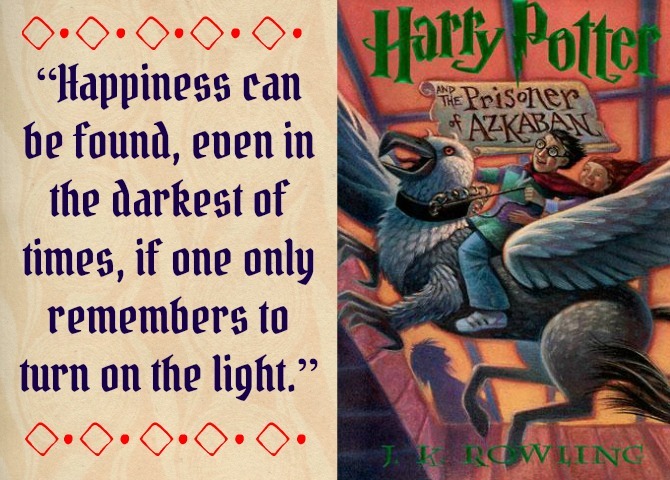 ---
The Vanishing American Adult, by Ben Sasse: I suspect that bemoaning the sorry state of "kids these days" is a pastime as old as mankind. I have to admit, though, that even as a millennial myself, I can see that our culture is facing a failure-to-launch epidemic of unprecedented proportions. In The Vanishing American Adult, Republican United States Senator Ben Sasse describes this phenomenon, outlining the cultural and societal shifts that have resulted in this coming-of-age crisis and making a case for why it is, indeed, a problem.
In the second half of the book, Sasse goes beyond describing this problem to provide practical strategies for solving it. From squelching unnecessary consumption and encouraging meaningful work, to exposing young people to quality literature (I loved his annotated list of suggestions) and eye-opening travel experiences, Sasse's strategies are practical and attainable for most parents. It was helpful to see the ways in which Sasse and his wife are implementing these tactics with their own kids, to great effect.
While I agreed with nearly all of Sasse's (extremely conservative) observations and suggestions, I found the tone of the book to be unnecessarily harsh and also blind to some of the improvements our culture has seen in recent generations. I agree that today's kids could do with some good ole fashioned parenting, but feel as though Sasse could benefit from a touch of the nuance and open-mindedness that he seems to find so disdainful.
My Rating: 4 stars.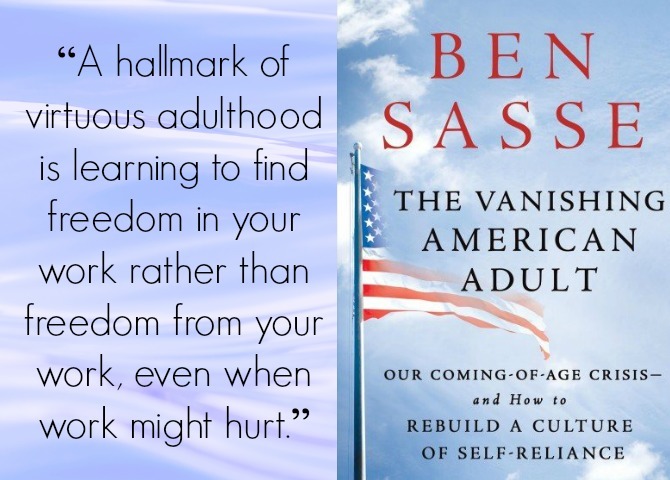 ---
Have you read any of these books? What did you think?
If you're stopping by from the Modern Mrs. Darcy link-up, I'm so glad that you're here! Please be sure to head to Monday's post to read the rest of my September book reviews.