By now, you've probably grown tired of hearing about my love affair with the month of December. Most of that affection stems from my enthusiasm for all-things-Christmas. But there's another reason for my giddiness this time of year: it's Best Of season! As we inch closer to the end of the calendar year, people and publications everywhere are taking stock of what what worked for them in 2017 and spilling about the highlights, the favorites, and the Best of the BEST. You'd better believe I'll be chiming in, too, starting with today's post!
+ + + + + + + + +
Few things in life give me as much satisfaction as diving into a great book, and for me, the act of recording and analyzing what I've read makes the reading experience so much sweeter! I use various methods to track my reading throughout the year; that part alone is fun for me, but my biggest reward comes in December when I get to step back and evaluate a year's worth of reading.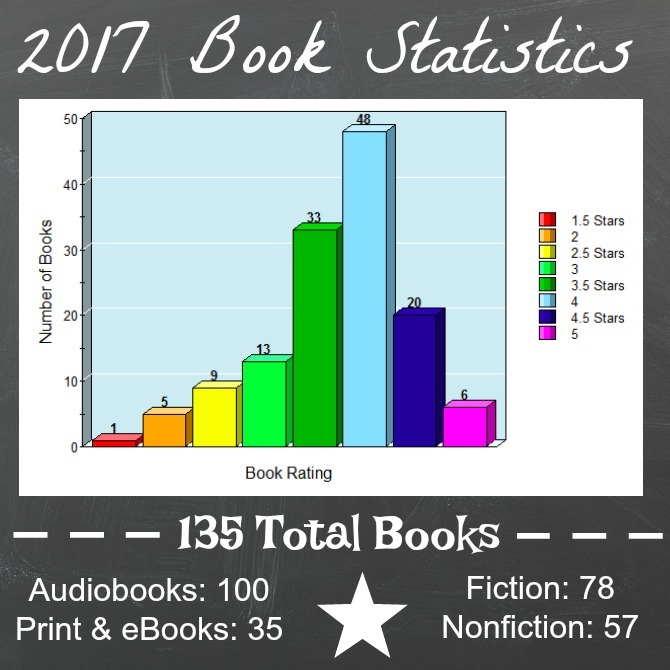 To no one's surprise, 2017 was a big reading year for me—in fact, it was my biggest yet: I read or listened to 135 books this year, which is the most books I've read in a single year since I started keeping track in 2013.* (Curious about how I'm able to get through so many books? Check out this post.) Overall, I really enjoyed the books that I read. As you can see in the figure above, a vast majority of my books ranked 3 stars or higher, and I tend to be a pretty tough critic, so that's really saying something.
Though I did enjoy this year's books, I feel like I sacrificed quality reading experiences for the sake of getting through as many books as possible. The main culprit is audiobooks. I generally prefer to read books rather than listen to them, for a few reasons:
1) I like the actual act of looking at the words I'm reading (and being able to highlight/take notes) as I read.
2) I appreciate—and therefore enjoy, and rate more highly—books I read myself more than books that are read to me.
3) Books I read with my eyes tend to stick with me the longest. It frustrates me that I don't remember the plots of many of the books I listened to just a few months ago.
You can't beat the convenience of audiobooks, though, which explains why three-quarters of this year's books were consumed in audio form. A goal for next year is to listen to a smaller percentage of overall my books, even if that means making significant cuts to my overall book count.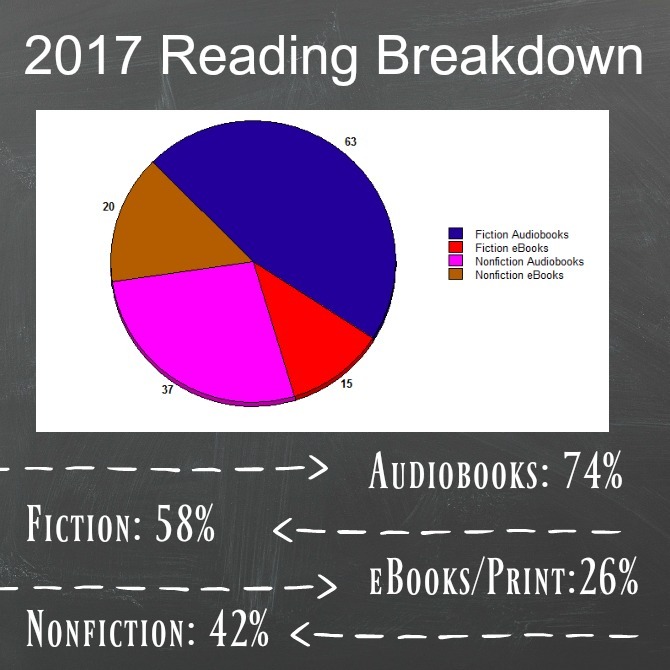 Moving past regrets, let's look at the positive. I had a blast with my Reading Challenge, which stretched me far outside my reading comfort zone. (I recapped the experience on Monday, in case you missed it.) And I'm happy with my fiction/nonfiction balance for the year. In my younger years, I had to force myself to read nonfiction, and now I enjoy nonfiction as much—if not more than—novels. Interestingly, I read more fiction than nonfiction this year, but had more nonfiction favorites.
And speaking of favorites, I had SUCH a hard time limiting this favorites list to the titles you'll see here. I made my job slightly easier by omitting rereads, which is why The Shack, Prisoner of Azkaban, and Anne of Green Gables don't appear on this list, even though they were among the best books I read in 2017.
The 21 books I've listed below rose to the top this year. There are quite a few similarities, as I clearly have my genre preferences. Most of the novels have a mystery element, and there are a LOT of Christian self-help books on the nonfiction list. Despite the similarities, each title stands out. All left a deep impression on me, and I would recommend each and every one!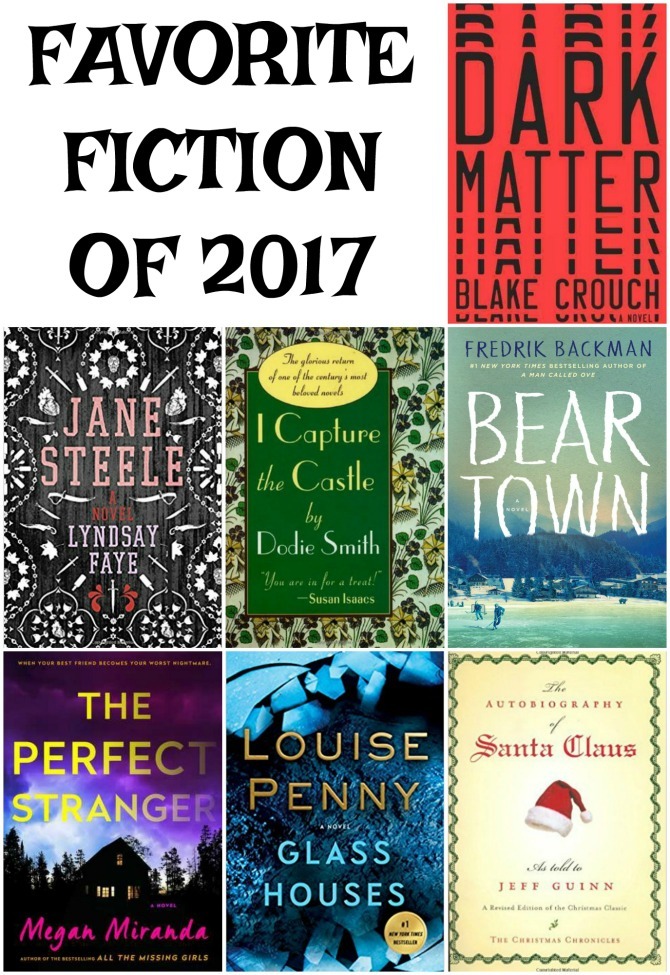 Dark Matter, by Blake Crouch: Part Family Man, part Bourne Identity, this is a rare fast-paced thriller in which introspection and story are not overshadowed by action. This qualifies as science fiction, which is not a genre I usually read, but the science/fantasy elements are more thought-provoking than technical. Romance, intrigue, science: this is the rare novel that offers a little something for everyone. (Read my full review here.)
Jane Steele, by Lyndsay Faye: This satirical twist on Jane Eyre is every bit as captivating as the original. I adored the saucy, self-aware protagonist and enjoyed the game of spotting similarities to the source material, then being surprised in the places where the story took on a life of its own. (Original Review)
I Capture the Castle, by Dodie Smith: This was my book written during the 1940s for my 2017 Reading Challenge. Whimsical and funny, beautifully written and brimming with unforgettable characters—my only regret is that I didn't read this classic sooner. (Original Review)
Beartown, by Fredrik Backman: This book about a remote Swedish hockey town was not at all what I expected from the author of A Man Called Ove. The story is riddled with tragedy and moral ambiguity, but it is just SO good. I found myself recommending this novel again and again this year. (Original Review)
The Perfect Stranger, by Megan Miranda: This is the chilling story of a former journalist who flees life in the city, only to have her past catch up with her. Haunting atmosphere, eerie characters, Hitchcock-level suspense—if you find yourself in a reading slump, pick up this book ASAP. (Original Review)
Glass Houses, by Louise Penny: Louise Penny's Three Pines series is a guilty pleasure of mine, and this latest book in the series might be my favorite. As with all her books, Penny joins the coziness of a village mystery with the intrigue of a detective thriller, while simultaneously exploring intricate ethical questions and psychological complexities. If you're new to the series, I would start with the first book, but know that this will be a fun addition to look forward to. (Original Review)
The Autobiography of Santa Claus, by Jeff Guinn: This was the last book I read for my Reading Challenge, and it made for a fun and surprisingly educational seasonal read. I look forward to reading this aloud to Charleston when he is older. (Original Review)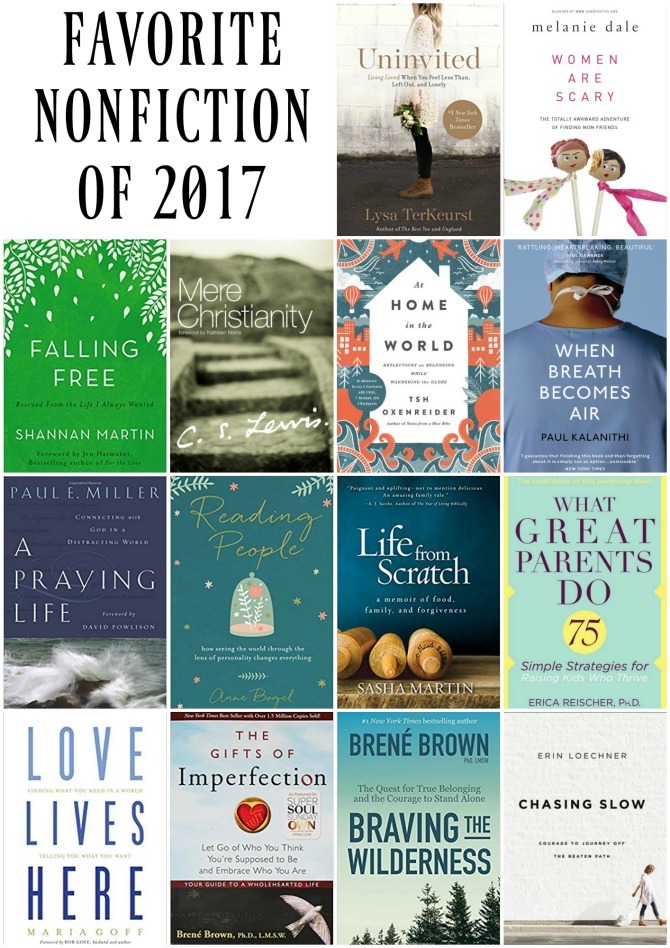 Uninvited: Living Loved When You Feel Less Than, Left Out, and Lonely, by Lysa TerKeurst: Great encouragement on a pertinent subject from one of my favorite Christian authors. This book came to me at just the right time. (Original Review)
Women Are Scary: The Totally Awkward Adventure of Finding Mom Friends, by Melanie Dale: I know I'm not the only woman who struggles to make friends; Melanie Dale addresses this awkward problem with humor and some very practical suggestions. I came away feeling empowered to make a few friends of my own. (Original Review)
Falling Free: Rescued From the Life I've Always Wanted, by Shannan Martin: This book challenged me to take a hard look at what it means to follow Jesus and to put my money where my mouth is when it comes to loving others. Shannan Martin's writing is outstanding, and her life is a beautiful example of faith in action. (Original Review)
Mere Christianity, by C.S. Lewis: I had never read this classic before this year! There's nothing I can say about Lewis that hasn't already been said. If you are a follower of Jesus and you haven't read this book, you need to. (Original Review)
At Home in The World: Reflections On Belonging While Wandering the Globe, by Tsh Oxenreider: This is the story of one woman's mid-life spiritual journey and search for self, masquerading as a travel memoir. Tsh is one of my favorite voices in the blogging and podcast communities, and I enjoyed this behind-the-scenes glimpse at her life during one very significant year. (Original Review)
When Breath Becomes Air, by Paul Kalanithi: Who knew that a book about death could be so hopeful and inspiring? This is heart-wrenching and beautiful. (Original Review)
A Praying Life: Connecting With God in A Distracting World, by Paul E. Miller: Prayer has always been an important part of my life. This book taught me some new ways to connect with God, and showed me why it's so crucial. I read this with a group from church and it was a powerful read for every one of us. (Original Review)
Reading People: How Seeing the World through the Lens of Personality Changes Everything, by Anne Bogel: I had the privilege of being part of the launch team for this book; it was a fun experience and a fantastic book about my favorite subject—personality frameworks. I spend a lot of time with this topic, and still learned a ton from Anne. A great refresher for personality junkies, or starting point for those wanting to learn more about the topic and about themselves. (Original Review)
Life From Scratch: A Memoir of Food, Family, and Forgiveness, by Sasha Martin: I had no idea that the author of one of my favorite food blogs had such a tragic past. This is a wonderful story of pain and redemption—with lots of recipes! (Original Review)
What Great Parents Do: 75 Simple Strategies for Raising Kids Who Thrive, by Erica Reischer: With its easy-to-read format and straightforward advice, this is one of the best parenting books I've ever read. It's supportive rather than prescriptive, and the strategies actually work! (Original Review)
Love Lives Here: Finding What You Need In a World Telling You What You Want, by Maria Goff: Profound insights from life's quiet moments. Very different from Bob Goff's book, but Maria is just as good at storytelling as her husband. (Original Review)
The Gifts of Imperfection: Let Go Of What You Think You're Supposed to Be and Embrace Who You Are, by Brené Brown: I knew that this book would hit close to home; I didn't realize quite how much. This book isn't as polished as Brown's other books, but it's still a must-read and a great starting point if you are new to her work. (Original Review)
Bonus Pick: Braving the Wilderness: The Quest for True Belonging and the Courage to Stand Alone, by Brené Brown: I almost didn't include this book in the list (because 20 favorites was a much rounder number, and it didn't seem fair to include two books by the same author) but it has such a relevant and important message, and struck such a chord with me, that I couldn't bear to leave it out. Once again, Brené Brown exposed some problematic attitudes I didn't even know I was dealing with—thankfully, she offers a solution. (Original Review)
Chasing Slow: Courage to Journey Off the Beaten Path, by Erin Loechner: This was the last book I read this year, and it was one of the best. Fantastic writing that reads like poetry, with a subject that I definitely needed to read about this time of year. (Full review still to come!)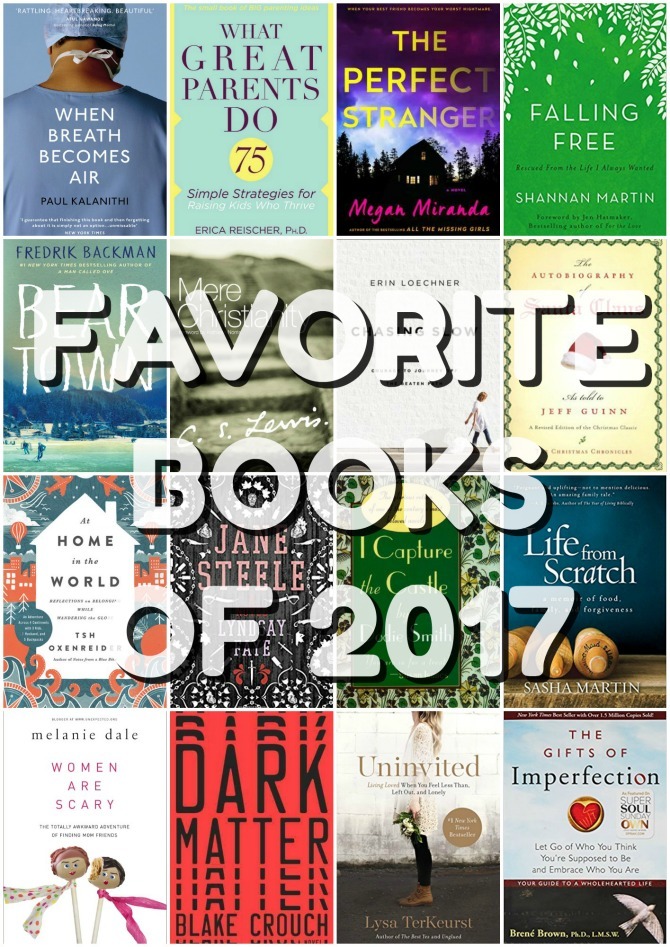 ---
What did your reading life look like this year? Favorites, least favorites, total book count—I'd love to hear about it!
*If you're interested in checking out my favorite books from previous years, here are some handy links: 2013, 2014, 2015, and 2016.