We're closing out the week with reviews of six books that I thoroughly enjoyed. I hope you will, too!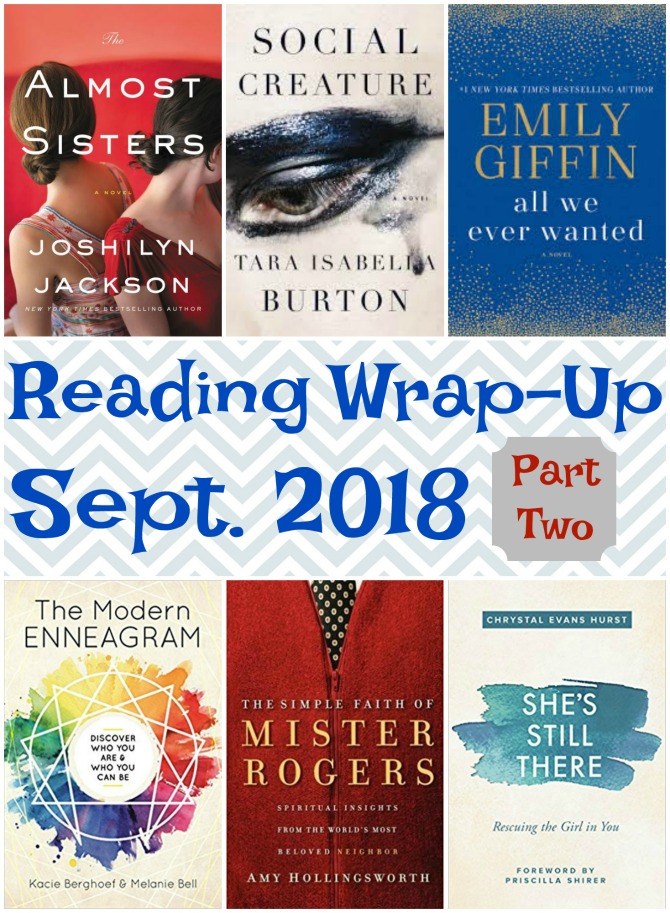 The Modern Enneagram: Discover Who You Are and Who You Can Be, by Kacie Berghoef and Melanie Bell: My thirst for more knowledge about the Enneagram is insatiable; thankfully there are plenty of books to help satisfy my appetite. Amazingly, each of the many Enneagram books I've read has offered a unique perspective on the model and given me new insights to ponder; this book was no exception!
Unlike most other Enneagram books, The Modern Enneagram focuses less on helping you determine your type and more on taking action once you know your number. While there are brief synopses of each of the nine types, the book takes more of a practical approach, beginning with an overview of the model and then offering hands-on, type-specific advice for applying Enneagram wisdom to the workplace, relationships, emotional management, and personal growth. I appreciated the specific strategies and detailed examples. My biggest takeaways related to the descriptions of the various triads (social styles, conflict resolution styles, and object relations triads), which were completely new to me and helped me understand the interplay between the various types and why some types can masquerade as others. The book delves more deeply into stress and security types and wings than other books I've read, which was also helpful information.
My one critique of the book was that it really needed more case studies. The book follows one individual (an Enneagram 7) throughout each chapter and we learn a lot about how her type shows up in the world; I would have liked in-depth looks at the other eight types as well.
Though this might not be the best book for an introduction to the Enneagram, it's probably the most actionable of all that I've read. Highly recommend for those who want to go deeper with the model.
My Rating: 4 stars.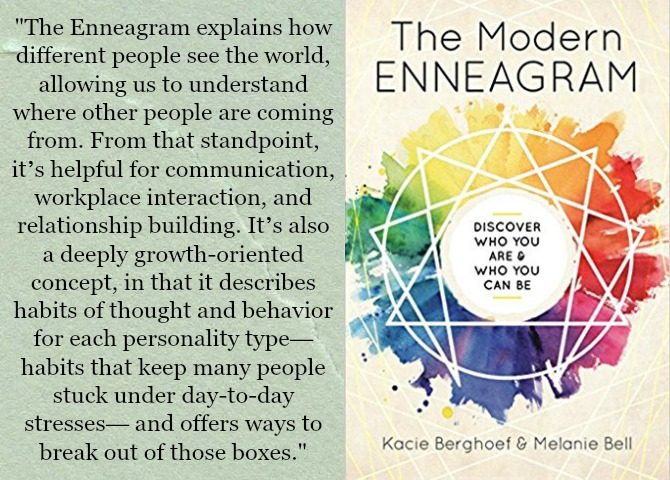 ---
Social Creature, by Tara Isabella Burton: The setting is present day New York, but the extravagant living and social climbing is reminiscent of Gatsby and the 1920s. Beneath the glitz and glamour, this is a dark and sinister novel. Louise is quiet and hardworking and is quickly attracted to the flamboyant Lavinia, with her party girl lifestyle and obsession with crafting an impeccable social media image. Lavinia adopts Louise as her pet friend, inviting Louise to live in her upscale apartment and introducing her to many influential circles. Louise quickly adjusts to the new lifestyle, and willingly allows herself to be manipulated by the narcissistic and vindictive Lavinia because she knows Lavinia is her ticket out of a rocky past. Lavinia doesn't have long to live, but their toxic relationship continues long after she's gone.
I found this book terrifying because so much of it seemed believable: from the passive/aggressive frenemies to the pandering on social media, the way that lines are blurred between reality and fantasy, the ease with which characters lie and steal and destroy to suit their own needs—Social Creature is warped and creepy, but the plot trajectory did not seem outside the realm of possibility. The obsession, the cattiness, and the insincerity are all issues I see online every day (and in real life more often than I'd like).
I haven't read The Talented Mr. Ripley, though this is the second book I've read this year that is said to be a spinoff of that classic. (The first was Genuine Fraud, which I liked more.) I found the story itself cringe-worthy but also quite compelling, despite feeling zero investment in the abhorrent characters. The writing style is vapid yet haunting and contributes to the dark and disillusioned tone. Definitely a creative commentary on today's social climate, even if parts were difficult to read.
My Rating: 3.5 stars.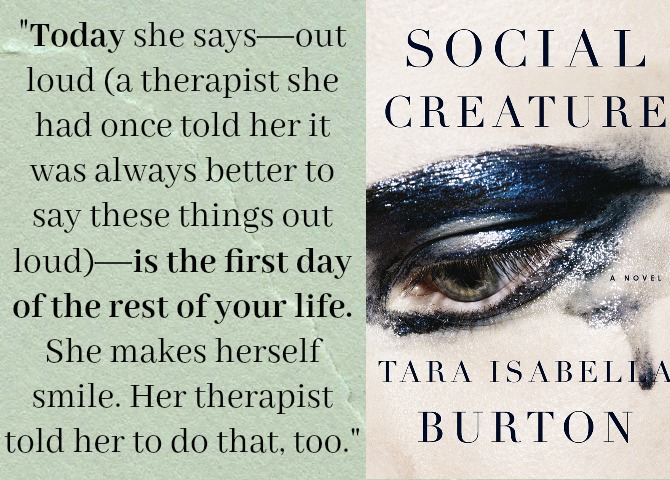 ---
All We Ever Wanted, by Emily Giffin: Nina Browning has a picture-perfect life. Raised in a small Southern town, Nina married into the Nashville elite, and more recently catapulted to society's uppermost echelons when her husband, Kirk, made a fortune selling his tech business. Nina's world comes crashing down around her when her son, Finch, shares a racy photo of an intoxicated girl, accompanied by a racially charged caption. Nina is furious, but when her husband shows ambivalence to the situation, demonstrating a "boys will be boys" attitude, Nina begins to question everything about her family and the image-focused society in which she has grown a bit too comfortable.
Meanwhile, Tom Volpe is a single dad doing his best to provide for his daughter Lyla—who happens to be the girl whose picture has gone viral at the prestigious prep school where she's a scholarship student. Tom is infuriated by the incident and doesn't understand when Lyla is quick to forgive Finch and simply wants to brush the whole situation under the rug.
The novel is told through the voices of Tom, Lyla, and Nina. The multi-person narration adds nuance to complex issues of wealth, privilege, entitlement, and the sexualization of women. There are lies and scandal and boatloads of drama from both the adolescents and their parents, but ultimately this is a story about family, loyalty, and the daunting task of pursuing integrity when the "right" path is far from obvious.
This book is INTENSE, which was not at all what I'd expected. I hadn't read any Emily Giffin but had relegated her to Chick Lit territory in my mind. This book reads like a Jodi Picoult novel (i.e., hot button topics galore) and reminded me quite a bit of Fredrik Backman's Beartown (though that book is much more literary). This novel challenged my views on some tough topics, and left me angry on many levels—at the characters' bad decisions, about the societal problems addressed in their story, and also at the author for some of her views. (Specifically, it bothered me that the female characters' bad decisions were dismissed as poor judgment, while the male characters were demonized and vilified, with their actions portrayed as expressions of insurmountably flawed characters. There are some notable exceptions, but the female victim aspect is prominent; this attitude is the accepted one in our culture today, and I hate seeing it furthered in fiction.) More than anything, the book left me feeling terrified about the issues involved with raising teens, and served as a cautionary tale about permissive parenting and poor parent/child communication.
While the characters and handling of certain issues drove me a bit nuts, this is compulsively readable and deeply thought-provoking novel. An automatic hit for fans of Liane Moriarty or Elin Hildebrand.
My Rating: 4 stars.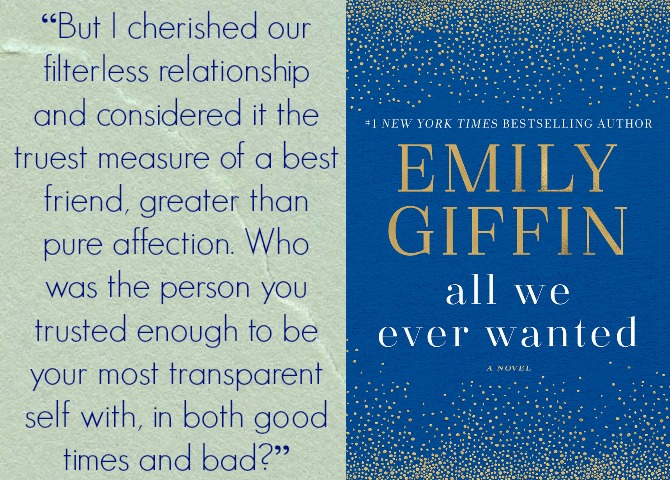 ---
The Simple Faith of Mister Rogers: Spiritual Insights From the World's Most Beloved Neighbor, by Amy Hollingsworth: Like so many of my generation, I grew up on Mister Rogers' Neighborhood; it was a a childhood favorite, and more recently I've enjoyed revisiting the show with Charleston. I have not seen the Mister Rogers documentary (though I sure do want to), but its recent popularity prompted me to pick up this book.
Many people have been surprised to learn that Fred Rogers was a Christian and an ordained minister; I was aware of this aspect of Mister Rogers, yet knew little about his personal faith practice prior to reading this book. In it, Amy Hollingsworth shares pieces of Fred Rogers' biography, as well as her own experiences with him over their years of friendship. I enjoyed getting a behind-the-scenes glimpse at this compassionate, gentle, insightful modern-day hero who appears to have been just as genuine and kind in real life as he was on television. (People who met him described him as "even more like Mister Rogers than Mister Rogers!") With all the terrible news coming out about so many men in Hollywood, it's reassuring to know that not all of our role models have let us down.
This brief book is divided into nine short chapters, each containing a specific lesson from Mister Rogers. We learn about the importance of forgiveness and of silence, the power of prayer, and the healthy ways that Mister Rogers managed his emotions and helped children to understand theirs. Mister Rogers was not outspoken about his religious beliefs, but he lived out his faith with intentionality and grace—this is seen in his thoughtful letters and interviews with Hollingsworth, and in the respectful ways he spoke with and about children (even when not on camera). One of my favorite aspects of Mister Rogers (which comes through in this book) was his ability to build a healthy self respect in children without defaulting to patronization or unfounded flattery. He believed in the intrinsic value of every child, but not in baseless efforts at bolstering self esteem; this is a hard line to walk and he did it well.
As amazing as Mister Rogers is, this book didn't quite meet my expectations. The author spends too much time reflecting on how Mister Rogers impacted her, with not enough examination of the man himself. Still, it's impossible not to love a book about the life of such a remarkable man. And beyond all the great spiritual insights, there were some fun and interesting factoids: "McFeely" was Fred Rogers' middle name (and his mother's maiden name); he swam every morning and didn't smoke, drink, or eat meat; his only television appearance as a fictional character was as a preacher on Dr. Quinn, Medicine Woman; and he was the recipient of FORTY honorary degrees!
My Rating: 4 Stars.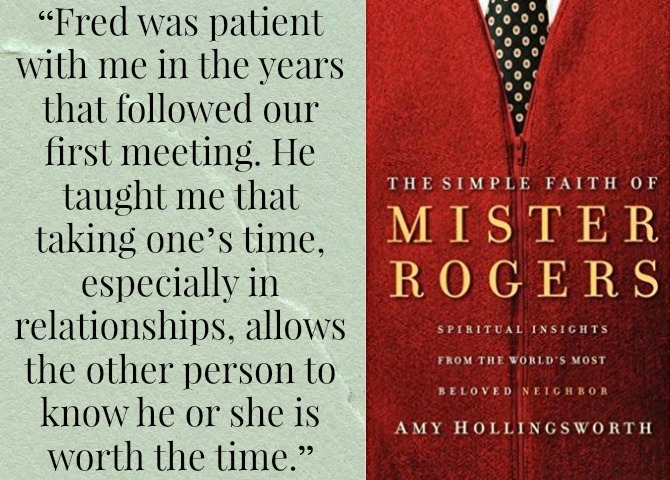 ---
She's Still There: Rescuing the Girl in You, by Chrystal Evans Hurst: I heard Chrystal Evans Hurst interviewed on a few podcasts when this book was released last year; I was already a big fan of her sister (Priscilla Shirer) and dad (Tony Evans), so I wasn't at all surprised to find Chrystal an inspiring and impressive teacher and speaker. I added her book to my TBR but hadn't gotten around to reading it until the women in my community group started doing the coordinating video study this summer. I enjoyed the study so much I wanted more, and decided to follow it up by reading the book on which it was based.
Though she was a pastor's kid and lifelong Christian, Chrystal's life got a little offtrack in her late teens. She went from being an unwed teen mother to a full-time homeschooling mom to a whole brood, and somewhere along the line she lost herself. Poor decisions, misplaced values, and a lack of intentionality had caused her to stray from her original path and lose sight of her hopes, dreams, and divine purpose. Eventually Chrystal began fighting to reclaim the girl inside, and having won her fight, she now helps other women do the same.
Chrystal uses inspiring stories from her own journey to encourage women as we fight for, examine, embrace, develop, encourage, and ultimately choose our own life paths. The book contains thirty chapters that each conclude with a key message, reflection questions, and scriptures for further deep-diving; the content is rich, so I enjoyed taking these chapters a day at a time as part of my daily devotions.
Chrystal is a superb writer with a "black preacher" writing style (is that a thing?) that I just loved—especially since I'd watched her video and listen to her podcast and could hear her voice talking to me as I read. It was refreshing to read a Christian living book that was both Biblically sound and well-written. And Chrystal's message really resonated with me, showing me where I have gotten off track in my life and where I want to recalibrate. Chrystal has a knack for making abstract concepts understandable and applicable, and her own story is a reminder that this deep inner and outer work she talks about is really possible. Her message is hard-hitting but also compassionate and encouraging.
In a way, this book reminded me of Girl, Wash Your Face: similar message (stop believing lies about ourself and get into action), but from a more Christ-centered perspective, and with a more empathetic coach.
My Rating: 4.5 stars.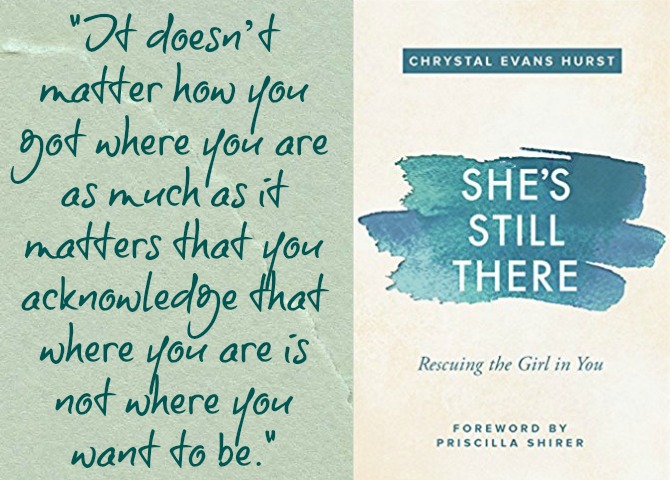 ---
The Almost Sisters, by Joshilyn Jackson: Rarely have I encountered such a fittingly titled book: the "almost sisters" applies on numerous levels—to our protagonist, a self-proclaimed dork and comic book author named Leia (yep, after that Leia) and her gorgeous, overbearing, practically-perfect step-sister, Rachel; to Leia's beloved grandmother Birchie and Birchie's lifelong best friend Wattie; and also to Leia's comic book superhero Violet and her alter-ego, Violence. The stories of these three pairs of feisty and quirky "sisters" are woven together to create a unique and timely novel about single motherhood, family loyalty, race relations, and forgiveness in the contemporary South.
The novel opens with 38-year-old Leia's discovery that she is with child, the father of whom is a handsome and anonymous "Batman" who recently swept Leia off her feet at a comic convention. Though she knows little about the man behind this one night stand, Leia is aware that the child she is carrying will be biracial. Before Leia can break the news of her impending motherhood to her conservative Southern family, Leia's step-sister Rachel's marriage implodes, placing Leia in the unprecedented position of the sister who "has her act together." Then, because life seems determined to send Leia a few more curveballs, she discovers that her ninety-year-old grandmother Birchie is slowly losing her mind, and when she travels to Birchie's Alabama home to help her get her affairs in order, they discover a shocking secret hiding in the family attic that, if discovered, could be the undoing of the family's future.
Though the synopsis is fairly complex, the story moves at a comfortable and meandering pace, fitting with its Southern setting. It is a lovely story with a bit of mystery, liberal doses of humor, and a lot of heart. I was unsure at first about the character of Leia, but I quickly warmed to her and enjoyed seeing her grow into her motherhood, mature in her relationship with her sister, and slowly shift into the caregiver role for her grandmother. The book grapples with some challenging moral issues, but these are handled with compassion and delicacy. I particularly appreciated the nuanced views of racial identity and family dynamics (with "family" having very broad applications).
The novel has a witty, cleverly introspective narrative voice that I loved; the audiobook is wonderfully read by the author, a rarity in fiction. I would love to see a sequel!
My Rating: 4 stars.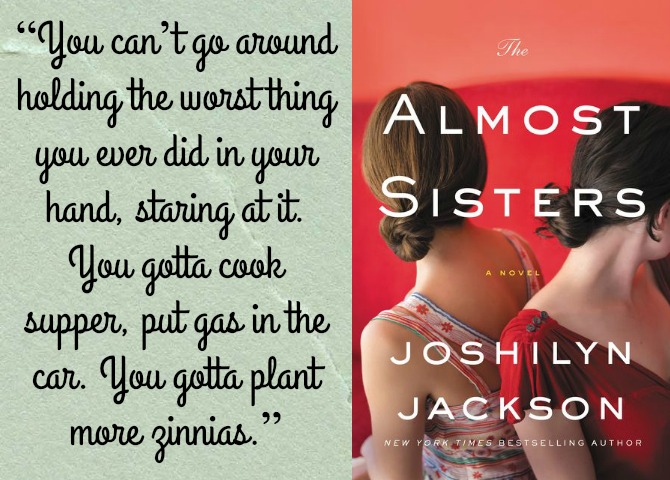 ---
I'm linking with Modern Mrs. Darcy, where readers from around the internet gather each month to share the books we've been reading. If you're here from the linkup, thanks for stopping by! You can head here to check out Part One of this month's book reviews.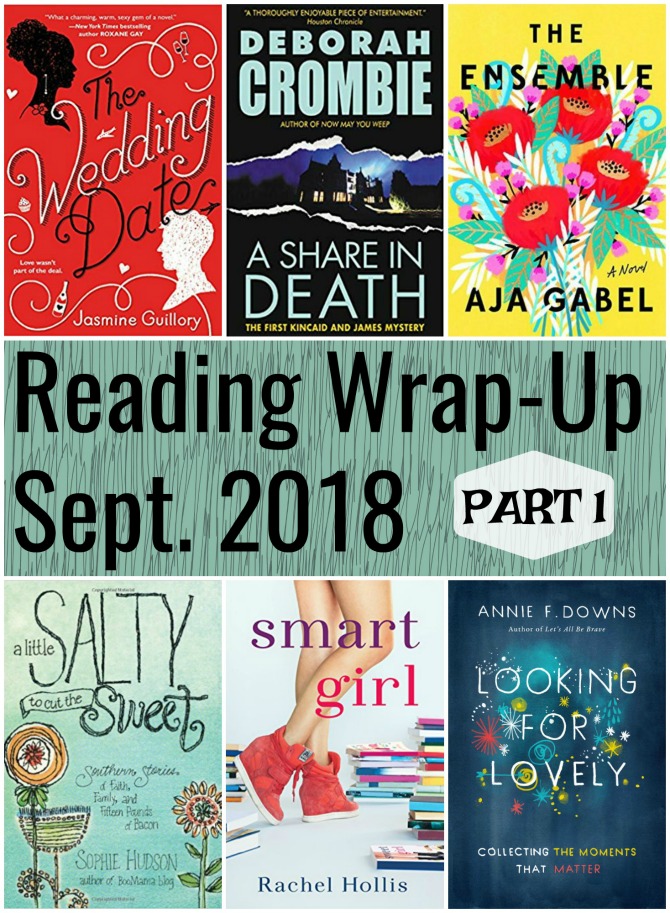 What's the best book you've read in the last month? Or the worst? I'd love to hear about them!