These past few weeks have been rough ones in our household: Charlie started teething and has been fussy a majority of the time. Two things that soothe/distract him are nursing and long walks, both of which provide me with ample "reading" time (on my Kindle when he's eating, and via audiobooks when we're out walking). Here's a look at the books I've read this past moth. They conveniently fall into three distinct categories—I love when that happens!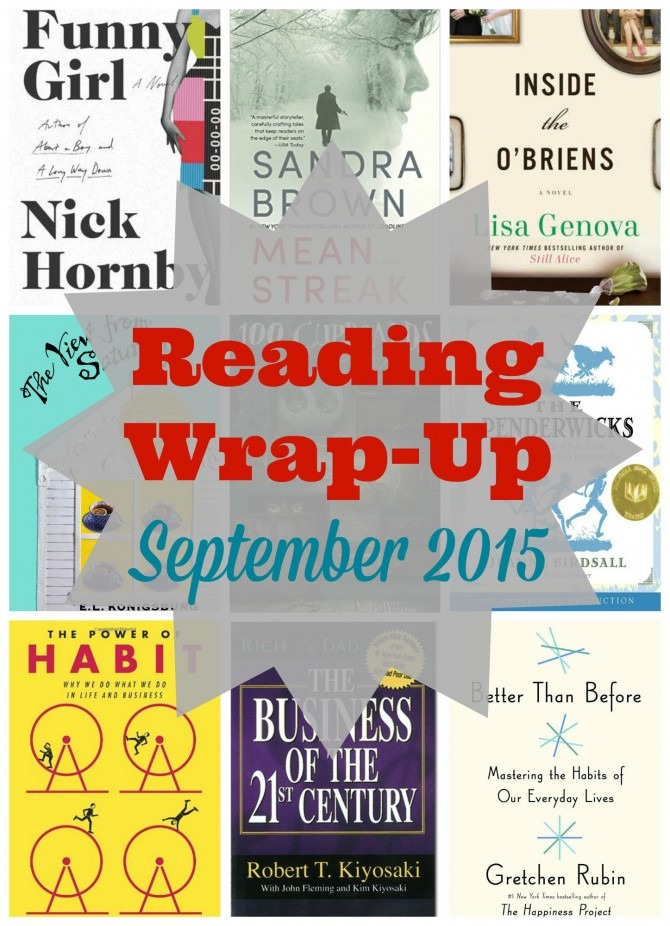 Adult Fiction
I felt a bit weird giving this category the title of "adult fiction"—that word definitely has some not-so-great connotations! Just to be clear, by "adult," I simply mean "not children's"!
Funny Girl, by Nick Hornby: Set in London during the 1960s, Funny Girl follows the life of Barbara Parker, an aspiring starlet from Blackpool who is transformed into "Sophie Straw," the leading lady in a popular BBC comedy series. Though thinly plotted (almost to the point of having no plot whatsoever), the novel's sharp dialogue and complex characters keep the story afloat. And while the novel would have benefited from a bit more action, I enjoyed this window into the intriguing world of classic television. Most of the reviews I read cited this as Nick Hornby's weakest novel; while I didn't love Funny Girl, Hornby's writing talent is unmistakable here, so I'd be interested to read one of his better works. My Rating: 3 stars.
Mean Streak, by Sandra Brown: Mean Streak has all the makings of a riveting mystery: the disappearance of a successful and much-loved pediatrician . . . A cheating husband with more than a few secrets. . . A reclusive stranger with a turbulent past but a tender heart. . . . Unfortunately, this promising storyline is quickly derailed by predictability, stereotypes, and gratuitous sex. The novel is partially redeemed by a few unexpected twists (which would likely have been even more surprising if I hadn't previously read Lethal—aspects of the two stories are nearly identical). Ultimately, Mean Streak has me questioning my previous adulation of Sandra Brown's romantic thrillers. My Rating: 2.5 stars.
Inside the O'Briens, by Lisa Genova: Joe O'Brien is a middle-aged police officer and father to four adult children. Joe begins experiencing unusual physical and psychological symptoms, and a series of tests leads to a diagnosis of Huntington's, a neurological disease with no cure. As Joe's mind and body slowly succumb to the vicious disease, he and his family grapple with logistical and ethical dilemmas relating to Joe's condition. Meanwhile, Joe's children must come to terms with the fact that each of them has a 50% chance of inheriting their father's disease, and each must decide whether or not to undergo genetic testing that will reveal their fate.
This brilliant novel plumbs the depths of human pain amidst tragic disease. Relatable characters and raw, undiluted emotion more than compensate for the novel's sometimes-slow pace. And though it's not particularly entertaining, the book offers a painfully realistic depiction of a family in turmoil, giving flesh to this often-misunderstood disease that affects about 37,000 people in the United States. Genova's books are always tearjerkers, but this one hit especially hard because I have friends whose family has been touched by Huntington's. I sobbed my way through the O'Briens' story but I'm thankful to have read it, as I now have a better understanding and sympathy for my friends' experience. My Rating: 4.5 stars.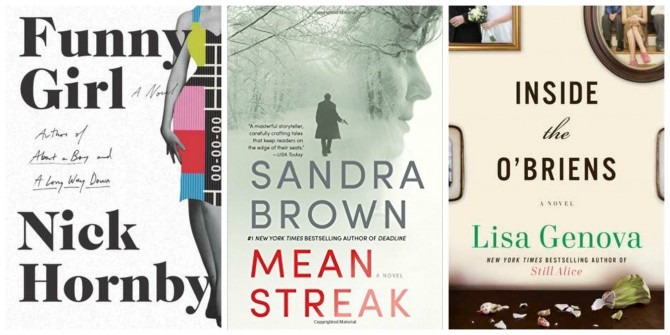 Children's Fiction
I'm such a sucker for kids' books. Even the not-so-great ones have the effect of being little time portals, taking me back to my youth (or at least back to my days as a teacher). We have a few years before Charlie will be into chapter books, so until then I'll enjoy them all to myself!
The View From Saturday, by E.L. Konigsburg: From the Mixed-up Files of Mrs. Basil E. Frankweiller was one of my favorite books in elementary school, and I enjoyed rereading it with students during my years as a teacher; however, I had never read anything else from E.L. Konigsburg (or even realized she had written any other books). The View from Saturday is about four members of a sixth-grade Academic Bowl team and their paraplegic teacher. The narration shifts between the precocious protagonists, with each student sharing stories leading up to the formation of their team. I enjoyed the book's unique format and subtle humor, and I appreciated the deeper (sometimes "touchy") storylines, though I feel that some of the more complex themes might go over the heads of the book's intended 8-12 audience. Still, this is a delightful read. My Rating: 4 stars.
The Penderwicks, by Jeanne Birdsall: The Penderwicks are four sisters who spend a magical summer vacation with their father and dog Hound on the grounds of a New England estate. Together—and separately—the sisters encounter all manner of adventure, and hilarity and intrigue ensue. Sweet but not saccharine, this timeless novel is Little Women for a modern generation. My Rating: 4 stars.
100 Cupboards, by N.D. Wilson: Fantasy and a bit of creepiness both make appearances in this children's novel about a boy who discovers a mysterious wall filled with cupboards opening to other worlds. I LOVE the premise of this book—sort of a Chronicles of Narnia for the Harry Potter generation, with some Monsters Inc. imagery thrown in. Sadly, I didn't much care for the book itself. The story was slow to pick up speed and ended just as things were starting to get good. As this is the first in the series, I have a feeling subsequent books might be better, but I'm not sure I feel invested enough in the characters to give Book Two a shot. My Rating: 3 stars.
Nonfiction
Lately some of my favorite reads have been of the nonfiction variety, and it's hard to believe that I was ever a fiction purist. I generally have at least one fiction and  one nonfiction book going at a time, as they tap into different sides of my brain (and my soul).
The Business of the 21st Century, by Robert Kiyosaki: This book from Rich Dad Poor Dad author Robert Kiyosaki makes a case for network marketing as the business model of the 21st century. Kiyosaki explains why traditional methods of wealth-building (such as employment and business ownership) are ineffective and why network marketing is a more lucrative means of generating income. He shares the eight wealth-building assets offered by network marketing and explains what it takes to be a successful network marketer. While Kiyosaki's argument is appealing, and his premise makes a lot of sense, this book comes across as a pep-talk for network marketing rather than an actual guide for getting started. The book offers a lot of theory and very little in the way of execution. (In fact, Kiyowaki never even describes what network marketing actually is!) Even though I'm not in business myself, I enjoy a good business book from time to time, but this one raised more questions than it answered. My Rating: 3 stars.
The Power of Habit, by Charles Duhigg: I feel like this book has been popping up all over the place, so I was excited to give it a read to see what all the fuss was about. The Power of Habit explores the fascinating science of habits, utilizing anecdotes and scientific research to describe the intricate process of habit formation. Duhigg goes beyond describing habits themselves to illustrate the ways in which habits affect the behaviors of individuals, societies, and corporations. The Power of Habit is heavy on story and light on application, and though I would have liked a more even balance of the two, I found the book intriguing and useful.
My favorite part of the book was the Appendix, in which Duhigg gives a practical step-by-step example of breaking a habit loop (the loop at the core of every habit that consists of a cue, a routine, and a reward). The steps to breaking a loop are 1) identify the routine, 2) experiment with the rewards, 3) isolate the cues, and 4) have a plan, and Duhigg shares a personal success with using this strategy. I plan to apply these tactics to breaking a few bad habits of my own. My Rating: 4 stars.
Better Than Before, by Gretchen Rubin: Better Than Before made an excellent follow-up to The Power of Habit: while Duhigg's book provides a good foundation for understanding the science of habit formation, this latest from Gretchen Rubin offers the implementation piece that I felt was missing from The Power of Habit. The premise of Better Than Before is that establishing habits can affect positive changes in our lives, and Rubin draws upon extensive research and her own personal observations to offer valuable insights for developing life-affirming habits.
Rubin does not take a one-size-fits-all approach to habit formation; rather, she recognizes that different strategies work well for different personality types, and throughout the book she emphasizes the importance of understanding your personal tendencies and preferences. As a personality-type junkie, I really appreciated this unique spin. I also enjoyed the book's conversational tone and the fact that the audiobook is read by the author. (I always have a hard time connecting with memoir-style audiobooks when they are read by somebody else!) I've been enjoying Gretchen Rubin's podcast and had high hopes for this book; I'm happy to say that Better Than Before was even BETTER than I hoped it would be. My Rating: 4.5 stars.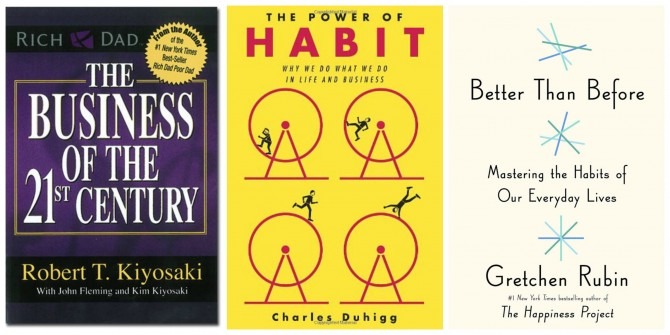 Have you read any of these titles? I'd love to hear your thoughts on them! And if you are interested in reading what other bloggers have been reading this month, head over to Modern Mrs. Darcy's site where I'm joining fellow readers for a monthly reading link-up!