I hope that you've been enjoying this Tried and True Series, where I'm sharing some our family's very favorite items that we love and recommend. On my end, it's been a lot of fun to take inventory of the items our family loves best. So far, I've shared our favorite baby and toddler gear and all of Luke's favorite things. In today's post, I'm featuring our favorite home items!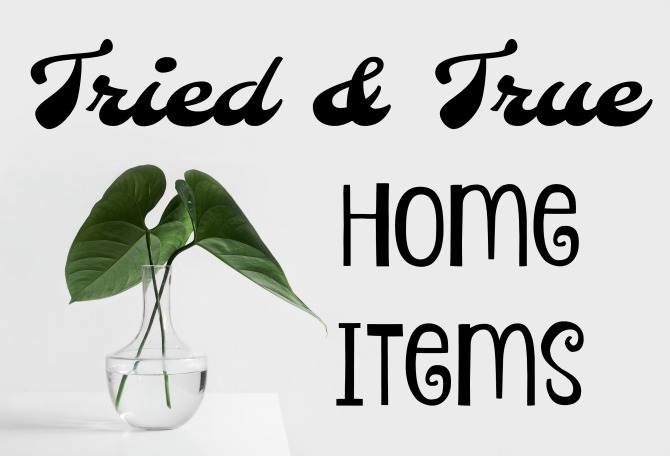 Luke and I have never been in a financial position to spend a lot of money on furniture or home décor; most of our bigger pieces are hand-me-downs, or purchased from IKEA. However, we do own a number of smaller decorative items that we love and would highly recommend (as gifts, or just for yourself!). I also have a handful of cleaning tools and other home gadgets that I'm excited to share with you today! And so, for your viewing, gift-buying, and wishlist-making pleasure, here's my list of favorite items for the home.
Capri Blue Volcano Candle ~ These candles smell amazing: fresh and floral, but not too "girly" and not overpowering. The little blue tins are so attractive. This would make a great hostess gift.
Homesick Candles ~ I have the SoCal California candle and it really does smell like my home state! While I haven't smelled the other varieties, I assume they also smell wonderfully like the states they pay tribute to. The candles have a sleek, minimalist design. Perfect for anyone (male or female) living away from their home state.
Woodsnap Personalized Print ~ Luke had one of these darling signs made for me from Charleston's newborn pictures, and it is one of my favorite keepsakes in our home. The wood prints are sturdy and a great way to display beloved photographs in a nontraditional format.
Magnolia Wreath ~ I know I'm not alone in my love for Joanna Gaines' beautiful decorative pieces. I was immediately drawn to this signature wreath during my trip to Magnolia Market, and was so touched when my friend Cara (who was visiting from California) gifted it to me! The wreath is just as gorgeous in person as it is in pictures, and adds some nice texture and dimension to our living room walls. I appreciate the timelessness; it beautifully matches all of my seasonal décor.
Chatbooks ~ Chatbooks are perfect for people like me who love taking pictures, but struggle to get those pictures printed and into books. I'm intentional about the photos I share on Instagram, which makes creating a Chatbooks photo album at end of each year a breeze. I also create Chatbooks for my grandmother (who doesn't have a smart phone or access to social media) as a way of ensuring she gets to see plenty of pictures of her favorite little great-grandson.
Gemstone Globe ~ My parents gave me this globe when I graduated from college, and it's still one of the best gifts I've ever received. I have a huge thing for maps, and globes in particular, and this one is gorgeous, with each country made from a semiprecious gemstone.
Canvas People Canvases ~ These personalized canvases are high quality and much more affordable than other custom canvases. Sign up for their newsletter to get fantastic deals (I've seen prices go as low as FREE—you only pay the cost of shipping!). I've had canvases made from several favorite family photos, and they look so much nicer on our walls than a simple framed print.
---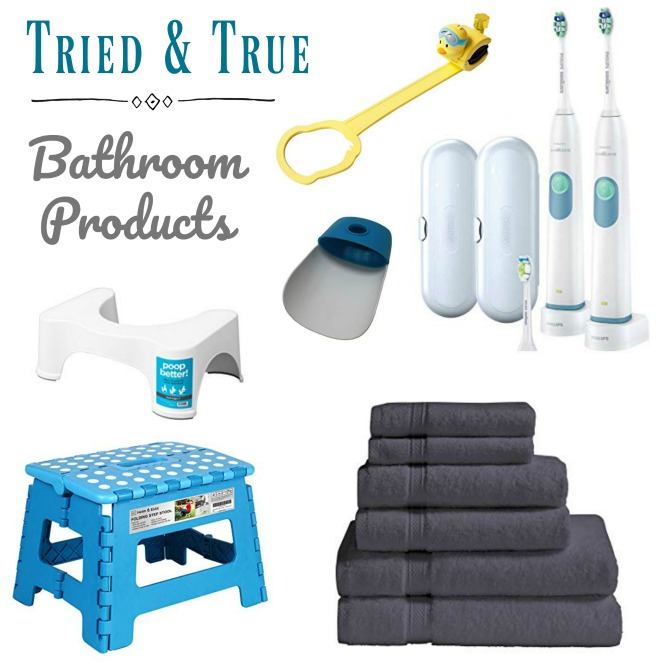 Faucet Handle Extender ~ This handy little item allows Charleston to turn the sink on and off by himself when washing his hands or brushing his teeth. It's cute, and simple to attach.
Faucet Extender ~ This is another item that has helped Charleston become more independent in the bathroom. It attaches right to the faucet and extends the water out to the front of the sink to reach his hands.
Sonicare Toothbrushes ~ I'm sure that by now, nearly everyone has made the switch to an electric toothbrush, but if you haven't yet—what are you waiting for?! Brushing with my Sonicare leaves my teeth with that squeaky clean, fresh-from-the-dentist feel (and has made my biannual dental cleanings a breeze). I haven't used any other electric toothbrushes, so I don't know how they compare with the Sonicare, but I honestly can't imagine a more perfect toothbrush.
Squatty Potty ~ I won't go into detail on this one. If you want more info, head to the website for a full explanation (and some humor). I will say that it's a MUST for anyone who needs help staying . . . um . . . regular.
Folding Step Stool ~ We got this for Charleston to use at the bathroom sink, but it rarely stays in the bathroom. The collapsible design and useful handle make it easy for Charleston to tote all around the house, enabling him to reach high-up shelves and light switches and the kitchen counter. He even likes to use it as a chair when eating at our coffee table during our weekly "picnic" lunches. I appreciate that it stores flat, and the quality is excellent for the price.
Vivendi Premium Towels ~ These luxurious towels are soft, absorbent, and have remained fluffy despite numerous washes. We replaced our old, ratty towels with a full set of these a few years ago, and it's amazing how such a simple shift totally transformed my bathing experience.
---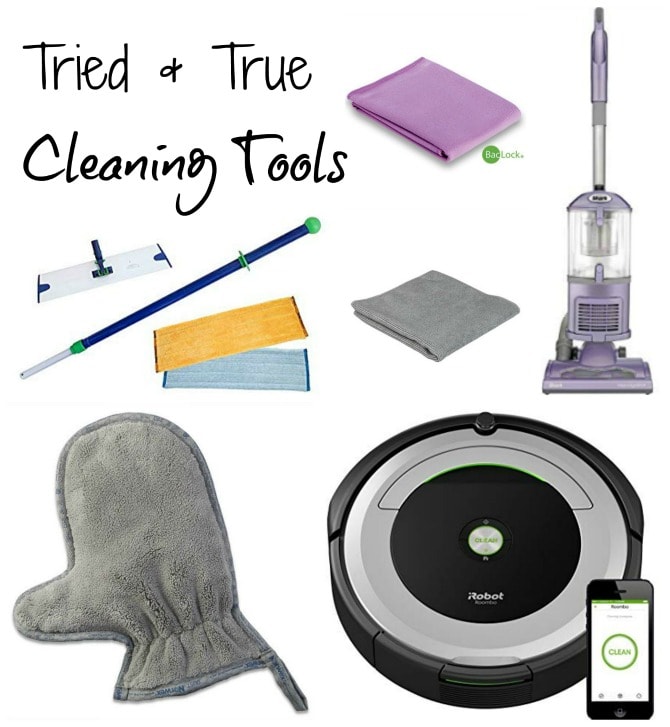 Norwex Window Cloth ~ I have a good friend who sells Norwex and turned me on to the wonders of their environmentally friendly cleaning products. This cloth works great for cleaning windows, but I usually reserve it for cleaning my fridge and other stainless steel appliances! It keeps them streak free, without the residue left by most stainless steel cleaners.
Norwex Microfiber Cloth ~ While I still prefer to use paper towels and a gentle cleaning spray for big messes, I use this microfiber cloth to wipe down my kitchen and bathroom counters and as a follow up to the wet window cloth when cleaning stainless steel.
Norwex Mop ~ This mop includes wet and dry cloths and is great for cleaning both wood and tile floors. It's similar to a Swiffer mop, but is much more economically and environmentally friendly. It also covers a larger surface area than the Swiffer, and the pads stay in place unlike the Swiffer pads, which constantly fall off the mop base.
Norwex Dusting Mitt ~ This is my favorite Norwex item! It's great at catching dust, and the mitt design makes dusting a breeze. Charleston loves using this mitt to help me dust.
Roomba Vacuum ~ I never thought I would own a Roomba. . . until we got a dog, and I found myself vacuuming multiple times per day to keep up with the dog hair. Now I simply run the Roomba every night when I got to bed, and it does the job for me. It's not a perfect appliance: it frequently gets stuck or lost before making it back to its home base, and the brushes regularly get jammed with dog hair. Despite these small grievances, I can't imagine pet ownership without my Roomba!
Shark Navigator Upright Vacuum ~ While our Roomba takes care of the first floor, I still do my own vacuuming upstairs. This vacuum is lightweight, amazingly powerful, easy to empty out, and great for vacuuming stairs or other awkward spots.
---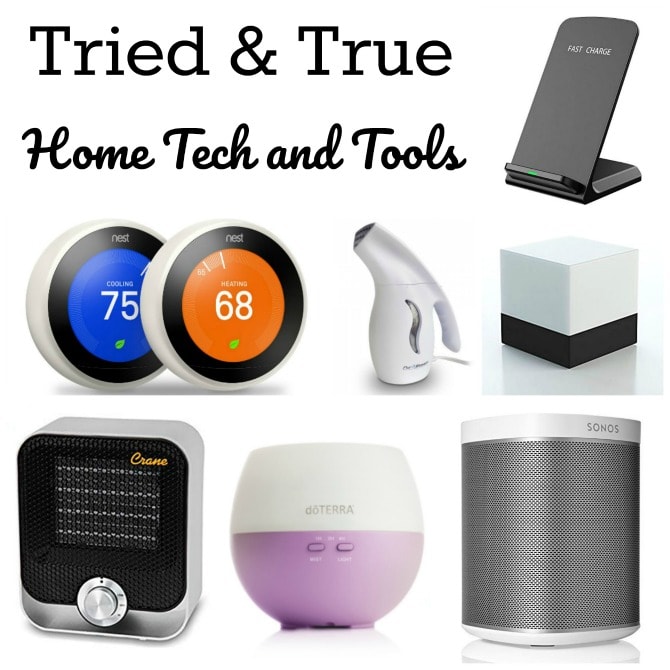 Wireless Phone Charger ~ I own two of these chargers—one in the kitchen and one in our play room—and they make a great "home" for my phone when I'm not using it, or need to be able to see the screen while keeping my hands free (like when I'm cooking from a recipe on my phone). It's small and unobtrusive, and so much more convenient than a traditional charger.
Nest Thermostat ~ We love, love, LOVE our Nest Thermostat! It allows us to control our home temperature from anywhere in the house, or even when we are away from home. (On cold mornings, Luke turns the heater on from work just before Charleston and I wake up). We have temperature sensors in each room of our house, and can adjust the thermostat accordingly. The thermostat is attractively designed and has led to huge energy savings for our home.
Garment Steamer ~ This steamer works wonders on my wrinkly clothes, and is much easier and more convenient than ironing. I haven't had luck using this on Charleston's dress shirts, which just don't have enough weight to them for steaming to be effective, but it's great for releasing wrinkles on my dresses and blouses. It's compact and comes with a carrying case, making it perfect for travel.
LED Cube Light ~ This cute little cube is a nightlight for adults! Ours sits on Luke's dresser, where it provides him with enough light to get ready in the mornings (he gets up before the sun) without waking Charleston or me in bed. It's also great for camping since it doesn't need to be plugged in.
Personal Space Heater ~ This adorable little heater has been my best friend this winter! It puts out an amazing amount of heat for its small size, and the safe ceramic heating element helps me feel comfortable using it when Charleston is in the room.
doTERRA Petal Diffuser ~ I purchased a full set of doTERRA oils at a party a couple of years ago, and while I'm still a bit of an essential oils skeptic, I do love this cute little diffuser. It has three timed settings, allowing you customize the release of oils into the air, and the built in light makes it great for nighttime use. We keep this in our bedroom, and I enjoy experimenting with different oil blends each night.
Sonos Wireless Speaker ~ This speaker syncs with our phones and allows us to stream Google Music throughout our house. It has a small footprint but produces a powerful sound that can be heard through our whole home. We love having music pouring through our house all day long.
---
What are your favorite home items. Spot any favorites? If you decide to add any of these items to your own home (or gift them to a friend), I'd love to hear about it!