I hope you all have been enjoying this Tried and True series as much as I've enjoyed putting it together! As I've said with each of the previous posts in this series, the purpose of these roundups is to share some items our family owns and loves and that I think you will love too. These are items you could purchase for yourself, and many would make great gifts.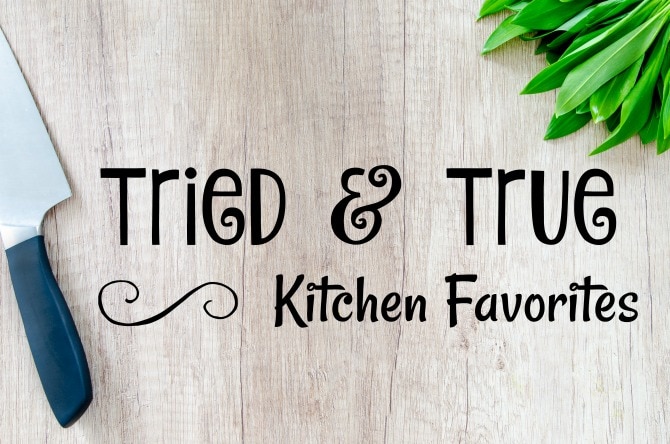 Today's edition is a continuation of last month's Home Favorites post, with a compilation of my recommendation-worthy kitchen items. I get a bit giddy when talking about this topic, because cooking is one of my favorite pastimes. (Not so much now that I'm pregnant and can't tolerate strong smells, but in my NON pregnant life, I do spend a lot of time in the kitchen.) I'm a completely self-taught cook, and though I'm far from master chef material, I enjoy trying out new recipes and perfecting old ones, and in our ten years of marriage I've accumulated a number of gadgets and tools to assist me in my culinary efforts. These are some of the items I couldn't live without.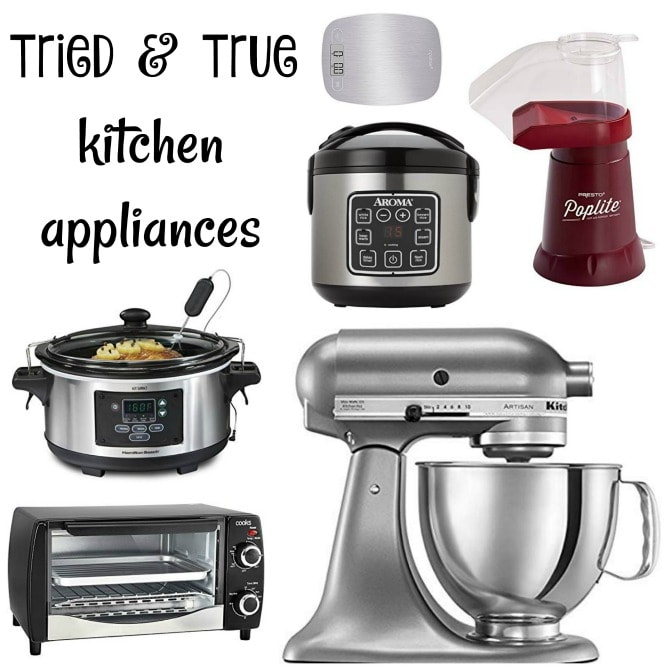 Greater Goods Food Scale ~ Every kitchen needs a food scale! Ours is simpler than many on the market, but meets all of my needs. I use our scale to measure out portion sizes and in lieu of measuring cups when following a recipe (more accurate, and fewer dishes to clean up!).
Aroma Rice Cooker and Food Steamer ~ This handy little appliance cooks my rice perfectly every time. I also use it to steam vegetables and to cook smaller batches of stews and casseroles when I don't want to use my giant slow cooker.
Presto Hot Air Popcorn Maker ~ When not pregnant, I use this air popper nearly every day to prepare my nightly bowl of after-dinner popcorn. Air popped popcorn is healthier, tastier, and much less expensive than microwaveable popcorn. I love to top mine with garlic salt and hot sauce!
Hamilton Beach Programmable Slow Cooker ~ This slow cooker is my favorite of all that I've seen. It has a clip-tight gasket lid and is simple to program and easy to clean. The 6-quart capacity is great when cooking for a crowd, or making large batches of soups and stews that I freeze for later.
Cook's Essentials Toaster Oven ~ Our toaster oven gets more use than any other kitchen appliance, including our microwave. I use it to roast small batches of vegetables, heat up frozen items, and of course to toast bagels and bread. I appreciate that the wire rack and broiler pan are dishwasher safe.
KitchenAid Mixer ~ This mixer is a MUST for bakers! It's powerful and easy to use, and saves me so much time when whipping up batter for cookies or muffins. Charleston loves helping me add ingredients to the mixer and watch it do its job.
Another much-loved appliance in my kitchen is my Cuisinart blender/food processor. Unfortunately, the model I own is no longer being sold, so I can't link it here, although this model appears nearly identical.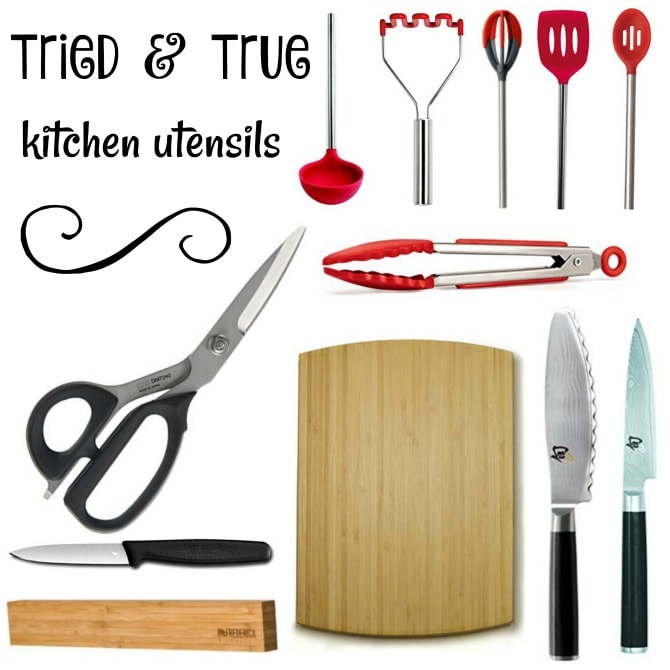 Tovolo Silicon Utensils ~ These stainless steel-handled utensils have a comfortable grip and are sturdier and easier to clean than the wooden utensils I've used in the past. I started with the mixing spoon and over the years I've collected the slotted turner, slotted spoon, ladle, potato masher, hand mixer, and tongs, and I regularly use and love each item.
Shun Kitchen Shears ~ These scissors are probably the most-used item in my kitchen. Yes, they are pricey, but I would say they are worth every penny. I use them for everything from snipping open packages to cutting raw chicken breasts into bite-sized pieces. They have a comfortable grip and come apart for easy cleaning.
Shun Ultimate Utility Knife ~ Clearly I have a thing for Shun blades! They aren't cheap, but you get what you pay for, AND they have a lifetime warranty. This knife is beautiful, and amazingly versatile, great for chopping vegetables, slicing thick loaves of bread, and everything in between.
Shun Paring Knife ~ This lovely paring knife is great for slicing, peeling, and chopping. I don't use it as often as my utility knife, but it holds an important role in my kitchen, and I don't know that I could get by without it.
Victorinox Paring Knives ~ I have several of these sharp, lightweight knives on hand for quickly cutting up fruit, cheese, or sandwich meat for Charleston—easy cutting jobs that don't require me to get out a nicer knife and a cutting board. At less than $8 each, I don't feel the need to take great care with these, and simply toss them in the dishwasher after each use.
Architec Bamboo Cutting Board ~ This bamboo cutting board is a great alternative to wood (too soft) or plastic/glass (too hard on my knives). The no-slip rubber feet make cutting a breeze, and it's held up well over years as my exclusive cutting board. (To avoid contamination, I always use plates when cutting my meat and reserve my cutting board for chopping produce.)
Better Houseware Magnetic Utensil Holder ~ This magnetic strip mounts to the wall, keeping my knives accessible and freeing up counter space. It's also much more sanitary than a knife block, and can accommodate more than just knives.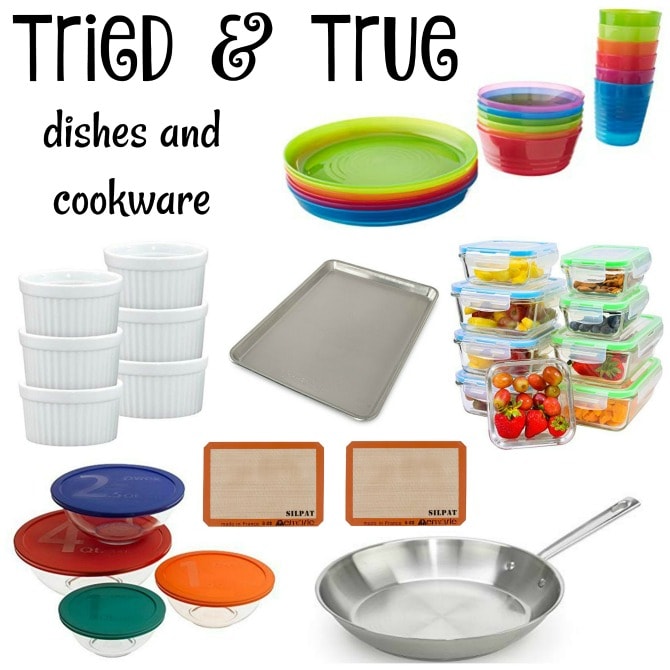 IKEA Children's Dish Set ~ At just $12, this set of plastic cups, plates, and bowls (six of each) is a steal! Charleston enjoys having his own special dishes and loves all of the colors. They are dishwasher and microwave safe, and stack easily for storage.
Porcelain Ramekins ~ I own several ramekins in various sizes and use them for serving condiments and side dishes, as well as for prepping spices and other recipe items when cooking. (I love me some mise en place!) These are great for serving Charleston nuts, fruit, and other bite-sized snacks.
Nordic Ware Aluminum Baking Sheets ~ Luke bought me a set of these for Christmas, and I have been so impressed with their durability and functionality. I have had far fewer cookie-burning incidents than with my previous baking sheets, and the steel rim is great for doing sheet-pan dinners that won't slide off the pan.
Silpat Silicon Baking Mats ~ I always use these when baking cookies. Not only do my cookies turn out fluffier, but the mats keep cookies from sticking to the pan, and they make clean-up a breeze.
Glass Food Storage Containers ~ I'm a big fan of prepping meals ahead of time, and these leakproof containers make my job so much easier. I love the square shape, which makes them easy to load up with leftovers and stack in the freezer. The containers are also safe for use in the oven, dishwasher, and microwave; great for packing lunches (Luke often brings one of these containers filled with stew or a casserole to work).
Pyrex Mixing Bowl Set ~ These bowls are great for mixing, and because they come with matching lids, I love using them to bring salads or soups to potluck dinners. Each bowl is a different size, and they nest inside each other for easy storage.
Emeril Lagasse Stainless Steel Fry Pans ~ These pans are amazing! I'm hard on my pans and went through several duds before discovering these stainless ones, which I own in the 8-inch and 10-inch sizes. They heat up quickly and have excellent heat distribution, and are safe for the oven and the dishwasher. I plan to eventually replace my teflon stock pot and sauce pans with items from this line. For now, I use my pans for sautéing, eggs, stir-fry, and even pancakes.
---
If you are looking for recommendations on coffee gear (which technically falls under the kitchen umbrella), check out this post where I shared all of Luke's favorites.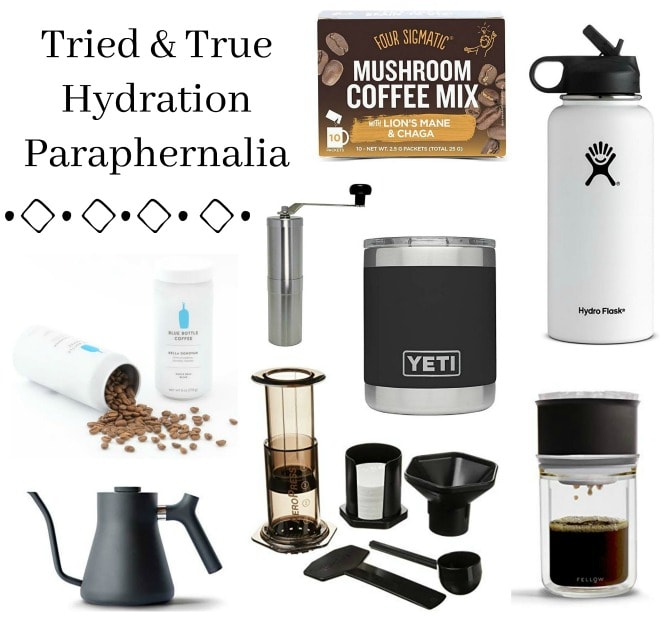 Do you have any favorite kitchen items that you couldn't live without? I'd love to hear about them!