Call me a snoop, but I love getting an insider's look into other people's lives. Since you are reading a personal blog, I assume that you do too! Some of my favorite blog posts to read are day-in-the-life posts, or posts detailing what's in a person's purse or pantry. It's always so fun (and helpful!) to read about the items others have used and recommend.
Over the next few Wednesdays, I thought I would give you a glimpse into my kitchen by sharing some of my favorite cooking items. In coming weeks I'll be telling you about my favorite knives and most-used kitchen appliances. And today, I'm kicking off the series with five of my favorite basic kitchen tools.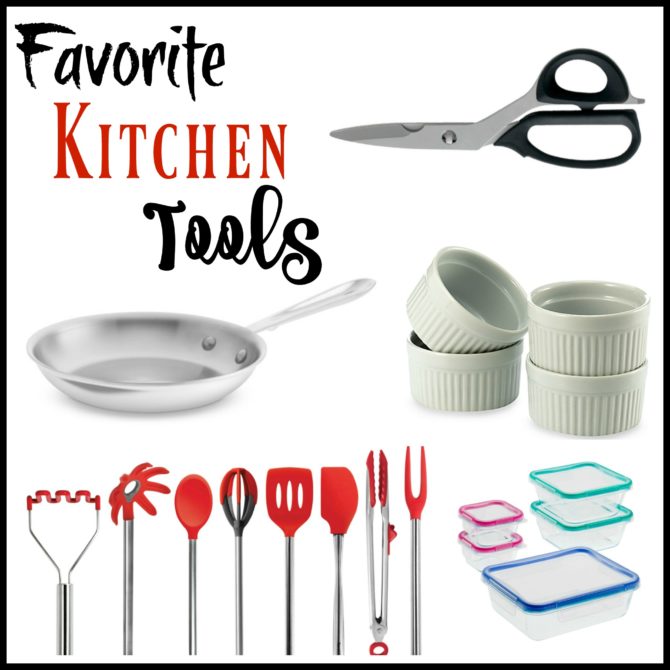 Shun Kitchen Shears:  Every kitchen needs a good pair of shears. I made do with a cheap pair until Luke bought me these shun kitchen shears for Christmas a few years ago; while I would never have sprung for such pricey scissors for myself, they have proven to be worth every penny. The stainless steel sheers have a sturdy rubber grip, and they come apart for easy cleaning.
Emeril Lagasse Stainless Steel Fry Pans: I'm pretty hard on my pans, and went through quite a few before discovering these stainless ones from Emeril. I own both the 8-inch and 10-inch pans, and between the two, they meet almost all of my cookware needs. The pans are oven-safe and dishwasher friendly, and the aluminum base heats up quickly and evenly. We've found that Bar Keeper's Friend polish is the key to keeping these pans sparkling.
Porcelain Ramekins: I'm not sure what I would do without my collection of simple porcelain ramekins. I have them in three separate sizes (2 ounce, 4 ounce, and 8 ounce) and use them for everything from prepping my ingredients (the small ones are perfect for holding pre-measured spices) to serving up condiments and side dishes, like cut up veggies or tortilla chips. I've even baked souffles in them.
Tovolo Silicon Kitchen Tools: I've written before of my love for these tools. Over the years I've collected the spatula, slotted spoon, ladle, and tongs, all in a beautiful matching red. The stainless steel handles have a comfortable grip, and the silicon tips are sturdier and easier to clean than wooden kitchen utensils.
Glass Food Storage Containers: I've gradually replaced all of my old plastic storage containers with glass, and I'm so happy I've made the change. For me, the key to good storage containers is a square shape, which is ideal for space-saving storage.  I have an assortment of containers, but this 10-piece Pyrex set is my favorite by far. I love that these containers are microwave, freezer, oven, and dishwasher safe, and the airtight snap-on lids make them perfect for storing leftover soups and stews.
---
What are some of the tools that are essential to your kitchen? Please share your go-to product recommendations with me in the Comments!
Save
Save