I blinked and somehow it's already the middle of November, which—if all of the local stores, and radio stations, and even some of the homes in my neighborhood, are to be believed—means that Christmas will be here and gone before we know it. (Is it just me, or does this seem to be happening earlier and earlier each year?) As I've done for the past several years, I'm ringing in the Christmas season with some fun holiday gift inspiration. But first, some backstory . . . .
Last week at our community group, our icebreaker question was, "what has been your most memorable Christmas gift?" Surprisingly, few of our group members could think of a single gift that stood out. All of us could cite special holiday memories or favorite traditions, but the gifts that almost certainly brought great joy in the moment had faded from memory. Which, of course, begs the question: why do we even bother with gifts at Christmas? We know they aren't the most important part of the season, they aren't at all what Christmas is about, and the recipients will likely have completely forgotten them before next Christmas rolls around. It's tempting to abandon the gift giving tradition altogether.
And yet. They may not be the most memorable or significant component of the Holidays, but I can't image Christmas without packages under the tree. Gifts were given at the very first Christmas, and though I am all for a less materialistic Holiday, I don't see anything inherently wrong with the act of gift giving. On a personal note, giving and receiving gifts is one of my primary love languages: I find so much joy in selecting just the right gifts for my loved ones, and feel so honored when they do the same for me. And I love helping you find the perfect gifts, too. Hence, another round of holiday gift inspiration!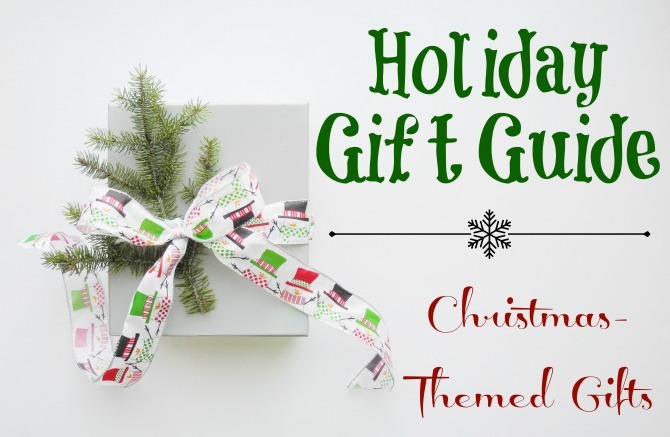 I titled today's gift guide Earlybird Edition because the ideas I'm sharing today are all Christmas-related, meaning that they're best given early, in the weeks leading up to Christmas. (Because there's nothing worse than opening up a Santa-shaped cookie platter on Christmas morning and knowing it will be an entire year before you get to use it.) The gifts in this guide would work well as hostess gifts at a holiday party, Secret Santa gifts for an early-December exchange, or Advent gifts for those families who let kids open one gift each week leading up to the Big Day. You might even consider purchasing one or two of these items as an early Christmas gift to yourself. 😉

Pine Cone Scented Firestarters // Nativity Scene Snow Globe Lantern // O Holy Night Gold Foil Print // Silver Laurel Metal Wreath // Good Tidings Sign // Elephants Hook Wool Throw Pillow // North Pole Dish Towel
---

St. Nicholas Square Santa Apron // Classic Plaid Infinity Scarf // Rose Gold Pinecone Necklace // Christmas Present Bow Earring Set // Matching Family Christmas Pajamas // Fair Isle Boot Socks
---

Play-Doh Advent Calendar // 24 Days of Tea // Star Wars R2-D2 Advent Calendar // Melissa & Doug Wooden Tree // Fisher-Price Little People Advent Calendar // DIY Charm Bracelet Advent Calendar
---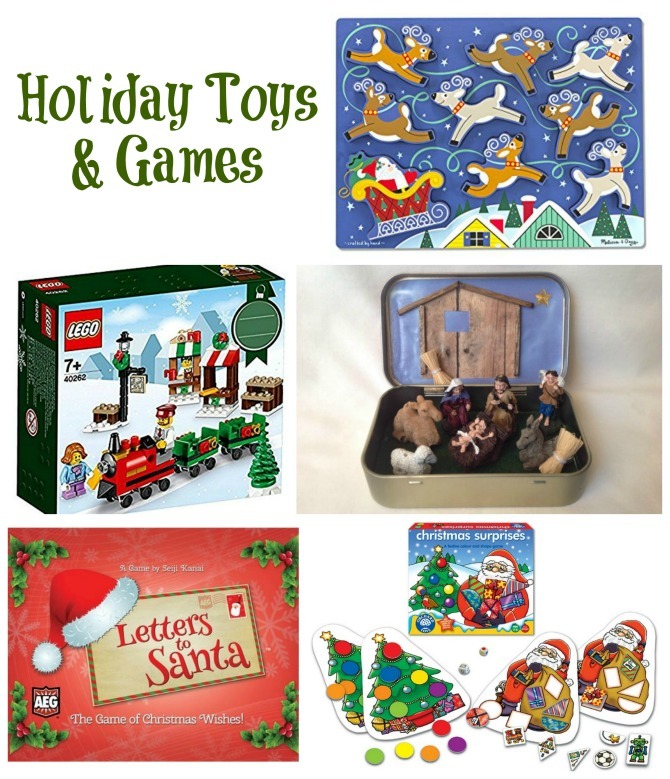 Santa's Sleigh Puzzle // LEGO Christmas Train // Miniature Nativity Toy Set // Letters to Santa Board Game // Christmas Surprises Board Game
---

Keurig K-Cup Pods Holiday Tree // Harry & David 12 Days of Christmas Gift // Gingerbread Camper Decorating Kit // Fortnum & Mason Spiced Christmas Tea // Twelve Cocoas of Christmas // Wildly Delicious Christmas Glitter Spread // Old Fashioned Christmas Candy // Chocolate Christmas Coal
---

How to Catch an Elf by Adam Wallace // God Gave Us Christmas by Lisa Tawn Bergren // Unwrapping the Greatest Gift by Ann Voscamp (Our family reads through this every Christmas.) // A Wish to be a Christmas Tree by Collen Monroe // The Santa Thief by Alane Adams (I'm friends with the illustrator!) // J is for Jesus by Crystal Bowman // Little Blue Truck's Christmas by Lisa Schertle // Llama Lllama Holiday Drama by Anna Dewdney (Charleston is obsessed with this series.)
---

Christmas Coloring Book by Jade Summer // The Christmas Train by David Baldacci (One of my favorite books of all time!) // The Greatest Gift by Ann Voscamp // Christmas Treasures: A Collection of Christmas Stories (various authors) // Unwrapping the Names of Jesus by Asheritah Ciuciu // The Autobiography of Santa Claus as told to Jeff Guinn // The 12 Days of Christmas Cookbook 2017 Edition
---
I'll be sharing a few more gift guides over the next few weeks. Check back here Friday for some gift ideas inspired by my own wishlist! If you'd rather not wait, you can see past years' gift guides right here.