Diving into a new week with Round Two of this month's quickish book reviews. This batch includes a few really awesome books! (Which always makes my job as a reviewer so easy!)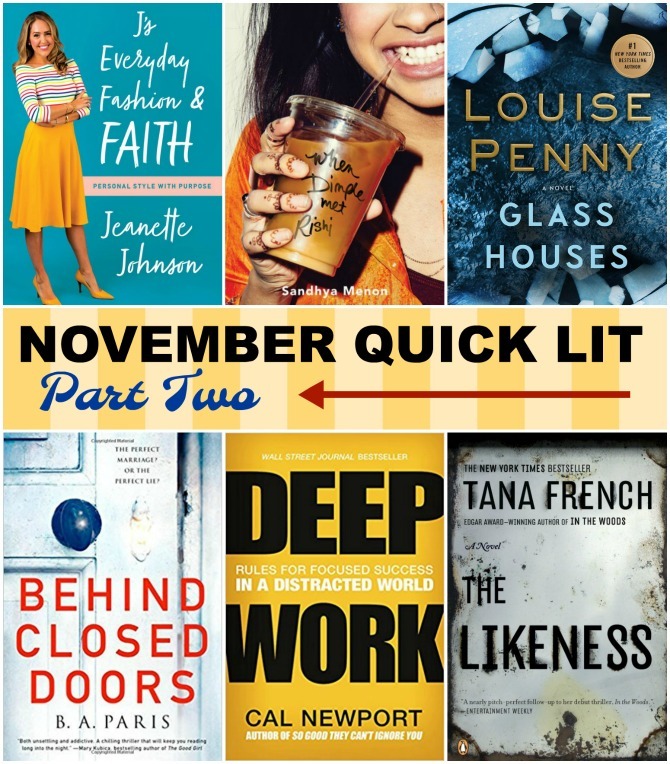 The Likeness, by Tana French: Detective Cassie Maddox is still recovering from the aftermath of her last case (the story of French's previous book, In the Woods!) when she is called to a crime scene that takes her breath away: the victim looks exactly like Cassie and is carrying an ID identifying herself as Alexandra "Lexi" Madison, an alias Cassie herself had invented in a past job as an undercover cop. Cassie reluctantly agrees to go back undercover, posing as the dead woman in attempt to identify her murderer. She moves into a house with Lexi's four eccentric housemates and soon finds herself forming close bonds with these friends. As boundaries blur between Cassie's real and assumed identities, she becomes unclear about where her loyalties lie, which endangers herself and everyone around her.
Though the premise requires great suspension of disbelief on behalf of the reader, this complex novel is a true page turner. Cassie is an intriguing narrator, and French's portrayal of our protagonist and the surrounding characters is pitch-perfect. The book's only drawback is that it is VERY long, yet the story remains suspenseful from start to finish, with quite a few intriguing twists. This is only my second novel from Tana French, and I am deeply impressed; she reminds me a lot of Louise Penny in that she uses the mystery platform as a medium for exploring human complexities. I also appreciate that she doesn't sacrifice high caliber writing for the sake of the story.
My Rating: 4 stars.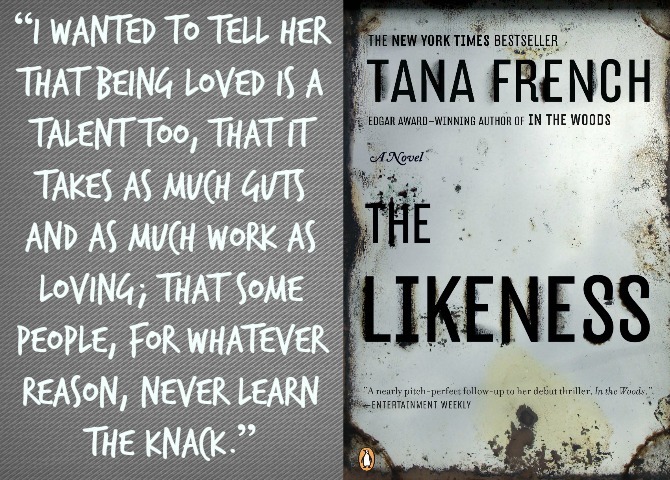 ---
J's Everyday Fashion: Personal Style with Purpose, by Jeannette Johnson: Like everything these days, fashion has gotten increasingly complicated in recent years. There is so much to consider: budgets, trends, ethical practices, modesty, functionality. . . and as Christians, there is an added layer of why or if any of it even matters. As someone who is far from a fashionista, but has long been intrigued by fashion, I've spent a lot of time pondering these issues that overcomplicate my own shopping selections.
J's Everyday Fashion and Faith is a comprehensive discussion of this multifaceted topic. In addressing the various aspects of fashion from both a personal and objective standpoint, J makes a compelling case for why fashion is not just an acceptable pursuit in the eyes of God, but can actually be a manifestation of God-given creativity when approached with the right motives. I don't agree with J on every point, but found her arguments to be thoughtful and well researched, backed by Scripture and supported by her own experiences.
This would make a compelling read for any Christian drawn to fashion but still questioning the relationship between God and clothes. This premise alone would have prompted me to pick up this book, but I actually came into it with more background information as a longtime reader of J's blog. Although her personal style is different from mine, I enjoy seeing the creative outfits J puts together and have always liked her blog's mission of bringing fashion to the masses. In her earlier years I struggled with her sarcasm and the defensive attitude that surfaced when interacting with her readers; at points I nearly stopped reading because I didn't love seeing a Christian engage in such unChristlike behavior. However, I have seen a huge shift in J's attitude and character (at least the part that comes through in her blog) in recent years. The stories in this book helped me to understand and admire her transformation and willingness to recognize where she had gone wrong in the past. The defensive tone still comes through at points of the book, but reading it did help me to appreciate her perspective and even get on board with most of it. I came away with a deeper liking of J, and a much clearer perspective on both faith and fashion.
My Rating: 4 stars.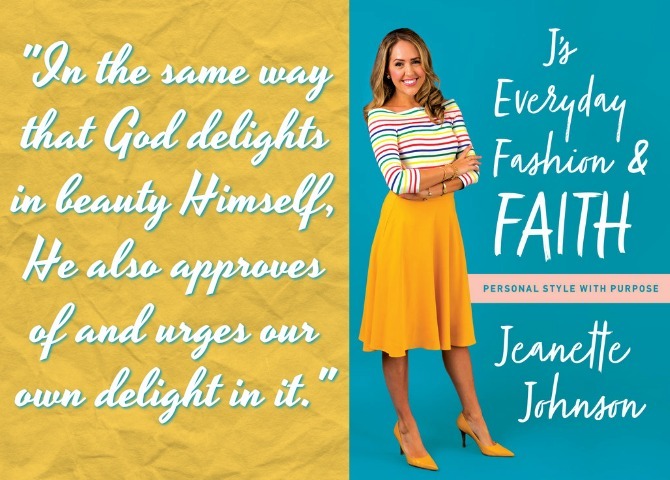 ---
When Dimple Met Rishi, by Sandhya Menon: Dimple Shah is a recent college graduate who can't wait to move to college and escape her mother's traditional expectations (specifically, marry well!). She considers it a dream come true when her parents grant their blessing for her to attend a summer program for aspiring web programmers. When she arrives at the program, she meets Rishi Patel, the boy her parents have arranged for her to one day marry. Rishi knows this, but it's news to Dimple, who is totally caught off guard by her enthusiastic new suitor. But Rishi is an artistic, sensitive type who shares his parents' values and is eager to jump into a romantic relationship with Dimple, even when she doesn't turn out to be the girl he had expected.
YA Romance isn't usually my jam, but I'd seen this book recommended by quite a few trusted readers and decided to give it a chance. The book is not at all believable and fairly predictable, with a lot of the eye-roll-inducing stereotypes that keep me from loving the genre. (Most notably the way premarital sex is considered no big deal, while saying I Love You is HUGE.) I liked the cultural spin, though, and loved the mature, kind-hearted character of Rishi (even though I didn't like Dimple at all and felt Rishi deserved someone who would appreciate his remarkable qualities). Ultimately, it wasn't a hit for me but if you enjoy the genre, you'll likely love this one.
My Rating: 3 stars.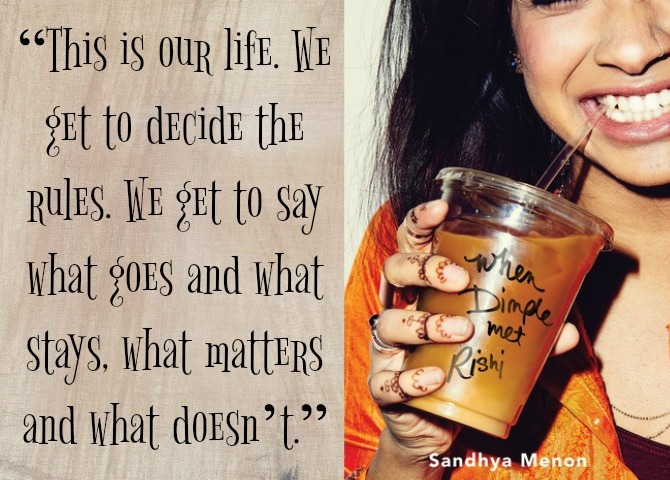 ---
Deep Work: Rules for Focused Success in a Distracted World, by Cal Newport: In our fast-paced world, most of us have unintentionally become "masters" of multitasking and busy work. A mastery and dedication to Deep Work—defined by Cal Newport as the ability to focus without distraction on a cognitively demanding task—is much less common. In this book, Newport explains why deep work has grown increasingly rare and also increasingly valuable. After spending several chapters defending his hypothesis (through statistics, stories, and even brain science), he outlines specific strategies for successfully pursuing deep work using strategic work habits and retraining the mind for immersive engagement. I won't give all of these away (you'll have to read the book for that!) but the strategies that resonated most with me were embracing boredom and ruthlessly eliminating distractions (even when not necessary).
While I am not in the working world and am far from Newport's target audience, I found this book fascinating and also necessary. I've noticed my own decreased ability to focus for long periods of time, and Newport's explanations helped me understand why this is the case, and also why it is a problem and how to fix it. I might not go to work in an office, but I am responsible for tasks (such as writing) that require me to engage in deep work, and I plan to implement some of Newport's strategies for making this a priority. I would highly recommend this quick read for anyone who spends a lot of time "working" but is still frustrated by their low levels of productivity.
My Rating: 4 stars.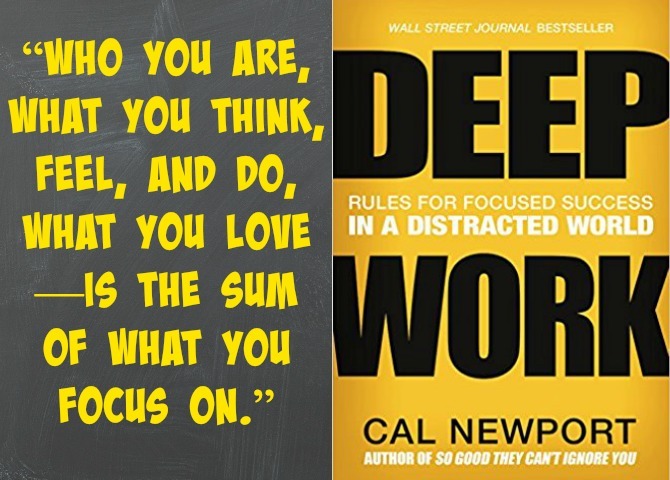 ---
Behind Closed Doors, by B.A. Paris: We all know that appearances can be deceiving; sometimes we are not aware of HOW deceived we really are. Newlyweds Jack and Grace seem like the perfect couple. Attractive, wealthy, clearly enamored with each other—at least that's how it seems. If only the guests at their fancy dinner parties knew what went on in their home when the party was over and the doors were closed. . .
I won't say more about the plot because I wouldn't want to give anything away. (Although the truth is revealed very early in the book; you might have guessed it from reading the book flap synopsis.) Behind Closed Doors has been compared to Gone Girl and Girl on the Train, but it's nothing like either of those books; there is little mystery involved in this psychological thriller, few plot twists and, honestly, not much of a plot at all. However, there is a great deal of suspense, and against my better judgment (hello, nightmares!) I was riveted from start to finish.
The viciousness described in this book is utterly horrifying and I couldn't help but wonder if events that transpire could truly happen. I do know that I will never take a couple's relationship at face value again!
My Rating: 4 stars.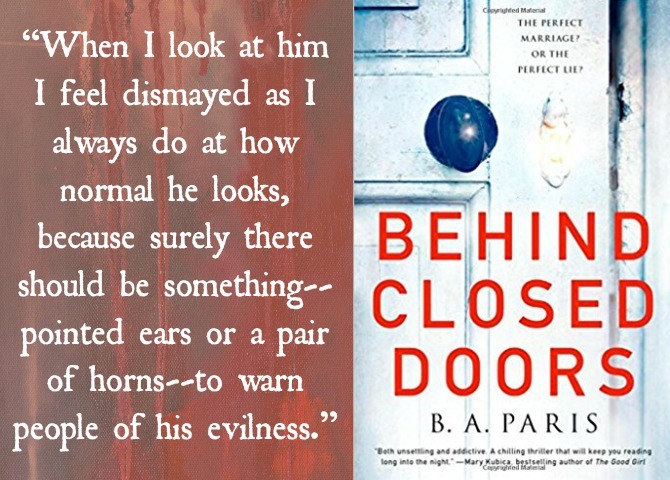 ---
Glass Houses, by Louise Penny: The unexplained appearance of a masked figure would be a disconcerting event in any town. In the small Canadian village of Three Pines, it's a harbinger of murder. Months after the figure's appearance, a suspected criminal sits on trial with Armand Gamache—recently named Chief Superintendent of the Sûreté du Québec—as the key witness. Known for his strong convictions, Gamache seeks resolution to the murder under investigation; but it soon becomes clear that there is more going on with this case than meets the eye, and the pursuit of justice might not be as straightforward as it seems.
I adore this series and this book just might be my favorite yet. Penny joins the coziness of a village mystery with the intrigue of a detective thriller, while simultaneously exploring intricate ethical questions and psychological complexities. Her atmospheric writing brings the town and people of Three Pines to life, and her portrayal of Armand Gamache (in all of her books, but particularly this one) is poignant and inspiring.
My favorite moment in this book actually came in the Author's Note at the end, where Penny writes, "Three Pines is a state of mind. When we choose tolerance over hate. Kindness over cruelty. Goodness over bullying. When we choose to be hopeful, not cynical. Then we live in Three Pines." What a beautiful sentiment from a writer who clearly cares about her subject.
I love this series on audio and enjoyed the interview with Louise Penny that followed the book. If you are looking for a good place to start with audiobooks, you can't go wrong with these!
My Rating: 4.5 stars.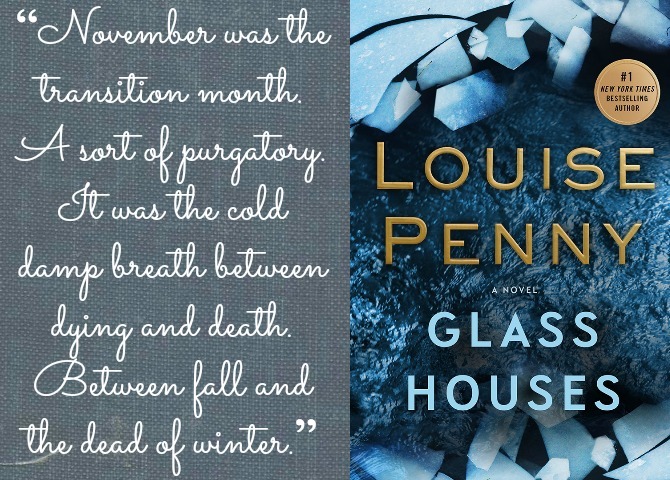 ---
I'm linking up with Modern Mrs. Darcy to share what we've been reading lately. If you are here from the linkup, thanks for stopping by! Be sure to check out Part One of this month's Quick Lit where I shared reviews of the other six books I've read lately.