I always think it's fun to hear how other families handle holiday gift giving. Some go all out, buying and giving as many gifts as possible; some give just one gift per individual, or do a name exchange with each family member buying for one other person; lately it seems like more and more families are pulling back on presents, or even completely doing away with traditional gifts, and taking a family trip or donating to charity instead.
We have different traditions with our extended families, but in our little family of three we have settled on a system that has worked well for us for the last few years. Every Christmas we budget a certain dollar amount towards gifts for each person. Within that budgeted amount, each recipient receives four main gifts: something they want (like a toy or something fun); something they need (a more practical item); something to wear; and something to read. (We also throw in some stocking stuffers, and Charleston receives a gift from Santa, all pulled from the same budget.) We like this system because it forces us to be intentional with our gift giving and tends to make the gifts themselves more special and memorable.
As I've done in the past, I'm modeling this year's family-themed Gift Guides after those I know best: the people within my own family (Mama, Dad, and an almost-preschooler). And I'm taking a cue from our family's gift-giving methodology to add structure to this year's family-inspired gift guides; within each guide I'll offer gift ideas for items they'll want, things they need (even if they didn't know it yet!), clothing ideas for them to wear, and—my favorite—book gifts that they'll love to read. And by they I mean we because these guides are lifted straight from our family wishlists!
My gift guides for guys and kids will be headed your way next week. TODAY, I'm kicking off this year's round of family gift guides with gift ideas for Mama (i.e., the gals in your life, or possibly yourself). The lines are blurred a bit with some of the categories, because my actual list consists of mostly jewelry and shoes—all of which *I* would categorize as want, need, AND wear (though some might disagree). Regardless of category, everything in this guide is either something on my personal wishlist this year, or an item that I already own and love.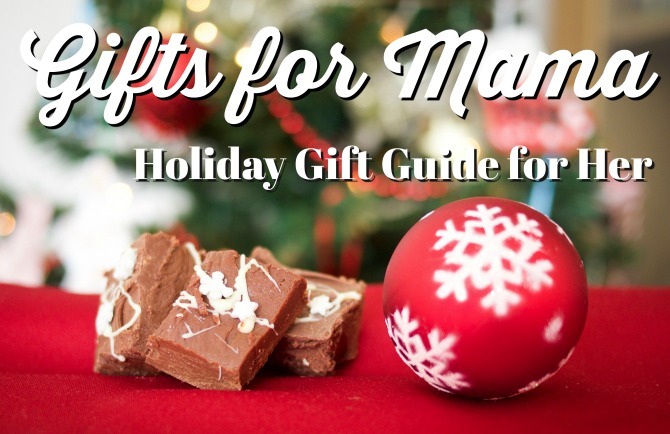 // WANT //
You might notice quite a few pairs of earrings in this guide. . . I happen to love my earrings, and chances are high that the gals on your shopping list do, too! But don't worry, if the lady you're shopping for doesn't have a jewelry obsession, I've included plenty of non-jewelry want items here, too.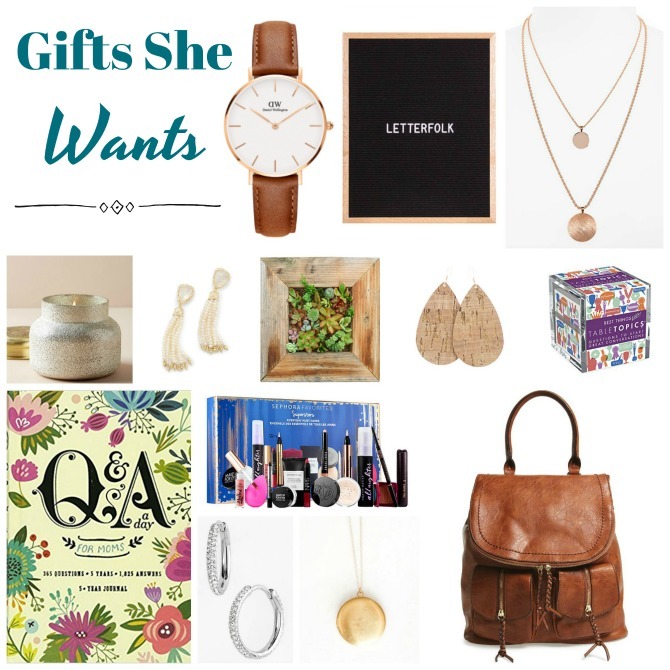 Daniel Wellington Leather Watch // I've had my eye on this classy watch for a while. I've worn a watch nearly every day for as long as I can remember, and I would love to add this one to my rotation.
Letterfolk Letter Boards // Letterfolk's amazing Instagram accounts is one of my favorite follows, and it's convinced me that I need a letter board for myself. I can't think of a woman who wouldn't love this gift.
Halogen Double Layer Necklace // Simple but so pretty. A girl can never have too many necklaces.
Capri Blue Iridescent Jar Candle // These candles from Anthropologie are gorgeous and smell amazing. There's a reason these show up on nearly every gift guide: who doesn't love a beautiful candle?
Kendra Scott Blossom Statement Earrings // You really can't go wrong with a gift from Kendra Scott, especially an on-trend one like these tassel earrings.
Succulent Living Wall Planter Kit // For the gal who has everything, a unique gift that doubles as project and wall decor.
Nickel and Suede Cork Leather Earrings // I've fallen hard for the earrings from Nickel and Suede. They make a big statement, but because they are made from leather they are incredibly light. I own one pair and always receive compliments when I wear them. These come in numerous colors, shapes and sizes; be forewarned that once she owns one pair, she WILL want another.
Table Topics Conversation Cards // These boxed sets of questions are so much fun and would be a great gift to bring to a large family gift exchange.
Q&A a Day for Moms: A 5-Year Journal // Perfect for the sentimental mama. I've gifted this to a few of my mom friends, and they love it! There's also a generic version for non-moms (or moms who don't want to write only about their kids), and one for couples that would make for a very romantic stocking stuffer.
Sephora Favorites Gift Box // Makeup can be a difficult thing to buy for someone else, but this set is generic enough that it makes for the perfect gift. It'ss such a fantastic bargain, I'm tempted to pick one up for myself.
Small Pave Hoop Earrings // These timeless hoops come in silver, rose gold, and gold. I'd like a pair in each, please!
Dear Mushka Brass Locket Necklace // The beautiful pieces from Dear Mushka are all named for a piece of Scripture; this necklace's verse is Jeremiah 33:3: "Call to me and I will answer you, and will tell you great and hidden things that you have not known." Perfect for the lady who likes gifts that are both stylish and meaningful.
Emery Faux Leather Backpack // I've learned from experience that backpack purses are a mama's best friend. Most are more functional than stylish, but this one most definitely passes the "cute" test.
---
// NEED //
Who says practical items can't be fun? The essentials on this list are all totally worthy of red-bow status.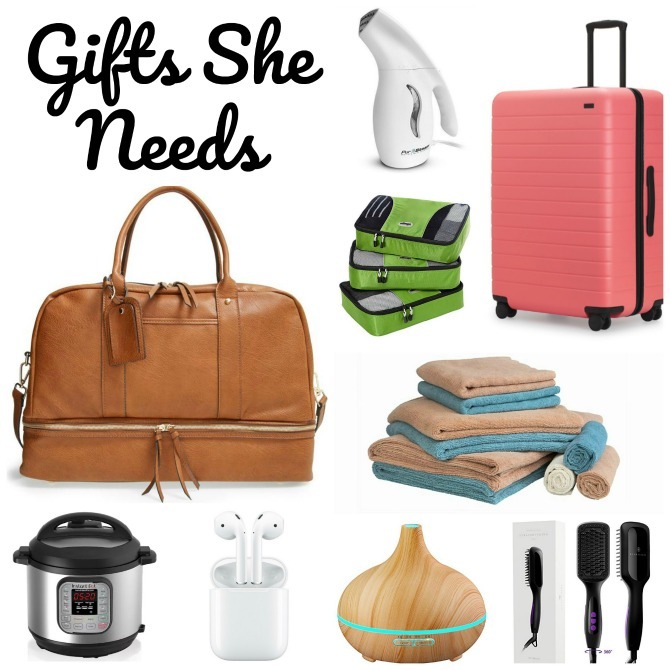 Fabric Steamer // If the gal you are shopping for doesn't like to iron (or doesn't know how, like me!) this seems like an easy solution. I'm told this works just as well as traditional ironing with a lot less work involved.
Away Rolling Suitcase // We've been doing more traveling lately, and my old duffle no longer works well for my traveling needs. I've had my eye on these gorgeous luggage pieces, which come in multiple colors and sizes. They are on the pricier side, but the reviews are excellent.
Packing Cubes 3-Piece Set // If you're getting her a suitcase, throw in some packing cubes with the gift. This set is reasonably priced and I hear they are an overpacker's dream come true. Here's another option that has great reviews and comes in many colors.
Mason Weekender Bag // Another great gift idea for the woman who does a lot of traveling.
Norwex Bath Towels // I've become a Norwex convert and believe any of their products would make a good gift for the lady who loves a clean home with minimal effort or chemicals. I'm currently coveting these bath towels; my friend who introduced me to the company cites these as her favorite Norwex products.
7-in-1 Instant Pot // I have yet to meet an Instapot owner who doesn't rave about the item. The biggest draw for me is that the single appliance could replace a few appliances I already own, which would clear up counter space.
Apple AirPods // These are a definite splurge item, but if you're feeling generous, this is a gift that is guaranteed to put a smile on her face Christmas morning.
Essential Oil Diffusor // If she's already an essential oil user, she'd be happy to add another diffusor to her home (one for every room), and this one is both attractive and highly reviewed. If she's new to essential oils, be sure to include a starter set of oils.
Hair Straightening Brush // This product seems too good to be true, but a friend of mine has amazing hair and assures me this single item is the secret to her styling success.
---
// WEAR //
I don't have much commentary on these items, other than to say that I'll take the whole wardrobe, please! Those riding boots are the #1 most desired item on my own wishlist this year.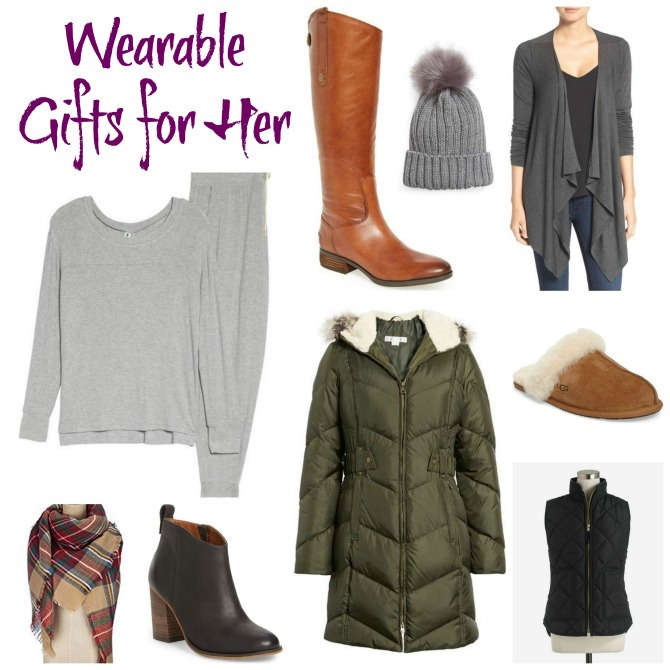 Sam Edelman Penny Boots // Faux Fur Pompom Beanie // Pearl Drape Cardigan // Lounge Tee and Pants // Blanket Scarf Wrap Shawl // Lance Block Heel Bootie // Hooded Down Jacket with Faux Fur Trim // Ugg Slippers // Quilted Down Vest
---
// READ //
I personally read most of my books digitally these days (either audiobook or ebook), and almost always borrow my books from the library, so a book needs to be extra special to earn a permanent spot on my physical bookcase. Each of these titles appears to be deserving of one of those coveted positions!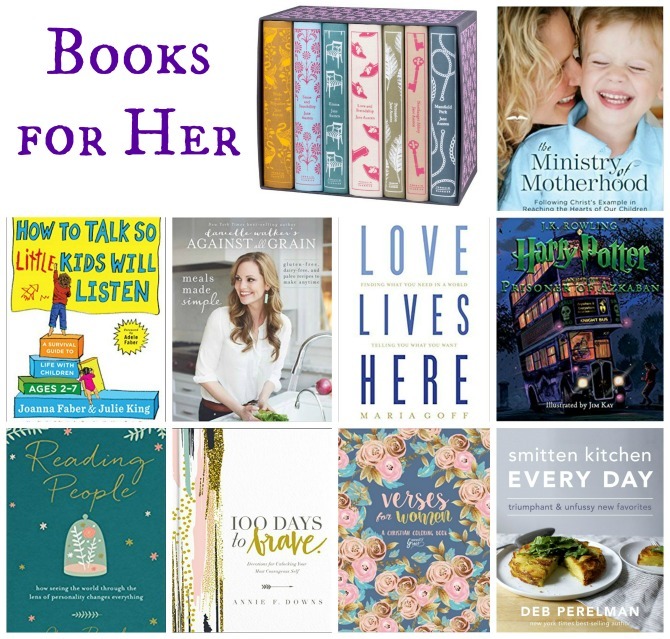 Jane Austen Box Set // This set is gorgeous and perfect for the Jane Austen lover! Even if she's already read most of these titles, or if she rarely reads classics, I imagine these copies would be too pretty to resist.
The Ministry of Motherhood, by Sally Clarkson // I've heard Sally interviewed on several podcasts lately and have wanted to read something from this wise woman. This book seems like a great place to start.
How to Talk So Little Kids Will Listen, by Joanna Faber // I read the big kids version earlier this year, and even though the content was dated, I found the information helpful and relevant, and immediately added the younger kids' version to my list. We've been having "listening" issues in our home lately so I hope this book can help. Be careful when gifting this one; you wouldn't want to accidentally make any negative insinuations about her parenting, so only buy if you know this (or any parenting book, for that matter) is one you are SURE would be of interest.
Against All Grain: Meals Made Simple, by Danielle Walker // Perfect for the gluten-free gal (which seems to be most of us, these days). Since Luke went on a modified paleo diet earlier this year, I'm always on the lookout for new low carb recipes to try. I enjoy Danielle's blog and have been itching to get my hands on this book.
Love Lives Here, by Maria Goff // This deep, introspective book was one of the most encouraging and inspirational books I read all year. I can't stop thinking about the powerful lessons Maria shared within its pages and I've been recommending the book to everyone. The copy I read was an ebook borrowed from the library, but I want to add a physical copy to my personal collection because I know it's one I'll refer to again and again.
Harry Potter and the Prisoner of Azkaban: The Illustrated Version, by J. K. Rowling // This book might not be on every mom's wishlist, but this Harry Potter enthusiast simply can't resist these beautifully illustrated versions of the classic books. The series is being released at the rate of one book per year, and I already own—and love—Books 1 and 2. Prisoner of Azkaban is my favorite title in the series, so I'm extra excited about this latest release. In a few years I plan to use these illustrated versions to introduce Charleston to the series!
Reading People, by Anne Bogel // I was on the launch team for this book—and already own it in multiple formats—but I found it so helpful that I've been buying copies for many of my friends, too. If the gal you're shopping for has any interest at all in personality models, she will go crazy for this book.
100 Days to Brave, by Annie F. Downs // Annie is another author I've "met" through podcasts recently. A friend is currently reading this book and has been raving about it.
Verses for Women: A Christian Coloring Book // I've been getting into adult coloring lately; it's such a soothing activity, and I like the idea of incorporating some Scripture-themed coloring into my daily time with God. Don't forget to throw in a set of colored pencils with the gift!
Smitten Kitchen Everyday, by Deb Perelman // Deb is my favorite food blogger and I've been looking forward to the release of her latest cookbook. Her recipes and photography are always excellent, and I enjoy her smart and funny writing style. If this book is anything like her blog, I'm sure it will become an instant favorite.
---
I hope you find this guide helpful as you shop for your favorite ladies. If you are reading this and you're my husband, have fun shopping for ME! And if YOU are mama, maybe you've gotten a few ideas to add to your own Christmas wish list. If you would rather skip item gifts this year and give experiences instead, I've got you covered: head to last year's Gift Guide for Mama, where I shared ten great ideas (as well as more Want/Need/Wear/Read gifts)!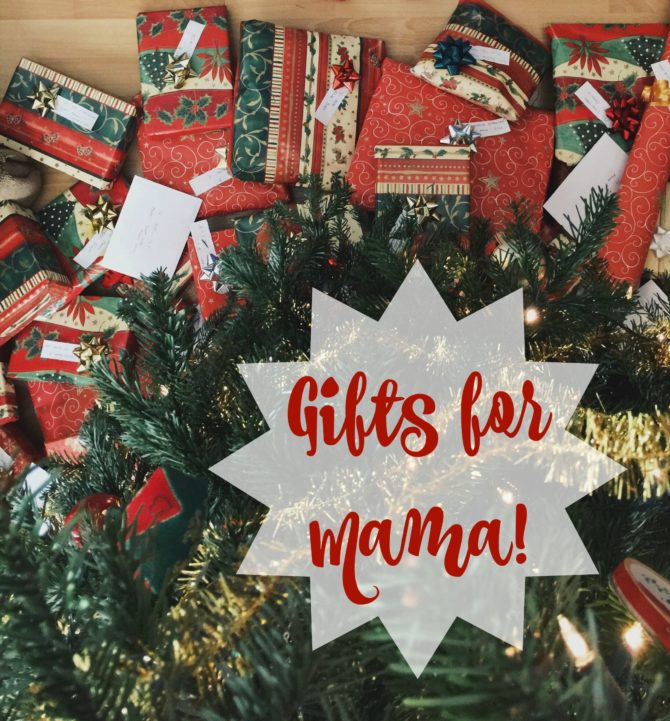 I'll see you back here on Monday for a guide that will help you shop for the man in your life!