Happy Monday, my friends! As promised, I am back today with Part Two of this year's family gift inspiration. On Friday I shared my gift ideas for the ladies, and today I've got gift ideas for the men you are shopping for this Christmas.
I don't know about you, but I find guys incredibly hard to shop for. (Maybe men feel this way about women? I really don't think so, though: most of the ladies in my life are pretty vocal about their wants and wishes; the guys, not so much.) Luke can be especially challenging because he doesn't like sports or alcohol; those are two of the aspects of his personality that I love most about him, but it rules out a lot of the more expected gift ideas. He also has pretty "refined" tastes, meaning that much of what he wants is well outside of our budget. To top it all off, he loves to meticulously research items before bringing them into his life, and once these items have been thoroughly vetted, he buys them himself. None of that is bad, but it does make my job as Christmas gift-giver much more difficult.
That said, the items on this list have all passed the husband test! These gifts have either been hand-selected by Luke for his own wishlist this year, or he already owns them and can vouch for their gift worthiness. (The exception is the Read category, but I'll get into that when we get there). I can't guarantee the man you're shopping for will like every one of these items, but if he's anything like my husband, he definitely won't be disappointed to open any of these on Christmas morning.
Without further intro, here are my (and Luke's) ideas for gifts that he Wants, Needs, will Wear, and can Read.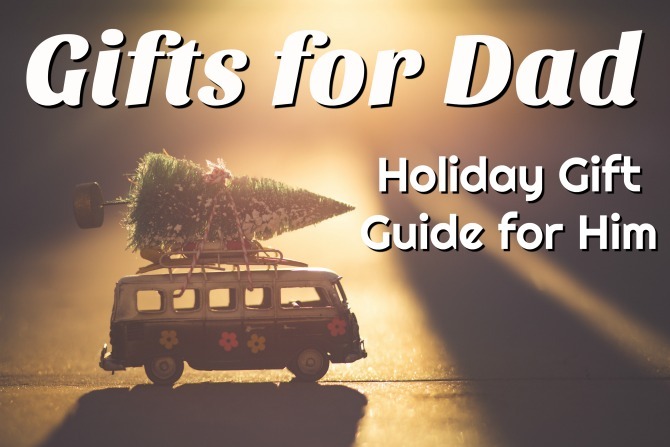 // WANT //
Even the most serious guys are really just kids on the inside. I truly believe that almost every man would be secretly thrilled to receive a new set of Legos on Christmas morning. These want items are fun and just a *tad* more sophisticated.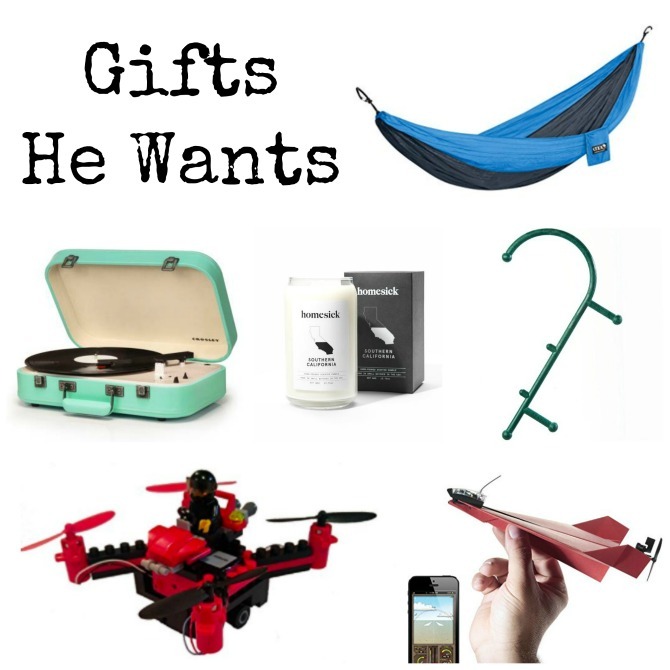 Eagles Nest Outfitters Hammock // We went camping earlier this month, and one of the other couples brought this hammock. It was occupied by somebody during every waking hour of the trip! Don't forget to include the accompanying suspension system with the gift.
Crosley Radio Coupe Turntable // Records are back in vogue! This is a fun and unexpected gift for any music lover or mid-century enthusiast.
Homesick State Candles // Candles don't need to be girly! These have a classic, gender-neutral design and unique scent profiles. This is a great gift for a guy (like Luke) who has made a recent move, or possibly a college student attending school out of state. (Assuming that candles are allowed in his dorm!)
Thera Cane Massager // We bought this massager for my brother last Christmas and, after giving it a test run, were tempted to keep it for ourselves. It seems gimmicky but is amazingly effective at soothing back pain.
Force Flyers Building Block Drone // Like I said, boys love their toys. I couldn't help but chuckle when I saw this included on Luke's Christmas list this year, but I have to admit it looks pretty fun.
Smartphone Controlled Paper Airplane // Luke received this as a gift last year and it has provided hours of entertainment for him and Charleston.
---
// NEED //
Some of these items seem a little too "practical" to me to seem like gifts, but Luke assured me that he stands by these recommendations, both for their usefulness and giftability.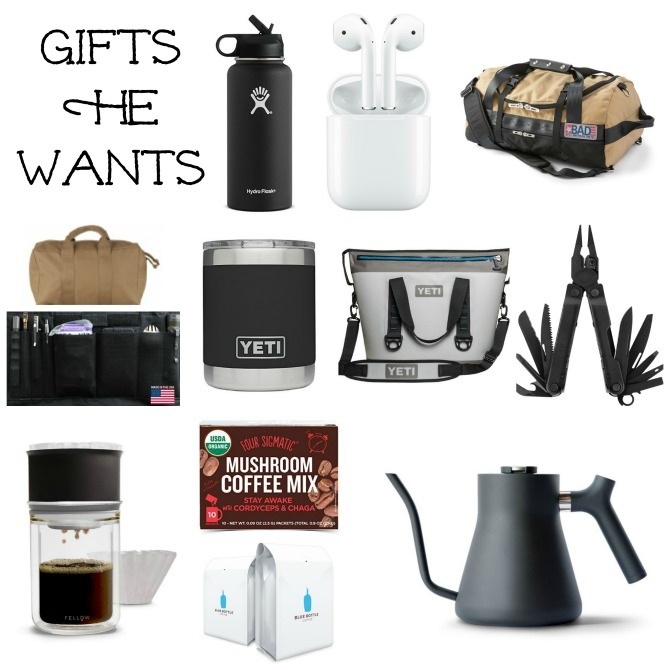 Hydro Flask Water Bottle // This product costs more than your typical water bottle, but it's worth every penny. Luke carries his with him constantly. It's durable and keeps things cold for up to 24 hours.
Apple Airpods // Such a great gift idea, it was worth including on both my women's AND men's guides.
BAD Bags Backpack Duffle Hybrid // Luke bought this for our trips to California and is able to fit two weeks' worth of clothes into it, with room to spare. It's very high quality and easy to carry.
ITS Gizmo Bags // These are great little catchall bags for the car, tools, or whatever other gadgets he wants to tote around. Luke really loves the products from this company.
ITS Tech Sleeve // This handy laptop sleeve has built in pockets for pens, a flashlight, or even a phone.
YETI Rambler Lowball with Lid // This is an excellent mug for camping. We were impressed with the sealable lid.
YETI Hopper TWO Portable Cooler // YETI sets the standard for coolers. This one has a great portable design.
Leatherman Wave Multitool // I tease Luke for carrying his pocket knife at ALL times, but it sure does come in handy. This one has a whopping SEVENTEEN tools!
Fellow Stagg X Pourover Set // Luke takes his coffee very seriously. This is the set he uses to make his morning (and late morning and lunchtime and afternoon) cup of coffee.
Four Sigmatic Mushroom Coffee Mix // This coffee claims to enhance concentration and boost energy with less caffeine that traditional coffee. I don't know that it is the magic bullet it claims to be, but Luke enjoys the taste of it. It comes in many flavors and varieties, including hot cacao.
Blue Bottle Coffee // Luke's favorite whole bean coffee. Gift subscriptions are available.
Fellow Pour Over Stagg Kettle // We love this kettle. It pours easily and has a convenient built-in thermometer.
---
// WEAR //
Luke has unintentionally settled into having a modified capsule wardrobe: he prefers to own fewer clothing items, which means these pieces have to do some fairly heavy lifting. It also means he is willing to spend a bit more on clothing than I would. Here are some of his tried-and-true favorites as well as items he has asked for this year.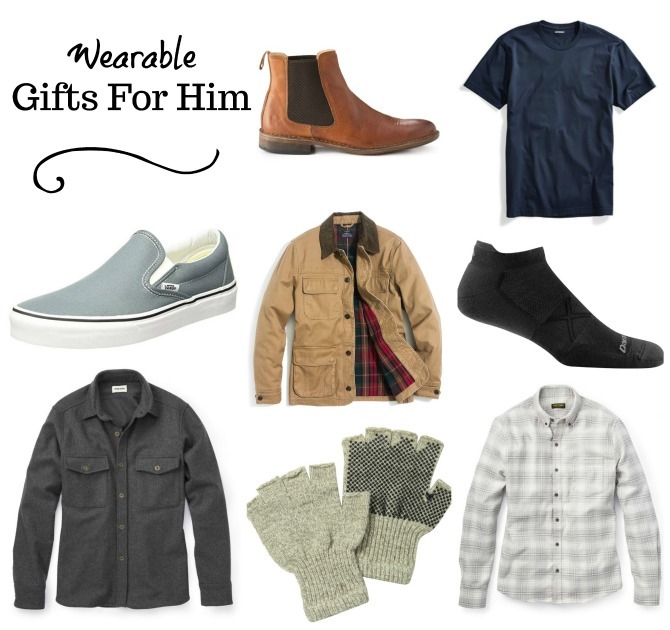 Astroflex Bitflex Boots // Luke has had his eye on these boots for a while. If I'm being honest, this style isn't my favorite, but I've seen other guys wearing very similar boots so I know they are quite popular. The slip-on boots are handmade by an Italian company that has been making boots for six generations; how cool is that?!
Goodthreads Crewneck Cotton T-Shirts // Luke has these in multiple colors and wears them every day as undershirts. Great quality, especially for the price.
Vans Classic Slip-Ons // Luke bought these a few months ago and now wears them ALL the time. He says they're very comfy and they go with anything.
Flannel-Lined Barn Jacket // This on-trend jacket would be perfect for mild Texas winters, but also great for layering in colder climates.
Darn Tough Men's Merino Wool Socks // These might not seem like the sexiest gift, but Luke seriously loves these. Because they're wool they wick away sweat, and they're just thick enough to be comfortable but not hot. They hold their shape well and come with a lifetime guarantee!
Taylor Stitch The Explorers Wool Shirt // Luke totally has a thing for wool, so I see why this shirt is top of his wishlist this year. I love that it merges a familiar style with an unexpected fabric.
Fox River Ragg Gloves // When Luke still worked in an office, he was constantly complaining of his hands being cold. These fingerless gloves were a great solution: warm hands, but his fingers were still free to type.
Flint and Tinder Texas-Made Flannel // Every guy needs a few good plaid shirts in his wardrobe. We have had great luck with shirts from Flint and Tinder in the past, and I like the subtle shade of this one.
---
// READ //
I said in the intro that the gifts on this list were all hand-picked by Luke. However, Luke doesn't get to read as much as he would like and doesn't do as much bookish research as his wife. 😉 So quite a few of the titles on this list are my ideas that I am fairly certain he would like (and that your guy will probably like too), even though he doesn't know it yet.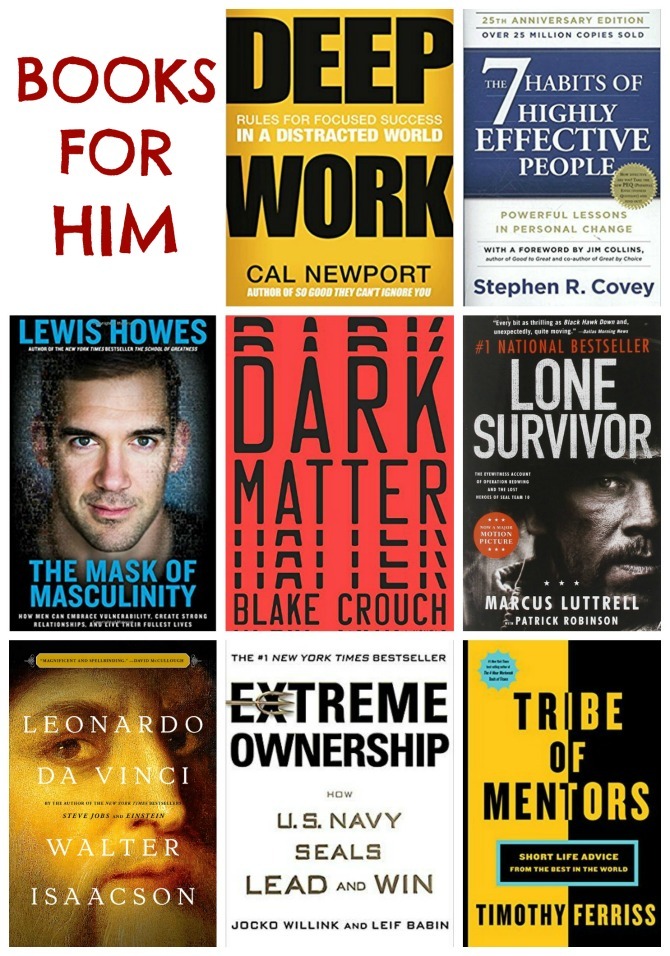 Deep Work, by Cal Newport: I personally found a lot of value in this book when I read it last month, and while I was reading I kept thinking, "Luke NEEDS to read this!" Great for a guy who finds himself balancing many projects and in need of some guidance in determining where to direct his attention.
The 7 Habits of Highly Effective People, by Stephen R. Covey: This is a classic I can't stop talking about (or stop nagging Luke to read!). Even our pastor makes frequent references to it in his sermons. If the guy you're shopping for has any interest in the self help genre, and this isn't already on his shelf, it needs to be.
The Mask of Masculinity, by Lewis Howes: Touchy-feely material from a not-so-touch-feely-author. I've heard Lewis Howes talk about this book on a few podcasts, and have been so impressed by his message. Think: Brené Brown, for a male audience.
Dark Matter, by Blake Crouch: This twisty science fiction thriller is one of the best novels I read this year! It's the only fiction book on this list, and it definitely earned its spot.
Lone Survivor, by Marcus Luttrell: Luke just finished reading this, and I could tell from the tears in his eyes as he talked about it that it really resonated.
Leonardo Da Vinci, by Walter Isaacson: Isaacson's biographies are always excellent, and this one looks to be his most intriguing yet. If you gift this book, be sure to have the recipient check out this podcast interview with Isaacson, which elaborates on his writing process and what drew him to the subject of this book.
Extreme Ownership: How Navy Seals Lead and Win, by Jocko Willink and Leif Babin: This is another book Luke read recently and highly recommends.
Tribe of Mentors, by Timothy Ferriss: Luke and I are both huge Tim Ferriss fans. In this most recent book, Tim consolidates life advice from an eclectic assortment of experts. I haven't gotten to it yet, but it sounds fascinating!
---
If you're looking for even more gift inspiration, including my ideas for experience gifts, check out last year's gift guide for Dad. And be sure to check back here on Friday for my gift ideas for the preschoolers on your shopping list.