I hope that you've enjoyed this week of holiday gift inspiration as much as I enjoyed putting it together! In case you're just joining us today, on Monday I shared my recommendations for gifts for a young mom, and on Wednesday I offered gift ideas for the young dad on your Christmas list. Today we're closing out the week with my ideas for toddler gifts.
This list was hands-down the most fun to compile; in fact, I got a little carried away, which means you will be seeing not four but EIGHT ideas for each category (something your toddler would want, need, wear, and read).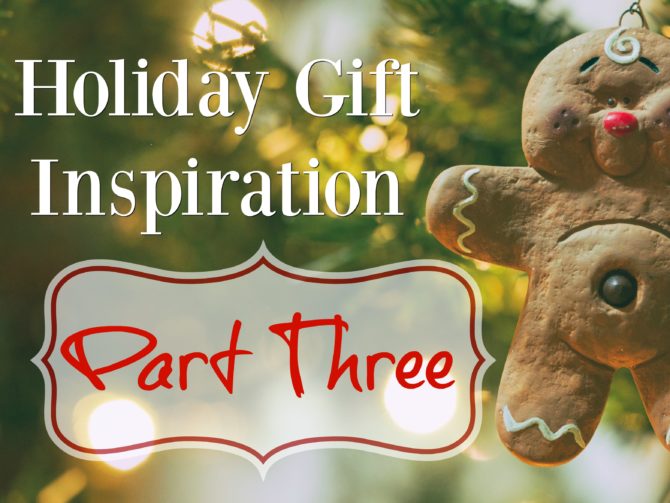 Each item on this list is either something Luke and I have considered giving Charleston this Christmas, or is a gift we have requested from family (although I sure hope he doesn't receive every one of these items; after all, his birthday is just a month away!). I've done my best to keep these suggestions relatively unisex, so whether the toddler on your Christmas list is a boy or a girl, these items are sure to be a hit!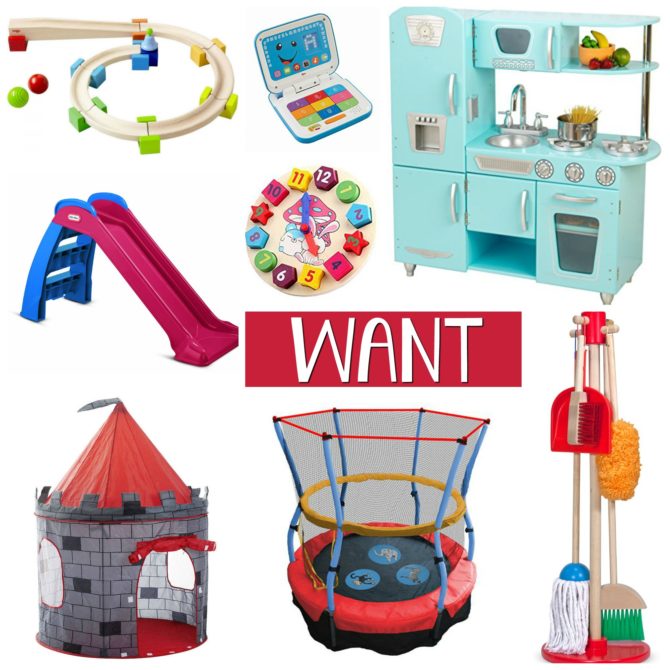 HABA My First Ball Track // This simple toy combines two things most kids love: balls and blocks!
Fisher-Price Laugh & Learn Smart Stages Laptop // I don't know about your kids, but mine is pretty enamored with mama's and daddy's computers, so I'm sure he would be thrilled to have a "laptop" of his own.
KidKraft Vintage Kitchen // It's never to early to start teaching those cooking skills! There are countless toy kitchens out there, but I'm really digging this adorable vintage style, which is available in several colors. This food set would make a great accompanying gift.
Little Tikes First Slide // Compared to a playground slide, this one is pretty simple; but our church nursery has this slide, and I can hardly get Charlie to leave it when I pick him up each week, so apparently it meets a toddler's requirements for an excellent toy! Parents will appreciate that it folds flat for storage.
Wooden Shape Sorting Clock Puzzle // This is a simple toy, but with its colors, shapes, and numbers, it offers multiple opportunities for learning.
Knight Castle Prince House Kids Play Tent // I had a similar tent when I was growing up, and my friends and I played in it well into our elementary years. I love the idea of filling this tent with books and making it a "reading tent."
Skywalker Trampolines Zoo Adventure Bouncer // A friend of mine bought a trampoline for her 2-year-old and says it is the best purchase she has made as a parent. Thanks to the safety net, this trampoline can be filled with balls to double as a ball pit.
Melissa & Doug Let's Play House Pretend Play Set // A set of toy mops and brooms might not be appealing to me as an adult, but after seeing how much Charlie loves helping me clean, I know that he would be thrilled to receive his own set of cleaning supplies.
---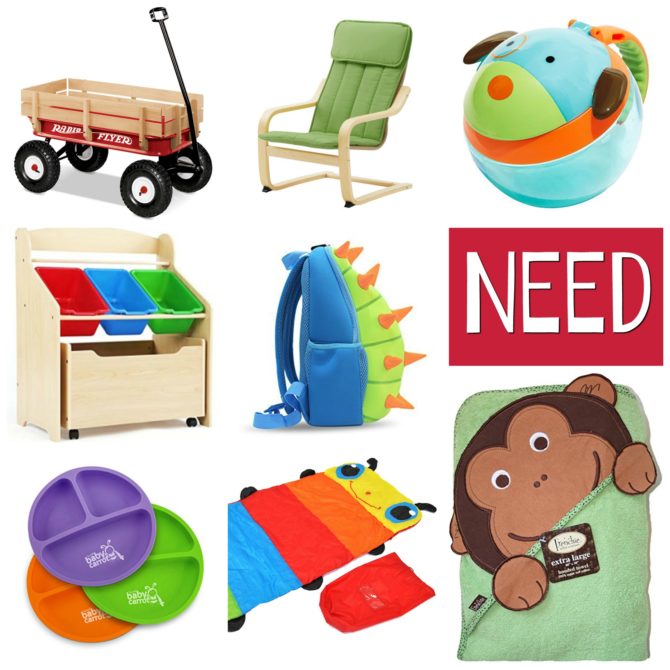 All-Terrain Steel and Wood Wagon // Categorizing a wagon as a need might be a stretch, but I think we can all agree that every kid needs to grow up with a Radio Flyer!
POÄNG Children's Armchair // Charlie gets excited about sitting in this IKEA chair every time we visit the store, and I'm sure he would love to have one of his own at home. The chair also comes in blue, white, and pink.
Skip Hop Baby Zoo Snack Cup with Snap Top Lid and No Spill Opening // Perfect for snacks on the go! I love the flip top, since the no-spill openings on these cups tend to stretch out over time (a lesson we learned through many Cheerios spills.)
Tot Tutors Kids' Store-All Unit // The perfect spot to store all those great toys you received this Christmas!
YISIBO 3D Kids Backpack // This backpack is as cute as it is functional; hopefully that translates to your toddler wanting to carry his own bag! We use a similar one in place of a diaper bag, but I (I mean, Charlie) would like to get a second one so we can keep one in each car.
Sweet Baby Carrot Toddler Divided Plates // The divided compartments are perfect for picky eaters. These plates are soft and unbreakable, as well as dishwasher safe.
Colorful Caterpillar Nap time Sleeping Bag for Children // This sleeping bag just might be cute enough to convince my toddler that napping is a good idea! Pair it with a matching flashlight and a copy of The Very Hungry Caterpillar.
Frenchie Mini Couture Absorbent Hooded Towel // My biggest complaint with baby towels is how rough they get after a few trips through the washing machine, but reviewers say this one stays soft and absorbent. Available in multiple animal styles.
---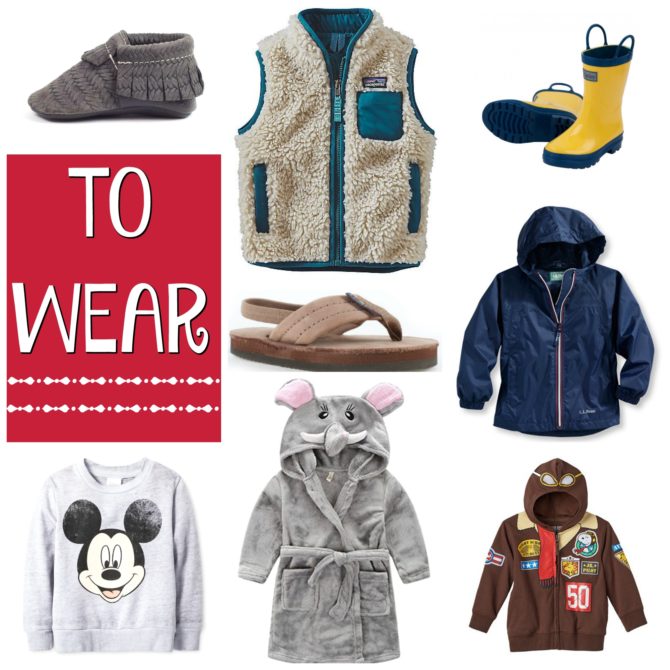 Freshly Picked Moccs // By now you're probably tired of hearing me talk about these shoes, but they really are just the cutest. Charlie is currently on his second pair, and this sweater pattern has me wanting to add another to his shoe collection. And the styles for girls are too precious for words!  (These rose gold ones are my favorite.)
Patagonia Baby Retro-X Vest // Vests are a great way to add warmth and style to your toddler's wardrobe. This one comes in three unique colors.
Hatley Rain Boots // Charlie wasn't quite walking last winter, but this year he can't be stopped, so we're going to need some rain boots to survive all the puddles. If your toddler doesn't already own a pair of rain boots, thees look like the perfect pair.
Rainbow Sandals // You can take the boy out of California, but you can't take the California out of the boy—at least that's what Luke and I are telling ourselves when we think about raising our son in a different state! These Rainbows would help any toddler get in touch with their inner Californian, regardless of which state you call home.
L. L. Bean Discovery Rain Jacket // A rain jacket is another must-have accessory for the coming rainy season. This jacket also comes in yellow, pink, and red, and has excellent buyer reviews.
Mickey Mouse Burnout Crew Fleece // Because every kid loves Mickey Mouse!
EGELEXY Hooded Fleece Bathrobe // This fun robe brings a taste of Halloween costuming to every bath time. Reviewers note that it runs small, so size up for the best fit.
Peanuts Snoopy Hoodie // I can't even handle how darling this hoodie is! If you're looking for a cute girl alternative, I'd go with this sweet Snoopy sweatshirt.
---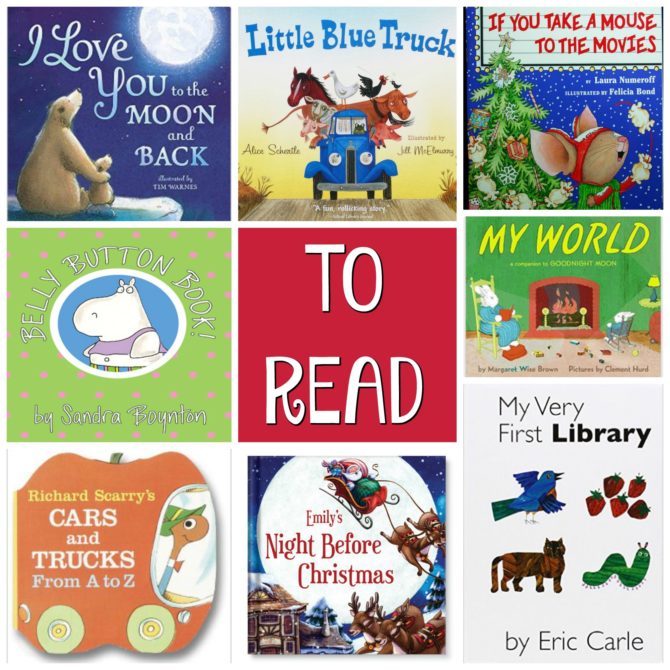 I Love You to the Moon and Back, by Amelia Hepworth  // I would buy this book for the title alone!
Little Blue Truck, by Alice Schertle  // I haven't read this one, but many friends have cited it as a family favorite. I'm intrigued by the publisher's description: " a rollicking homage to the power of friendship and the rewards of helping others."
If You Take a Mouse to the Movies, by Laura Numeroff // Any of the Laura Numeroff books would be a welcome gift, but the seasonal theme of this title make it an especially good book to buy at Christmas.
Belly Button Book!, by Sandra Boynton // You can't go wrong with a book by Sandra Boynton! And books about body parts are always a hit.
Richard Scarry's Cars and Trucks From A to Z // Richard Scarry's books are such treasured classics, and I'm really digging the fun shape of this board book.
My Night Before Christmas Personalized Book // We bought Charlie a personalized birthday book from this company last year, and it's become a favorite nighttime read. This is just one of many Christmas options for personalized books from I See Me!
My Very First Library, by Eric Carle // This collection includes four classic Carle books including My Very First Book of Colors, My Very First Book of Shapes, My Very First Book of Numbers, and My Very First Books of Words.
---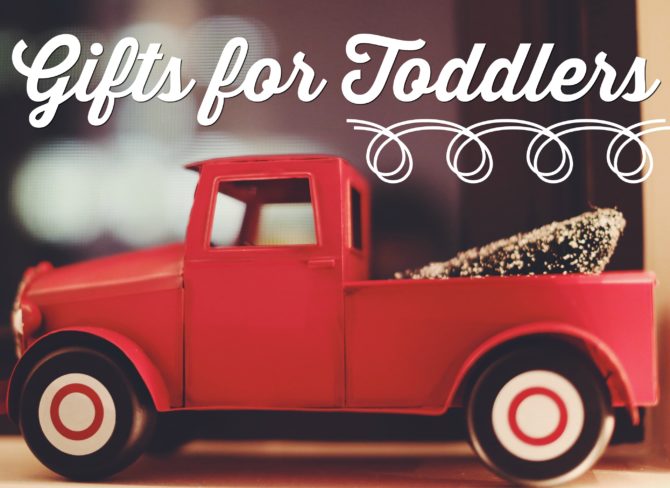 Gifting an experience can be tough with young kids, because they don't really understand the concept of a delayed presents. However, I have some great ideas for experiences that any toddler is sure to enjoy. Just make sure you give them a small something (stuffed animal, key chain, etc.) to go along with the experience so they have a package to open!
Annual membership to a local children's museum.
Tickets to see a live children's concert.
Annual pass to an amusement park.
Gift card to a bounce house park or trampoline park.
Membership to a nearby play gym.
Annual membership to a zoo or aquarium.
Enrollment in swimming lessons, cooking classes, or music classes.
Save
Save
Save
Save
Save
Save
Save
Save
Save
Save
Save
Save
Save