I've had a lot of fun compiling these lists of gift ideas, and I hope you've found them helpful (or at the very least, entertaining!) as you work towards checking off every last person on your Christmas gift list. We all know that Christmas is about so much more than presents, but finding and giving the perfect gift can be a lot of fun, especially for those of us who consider gift-giving our primary love language.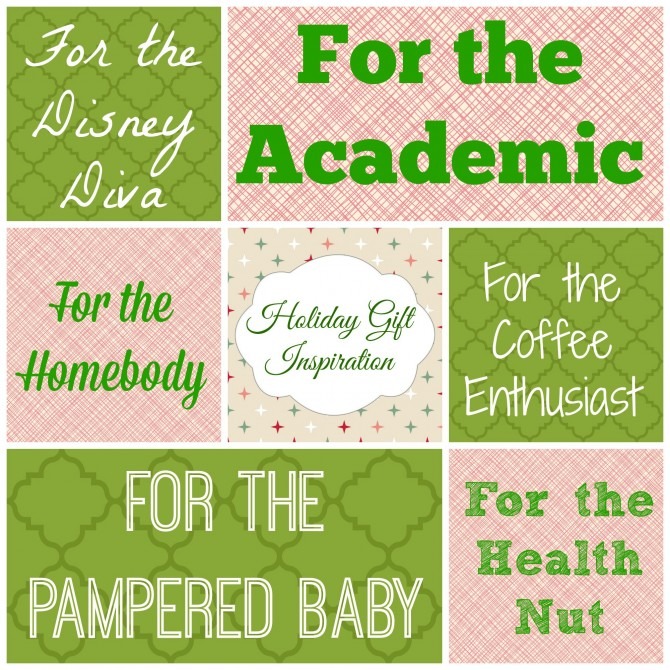 Today I'm sharing my want/need/wear/read suggestions for the Academic, the Coffee Enthusiast, the Health Nut, the Pampered Baby, the Homebody, and the Disney Diva. If you are like me, you have one—or all—of these people on your need-to-shop-for list!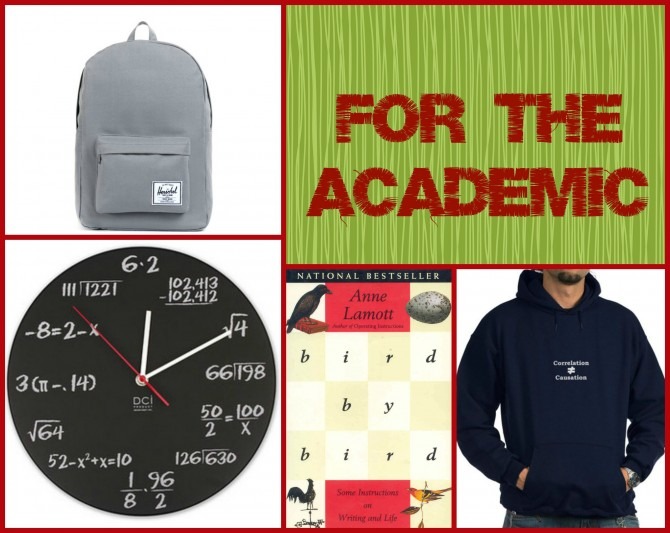 Want // Pop Quiz Clock, $25: This fun and quirky clock is perfect for teachers, math geeks, or anyone who loves a good math pun. I was never a stellar math student, but this clock makes me smile.
Need // Herschel Classic Backpack, $30: Backpacks have come a long way since the days when I carried my vinyl pink Jansport to school. This timeless design from Herschel is fully lined and comes in numerous colors and patterns.
To Wear // Correlation Doesn't Equal Causation Hoodie, $50: Nothing says student like the classic hoodie, and the statistics-themed message on this one will be appreciated by any serious academic.
To Read // Bird by Bird, $10: Anne Lamott's guide to writing consistently makes an appearance on lists of top books for writers. In this instructional guide, Lamott offers down-to-earth guidance and inspiration for the aspiring author.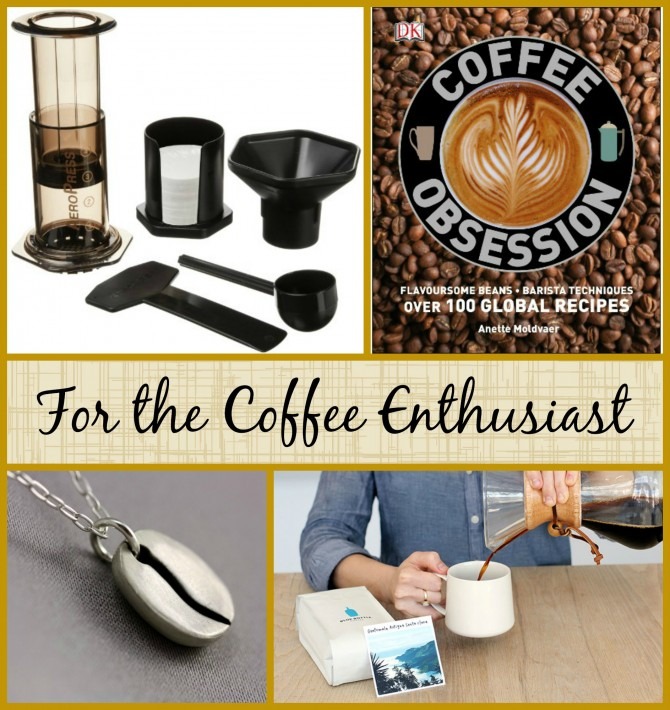 Want // Aeropress Coffee and Espresso Maker, $26: The AeroPress Coffee Maker is a fast and convenient way to make 1-2 cups of fresh coffee: ideal for the household with a single coffee lover. My husband (the coffee drinker in our home) has been using his Aeropress for years and loves the smooth, rich coffee it produces.
Need // Blue Bottle Coffee Subscription, $11-$34 for two shipments (depending on bag size): As a non-coffee drinker, I hesitate to classify coffee beans as a "need," but I know many coffee addicts lovers who would disagree with me! Blue Bottle Coffee sells fresh, responsibly sourced coffee that is delivered less than 48 hours after roasting. Gift subscriptions—available in 3 sizes and delivered biweekly—allow you to give the gift of coffee for one month or all throughout the year. My husband can attest to the quality of this coffee: after drinking Blue Bottle Coffee for some time now, Luke has a hard time appreciating any other brand.
To Wear // Coffee Girl Necklace, $60: Whimsical yet sophisticated, this sterling silver necklace is perfect for the coffee-loving fashionista with an appreciation for unique jewelry.
To Read // Coffee Obsession, $16: This attractive coffee table book explores the history of coffee production around the world. The book explores variations on the coffee of different regions and includes more than 100 global coffee recipes.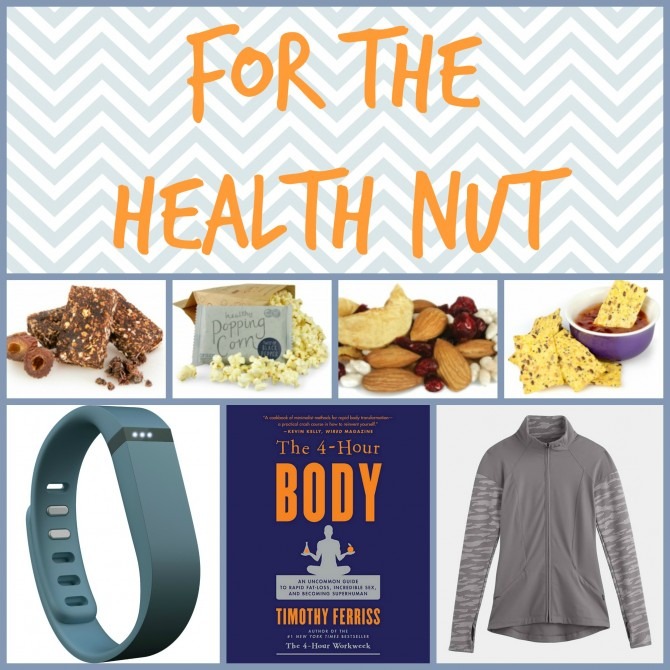 Want // Fitbit Flex, $95: The true health nut likely already has a fitness tracker, but if not, this gift will be the highlight of their Christmas! This attractive wristband tracks steps, distance, and calories burned; monitors sleep duration and quality; and even serves as a silent alarm. The fitbit is waterproof and automatically syncs with mobile devices.
Need // Graze Snacks Gift Voucher, $21 for three snack shipments: High-intensity workouts require proper fueling, and the healthy snacks from Graze are perfect for an on-the-go boost of energy. Graze offers a range of allergy-friendly snacks to choose from, from popcorn and bars to fruit and nut mixes and cookie dippers. Boxes are delivered weekly or biweekly, and each box contains four individual snacks.
To Wear // Under Armour StudioMod Jacket, $120: This lightweight, water-resistant  jacket is ideal for chilly winter runs. The slim fit allows for easy mobility, and the classic design is a suitable match for non-workout wardrobes as well.
To Read // The 4-Hour Body, $17: Insightful, entertaining, and unexpected, The 4-Hour Body offers researched-backed suggestions for achieving optimal health on multiple levels. Author Tim Ferriss has a self-professed obsession with hacking the human body, and his personal discoveries are astonishing and motivational.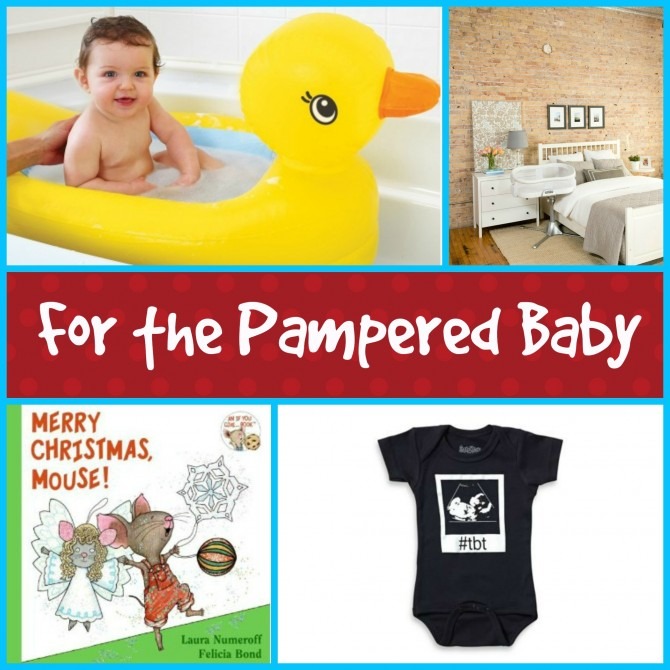 Want // Inflatable Safety Duck Tub, $13: We all know that rubber ducky makes bath time lots of fun, so can you imagine how much fun baby will have in this inflatable duck tub? And with features like a nonstick surface, safety disc that indicates when bath water gets too hot, and easy portability, Mom and Dad will be happy with this tub too!
Need // HALO Bassinest Swivel Sleeper, $250: Recommended for babies up to five months of age, the HALO Swivel Sleeper is a truly unique bassinet featuring a 360 degree rotation, lowering sidewall, nightlight, and various sound and vibration options. Baby will love getting to sleep right next to Mom and Dad!
To Wear // #TBT Bodysuit, $15: There is certainly no shortage of adorable baby clothing options (in fact, the phrase "cute baby clothes" is completely redundant), but this clever onesie struck me as particularly charming and perfect for a young member of the "hashtag generation."
To Read // Merry Christmas, Mouse!, $4: Everybody's favorite cookie-loving mouse makes a holiday appearance in this baby-friendly board book. This would make an excellent addition to any family's Christmas book collection!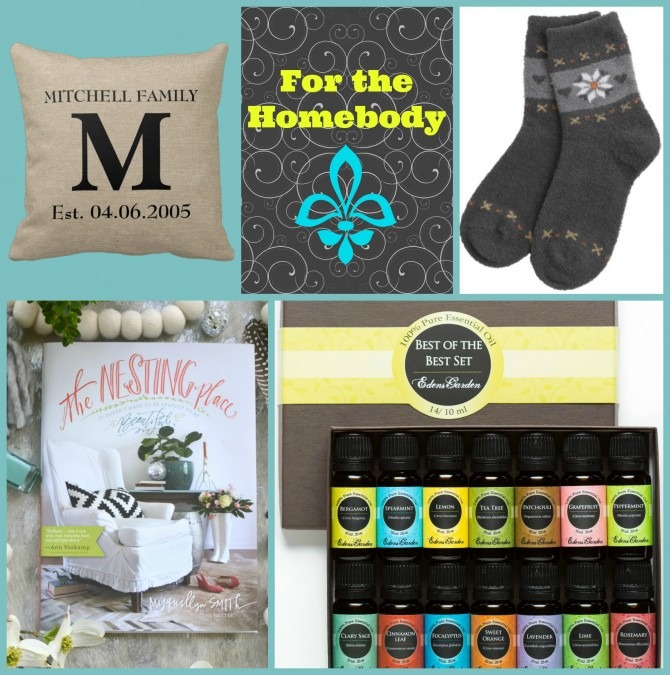 Want // Monogram Throw Pillow, $29: Zazzle offers a beautiful selection of holiday throw pillows, and their customizable linen burlap pillows are extra special. Pillows are washable, and each pillow includes both the case and a synthetic-filled insert.
Need // Essential Oils Aromatherapy Gift Set, $40: Everyone seems to be raving about essential oils lately, and with their myriad medicinal and pharmacological purposes, it's easy to understand why. This gift set is perfect for the individual who is just being introduced to the wide world of essential oils.
To Wear // Microfiber Fuzzy Socks, $20: I'm not sure I know anybody who doesn't love socks, especially socks that are warm and fuzzy! These microfiber socks come in packs of 3-6 pairs and are available in a wide range of colors and styles.
To Read // The Nesting Place, $13: Myquillyn Smith—a self-taught decorator and one of my favorite bloggers—is known for her phrase, "it doesn't have to be perfect to be beautiful." In this gorgeous book, Myquillyn shares her tips for making a home beautiful while also embracing its imperfections.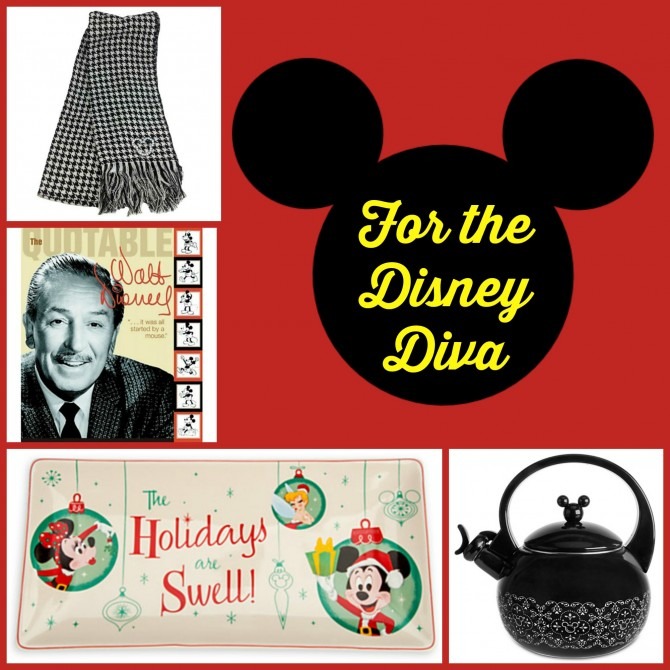 Want // Mickey & Minnie Holiday Tray, $35: Great for serving up (Mickey-shaped?) Christmas cookies, this retro Disney tray is sure to become a treasured holiday keepsake. The ceramic tray is microwave and dishwasher safe.
Need // Mickey Mouse Tea Kettle, $40: This adorable kettle combines two of my personal favorite things: Disney and tea! The Disney elements of this kettle are subtle enough to blend in with any modern kitchen.
To Wear // Black and White Disney Scarf, $27: This beautiful scarf is elegant and versatile, and the Rhinestone Mickey Head Brooch adds just the right amount of Disney whimsy. This is a sure-to-please gift for ANY diva, but it will particularly tickle a Disney Diva's fancy!
To Read // Quotable Walt Disney, $8: Walt Disney is one of the greatest visionaries of the last century. Though many of us can quote entire scenes from his movies, Disney's personal words are much less widely known. This collector's book allows fans to read words of wisdom, wit, and insight from Walt Disney himself.
+          +          +          +          +
Believe it or not, we are only three weeks away from Christmas Day. Hopefully this list has provided some assistance in your gift-buying endeavors. Happy shopping!