Christmas is about so much more than presents, but giving gifts at Christmastime can be a great way to express our love and appreciation for the special individuals in our lives. I personally love searching for that perfect gift for everyone on my list, and I enjoy scouting out presents that are a bit unusual and unexpected.
Today I'm sharing some fun gift ideas for twelve categories of people that you might find yourself buying for this Christmas. Within each category I've listed a couple of stocking stuffer ideas, as well as some suggestions for subscription box gifts that are sure to please—because who wouldn't want to receive a gift that keeps on giving throughout the year? I've also listed some ideas for experience gifts that are sure to be a hit.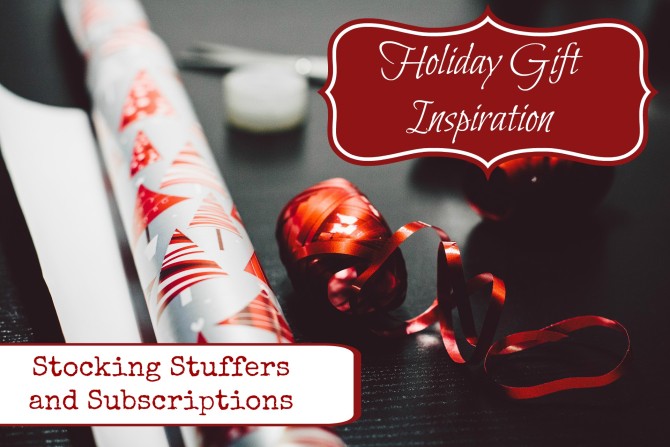 FOR THE NEW MOM
I'm kicking off this list with a category I know well. It might not be possible to give Mom the gift she covets most (a decent night's sleep), but these gifts will be appreciated nevertheless. As a relatively new mom myself, I would be thrilled to receive any one of these items.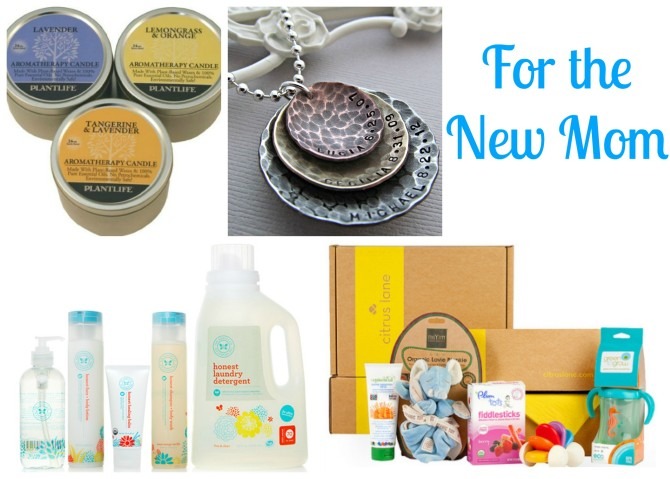 Stocking Stuffers: Personalized Mom Necklace // Aromatherapy Candles
Subscription Boxes:
The Honest Company Monthly Bundle – The Honest Company makes natural and organic products that are safe for everyday use. Choose from a variety of monthly bundles that can include everything from cleaning supplies to diapers.
Citrus Lane – Each box is filled with four or five items for moms and kids ages newborn to five years old. Products include toys, books and snacks and are catered to baby's age and gender.
Bonus Gifts: Gift Certificate for a Home Cleaning Service // Day of Pampering at a Local Spa
---
FOR THE EVERYDAY GUY
Guys are notoriously difficult to shop for, but you can't go wrong with one of these eclectic gift boxes or everyday tools.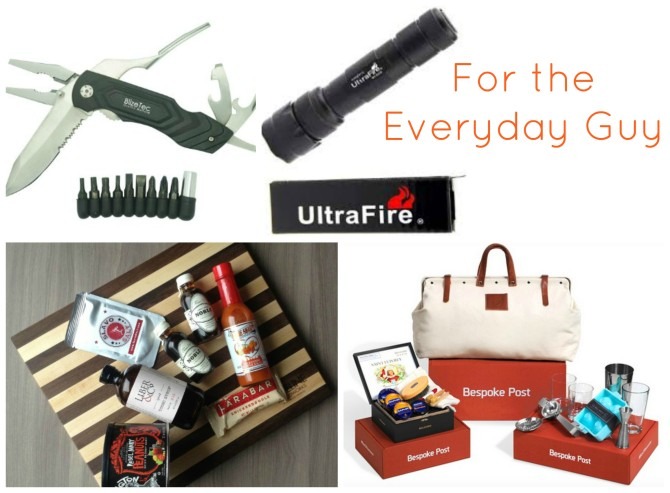 Stocking Stuffers: Multitool Pocket Knife // Flashlight 
Subscription Boxes:
BroBox – This box for bros sends snacks, grooming products, and fitness items that any guy would love.
Bespoke Post – Monthly boxes contain a themed collection of goods like barware, items for grilling, and clothing accessories.
Bonus Gifts: Unlimited Movie Pass // Hand Carwash and Detail
---
FOR THE BEAUTY QUEEN
I'm not much of makeup person myself, but I have friends who are and they are so much fun to shop for. These items are certain to be well received by any lady in your life, from the makeup newbie to the beauty guru.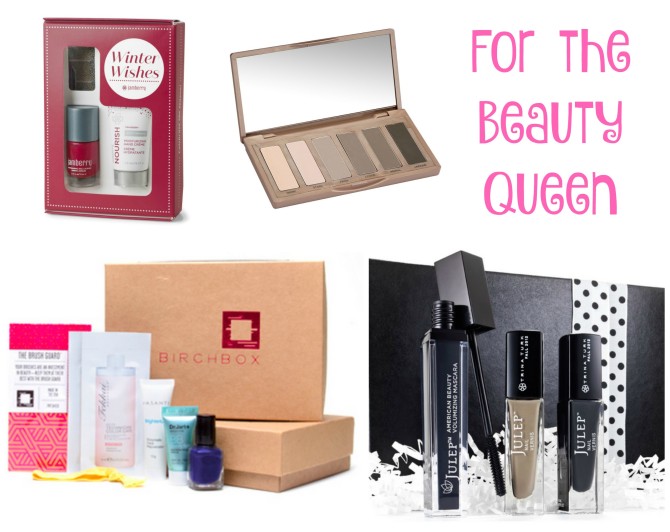 Stocking Stuffers: Jamberry Nail Wraps // Naked 2 Basic Color Pallette
Subscription Boxes:
Birchbox – Each Birchbox contains up to five beauty samples, allowing recipients to discover new products and brands without having to invest in full-sized items.
Julep Maven – This nail polish and beauty subscription service sends a monthly collection of polishes plus one full-sized beauty item.
Bonus Gifts:   Custom Makeover // Certificate for a Mani-Pedi
---
FOR THE FOODIE
You can almost never go wrong with a food-themed gift, especially when your recipient has the heart (and palette) of a foodie. There is a plethora of gift options for the food lover in your life, but these unique gifts will certainly stand out in a sea of cookie platters, restaurant gift cards, and boxes of chocolate.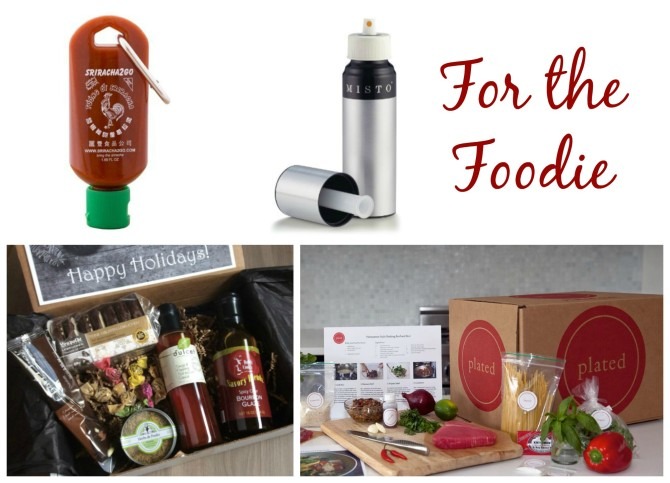 Stocking Stuffers: Sriracha2Go // Misto Oil Sprayer
Subscription Boxes:
Taste Trunk – Subscribers receive gourmet food each month and can choose to receive food from one of four categories: gourmet, sweet, health and BBQ.
Plated – This weekly meal and recipe subscription service delivers the ingredients to prepare restaurant-quality meals at home. Various menu options cater to a variety of diets, from vegetarian to gluten-free.
Bonus Gifts: Cooking Classes // Private Wine Tasting
---
FOR THE SENTIMENTAL FRIEND
In this modern age of social media and digitalization, it's rare to come across the sentimental soul who still values the lost arts of scrapbooking, note writing, and journaling. But if you do have such a friend in your life, she's sure to love any one of these gift ideas.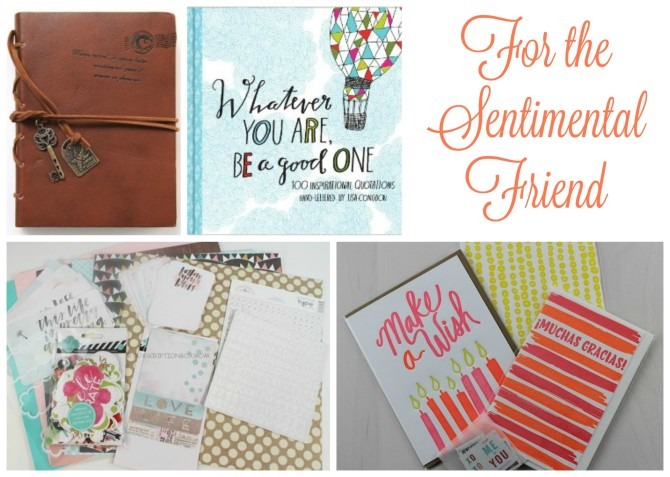 Stocking Stuffers: Vintage Leather Notebook // Book of Hand-Lettered Inspirational Quotes
Subscription Boxes:
Paper Goose – Monthly boxes include patterned paper, coordinating card stock, and embellishments to create up to five scrapbook pages.
Nicely Noted – Perfect for those who enjoy the art of letter writing, this box sends a monthly assortment of handmade letterpress cards and attractive postage stamps.
Bonus Gifts: Custom Photo Album // Framed Photo of a Favorite Memory
---
FOR THE MODERN GENTLEMAN
We've already established that we women face a substantial challenge when it comes to shopping for the men in our lives. If a guy on your list is a bit more sophisticated than the average Joe, one of these gentlemanly gifts might be the perfect fit.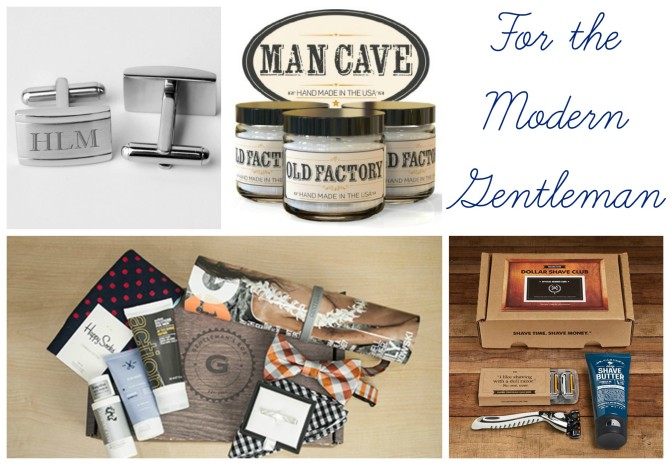 Stocking Stuffers: Monogrammed Cufflinks // Man Cave Scented Candles
Subscription Boxes:
Gentleman's Box – Curated exclusively for the modern gentleman, each themed box includes accessories, grooming items, and a copy of GQ magazine.
Dollar Shave Club – Boxes start as low s $1 and include razors and other shaving accessories.
Bonus Gifts: Trunk Club Giftcard // Membership to a Private Golf Club
---
FOR THE BOOKWORM
Book lovers are some of the easiest people to buy for, because there is no shortage of perfectly gift-able books. If you're looking for something a bit less traditional for the book lover on your list, one of these gifts is sure to be the perfect fit.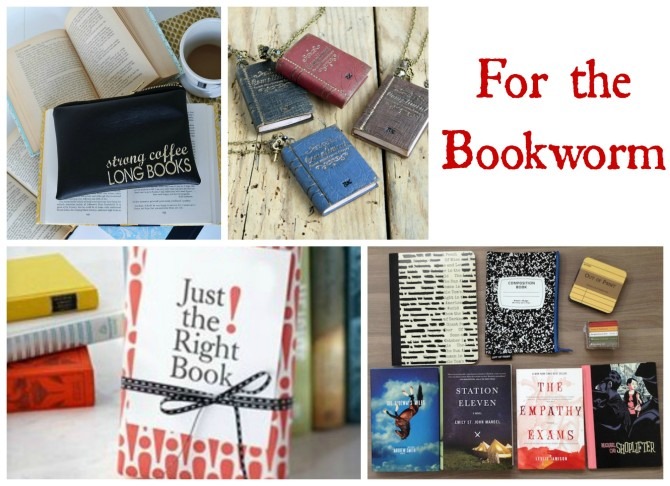 Stocking Stuffers: Strong Coffee Long Books Pencil Pouch // Book Necklace 
Subscription Boxes:
Just the Right Book Box – This reading service is a personal shopper for books. Each month, readers receive a book that has been hand selected to match their reading style, and books can be returned if they are not the right fit.
Book Riot by Quarterly – Boxes are sent out every three months and include a mix of bookish items as well as one or two books.
Bonus Gift: Subscription for an Audiobook or Ebook Service
---
FOR THE JETSETTER
The ideal gift for your favorite traveler would be an all-expenses-paid trip to ANYWHERE, but these gifts might be a bit more in line with your Christmas shopping budget.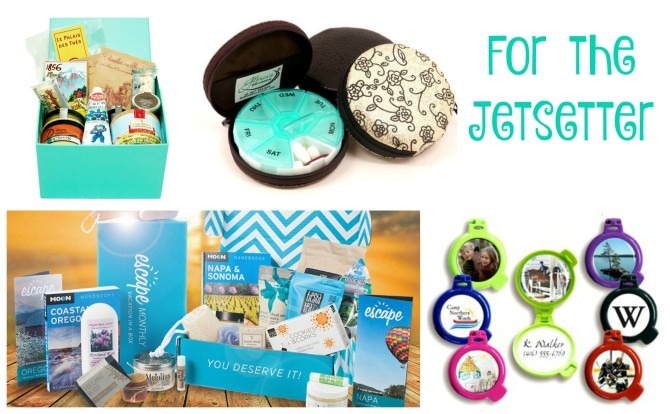 Stocking Stuffers: Zip-a-Round Travel Pill Case // Swagger Tag Luggage Tags
Subscription Boxes:
Try the World – Bi-monthly boxes include gourmet food from various countries. Ideal for the traveling foodie.
Escape Monthly – Each "vacation in a box" is sourced from a specific destination and includes luxury products such as spa items and gourmet food, as well as a travel guide that recipients can use to plan their own escape.
Bonus Gifts: National Park Pass // Certificate for a Local Excursion
---
FOR THE FASHIONISTA
While nearly any woman would happily receive a wearable gift this Christmas, it can be a challenge to find items that work with a given woman's body type and personal style. Fortunately these gifts can be customized to fit nearly any gal's taste.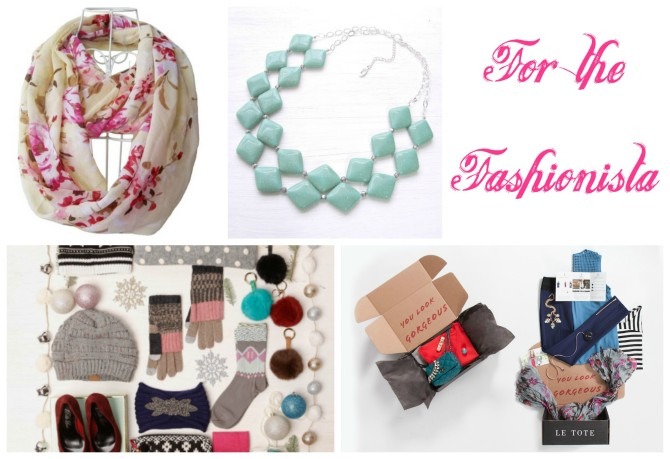 Stocking Stuffers: Infinity Scarf // Statement Necklace
Subscription Boxes:
Golden Tote – Totes are filled with stylish clothing accessories. The recipient chooses one or two items she would like to receive and is surprised with three or four more pieces hand selected to fit her personal style.
Le Tote – This month-to-month clothing rental subscription sends unlimited boxes containing three garments and two accessories. The recipient can keep items to wear for as long she likes, or send the box back for a new selection of items as frequently as she would like. Maternity pieces are available as well.
Bonus Gifts: Stitch Fix Gift Card // Personal Color Analysis
---
FOR THE GAME ENTHUSIAST
If you find yourself shopping for a game lover in your family, you can always go the traditional board game route. . . or you can change things up with one of these less-expected gifts.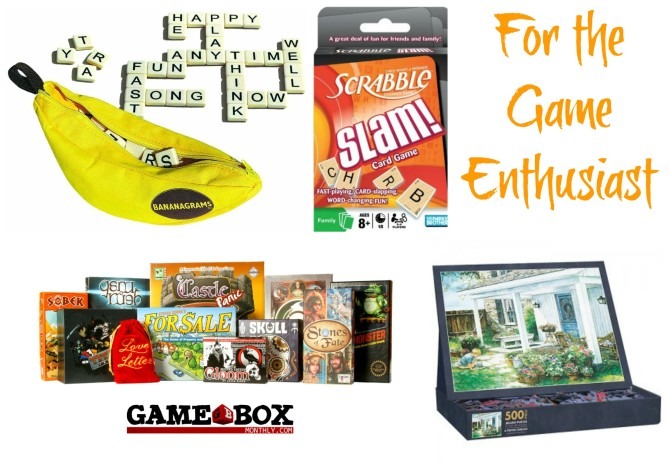 Stocking Stuffers:  Bananagrams //  Scrabble Slam Cards
Subscription Boxes:
Game Box Monthly – Each month, game lovers have a new tabletop game delivered to their door. Customizable subscriptions allow recipients to note games they already own to avoid doubles.
Puzzle of the Month Club – Your favorite puzzle enthusiast will receive a quality jigsaw puzzle each month. Choose between three different size options.
Bonus Gifts: Lumosity Brain Training Subscription // GameFly Subscription
---
FOR THE ATHLETE
For many of us, an exercise-related gift would feel like a cruel joke, but the athlete on your Christmas shopping list will feel nothing but gratitude when receiving a gift that fuels his or her healthy habits.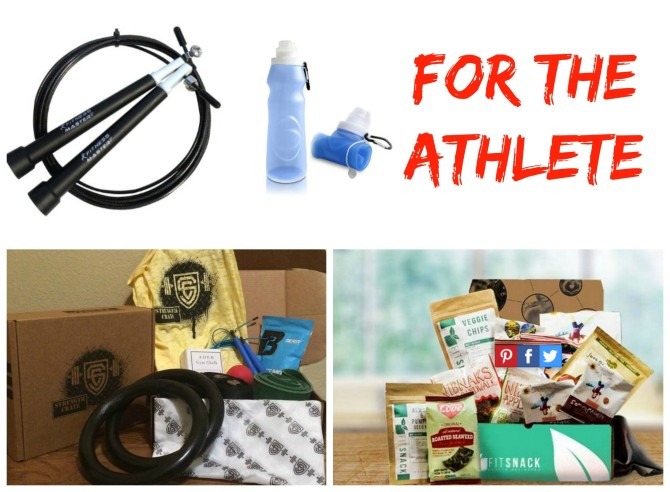 Stocking Stuffers: Jump Rope // Collapsible Sports Water Bottle 
Subscription Boxes:
Strength Crate – Strength Crate is the latest subscription to break into the fitness crate game. Boxes are filled with equipment, exercise apparel, supplements, and training aids.
Nature Box – Perfect for the healthy foodie, each box comes filled with six to nine different snacks, workout challenges, gear, and other things to fuel active lifestyle.
Bonus Gifts: Unlimited Fitness Classes with Class Pass Membership  // Rock Climbing Lessons
---
FOR THE CURIOUS KIDDO
I'm rounding out my gift guide with some ideas for the fun and adventurous kid on your Christmas list. The teacher in me appreciates that each of these gift ideas doubles as a learning opportunity. (Don't worry: the kids will have so much fun with these gifts, they won't notice they're learning as they play!)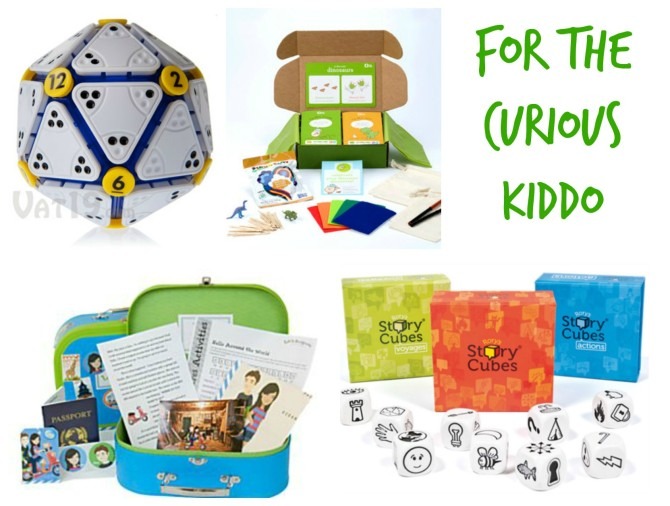 Stocking Stuffers: Rory's Story Cubes // IcoSoKu Brainteaser Puzzle  
Subscription Boxes:
Kiwi Crate – With boxes suitable for kids from preschool through high school, Kiwi Crate encourages curiosity and creativity through themed monthly boxes that include crafts, experiments, and other exploratory projects.
Little Passports – Little Passports is a fun and innovative way to instill a lifelong appreciation of history, geography and culture. Destination-specific boxes include passports, stickers, games, and everything else kids (ages 3-12) need to join characters Sam and Sofia on their international adventures.
Bonus Gifts: MyGym Membership // Annual Passes to a Kids Museum or Local Aquarium
---
Whether you're putting the finishing touches on your holiday gift buying or (like me) have hardly put a dent in your shopping list, I hope these suggestions have sparked some gift-buying inspiration. For more gift ideas, check out last year's gift guides where I offer suggestions for everyone from the Coffee Enthusiast to the Disney Diva. Happy shopping!