Every year, I have grand intentions of wrapping up my Christmas shopping early—as in, before-Thanksgiving early. This ambitious goal has yet to be achieved, and this year, once again, I find myself post-Black Friday without having made a dent in my Christmas gift list. Thank goodness for online shopping, and the ability to check items off my list without having to brave crazy mall traffic! I've been having a lot of fun poking around on line in search of Christmas gifts, and thought I'd share a few of my finds here for those of you who are still looking for some holiday gift inspiration.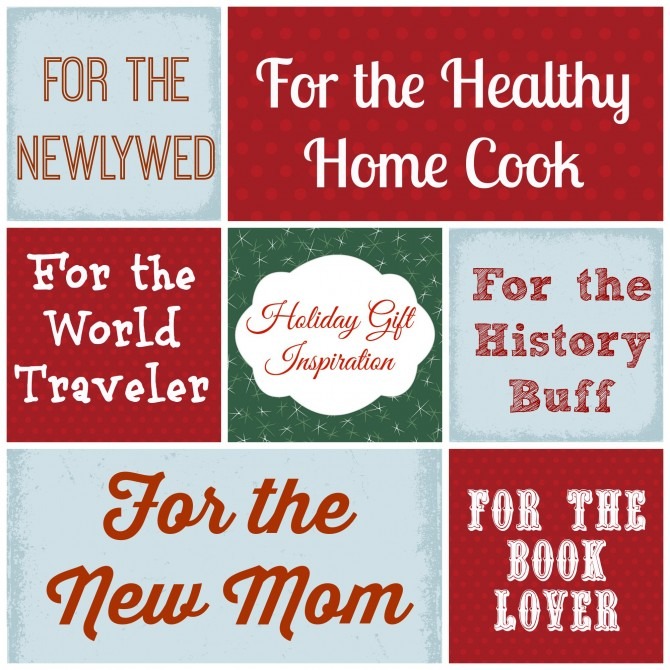 A few years ago, I started hearing about a minimalist approach to gift-giving: the idea is that, instead of bombarding children with every gift they could possibly want, each child receives ONE item from each of the following four categories:
Something they want, something they need, something to wear, and something to read.
I love this pared-down strategy—not just for children but for adults as well. Here are my want/need/wear/read gift suggestions for the Healthy Home Cook, the History Buff, the Book Lover, the New Mom, and the World Traveler in your life.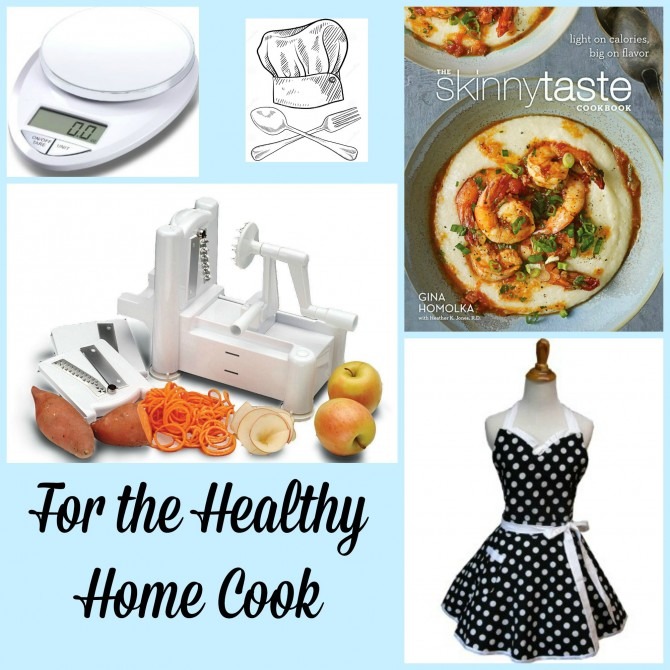 Want // Paderno World Cuisine Vegetable Spiralizer, $35: Pasta alternatives are all the rage these days, and this spiralizer makes it easy to transform fruits and vegetables into perfectly-shaped noodles. This item is definitely going on my wish list this year!
Need // EatSmart Precision Pro Digital Kitchen Scale, $20: No kitchen is complete without a digital food scale. I've been using one for a few years now, and it has practically replaced my need for measuring cups in the kitchen. This Eat Smart model is the scale I have in my kitchen: it's simple, but seems accurate and is very easy to use.
To Wear // Lovely Aprons Sweetheart Apron, $27: Cooking can be a messy business, but this adorable apron allows the home cook to look stylish while also keeping her clothes mess-free!
To Read // The Skinnytaste Cookbook, $18: Gina's website is one of my favorite cooking resources (I even highlighted it in one of my Spotlight posts), and I'm so excited that her healthy and delicious recipes are now in cookbook form.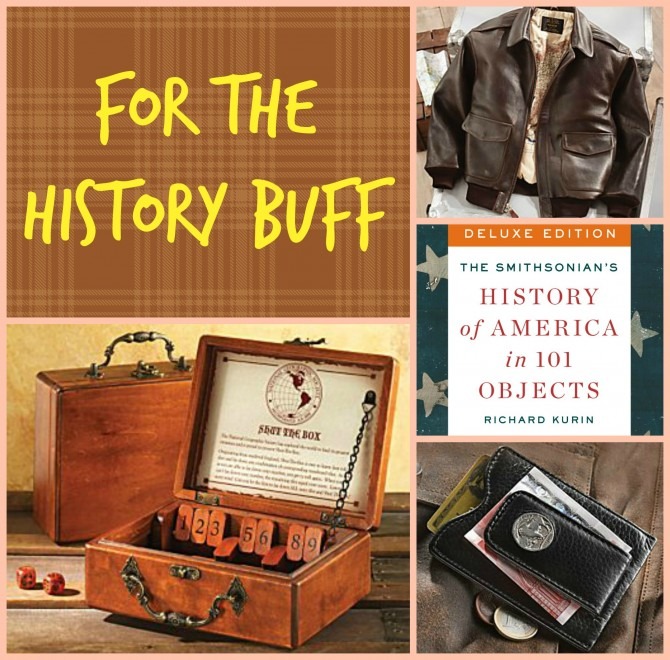 Want // National Geographic Shut the Box Game, $35: Shut-the-Box is a simple dice game that originated with Norman mariners. The old-world look of this antiqued addition makes it just as suitable for a unique piece of home decor as for family game night.
Need // Buffalo Nickel Money Clip Wallet, $50: This genuine leather money clip has the functionality of a wallet with the historic element of an authentic buffalo nickel.
To Wear // Leather A-2 Flight Jacket, $550: This jacket is the most expensive item on my list, but it's arguably also the coolest. This is a reproduction of the historical WWII flight jackets that were originally issued to allied pilots in 1931. The lining features a re-creation of survival maps, which were commonly sewn in to the lining of the A-2 flight jackets in case the pilots were shot down over enemy territory.
To Read // The Smithsonian's History of America in 101 Objects, $36: This collector's book is a literary exhibition of 101 heritage-defining objects from across the Smithsonian's museums. It's the equivalent of having a museum showcase sitting on your coffee table!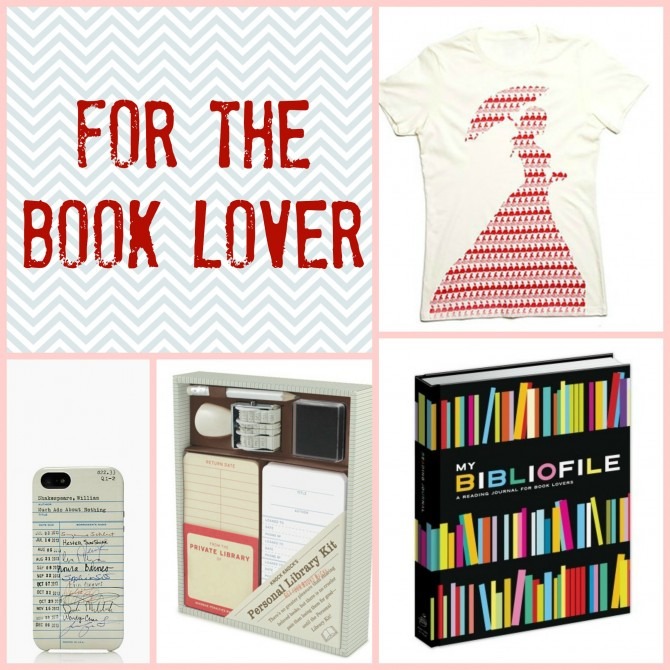 Want // Library Card iPhone Case, $28: Just because we've entered the digital age doesn't mean we can't be nostalgic for the classic library book! Inspired by vintage book cards, this case blends literary history with modern technology.
Need // Personal Library Kit, $16: Almost every book lover takes pleasure in sharing books, and this kit makes it easy to keep track of books that are lent out. No more missing books=a very happy bibliophile.
To Wear // "Little Women" T-Shirt, $24-$29: The Out of Print clothing line features clothing and accessories inspired by classic book covers. This cute Little Women t-shirt is one of the feminine options among the company's broad selection of items for women, men, and children.
To Read // My Bibliofile: A Reading Journal for Book Lovers, $9: This journal might be stretching the "to read" category a bit, but literary tastes are so particular, and it can be hard to find just the right book for a true bibliophile. However, every book lover needs a journal in which to keep a detailed record of books read. This journal has some great features, including a 5-star shade-in system for each book and spaces to record favorite books.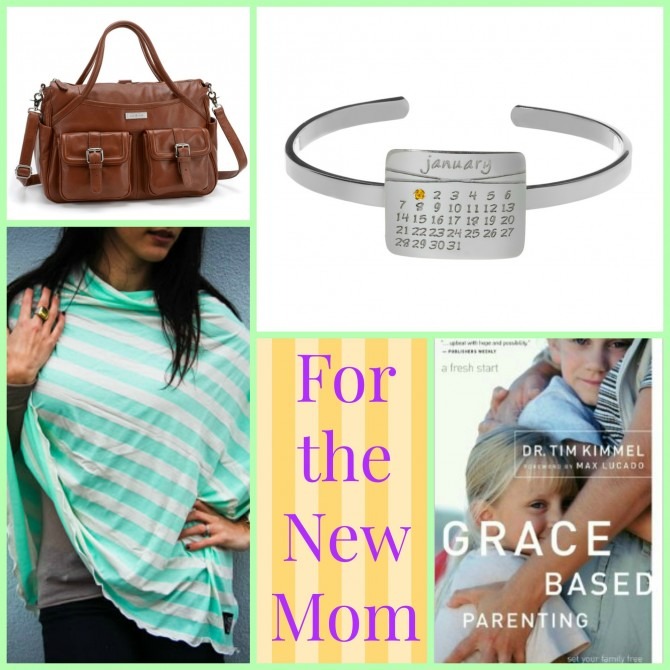 Want // The Calendar Cuff Bracelet, $225: This adorable bracelet can be customized to commemorate a baby's birthday, or other special date. This item is definitely a splurge, but it is a meaningful accessory that any new mom would love.
Need // Lily Jade Diaper Bag, $295: Lily Jade sells designer diaper bags that are functional and stylish. Each bag has a removable inner bag that is machine washable and contains pockets for all of baby's needs. All of Lily Jade's bags are beautiful, but the Elizabeth model in Camel is my personal favorite.
To Wear // Nursing Poncho, $40: This fashionable poncho doubles as a nursing cover, making it an ideal multipurpose gift for a breastfeeding mama.
To Read // Grace-Based Parenting, $13: Parenting isn't easy (at least that's what I'm told), and while how-to parenting books are a dime a dozen, what every new parent really needs is a healthy dose of grace. This book takes a fresh approach to parenting, viewing it through the lens of God's grace for His children.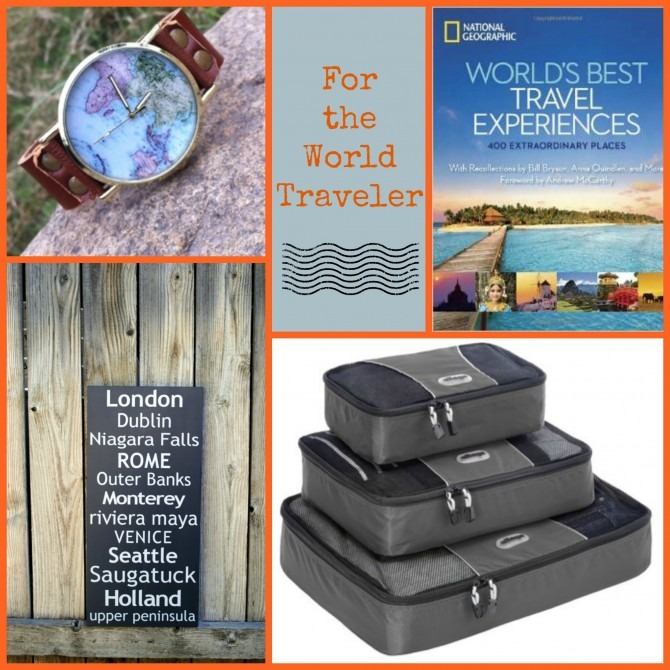 Want // Customizable Favorite Cities Subway Sign, $50: This wooden sign is a great way to commemorate a traveler's favorite destinations. It would make a wonderful conversation-starter for any living room wall!
Need // eBags Packing Cubes, $25: This three-piece set of nylon packing cubes makes suitcase organization a cinch. Cubes come in twelve different colors and can feature webbing handles for convenience when being carried by themselves.
To Wear // Fashion World Map Watch, $21: Every traveler needs a way to keep track of the time; what better way than with a global-themed watch?! This retro watch features an adjustable leather strap and a replaceable battery.
To Read // World's Best Travel Experiences, $23: This beautiful book highlights 400 must-see destinations selected by National Geographic's globe-trotting contributors. What a great way to help inspire an enthusiastic traveler seeking the next great adventure!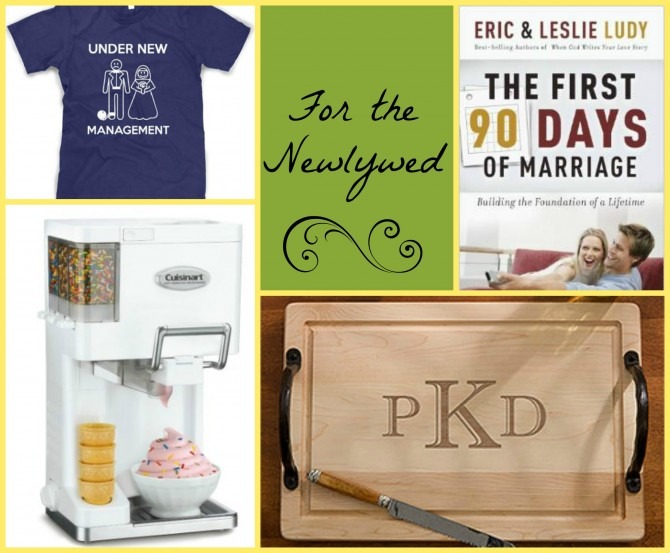 Want // Cuisinart Soft Serve Ice Cream Maker, $80: An ice cream maker is sure to add a healthy dose of sweetness to the first years of any marriage. This machine is fully automatic and produces 1.5 quarts of ice cream in just twenty minutes.
Need // Maple Leaf Raised Monogram Cutting Board, $160: Constructed from premium hard maple, this cutting board doubles as a serving tray—two items a newylwed needs but might not have—and the personalized monogram adds an element of sentimentality to this practical gift.
To Wear // Funny Marriage T-Shirt, $15-$20: The message of this comical t-shirt might be a bit harsh, but it's sure to evoke chuckles from the newly married guy in your life (and perhaps even more laughs from his unmarried friends)!
To Read // The First 90 Days of Marriage, $10: The first few months of marriage can be challenging, and this book offers inspiration, hope, and practical tips to help newyweds navigate the start of their lives as husband and wife. Luke and I benefited from reading this book when we were first married.
+          +          +          +          +
Are there any additional items you would add to one of my lists? If you have other gift suggestions, I'd love it if you would share them! I'll be back again this Thursday to share my gift ideas for the Coffee Enthusiast, the Pampered Baby, the Academic, the Disney Diva, the Health Nut, and the Homebody!