July is winning for favorite month of 2018. It wasn't even a contest. There were some big moments (see Highlights below), but mostly I've just been loving day-to-day life as a mom. Charleston and I have been doing all that we can to soak up the summer, from playground time and library visits, to tricycle rides and lazy afternoons at the pool. He's at a great age now where we can actually enjoy activities together, and he still thinks it's cool to play and hang out with Mom. Luke, who technically works from home, took a desk at a nearby coworking space a few weeks ago, so we've actually been seeing less of him. He leaves for the office well before Charleston and I are up in the morning, and we normally don't see him until afternoon. We're thriving in the new routine, which has us all appreciating precious family time even more.
Though we've been keeping plenty busy, this month has seemed calm. The feeling has less to do with the fullness of my calendar, and more to do with a shift that's going on in me. The anxiety and depression that had a death grip on me during the winter and spring months seem to be loosening their hold. Not every day in July was tear-free, but I had far more joyful days than hard ones. I hadn't realized what a dark spot I was in until the fog started to lift. For the first time in a while, I'm feeling genuinely excited about life. Here's to smiles and sunshine and sparkling summer days!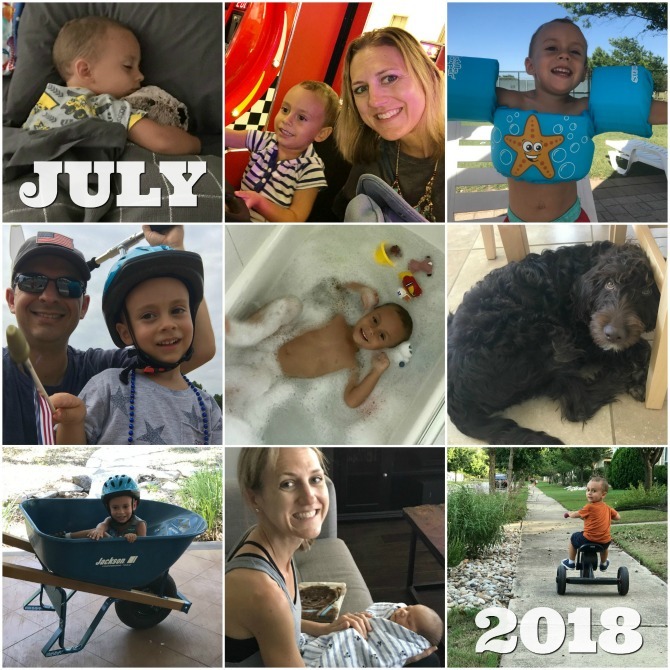 // READING LATELY //
I read some incredible books this past month, as well as a string of books that really weren't for me. It felt like I was in a serious reading rut—until I realized it had been less than a week since I'd read something I really loved. Funny how a few bad books can make me forget how much I love reading.
You'll have to wait for next month's Quick Lit posts to find out which books I didn't care for. As for some standouts: Bob Goff's latest was even better than anticipated—funny, inspiring, and convicting (in a good way); Soul Rest was an unexpected and much-needed breath of fresh air, and I've been finding ways to bring it up in nearly every conversation I've had this month; and Lizzy & Jane was a heartwarming modern-day twist on some Jane Austen favorites.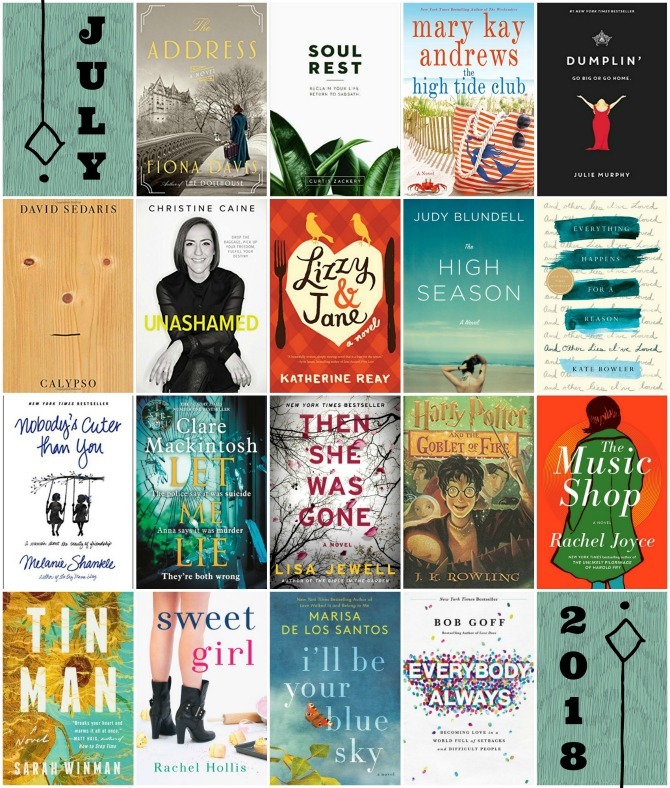 ---
// WATCHING LATELY //
Ferdinand: A local theater is participating in a great summer program called Summer Movie Clubhouse: nearly every weekday morning, they show a recent animated film. I was thrilled to see that Ferdinand was one of the scheduled movies, as I'd been eager to see it! I was a little nervous to take Charleston to the theaters (or, as he calls them, the pu-LEE-ders) because our last theater experience (seeing Coco) wasn't the greatest, but it's been seven months since that trip, and he's matured quite a bit since then. With tickets costing just $1 each, I figured we had nothing to lose! Charleston proved himself a stellar movie-goer and even earned compliments from the grandmother sitting next to us. Woohoo!
As for the movie—it was fantastic! The film takes the classic tale of a flower-loving, pacifist bull and fleshes it into a wonderful full-length movie filled with colorful characters, stunning animation, and incredible themes of love, peace, friendship, courage, and living with authenticity and integrity. It's hilarious, with enough basic humor to make the kids laugh, but also a number of higher-level jokes to keep the adults chuckling too. The character of Ferdinand is such a delight, and the film's Spanish setting and music captured me from the opening scene. This might be my new favorite animated film, which shocks me since I rarely care for Disney movies that aren't Disney.
My Rating: 5 stars!
Funny side note about our experience seeing Ferdinand: while going to the restroom after the movie, we ran into another 3-year-old named Charleston. I've never met anyone else with this name—and this one was a girl!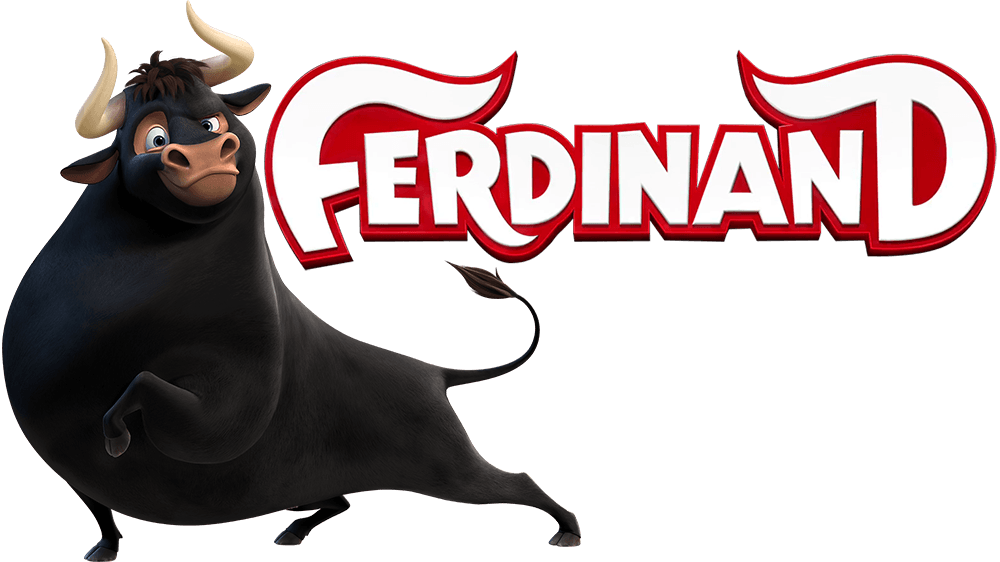 Brother Bear: Apparently I am not as well-versed in Disney animation as I'd thought, as we've spent several of our recent Friday Night Picnic/Movie Nights watching new-to-me Disney films. And this one I hadn't even heard of until a few months ago, despite its 2003 release. The movie is about an Inuit boy named Kenai who pursues a bear to avenge the death of his oldest brother. After killing the bear, Kenai is turned into a bear himself as punishment and the experience teaches him to see through another's eyes and empathize with another's plight.
This movie wasn't my favorite. I was unimpressed by the music and the animation felt dated. Though the story is sweet, with some great lessons about compassion, family, and maturity, the mystical elements were a little weird, and too much of the story was lifted from The Lion King for it to feel fresh. I did like the cultural elements, and the two moose characters contributed some great humor. The Alaskan setting was also quite pretty. This movie could have been so much more impressive as a Pixar film.
My Rating: 3 stars.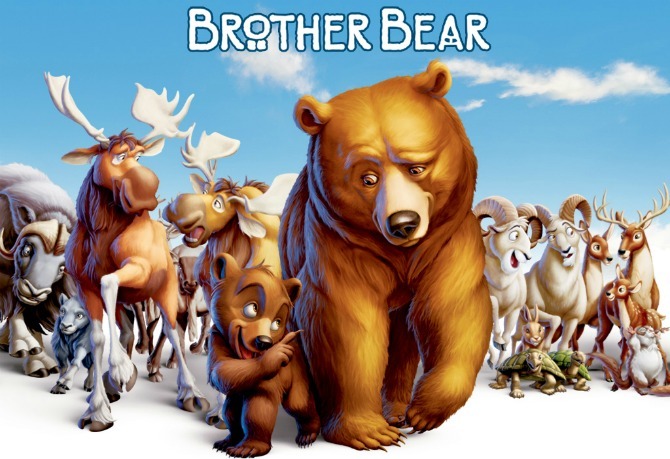 ---
// LOVING LATELY //
Per my doctor's recommendation, I've been working on getting some more healthy fats into my diet. Which sounds easy, but is harder than you may think for a girl who has spent twenty years avoiding fat at all costs. I discovered these almond butter snack packs, and they've been perfect for me. The controlled portions size keeps me from feeling like I'm overdoing it, and the product itself is fantastic: creamy texture (or chunky, depending on the variety), and a unique flavor profile. The butter comes in multiple varieties, and I like them all, though I think my favorites are the Raw + Chia and Cocoa + Coconut flavors. I've been enjoying a packet of Barney's on a banana or some gluten free crackers as a nightly snack. You can buy a flavor multipack on Amazon, but I buy mine at either HEB or Sprouts—both stores carry several flavors, usually for less than $1 each (and cheaper when they go on sale). I am NOT doing Keto (I have more than a few thoughts on that diet that I'll save for another day), but I've heard these are a popular on-the-go snack for people who are.

---
// THIS MONTH'S CHARLIE-ISMS //
I'm pretty sure Charleston hit peak cuteness with his Half Birthday interview. Those answers were priceless, and if you missed that post, you MUST check it out. (Okay, so I'm his mom and of course I'll think everything he says is OMGosh the cutest, so I'm completely possibly biased on that—but probably not. 😉 Here are a few other, non-interview things I caught him saying this month.
+ "I need to handle my teeth." By which he meant file his nails. Totally understandable mixup.
+ We always read the author and illustrator bios at the back of our books. After hearing that the author of one book was from California: "But how will she get to HEB if she lives that far?"
+ While reading Little Red Riding Hood, in which the wolf is described as wicked, Charleston shouted that I needed to stop reading immediately. "Mama, DON'T call him wicked because that isn't a nice thing to say."
+ Sighing deeply: "I need to lie down on my bed and rest because one of my toes is feeling a little tired."
+ During evening prayers: "I want God to help me get a girlfriend. And a baby sister."
+ "I'm going to have a little baby girl, and she is going to be SO beautiful." (He's been saying this to everyone lately. Can you tell that he desperately wants a sister?)
+ While swimming: "Mom, your hair looks very bad when it's wet." He's nothing if he's not honest!
+ "I don't want to be married for a very long time, not until 1, 2, 3, 4, 5, 6, 7, 8, 9, 10 (counting on his fingers) years. Then I will be married. How old will I be then? Right! I will be 13 and I will be as big as you and I won't fit in our house anymore and then I will be married."
+ "I can't wait to meet God again. When I'm really old."
+ "We need to give Arlo a middle name. Let's make his middle name Medicine, because Daddy gave him medicine." (To which Luke responded, "that's perfect, because this dog sure is a pill!)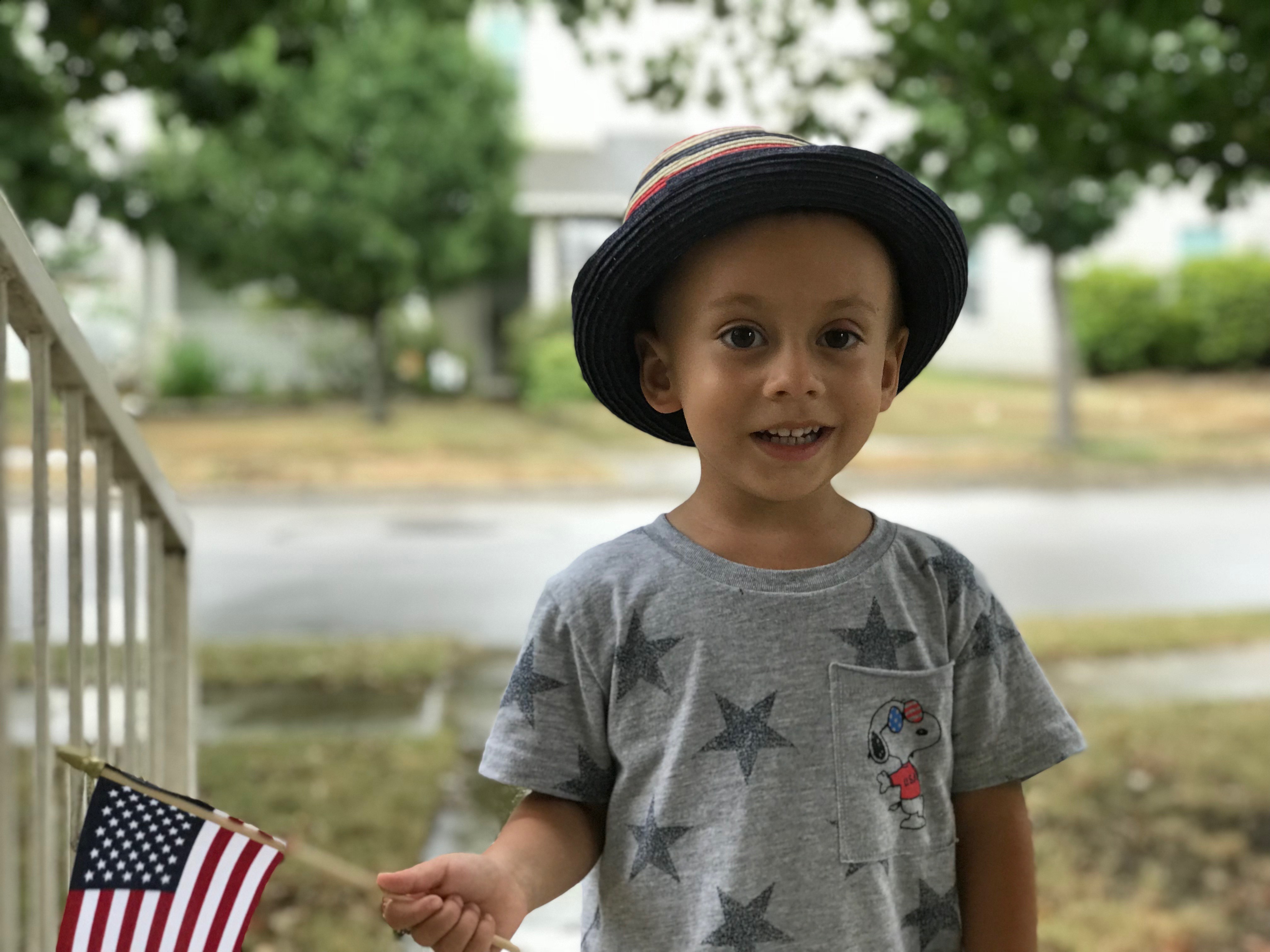 ---
// MONTHLY PUP-DATE //
It was a rough month for our Arlo Doodle, who celebrated a six-month birthday last Saturday and is now a whopping 43 pounds! He had his first professional grooming, and though he looked great afterwards, he gave the groomer a run for her money—the puppy has a LOT of energy. We also got Arlo fixed a few weeks ago and that proved to be quite an ordeal. His vet said he needed to wear his cone and to "stay calm" (meaning no walks or extracurricular activities) for ten days; he wasn't only recovering from his surgery, but also from a paw injury he mysteriously obtained during a moment of pre-surgery apoplexy in his cage at the vet—ugh. The recovery time was pretty brutal for him and for us (more on that Wednesday) and we were eager to get the cone off. Unfortunately, during that time he developed an ear infection as well as an infection in his leg (where the IV was administered); he is now on antibiotics and twice-daily ear washes, and going on three weeks of wearing his cone (because he won't stop gnawing his leg when we try to take it off). We love our Arlo, but we are very ready to be done with all the puppy drama!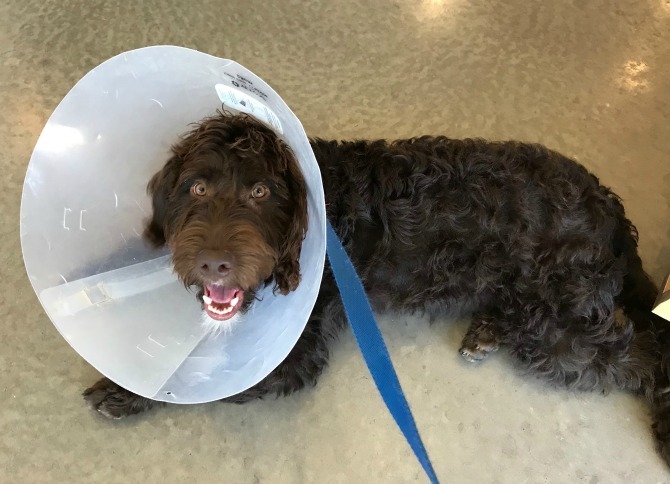 // HAPPENINGS AND HIGHLIGHTS //
During the first week of July, we wrapped up this year's swim lessons. Charleston had a great time, with the exception of a frightening fall into the pool: it was the start of the day and instead of sitting down on the pool's edge with the other kids, he slid right into the water! Thankfully his teacher was quick to rescue him, and after a few tearful moments he was back to his fearless self. He's quite the water lover, and since lessons ended, we've been spending many afternoons at our community pool (with floaties, of course!).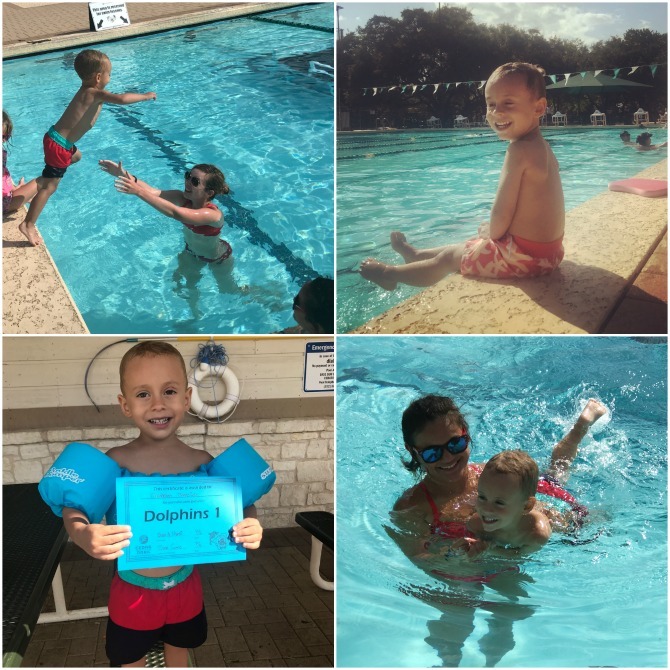 The morning of the Fourth of July was overcast but dry, so we headed down the street to watch the Cedar Park parade. It's a very "small town" type parade (think: Jeeps with hand-painted posters hanging out the windows, and Boy Scout troops carrying miniature flags), but we go every year and enjoy the fun community vibe. This year we all three road our scooters to the watching spot, and many of the parade-watchers lining the street began cheering for us—so much so that Charleston thought we were the parade. He gives a great princess wave.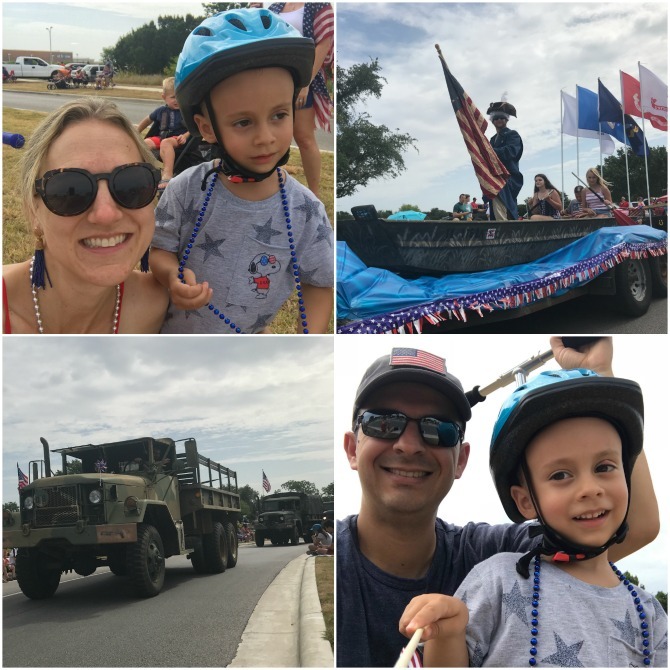 Shortly after the parade, it began to pour and rained for most of the afternoon. We headed over to my sister-in-law's house (they'd just moved in the week before!) where we ate barbecue indoors and watched Disney movies. The rain let up in the evening, so we went outside to do sparklers and basic fireworks in the street. (Having grown up in a town where fireworks were banned, this still feels SO wrong to me). We discovered that Arlo likes fireworks quite a bit! Charleston enjoyed the sparklers, but had a meltdown the second he heard a loud firework down the street; he may be fearless in nearly every way, but loud noises are his kryptonite. Thankfully we found a solution: Charleston and I sat in the front room of the house, where we could see all of the fireworks from the window but weren't assaulted by the noises. It was perfect, and sitting in that room with my boy as he marveled over each sparkler and rocket (shouting "Do another one!" at his dad and uncle through the glass) might have been my favorite Fourth of July memory to date.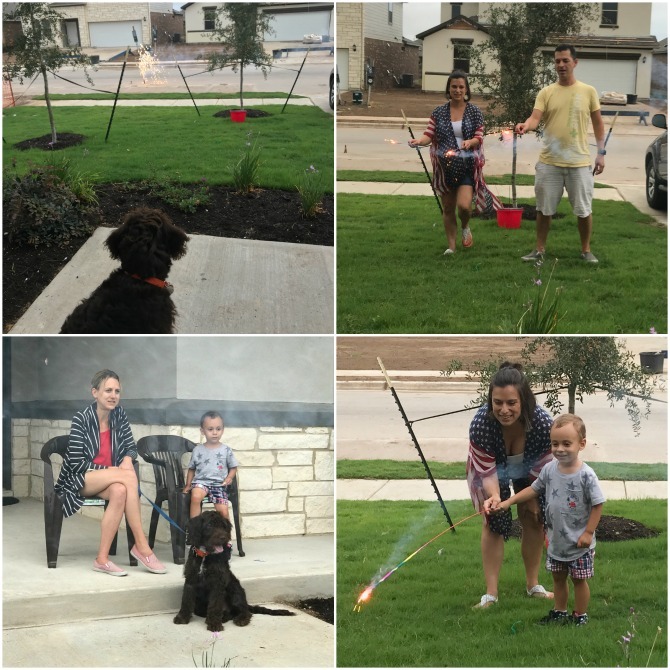 Every summer our church hosts Camp 75, which is essentially a backyard VBS held in yards throughout the area. This was the first year Charleston was old enough to participate, so we spent a week of afternoons at a neighbor's house singing silly songs, playing games, and watching skits put on by the teens who lead the camps. It's an awesome model that gets the community involved and unites all members of the church, from preschoolers to grandparents. I was so impressed with the six teens who led our camp, and especially with 14-year-old Luke (our pastor's son) who formed a special bond with Charleston during the week. I enjoyed the chance to meet some new neighbors and fellow church members, and while Charleston was a little young for some of the activities, he had a great time. Water Day was an especially big hit!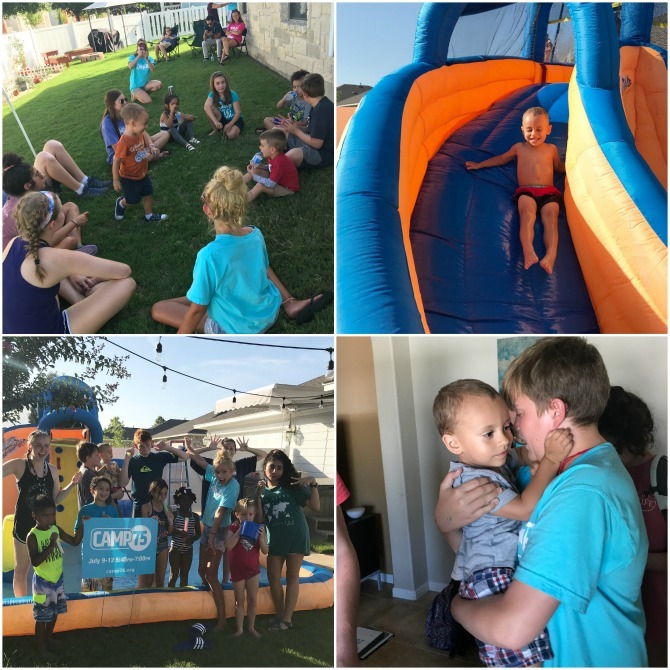 The grand finale of Camp 75 is Summerfest, a big carnival held in our church parking lot. This year my friend Kenna was in charge of the event for the first time, and she did an incredible job! There were 1600 people at the event and everyone seemed to be having a blast—and none more than Charleston, who had the time of his life in the bounce house, riding the train, dunking a teenager in the dunk tank, and playing with the petting zoo animals.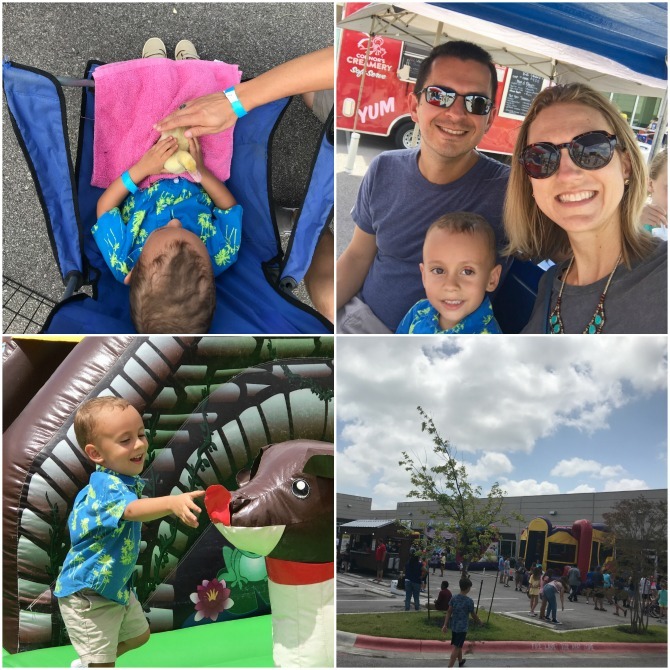 I became an aunt on July 17th when Luke's sister Amanda gave birth to little Collin Michael! Luke said that he feels old being an uncle, which cracks me up since he's already been a dad for over three years! As fun as it is to now be Aunt Kendra, I'm most excited about the fact that Charleston finally has a cousin.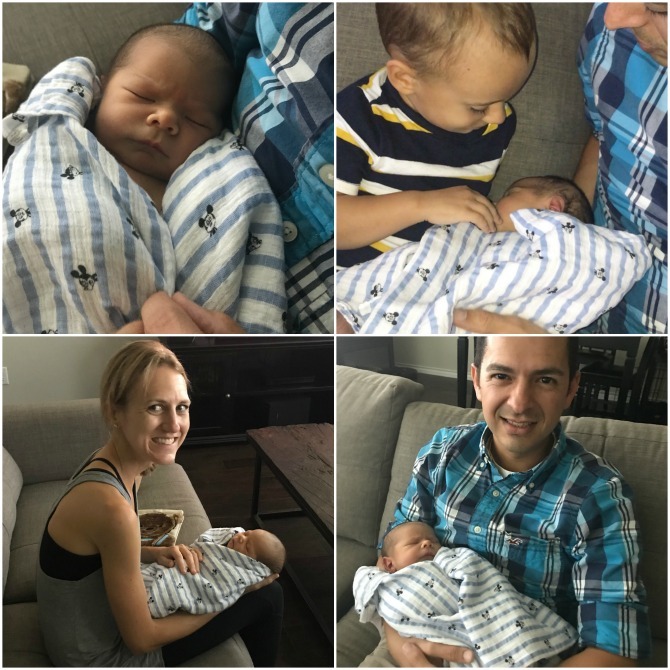 On the morning after Collin's birth, Charleston told me, "now that Collin is out of tía's belly, he is going to be my best friend forever." He tried to make good on that promise when we went to meet Collin the next day: his first impression was "oooohhhh, he's so cute" followed by numerous attempts at shoving books and toys into Collin's face. He didn't quite understand that it will be a bit before Collin can be a true playmate, but I have a great feeling about all the adventures they will one day share.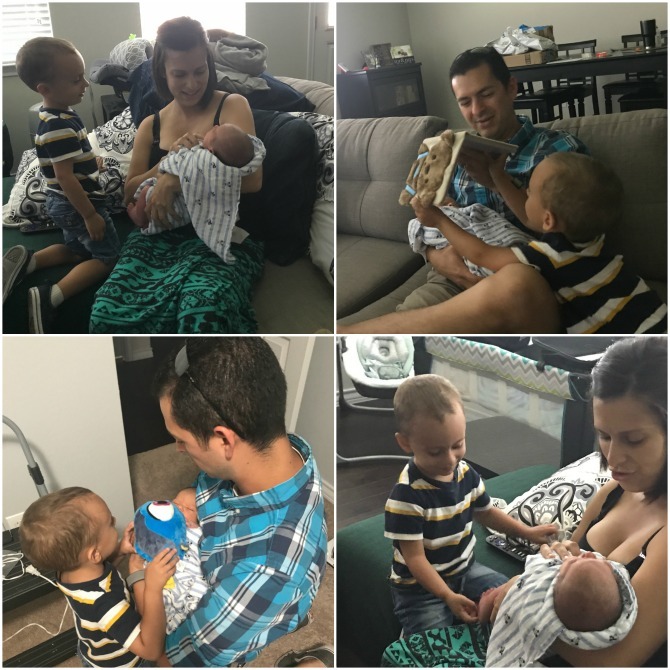 We attended a birthday party for Charleston's pal Jack at Chuck E. Cheese's. It was Charleston's first Chuck E. Cheese's experience, and he had an absolute blast! He loved the games and rides, but his favorite was Chuck E. himself—every time Chuck E. came out onto the floor, Charleston raced over to give him a giant hug and endless high-fives. He even tried to steal Chuck E.'s attention during the birthday boy's big song. I think we need to work on appropriate timing, but I sure do love his big heart.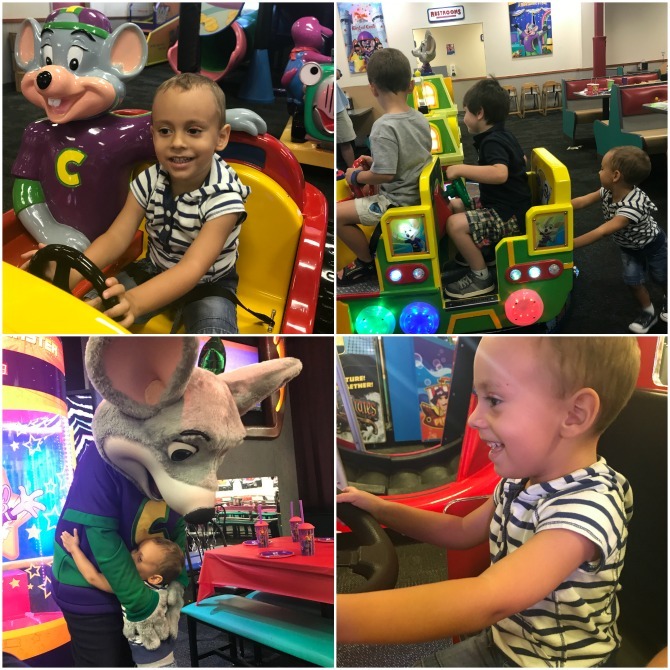 ---
I'm linking up with Leigh Kramer to share what we've been into and up to this month. How was your July?