Today is Charleston's half birthday! That's right, we are now closer to a fourth birthday than a third. I can't begin to wrap my mind around how that is possible. My baby seems to be on the fast track to adolescence and it's hard for my mama heart to handle. But as tearful as these milestones can be, I feel indescribably honored and blessed to be his mom and to walk with him through each stage.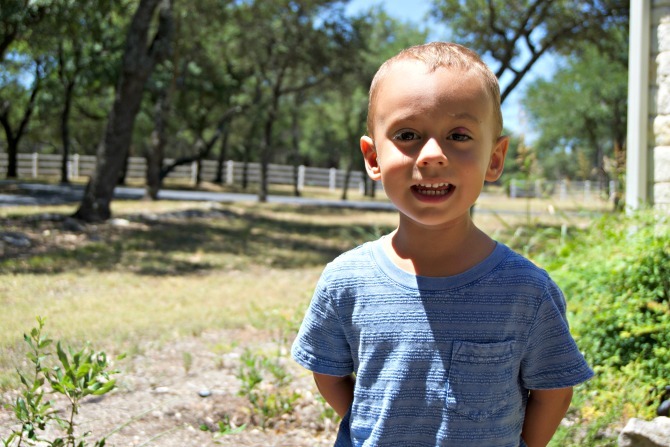 Charleston at three-and-a-half is the most amazing little person. He is stubborn and occasionally surly (evidenced by his face in most of these photos!), and he definitely marches to the beat of his own drum. But he is also affectionate (hugs and kisses and "I love you's" abound), friendly, and a total ham. He moves more than any child I know and loves scootering, bouncing off the furniture, jumping on his trampoline, riding his tricycle, swimming, roughhousing, doing gymnastics, and really any other form of physical activity. Maturity wise, he's young for his age (which rarely gets noticed because he's so tiny for his age), but he is very bright—quick to make connections and catch on to new ideas, and always asking questions. He's a shrewd bargainer, an excellent planner, and a deep thinker.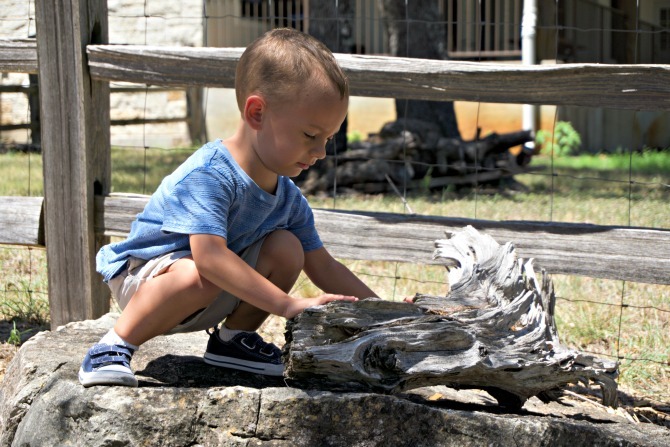 Charleston likes toys of all kinds (cars, trucks, trains, and stuffed animals are particular favorites), and he's never met a playground he didn't love. He will happily read books with me all day long, and he enjoys making up tales of his own. He adores other kids and makes best friends everywhere we go, but he's become a great independent player too. He can frequently be found belting out an original song at the top of his lungs; cracking silly jokes (filled with nonsense words and potty humor, of course); having long-winded conversations with friends and family members on an imaginary telephone; racing around his playroom dressed in nothing but a hat, bow tie, and his underwear; or playing/bossing around his "little brother" Arlo.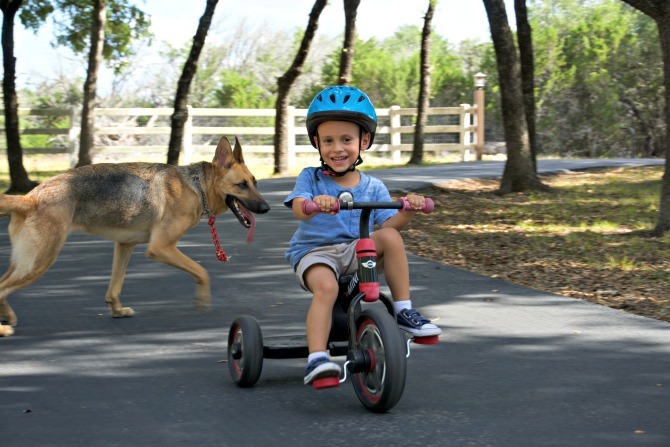 Since Charleston is fully capable of telling his own story these days, I thought a little Q&A was in order on this special half birthday. I found a list of preschooler questions here and added a few of my own. Many of Charleston's answers surprised me, and a number of them had me laughing out loud. I particularly loved the commentary he added to some of his answers—priceless!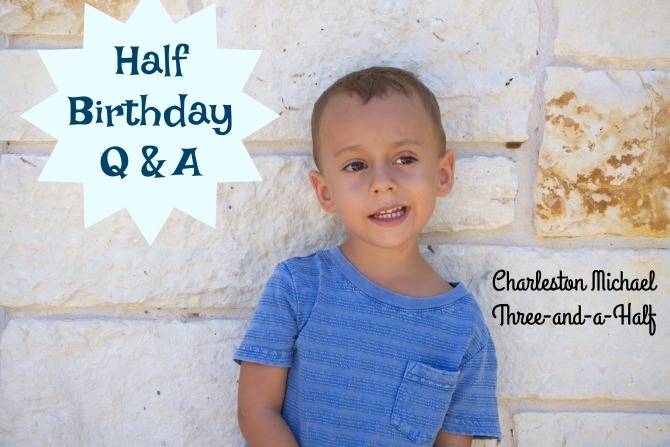 WHAT IS YOUR NAME?
Well, I have two names. Charlie and Charleston. But my perfect name, you don't know. (???)
WHEN IS YOUR BIRTHDAY?
In January 16th, just like my birthday always is. (Said with an eye roll.)
HOW OLD ARE YOU?
Threeeeee!
WHAT IS YOUR FAVORITE COLOR?
All kinds of colors. But my special color is turquoise. I like orange too. (Whenever given color options he almost always chooses pink or orange.)
WHAT IS YOUR FAVORITE BOOK?
I like all books, but not mean ones, and NOT The Grinch. (I totally scarred him with that book. #MomFail)
WHAT IS YOUR FAVORITE FOOD?
Pancakes and apples. Just like I told [my teachers] at swim lessons.
WHO IS YOUR BEST FRIEND?
Hmmm. Oma and Opa. [My parents.] They're my best friends forever. (I melted.)
WHAT IS YOUR FAVORITE MOVIE?
Not scary movies. Nice movies. But my favorite one is . . . hmm, I know what's my favorite! It's Cars One! And a lot more, but I can't tell you. It's a very short day.
WHAT IS YOUR FAVORITE SONG?
My playlist, that's my favorite. (His "playlist" is a Google Music playlist made up of songs from the movies Sing, Moana, Planes, and Frozen, along with the outlier song of Despacito.)
WHAT IS YOUR FAVORITE PLACE TO GO?
It's a play place that's in California. It's a really, really cool playground and it's got THREE playgrounds. (I have no idea what he was talking about here.)
WHAT IS YOUR FAVORITE THING TO DO?
Riding on really awesome slides.
WHAT MAKES YOU FEEL SCARED?
Like, bad monsters. Scary ones.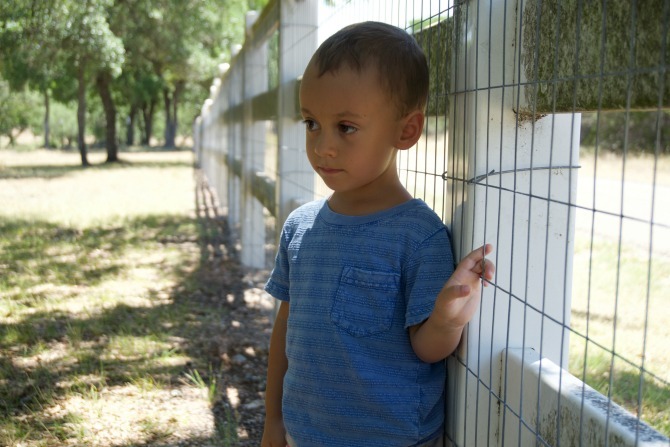 WHAT IS YOUR FAVORITE SHOW?
Paw Patrol (Interesting choice, because he's only seen short pieces of this show while at the gym. At home he usually asks for Daniel Tiger or Superwings.)
WHAT IS YOUR FAVORITE TOY?
Stickers (Probably no coincidence that he was playing with stickers while I asked these questions.)
WHAT IS YOUR FAVORITE ANIMAL?
I have two. Pterodactyls and Labradoodle puppies.
WHAT MAKES YOU FEEL HAPPY?
What makes me feel happy? Umm, like, hmm, it's making things. That's what makes me feel happy.
WHAT DO YOU WANT TO BE WHEN YOU GROW UP?
I want to be JUST like me. And, like, a lot of things.
WHAT DOES LOVE MEAN?
It means loooove people. It means I love you, Mommy and Dad!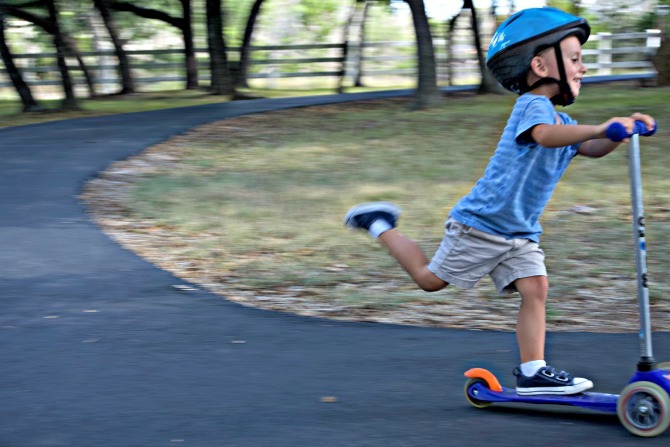 Well, how's that for the sweetest ending? I had so much fun asking these questions and hearing his silly and serious answers. Goodness gracious, I love that kiddo with all of my heart. Here's to a happy second half of being three!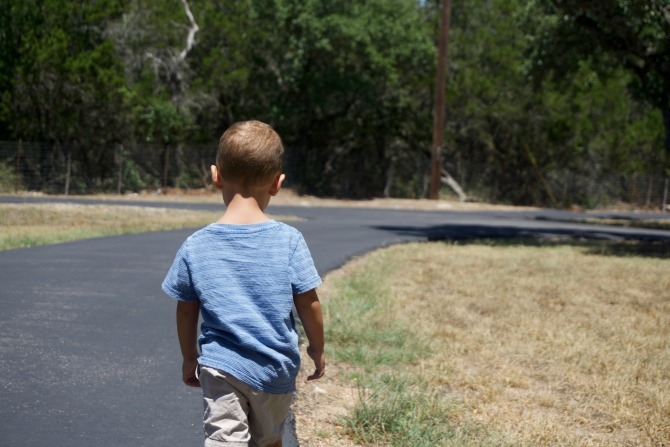 Many thanks to Luke for capturing these pictures, and to Charleston's Grandma and Grandpa for lending us their gorgeous yard for our photo shoot. Thanks also to Gretl, their German Shepherd, for her cameo appearance and for bringing some smiles to our little guy's face for at least a FEW of these shots!