Happy Valentine's Day—the holiday adored by half the population and loathed by the rest. I happen to fall into the adoring camp: our world can always use more love, even of the commercialized variety. After all, a well-chosen Conversation Heart, given in just the right way, can do wonders for one's self esteem or love life.
Sadly, Luke and I don't do much to celebrate this holiday. On the one Valentine's Day we had together pre-marriage, we both went all out: homemade goodies, affectionate love letters, multiple bouquets of flowers, stuffed animals, a serenading situation by my then-boyfriend, fancy dinner at a restaurant—basically, we checked off every Valentine's Day cliché in the book. Then, since we'd gotten all that mushiness out of our systems, we proceeded to forget that the holiday existed, at least in the context of our relationship. (For the record, it's not that we don't love each other, it's more of a timing/money issue: this day falls smack in the middle of our close-together birthdays, and less than two months after our anniversary and Christmas. Not ideal. [UPDATE: I returned home from the gym this morning to be greeted by three huge, gorgeous bouquets of flowers from my sweet husband. The romance isn't over, after all!])
While Valentine's Day isn't a big day for Luke and me as a couple, I promise I'm not a complete Valentine curmudgeon. I still gaze admiringly at the aisles of frilly pink goodies at Target and HEB, and I still love to use the day as an excuse to tell all of my friends and family members how much I love them (without sounding like I'm asking for a favor!). Another way I like to acknowledge this holiday? With books, of course!
Today, in honor of the great Day of Love, I'm bringing you my own Hall of Fame of books about love. Few of these titles are romances, since that's not really my genre (and because I believe love—and therefore Valentine's Day—is about so much more than stolen glances and breathless sentimentality). None of these titles are explicitly Valentine's Day books, but all of them center around the theme of L-O-V-E.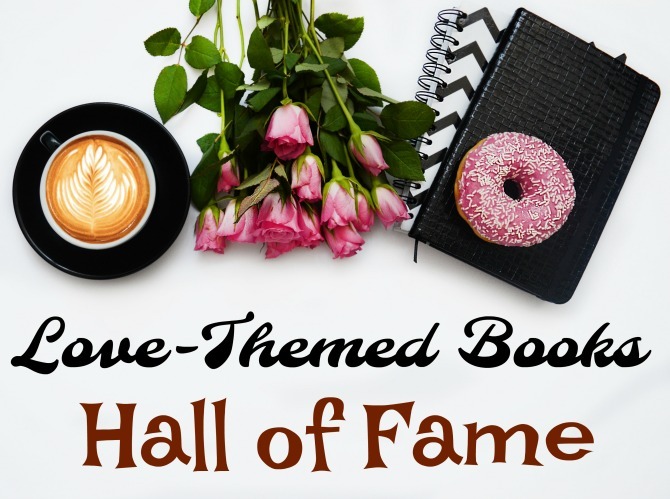 This selection is about as unoriginal as they come, but a list of love-themed books wouldn't be complete without at least one book from Ms. Austen, and this one is my favorite. The story of Elizabeth Bennet's tumultuous social life and search for love offers everything we could hope for in a novel: romance, intrigue, humor, dynamic protagonists, and societal commentary that still feels fresh, more than two hundred years after it was written.
This is the heartwarming and humorous tale of an autistic man's search for love. Don, our protagonist, is an offbeat genetics professor who has determined that it is time for him to get married, then proceeds to embark on a highly systematic "Wife Project" in order to find a suitable spouse. He puts his project on hold in order to help a free-spirited bartender named Rosie with a project of her own, and along the journey he unexpectedly finds himself falling in love. The story isn't as predictable as it sounds, and the characters of Rosie and Don are simply wonderful.

As I mentioned above, I'm not usually a lover of the romance genre, but Julie Klassen's books are a clear exception. Her novels are set in Regency England, and their style and tone are reminiscent of that period. Klassen's books are written from a Christian perspectively, but they aren't cheesy or preachy, and her novels all include a mystery component, which sets them apart from other Christian romances. Though I would recommend nearly all of Klassen's books, The Lady of Milkweed Manor is my favorite. It tells the story of twenty-year-old Charlotte Lamb, who becomes pregnant and is thrown from her childhood home. She hides away in a home for unwed mothers, where she encounters a suitor from her past who is hiding secrets of his own. Their story is a tender one, and the book's insights into the history of laction and wet nurses are an added bonus. (Don't worry, if these topics don't appeal to you as they do me, you will still love this book.)
Lisa Genova (the author of Still Alice) is known for writing poignant fiction about difficult issues, and this one is no exception. Love Anthony is the story of two women living on Nantucket, both heartbroken and looking for answers. Beth, a newly divorced mother who is struggling to come to terms with her life's trajectory, finds purpose and comfort in writing. As her novel takes shape, Beth unknowingly begins to channel Anthony, an autistic child whose mother, Olivia, is seeking solace on Nantucket following her son's tragic death. The two women's stories slowly converge as Anthony posthumously teaches them both about love and healing. This is an absolute tearjerker, but the love story between Anthony and Olivia is stunning.
And here we have another book about a mother's love for her child! Most of us are familiar with this now-classic book, but if you haven't read it yet, you're in for a treat. It follows the sweet love story between mother and son, from the first days of his life to the last days of hers. This has been my favorite picture book for decades, but I appreciate it at a whole new level now that I'm a mom to a son. It was the first book I read to Charleston after bringing him home from the hospital, and we still read it (at his request) a few times each week, though I can't make it to the end without crying. This behind-the-scenes story from the author (including his rendition of how the book's song should be song) adds even more depth and insight to the book, though I wouldn't recommend reading it without tissues handy.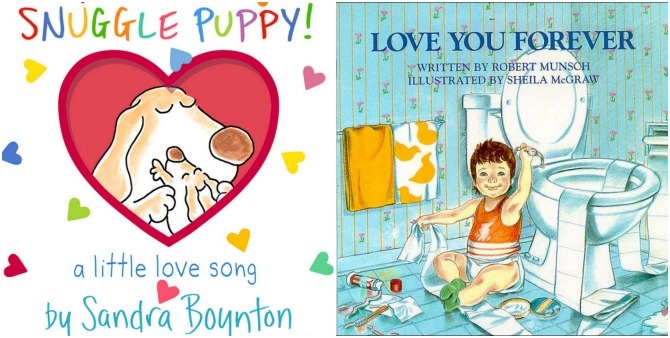 This is another illustrated book centered around a song (you can hear it here), though a less tear-inducing one. The brightly-colored book is bouncy and fun. It was a favorite of Charleston's when he was a baby and he still likes to read it with me now.
Luke and I were fortunate enough to be introduced to this one when we were engaged, and we would both agree that Love and Respect is the book that has had the greatest impact on our marriage. The book's simple yet profound premise comes from Ephesians 5:33 ("each one of you also must love his wife as he loves himself, and the wife must respect her husband"). Eggerichs uses his own experiences as well as wisdom from psychology and Scripture to examine the differences in communication styles between men and women, and to demonstrate the power of a husband's unconditional love (for his wife) and the wife's unconditional respect (for her husband). I've gifted this book to many couples, young and old.
Lewis is undeniably one of the greatest Christian scholars in recent history, and while I've gleaned so much wisdom from all of his writings, none has resonated with me quite as deeply as this one. Written with Lewis's characteristic wit and warmth, The Four Love explores the nature of love from a Christian perspective. He defines and then examines four basic forms of human love (affection, friendship, eros [erotic love] and agape [the love of God]) in a way that is equally academic and entertaining, and I came away from the book with a much deeper appreciation for what love is really all about. While nearly every page of my copy is at least partly highlighted, I particularly enjoyed the section of friendship.

This book has gotten a lot of attention over the years, and for good reason! There are many ways to demonstrate love, but Chapman identifies five main ones: Words of Affirmation, Quality Time, Receiving Gifts, Acts of Service, and Physical Touch. Chapman explains that we each resonate with one of these languages, and we feel the most loved when our loved ones express love to us using our primary language. This book isn't just for couples; the love languages pertain to all relationships (romantic, familial, and friendship), and I've found these concepts helpful in knowing how to better serve and love everyone in my life.
We've all experienced the feeling of love, but Bob Goff really knows how to put that love into action. In this hilarious collection of essays, Goff—a quirky lawyer and human rights activist—shares stories about the zany ways he has exhibited Christ's love. This book left me eager to follow Goff in doing great things to infuse the world with more love.
Bonus Pick: Goff's wife, sweet Maria, also has a fantastic love-themed memoir, which I enjoyed just as much. Maria isn't the "larger-than-life" figure that her husband is, but her words are every bit as profound.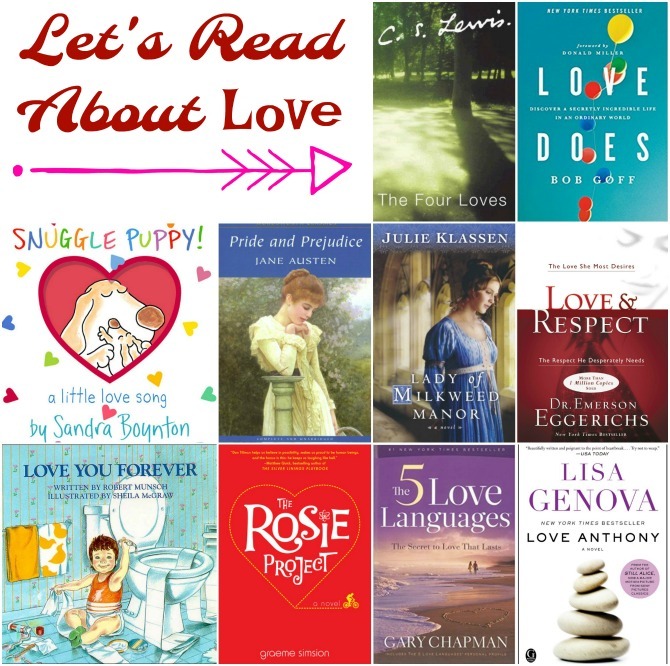 Looking for more Valentine's-themed posts? Check out my roundup of fun Valentine's Day trivia as well as my Pinterest-inspired Countdown to Valentine's Day.
---
And with that, Happy Valentine's Day, my wonderful readers. I love YOU for reading here and for supporting this hobby of mine that I've come to love so much. And, I would love to know: what are your favorite books about love?