As predicted, the busyness of the season has kept me from reading as much as I would have liked this past month. Fortunately the books that I have been reading have (for the most part) been well worth the time investment: no real "duds" this month, and a few truly outstanding reads!

The Martian, by Andy Weir: The Martian is just your typical survival story . . . except, of course, that it's set on another planet. When a mission to Mars goes awry, astronaut Mark Watney finds himself stranded in space; with limited supplies and no way to signal to Earth, he holds little hope for survival. The direness of his situation does nothing to squelch Watney's ingenuity or his sense of sarcasm, which permeates his daily log documenting the ordeal. For a book with such a riveting premise and colorful narrator, The Martian is surprisingly dry, weighed down by technical descriptions of Watney's efforts to survive in space. I appreciate Weir's attention to detail and his desire to remain as scientifically accurate as possible, but I found myself doing much more skimming than I would have liked just to make it through the book. (In fact, I likely would have given up if I weren't reading the book for my book club.) This is a story that will likely be much better in movie format, and I'm looking forward to watching the film: hopefully the movie preserve's the suspenseful storyline and Watney's sparkling character and glosses over the mundane details. My Rating: 3 stars.
---
A Rule Against Murder: A Chief Inspector Gamache Novel, by Louise Penny: After reading and loving the first book in the Inspector Gamache series, I couldn't wait to read more and immediately put a hold on my library's copy of Book 2. I grew tired of waiting, though, so I decided to go ahead and read the books out of order, based on their availability at the library. In this fourth book of the series, Armand Gamache and his wife Reine-Marie are celebrating their wedding anniversary at an isolated retreat near their home in Three Pines. Their vacation coincides with the family reunion of the wealthy and dysfunctional Finney family. When one of the guests is murdered, Inspector Gamache must sort through an entanglement of duplicity and repressed pain to determine the killer. Like Penny's first novel, A Rule Against Murder features nuanced characters, evocative prose, and a riveting story. I'm excited to have found such an enticing mystery series. My Rating: 4 out of 5 stars.
---
Rogue Lawyer, by John Grisham: Sebastian Rudd is an edgy street lawyer known for representing less-than-savory characters and a willingness to push the boundaries of the law. Rogue Lawyer follows several of Rudd's trials and escapades, which are interspersed with snippets from Rudd's unusual personal life. Rudd is an intriguing character and I enjoyed Grisham's treatment of him. However, the remaining characters are a bit flat and the stories are only mediocre. Rogue Lawyer is The 26th stand-alone Grisham novel, and I've read every one of them. However, I've found myself enjoying Grisham's books less and less; I'm not sure if that's because his writing has truly declined or if my tastes have changed—perhaps a bit of both? This is by no means a terrible book, but it's certainly not Grisham's best. I much preferred Michael Connelly's remarkably similar Lincoln Lawyer. My Rating: 3.5 stars.
---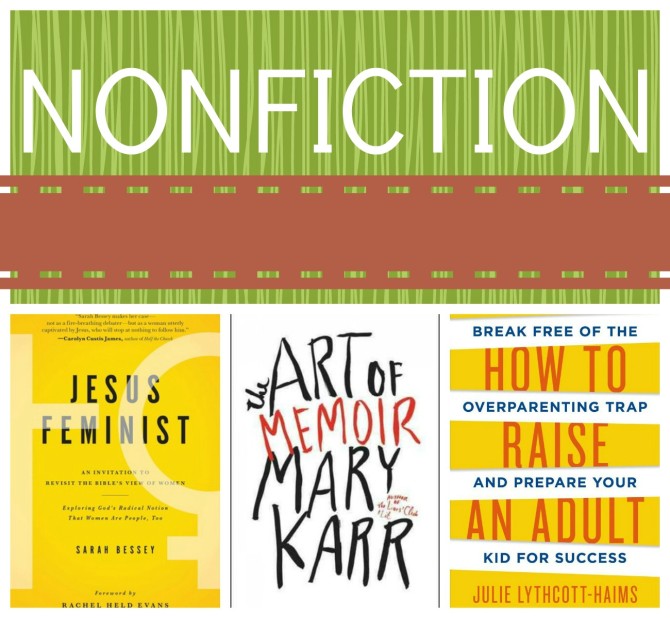 Jesus Feminist: An Invitation to Revisit the Bible's View of Women, by Sarah Bessey: I didn't quite know what to expect from this provocatively titled book, but I was eager to read about feminism from a Christian perspective, so I added it to my list of books to read in 2015. I'm so glad that I did! Relying on Biblical commentaries as well as her own interpretations of Scripture, Sarah Bessey delivers an affirming message about the important role women can and should play in furthering the kingdom of God. She reminds readers that God is so much bigger than our petty labels, and she encourages us to overcome our gender-based insecurities as we adopt an eternal approach to ministry. As a (hesitantly) self-proclaimed feminist and enthusiastic Jesus lover, I am clearly within Bessey's target audience and somewhat predisposed to share her perspectives. But I was swept away by her lyrical prose, moved by her personal faith journey, and emboldened by her unapologetic calls to action. I will definitely be gifting this book to several friends this Christmas. My Rating: 4.5 stars.
---
The Art of Memoir, by Mary Karr: In this highly self-referential guide to writing a memoir, author and professor Mary Karr combines her own experience as a memoirist with thoughtful analysis of other memoirs to offer an insightful examination of the genre. Despite being unfamiliar with Karr's previous writing, I appreciated her take on what has become one of my favorite genres. Though somewhat tedious at points, and heavy on the sexual content, The Art of Memoir has a great deal to offer for aspiring writers and intentional readers. I consider myself a fairly deliberate reader, but I rarely examine the stylistic and mechanical choices of pieces that I read; Karr's exploration of the writing process left me with a greater appreciation for the work of an author and has prompted me to be more purposeful in both my reading and writing in the future. My Rating: 3.5 stars.
---
How to Raise an Adult: Break Free of the Overparenting Trap and Prepare Your Kid for Success, by by Julie Lythcott-Haims: Luke and I have a running conversation/joke about how we are raising an ADULT and not a CHILD. (It goes something like this: Me—"I want Charlie to stay my baby forever and ever and never leave me." Luke—"Kendra, we are raising an ADULT, not a baby!") So when I first heard the title of this book I knew it was one I needed to read. Julie Lythcott-Haimes (a mother to two teenagers and former Dean at Stanford University) paints a dismal picture of the state of modern parenting, which is dominated by over-protection and helicopter parents. She makes a compelling argument for taking an authoritative approach to parenting, which will result in confident, independent, and well-adjusted children (and happier parents). This book is more than just a compilation of theories; it is grounded in research and facts and features lists of practical suggestions for how to change the way we parent. Though probably better suited for parents of older kids, How to Raise an Adult does include ideas that Luke and I can begin to implement with Charlie now. It's hard to imagine my little boy growing up, but when he does I hope that he will be resilient, resourceful, and self-reliant, and I appreciate this books suggestions for how to get him there. My Book Rating: 4.5 stars.
---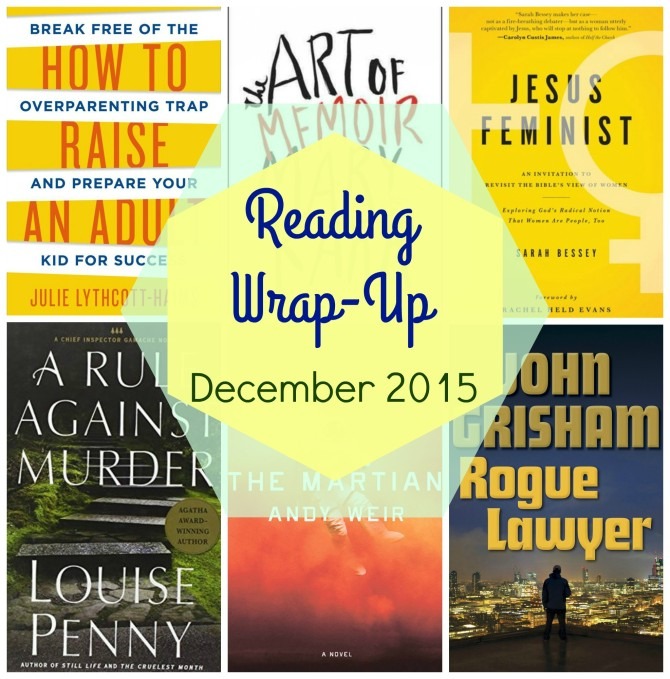 Have you read any of these titles? If so, I'd love to hear your thoughts on what you've read. Or, you can leave a comment letting me know what books are currently on your nightstand. And if you're looking for more book reviews, head over to Modern Mrs. Darcy's monthly link-up, where dozens of other bloggers are sharing what they've been reading this month.