I've been doing even more reading than usual lately, which means that this month's Quick Lit isn't quite so quick! I won't spend too much time with this introduction so that you can dive right into the reviews. Enjoy! (And if you are left wanting more great book reviews beyond the twelve I'm sharing here, head over to Modern Mrs. Darcy's monthly link-up where I'm joining a community of bloggers in sharing what we've been reading lately.)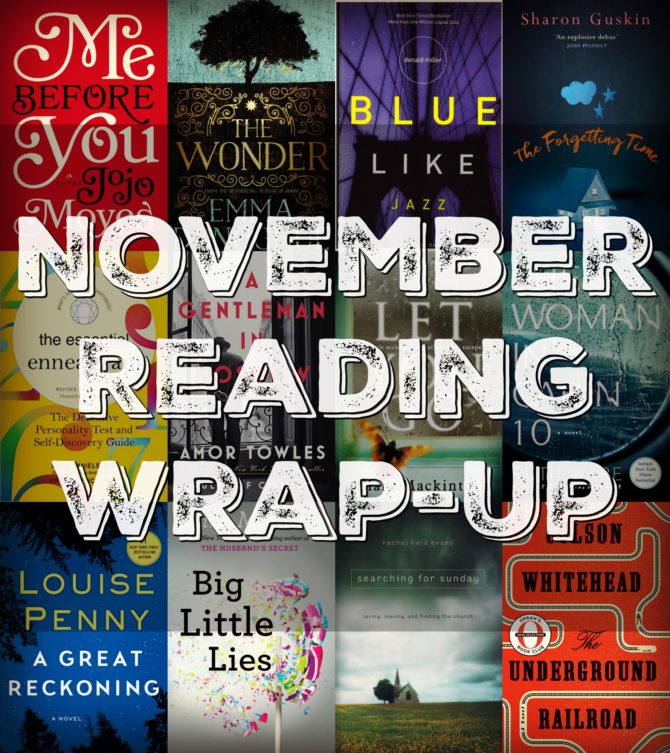 Essential Enneagram: The Definitive Personality Test and Self-Discovery Guide, by David Daniels and Virginia Price: This compact guide to the Enneagram model of personality is divided into two main parts. Section 1 includes a unique assessment guide. Unlike most personality tests, this assessment does not contain lists of questions; instead, it offers detailed paragraphs describing the nine types and guides readers in determining which is the best fit. This is followed by thorough summaries of each type, including descriptions of similar types and explanations of how these types are alike and how they differ. I have not seen other Enneagram explanations that offer such a thorough type differentiation, and this was my favorite aspect of the book.
Section 2 describes several Enneagram principles and how they can be used to help you better understand yourself. The section concludes with self-improvement exercises and meditations tailored to each personality type. I enjoyed learning about these principles but found the exercises to be a bit hokey.
Though I was already aware of my own Enneagram type before reading this book, I enjoyed reading through the test and learning more about my personality as well as the other 8 types. However, I was frustrated with the book's format, which was difficult to follow and not at all user-friendly. I also feel that much of the content would be confusing to readers not already familiar with the Enneagram; this is not a beginner's guide and offers very little background information about the model itself.
My Rating: 3 stars.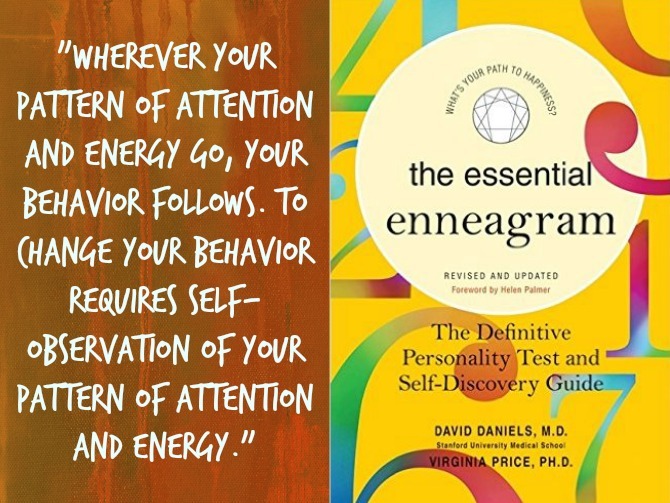 ---
The Wonder, by Emma Donoghue: Lib Wright—a nurse trained by Florence Nightingale—leaves her home in England for the Irish countryside to tend to 11-year-old Anna. The case is an unusual one: Anna claims to have gone without food for the last several months, and Lib's intended role isn't to serve as nursemaid, but rather to verify the "miracle" of Anna's ability to subsist on nothing but spoonfuls of water. Lib is at first skeptical of the supposed miracle and feels disdain for the child's complicity in the hoax, but her scorn slowly turns to alarm as she begins to fear for the pious young child's welfare and her family's willingness to let their daughter wither away. Though the novel starts off slowly, I soon became engrossed by this psychological masterpiece and raced to the end to see what would become of darling Anna and her negligent family.
Emma Donoghue's Room is one of my all-time favorites, but I was deeply disappointed with her last novel (Frog Music) and nearly didn't read this latest book until reviews from several trusted readers persuaded me to give it a chance. The Wonder is very different from both Room and Frog Music, and while I didn't love it as much as Room, I was not disappointed. Like Room, The Wonder features powerful themes, a suspenseful tone, and vivid prose. The richly layered mystery is terrifying and thought-provoking, raising questions of faith, medical ethics, and the age of accountability. Rarely have I encountered a novel that prompted such deep reflection.
With my personal eating disorder history, it's no surprise that I found much of this book about a starving child somewhat uncomfortable. I can attest to the accuracy of Donahue's depiction of physical symptoms associated with malnourishment, and while this was hard for me to read, it forced me to reflect on my "issues" and helped me to understand what my own family has dealt with in watching me struggle to eat. If you or a loved one has experience with an eating disorder, tread cautiously before jumping into this book. That said, I personally don't have any regrets about reading it and know it will stick with me for a long time.
My Rating: 4 stars.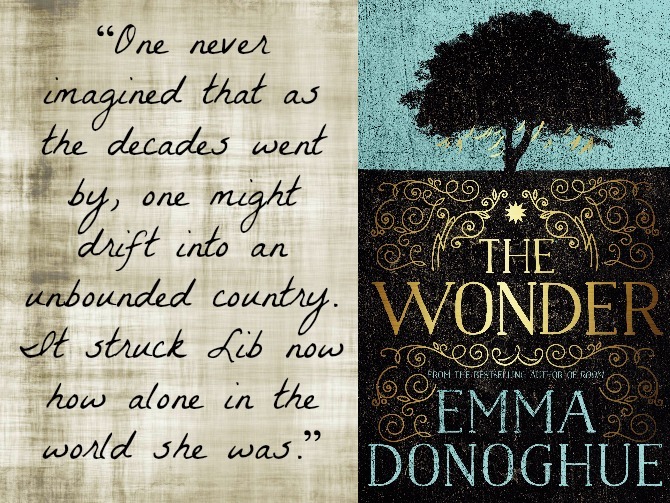 ---
Searching for Sunday: Loving, Leaving, and Finding the Church, by Rachel Held Evans: The Christian Church has come under harsh scrutiny in recent years, and for good reason: much abuse and wrongdoing has been done under the guise of Christianity, leaving generations of former believers feeling disillusioned and betrayed. Rachel Held Evans was among those who had reluctantly abandoned the Church, only to feel the nudge of the Holy Spirit, reigning her back.
In Searching for Sunday, Evans candidly shares her experience of falling out of love with the Body of Christ while still clinging doggedly to her faith. Through sections centered around seven sacraments—baptism, confession, holy orders, communion, confirmation, anointing the sick, and marriage—Evans shares stories about the messiness of community, the quest for authenticity, and ultimately the hope of Sunday morning.
Unlike Evans, my experience with church has been mostly positive; and yet, I think it's important to read stories like hers so that I can avoid contributing to further harm. While my Christian walk looks different than Evans', and my convictions do not fully align with hers, I commend her courage for continuing to pursue Christ, even when it hurts.
Searching for Sunday is one of the most heartbreakingly beautiful memoirs I've read, overflowing with powerful imagery and painful but wonderfully articulated truths. This is essential reading for anyone who has wrestled with their faith or who wants to understand those who have.
My Rating: 4 stars.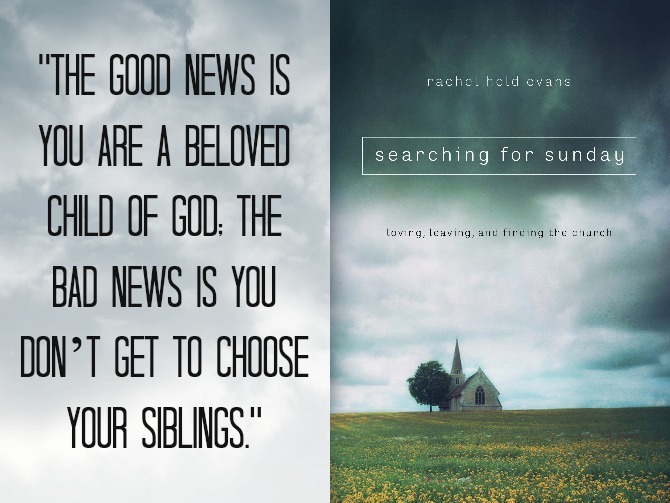 ---
The Forgetting Time, by Sarah Guskin: Janie is a single mom who is struggling to understand her 4-year-old son, Noah. Why does Noah insist that she is not his real mother? Why is he constantly asking for her to take him to his "real" home? And how has this young boy amassed so much information about Harry Potter, baseball, and other subjects to which he has never been exposed? Janie's search for help leads her to Jerome Anderson, an elderly professor of psychology and an expert on reincarnation. Together, Jerome and Janie come to the conclusion that Noah is channeling the life of another child and they set off in search of Noah's past family.
This book is unlike anything I've read. While I don't buy into the premise, I did find it intriguing and very thought-provoking. Unfortunately, what might have been a riveting mystery is weighed down by long, unnecessary passages of brooding introspection. Many reviewers have lauded Guskin's provocative writing style, but I felt the book needed more showing and less telling.
My Rating: 3 stars.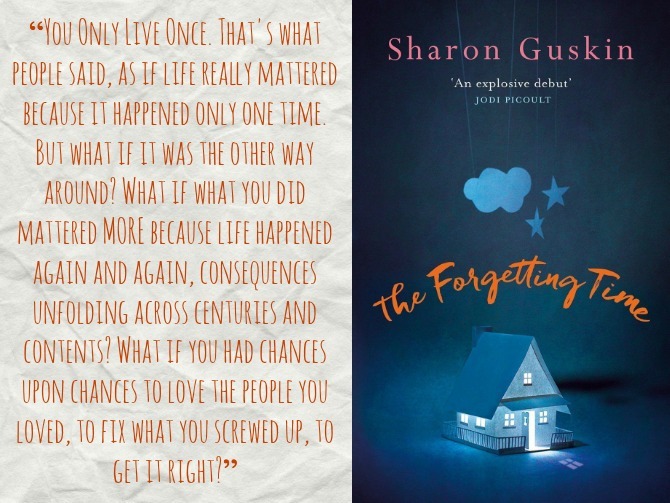 ---
I Let You Go, by Clare Mackintosh: A young boy is killed in a hit-and-run accident, leaving his mother devastated. An investigation fails to identify the negligent driver, and the case grows cold. Though tragic, the story seems fairly straightforward—dull, even. Mackintosh's exploration of grief is poignant and raw, but midway through the book I was starting to question the "thriller" label. But then I was totally blindsided by a paradigm-shifting twist, and the twists kept coming up until the novel's breathtaking conclusion.
If you love a good thriller, this book is definitely for you; and if you can, try going into the novel with as little information about the plot as possible. Fair warning, though: the story touches on a number of highly sensitive topics and is not for the faint of heart. I cried my way through the first chapter and cringed through the novel's entire second half. The riveting story kept me reading, but it also evoked a few nightmares for days after I'd finished reading. Was it worth it? Yes. But I came away in search of a happier next book to help me recover from this terrifying tale.
My Rating: 4.5 stars.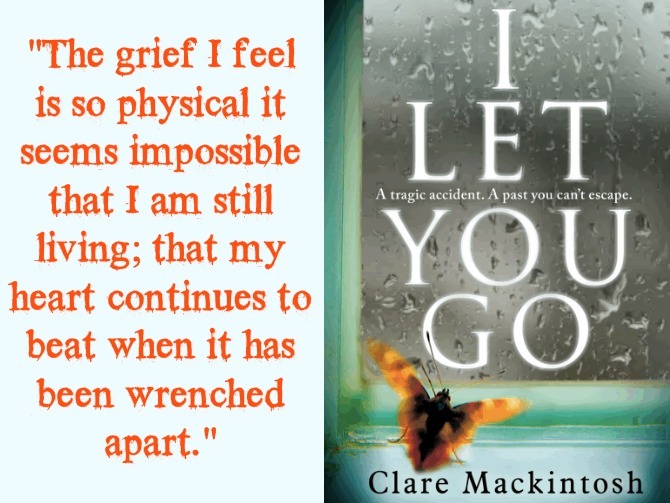 ---
Blue Like Jazz: Nonreligious Thoughts on Christian Spirituality, by Donald Miller: Part memoir and part essay, Blue Like Jazz follows Donald Miller's long and windy path of questioning his faith, abandoning past misconceptions, falling in love with Jesus, and figuring out how to live a life that reflects his beliefs. Miller takes issue with many aspects of the Christian religion, pointing out hypocrisies within the church and within the lives of many who call themselves believers. Yet even while he eschews many aspects of Christianity, Miller loves Jesus and allows his life to be transformed by Him. He shares his thoughts with humor, vulnerability, and candor, creating a book that is as inspirational as it is entertaining.
Blue Like Jazz is not a theological dissertation. It is light on doctrine and heavy on application, offering few answers and raising a lot of questions. And at this point in my own faith journey, this is exactly what I needed to read. Having spent my life acquiring head knowledge about God, I've only recently begun wholeheartedly looking at my own life and whether or not it reflects my proclaimed beliefs. Memoirs like this one are helping me to recognize my personal shortcomings. I am becoming more aware of my need for God's grace and I aspire to have that same grace for those around me. Donald Miller offers a wonderful model of someone who is living out his true convictions.
I struggled with some aspects of Miller's approach. At times he tries too hard to be culturally relevant (despite his protestations to the contrary) and he is excessively harsh in his treatment of Evangelical Christians and Republicans (we're not all that bad, I promise!). I also detected quite a bit of self-righteousness, which is exactly what he claims to despise in other Christians.
These are small criticisms for a book that holds so much truth. Caveats notwithstanding, I would highly recommend this book to any Christian who has hit a plateau in their faith and needs some shaking up, as well as those who have grown disillusioned by Christianity and want to simply get to the heart of Jesus and His message.
My Rating: 4 stars.
A note on the audiobook: I was deeply disappointed with the choice of narrator—once again, an otherwise good book has touched on my pet peeve about memoirs being read by someone other than the author. I can't imagine Miller would have done any worse than the narrator that was chosen; he was pretty terrible.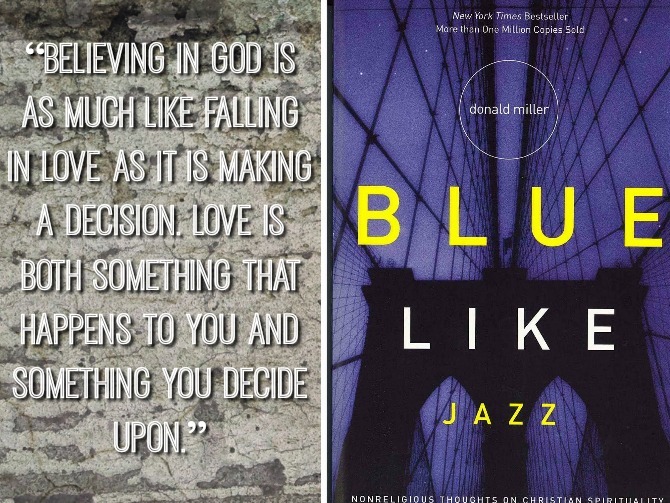 ---
Big Little Lies, by Liane Moriarty: Few authors can turn a treatise against domestic violence and bullying into a humorous, compulsively readable social satire, but Liane Moriarty does so quite masterfully with Big Little Lies. The novel debuts at a school trivia night, where a handful of Kindergarten parents have witnessed a crime. The rest of the book is sprinkled with excerpts from the various witness statements, but the victim remains unnamed as we learn through flashbacks about three of the Kindergarten mothers.
Madeline is a 40-year-old mom who loves her husband and younger children, but is struggling to accept her teenage daughter's relationship with her ex-husband's new wife (who also happens to have a daughter in the same Kindergarten class). Madeline is best friends with Celeste, a mom of twin boys who appears to have the perfect life but carries a deep secret she is terrified of sharing. The two women befriend Jane, the youngest mother in the class whose son is being accused of bullying. The experiences and attitudes of these women are equal parts ridiculous and totally relatable, and their interactions with other parents at their kids' school are as humorous as they are cringe-worthy.
Like all of Moriarty's books, Big Little Lies takes the chick-lit genre to new levels. The book is filled with social commentary without sacrificing story or character development. Moriarty's comedic timing is impeccable, and her plot twists kept me engaged until the last page. A delightful but also poignant read. I can't wait to see the television show—the casting seems absolutely perfect and true to my visions of the characters as I was reading.
My Rating: 4 stars.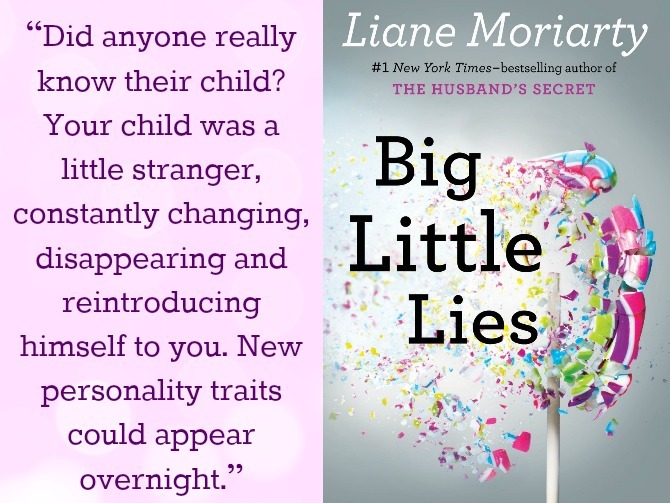 ---
Me Before You, by Jojo Moyes: I think I might be the very last person to read this book. If by some chance there is someone else out there who is still unfamiliar with the plot, here's a brief synopsis: twenty-six-year-old Louisa's life seems to be going nowhere. She still lives with her working class parents, forever overshadowed by her younger sister, and trapped in a less-than-ideal relationship with a boyfriend who is too obsessed with improving his running times and lowering his body fat to care much when Louisa loses her job in a coffee shop. Her life gets more exciting when she becomes an assistant to Will Traynor, a wealthy and formally successful paraplegic who lost the use of his limbs—and all of his hope—in an accident two years ago. The relationship gets off to a rocky start but soon the two have warmed to each other, and neither Will nor Louisa will ever be the same.
I picked up this book hoping for a light romance. That is not at all what I got. The novel hits on themes of suicide, identity, and the sanctity of human life, and it offers a very real and uncomfortable window into the life of a paraplegic. In our culture's endless quest for more diversity in the stories we read, disabled individuals are an underrepresented population in literature and I was glad to learn more about the challenges faced by the physically disabled. I was also impressed with Moyes' willingness to take the book to levels I had not anticipated. However, I found much of the story unplausable and had an especially hard time buying into the romance element. And I HATED the book's ending. (Slight spoiler ahead!!!) I am not opposed to books that end with something other than Happily Ever After, and sometimes I find a heartbreaking ending rather refreshing; but the conclusion of Me Before You seemed to be written solely as a political statement, and I cannot embrace a book that is so blatantly opposed to my personal values.
My Rating: 2.5 stars.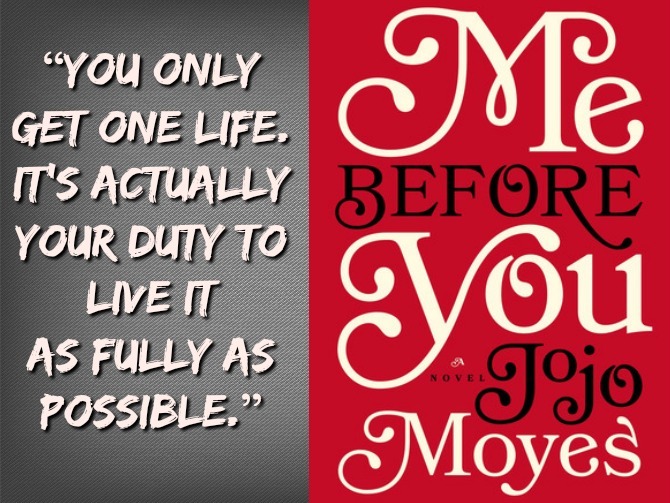 ---
A Great Reckoning, by Louise Penny: When former Chief Inspector Gamache steps into a new position as chief superintendent of the police academy, he hopes to get to the root of the corruption that has long defiled the school. But beore he can take much action, a murder occurs within the academy, and Gamache becomes a prime suspect. What is his connection to the murdered victim? And what does the murder have to do with the mysterious old map that was discovered in Gamache's hometown of Three Pines? As the mystery unfolds, we the reader are exposed to the deep evil that exists within the police force and in the hearts of some key characters, and everything we thought we knew about the Inspector is called into question.
I read the first eleven books of this series back-to-back last winter, and I've been eagerly awaiting the release of this twelfth book. A Great Reckoning contains all of the elements I love about Louise Penny's books: an engaging mystery, strong sense of place, quirky humor, and some heavy probing into the human psyche. However, it was far from my favorite in the series. The book relies heavily on plot points from earlier in the series, and since the previous books weren't fresh in my memory, I felt lost much for much of the novel. I was also disappointed that more of the novel didn't take place in Three Pines, and that the most of the characters I've grown to love in the series did not play a more prominent role in the story.
Final verdict: a great read for fans of the series, but don't try to jump in without having read the earlier books first.
My Rating: 4 stars.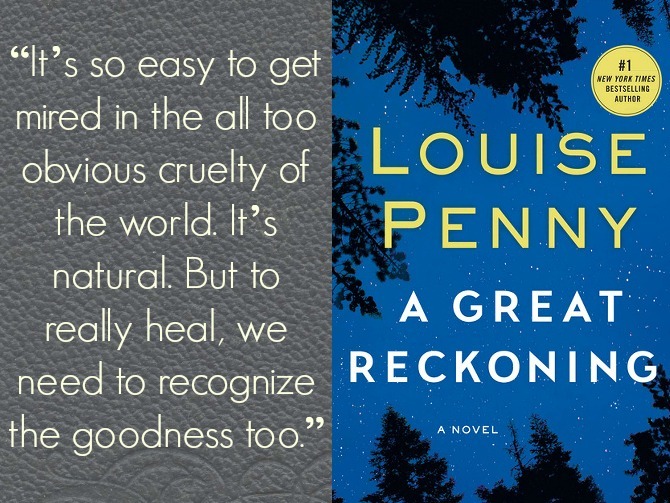 ---
A Gentleman in Moscow, by Amor Towles: After much debate, I decided to read this one as my "book that's currently on the bestseller list" for my 2016 Reading Challenge (although a number of books I've read this month actually fall into that category). You'll have to wait until next Monday to read my full review, but be prepared for a whole lot of gushing. . . I loved it every bit as much as Rules of Civility, and I can now definitively say that Amor Towles is one of my favorite authors of our day.
My Rating: 5 stars.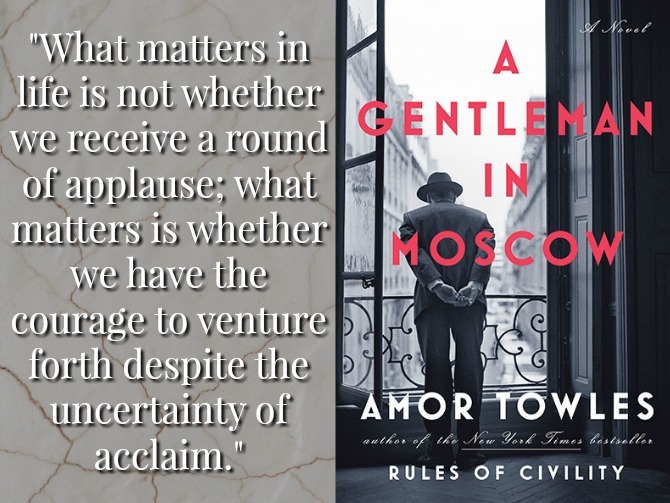 ---
The Woman in Cabin 10, by Ruth Ware: In this modern-day Agatha Christie read-alike, Lo Blacklock is a young journalist onboard a small luxury cruise ship for its maiden voyage through the Norwegian fjords. Lo witnesses what she thinks might be the murder of a woman in the cabin next-door, but when the ship's staff denies the existence of any such woman occupying that room, Lo begins to doubt her memory while simultaneously fearing for her own safety.
This is a tightly crafted, locked door mystery with some excellent plot twists and plenty of suspense. Due to my personal history with mental illness, anxiety, and antidepressants, I resonated with the character of Lo and her tendency to question her own memory and emotions. The presentation of Lo as an unreliable witness added to the story and felt current with conversations our society has been having regarding the testimonies of marginalized individuals.
After a riveting start, I was disappointed by the novel's weak conclusion, and confused by the lack of resolution of many plot threads. I also didn't love the audiobook narration (the British narrator does a terrible American accent). But while I don't know that the book is deserving of all the hype it has received, it was definitely a fun read.
My Rating: 4 stars.
---
The Underground Railroad, by Colson Whitehead: I doubt I was the only child who, when first learning about the Underground Railroad, envisioned slaves being carried to safety aboard a subterranean steam engine. In Colson Whitehead's buzz-worthy novel, it IS a real train that helps slaves escape to the free north. Sadly, unlike this whimsical element, the atrocious cruelty depicted in the book is completely based in fact.
Set around the year 1812, The Underground Railroad is the story of Cora, a slave on a cotton plantation in Georgia who courageously joins another young slave in a flee for freedom. As Cora settles into a new home, she quickly discovers that she has simply traded one treacherous home for another. Life for a young black woman—even one who is supposedly free—is plagued by violence, fear, and abuse.
Though I have read novels about slavery in the past, nothing quite prepared me for atrocities depicted in this book. I was particularly horrified and appalled by the ways the slaves abused each other, and by the blatant disregard for black life exhibited by those who claimed to oppose slavery. While books like these are difficult to read, there is value in learning about the less-than-savory aspects of our nation's history.
Though I won't deny the importance of this book, I admit that Whitehead's style is not to my taste. The narration is cold and somewhat sterile, with secondary characters who are flat and forgettable. Shifts in perspective and timeline detracted from what should have been a compelling plot. A more thoroughly developed storyline and characters would have had an even deeper impact.
My Rating: 3.5 stars.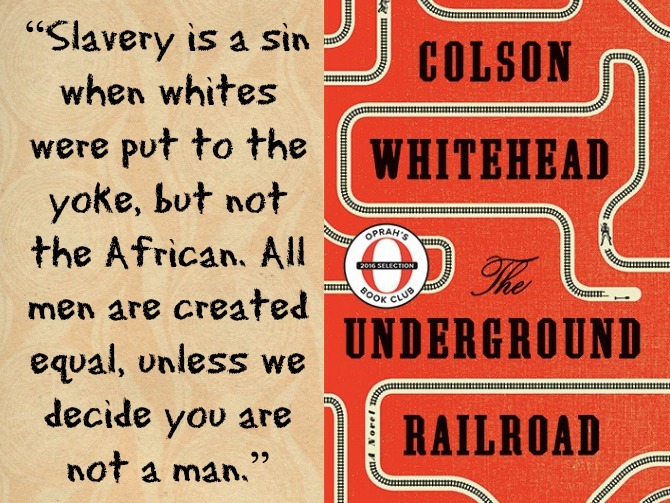 ---
I'd love to hear about what you've been reading lately. Leave me a comment telling me about the best book you've read this month!
Save
Save
Save
Save
Save
Save
Save
Save
Save
Save
Save
Save
Save
Save
Save
Save