Back today with the second installment of this month's quickish book reviews. All six of these books where worthwhile reads, and two received over four stars from me; I tend to be stingy with my high ratings, but these books deserved every star. Here's a look!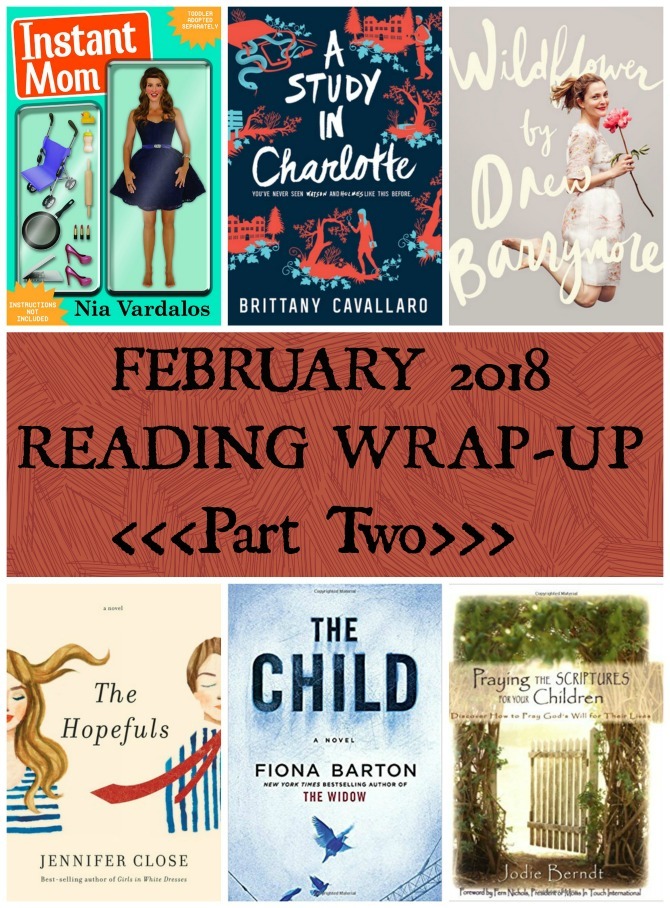 Wildflower, by Drew Barrymore: I first fell in love with Drew Barrymore after seeing her in Ever After (still one of my Top Five movies). Her portrayal of the Cinderella character was perfection, and her sweet spirit and enthusiasm for her role immediately captured my heart. I've since seen many of her other movies, and though she isn't the most talented Hollywood star, I've always been impressed with the warmth and optimism she brings to her films. I've hoped that she was just as endearing in real life as she is on screen, and after listening to this audiobook (read by Drew herself, of course), she has me convinced that she just might be.
Wildflower is a memoir, but it isn't linear or comprehensive. Instead, Drew tells her story through essays about various people and memories that are important to her. Her life hasn't been a smooth one, but she tells her story with grace, candor, and plenty of humor. Her storytelling rings with the zeal of a child, but her wisdom and maturity emerge through her interpretation of past events. I especially enjoyed the tenderness in her voice as she talks about her daughters, and I admire the seriousness with which she views her role as their mom. If Wildflower is an accurate representation of Drew Barrymore, she is a smart, compassionate, and very funny woman and I'm thankful that bright spots like Drew exist in the dark world of Hollywood.
My Rating: 4 stars.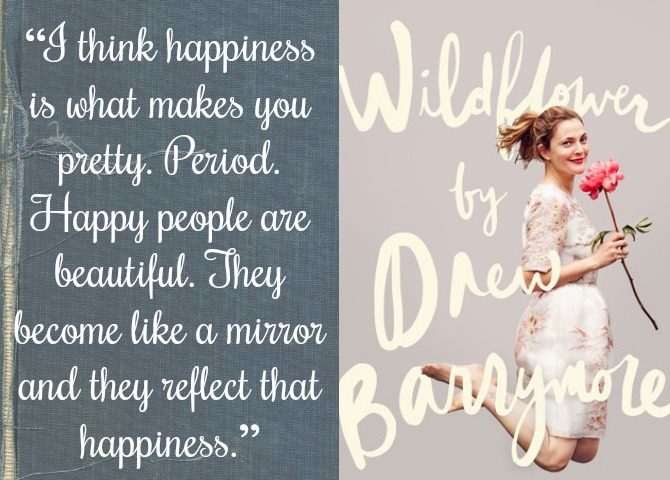 ---
The Child, by Fiona Barton: The unearthing of a baby's skeleton at a deconstruction site is a triggering event for three women: for journalist Kate Walters, it's the story that could save her career; for Angela, it's a painful reminder of the disappearance of her own newborn child, who was taken from the hospital nursery decades earlier; and for Emma, it's a discovery that threatens to exhume secrets buried within her own past—secrets she's never shared with a soul.
I read Fiona Barton's The Widow last month, and while that book wasn't a homerun for me, I was impressed with the writing and willing to give the author a second shot. The Child shares many similarities with The Widow, from a story centered around a cold case to multiple-narrator format. The Child is just as creepy (and also as heartbreaking) as The Widow, but the plot is stronger—more compelling, with quite a few intriguing twists. I enjoyed seeing more of the character Kate Walters, and I was impressed with the Barton's ability to evoke my sympathies for all three of her protagonists, none of whom are easily likable characters.
My Rating: 4 stars.
---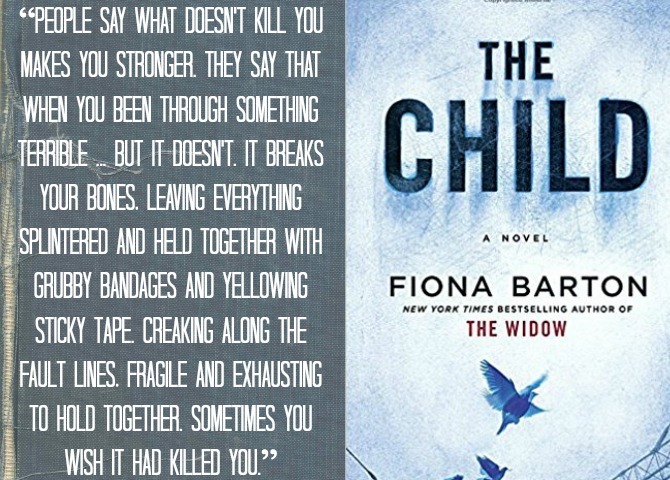 ---
Praying the Scriptures for Your Children, by Jodie Berndt: I received a copy of this book at one of my baby showers, and while I've picked it up from time to time over the last three years, I hadn't read through the whole thing. This month I decided to read it from cover to cover as part of my personal daily devotions, and while it makes an excellent reference book, I'm so glad I finally read the whole thing (and took my time to journal through it).
This book, written by a mom, guides parents in specifically and expectantly praying for their children in the areas of faith, character, safety, relationships, and the future. In each chapter, Berndt reinforces the importance of praying within these categories, and she offers examples of how prayer has made a difference in the lives of her own children and those of friends. Each chapter ends with a handful of verses, rewritten in the form of prayers that can be used in praying for our children.
I've been praying for Charleston since before he was born, but it's sometimes hard to know what to pray, or how. This book provided the encouragement and guidance I needed to begin praying more specifically. I truly do believe in the power of Scripture and of prayer, and this book has shown me how to merge the two, using God's own word to pray over my child. I will be returning to this book and praying from it for many years to come.
My Rating: 5 stars.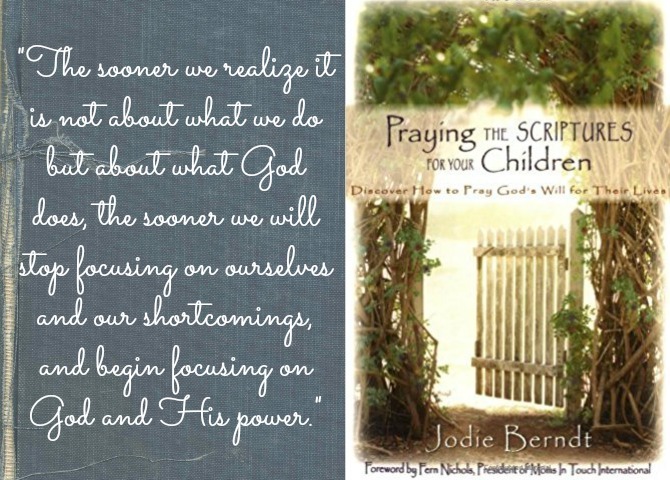 ---
The Hopefuls, by Jennifer Close: Beth and her husband Matt have relocated from her beloved NYC to Washington, D. C., to participate in the Obama election campaign. Matt thrives on the excitement of the political scene, while Beth remains wary and struggles to make a place for herself in their new hometown, just as she has always struggled to fit in with Matt's elitist family. Their circumstances change yet again when they become friends with the charismatic Jimmy and his charming Southern wife, Ash, and move with them to Texas to help with another election campaign.
This book is described by the Publisher as "brilliantly funny" but I found almost zero humor. Beth's descriptions of the other characters and of her surroundings—both D.C. and Texas—were intriguing, and I enjoyed the glimpses into campaign life, but didn't care for the depressed tone or plodding pace. The story seemed to be building up to some big climax, but it never came. In fact, the lack of action made the book read more like a memoir than a novel.
My Rating: 3 stars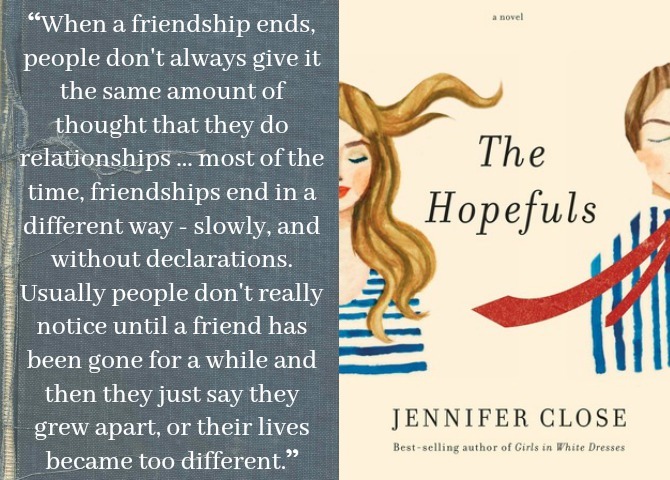 ---
A Study in Charlotte, by Brittany Cavallaro: When Jamie Watson—a headstrong athlete with the heart of a hopeless romantic—finds himself at the same boarding school as the brilliant but prickly Charlotte Holmes, he knows they are destined for partnership…and (hopefully) more. After all, they are the descendants of the original Watson and Holmes. Their acquaintanceship gets off to a rocky start, but when a fellow student is murdered, and Watson and Holmes are the primary suspects, they join forces to solve the crime, and keep each other alive.
This is a wonderful spin on the original Sherlock Holmes stories. It's a rare mystery that wins me over with its characters rather than the story, but I adored both of the protagonists. They are at once exactly like their predecessors, and completely different, and I loved their unusual but heartwarming dynamic. And the plot itself is engaging, with plenty of unexpected twists and fun ties to the original Holmes stories. The conclusion is extremely far-fetched, but made for a delightfully satisfying read.
The book's only drawback is the flighty writing style, which fits with the teen-narrator setup, but was at times quite confusing and difficult to follow. Still, this was a great read and strong addition to the YA genre. The boarding school setting and both main characters reminded me a lot of Looking for Alaska, but while Cavallaro's writing isn't nearly as strong as John Green's, I liked this book much better, and I'm eager to see what's in store for Watson and Holmes as the series continues.
My Rating: 4 stars.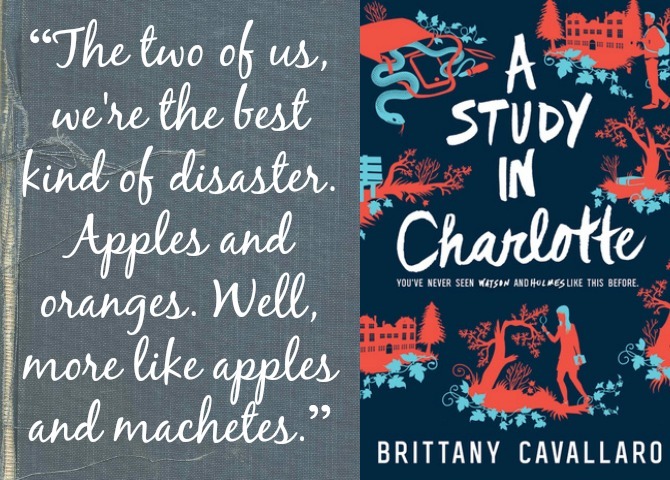 ---
Instant Mom, by Nia Vardalos: Nia Vardalos spent years trying to make it big in Hollywood and facing nothing but rejection. She refused to buy into the myth that only Size-0 blondes could find success in film, and eventually her perseverance paid off. Yet even as she was basking in the success of My Big Fat Greek Wedding, she was facing another insurmountable trial, one that was far less glamorous: that of trying to become a mother. After thirteen rounds of IVF followed by a long road of trying to adopt, she had begun to lose hope. Then, after over a decade of waiting, she received a call: she had fourteen hours to get ready—a little girl was about to become hers.
In the prologue to Instant Mom, Vardalos explains that she has always been exceedingly private, especially regarding her daughter. However, she felt compelled to write this book because she had a message that needed to be shared. Before adopting, Vardalos knew only of negative adoption experiences and fostering horror stories. But her journey with her daughter has been exceedingly positive, and she wanted to give hope and inspiration to other prospective parents (and adoptive children) by opening up about her success and providing factual—and uplifting—information about the foster system.
This book is simply wonderful. Nia Vardalos is a delight—candid and funny and quite endearing. I liked reading about her career, but LOVED hearing about her daughter and their relationship. She shares openly about the challenges of parenting, but the joy she finds in motherhood permeates every story. I especially loved reading about her healthy approach to feminism and the positive messages she is passing to her daughter about body image and female empowerment. Instant Mom accomplishes Vardalos' goal of dispelling myths about adoptive children, but this is anything but a dry tutorial; the writing is warm and hilarious and incredibly inspiring.
My Rating: 4.5 stars.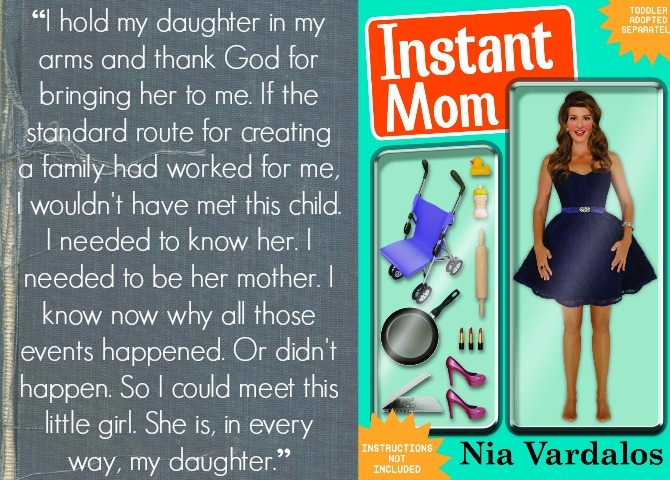 ---
I'm linking up Modern Mrs. Darcy to share what we've been reading lately. If you're here from the linkup, thanks so much for stopping by. Be sure to check out Part 1 of this month's Quick Lit, where I shared reviews of six additional books I've read recently.