I've been pretty happy with my reading life so far this year. I've been making an effort to read (rather than listen to) a larger portion of my books, which I'm sure has enhanced my enjoyment of what I've been reading. I've also enjoyed a healthy variety of genres and themes. Here's a look at six of the books I read in the last month.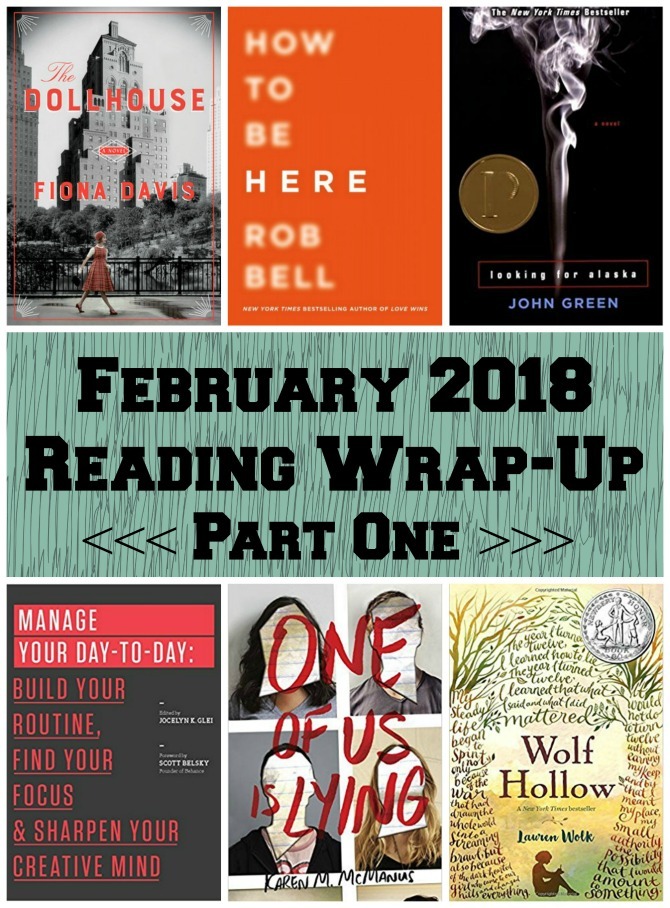 How to Be Here: A Guide to Creating a Life Worth Living, by Rob Bell: Rob Bell is quite the polarizing figure. I don't agree with a lot of his theology, but have enjoyed what he's had to say when I've heard him interviewed on podcasts; he has a great mind and a unique way of viewing the world, so I've been interested to read one of his books. This one, which has little to do with spirituality or religion, seemed like a good place to start.
Much like Elizabeth Gilbert's Big Magic (another great read), How to Be Here explains that each of us was uniquely created for a great work. Bell uses stories from scripture, friends, and his own life to illustrate the value of chasing our dreams, and he encourages readers to cultivate meaning and joy by pursuing our purpose. He also adds in tips for becoming more mindful and embracing the small moments.
This is a quick and easy read wth a powerful message and lots of great wisdom. With its encouragement to start taking risks and begin living with intention, it made for a great January read.
My Rating: 4 stars.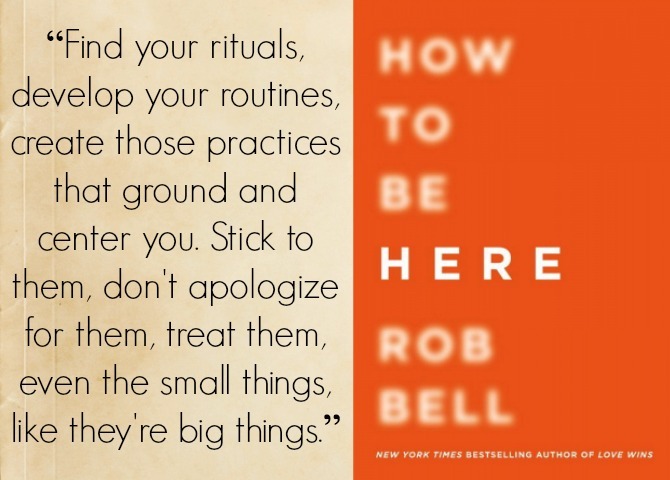 ---
The Dollhouse, by Fiona Davis: In the 1950s, the glamorous Barbizan Hotel for women was a temporary home for a generation of young models, secretaries, actresses, and society girls with their sights set on big ambitions. Darby McLaughlin, a self-proclaimed plain girl from Ohio, arrives at the hotel with one goal: to please her mother by passing secretary school. She has difficulty fitting in with the her catty floor mates, but finds friendship in the rebellious maid, Esme, who quickly introduces Darby to New York's seedier side. The friendship ends in a tragedy that, over the following decades, becomes shrouded in mystery.
In 2016, Rose, a journalist, is looking for a good story. Rose has recently moved into a condo in the now renovated Barbizan, and becomes intrigued by the elderly residents who have lived in the hotel since the 1950s. Rose feels a connection to the reclusive Ms. McLaughlin, and crosses several moral boundaries to pursue her story and discover the truth of what really happened 60 years ago.
I'm generally a big fan of historical fiction with a present-day story tie-in, so this book was right up my alley. I was especially intrigued by the glimpse into a lesser-explored side of 1950s history, but I enjoyed the past and present stories equally. While the characters were not very likable, their trajectories were interesting and I felt invested in their outcomes. The story dragged quite a bit towards the middle, just when the suspense should have been ramping up, and the conclusion was somewhat of a let-down (requiring quite a bit of suspended disbelief). Still, an enjoyable read and I would definitely read more from this author.
My Rating: 3.5 stars.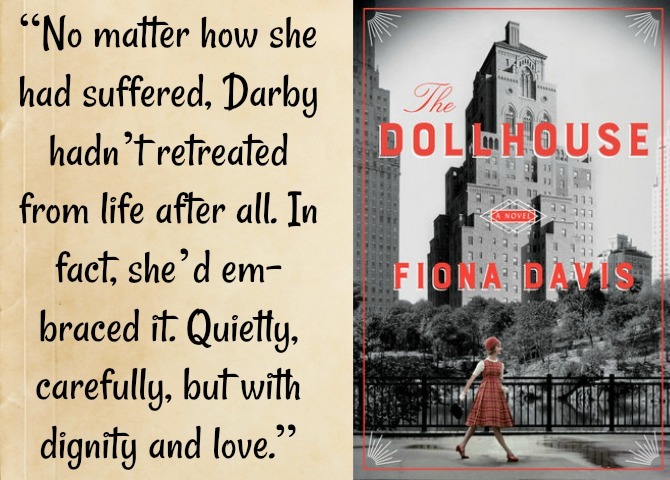 ---
Manage Your Day-to-Day: Build Your Routine, Find Your Focus, and Sharpen Your Creative Mind, Edited by Jocelyn K. Glei: This short little book is a treasure trove of useful tips for anyone looking to make more out of their work life and reach their creative potential. The book is divided into four main sections (Building a Rock-Solid Routine, Finding Focus in a Distracted World, Taming Your Tools, and Sharpening Your Creative Mind), with chapters from productivity and creativity gurus such as Gretchen Rubin, Steven Pressfield, Leo Baubata, and Cal Newport. I've read books and articles from many of these contributors and this collection consolidates the best ideas from each of these powerhouses.
The format of this book is perfect: short, accessible chapters with a roundup of key points at the end of each section. I appreciated the blend of stories and actionable tools, and loved hearing from a mix of voices. There are many excellent takeaways, but my favorites were Elizabeth Grace Saunders' suggestions for letting go of perfectionism.
Much of the content in this book will be familiar to those who read widely within the business/self-improvement genres, but the format and of this book is fresh and well worth the read for entrepreneurs, creatives, or anyone hoping to maximize their days and their potential.
My Rating: 5 stars.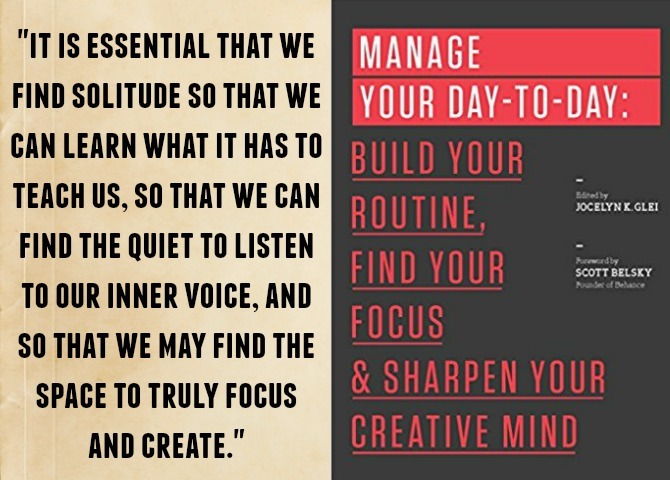 ---
Looking for Alaska, by John Green: For years I'd heard about this book and thought it was about the state of Alaska. I was wrong! Alaska, here, refers to the name of one of the characters! (Just had to get that little confession out of the way before jumping into the review. Anyone else out there have that misconception about this title, or was it just me?)
Miles Halter has lived an uneventful life. He has few friends at his public school, and life at home is comfortable but quiet. After years of memorizing the famous last words of historical figures, Miles is eager to find his own path towards significance. So, when he heads off to Culver Creek Boarding School in Alabama for his Junior year, he believes that he has finally entered into his Great Perhaps. His days are suddenly unpredictable and exciting, filled with school pranks and learning how to roll with an edgier crowd. He is immediately befriended by his brilliant but rebellious room mate, "The Colonel," and the enigmatic, beautiful and deeply troubled Alaska. Life with them is far richer than he could have imagined. And it all changes in an instant.
This is John Green's first novel, and the second book I've read from him. Even in this debut, it is clear that this guy can really write. This is a YA novel, but the storytelling is of the highest caliber—vivid characters, interesting plot turns, rich metaphors, and no shortage of philosophizing. Looking for Alaska led me to ponder the meaning of life and suffering, the dynamics within adolescent friendships, and many other complex themes; this is far from a breezy read. The book leaves readers with a lot of unanswered questions, and as much as it bothered me to have an ending with no resolution, I was impressed with Green's ability to create a story that is at once unfinished and also splendidly complete. I also admire his aptitude for tapping into visceral experiences and emotions of adolescence, while somehow refraining from delving into full-on angst.
My qualm with the book—and with almost all YA I've been reading—is the extremely racy content. (I realize I sound like a broken record here, but I would be remiss not to explain why this was not a 5-star book for me.) I recognize that many teens are having plenty of sex, doing drugs, drinking to the point of intoxication, smoking numerous packs of cigarettes each day, etc. This book likely just reflects contemporary teen culture. However, I will never not have a hard time with books rationalizing and justifying this sort of reckless behavior. (And with that, I will step off my Conservative Podium. Thanks for listening.)
My Rating: 4 stars.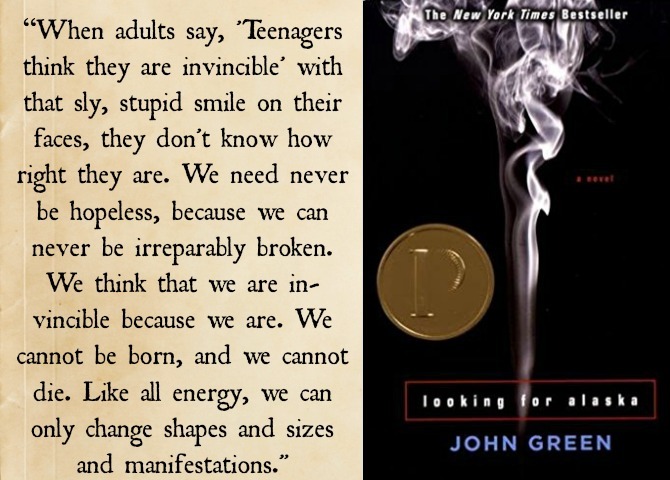 ---
One Of Us Is Lying, by Karen M. McManus: Five high school students find themselves unexpectedly (and unfairly) in afternoon detention: Bronwyn is the rule-following academic; Addy, the popular girl with the controlling boyfriend; Cooper is the star athlete with a cute southern drawl; Nate is the rebel who is always getting into trouble; and then there is Simon, the social pariah who doesn't make it out of detention alive. After his death, the other four students find themselves the prime suspects in a murder investigation. Someone in that locked room is responsible for Simon's death; but who?
The publisher describes this as "Pretty Little Liars meets Breakfast Club," and though I haven't seen either of those, I know enough about them to see that it's an apt comparison. This is a deeply compelling read; I immediately had my guesses about the culprit but rushed through the book to find out if I was right. (I was.) I enjoyed the mystery element and found the characters interesting, despite their strict adherence to the prototypes. There is a refreshingly low(wish) amount of language and on-screen sex for the genre, which I definitely appreciated. However (WARNING: SPOILER AHEAD) I had a very difficult time with the ending. This is another of a string of recent books that glamorizes or seems to be making a game out of mental illness and suicide. These are not light subjects and it concerns me when they are treated as such. I can't, deny, though, that they make for very readable fiction.
My Rating: 3.5 stars.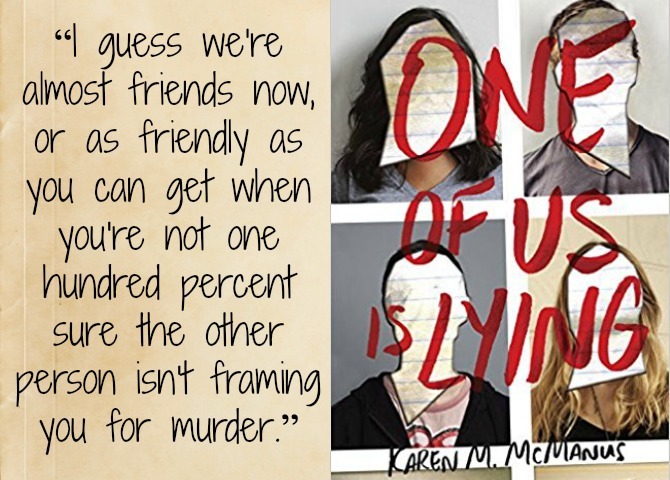 ---
Wolf Hollow, by Lauren Wolk: Though World War II is raging oversees, twelve-year-old Annabelle has lived a quiet and mostly happy life in her rural Pennsylvania town. That changes when a ruthless young girl named Betty moves to town and is determined to make Annabelle's life a nightmare. When Betty disappears, suspicion is cast on Toby, a troubled World War I whom Annabelle's family has befriended but whose reticence and slovenly appearance invite suspicion from the rest of the town. Annabelle is determined to protect her friend, even when it means jeopardizing her own safety and reputation.
This book reads like a child-friendly version of To Kill a Mockingbird, and since Harper Lee's classic is in my personal All-Time-Top-Five, it's no surprise that I loved this book. Annabelle is an endearing and inspiring protagonist who grapples with many challenges (bullying, prejudice, mental illness) in a mature but realistic manner. Wolk seamlessly incorporates strong messages into a story that itself is beautiful—poignant, sweet, and honest without being harsh. I especially enjoyed the setting; though set during WWII, it is not explicitly a war novel, but offers a look at life on the homefront during that period. I certainly appreciated this book as an adult, but imagine it would also be an engaging read for the targeted younger audience.
My Rating: 4 stars.
---
On Friday I'll share reviews of six more titles I've read in the last month, including two mysteries, two memoirs, a political novel, and an incredible devotional!