Welcome to Quick Lit, the time of the month where I get to share all of my latest reads with you. It's been quite a while since my latest reading wrap-up, but I assure you that my reading has not ceased! I have so many books to review that I've decided to split this post into two parts. Today I'll be sharing my recent fiction reads, and on Friday I'll be writing about the nonfiction books I've read lately.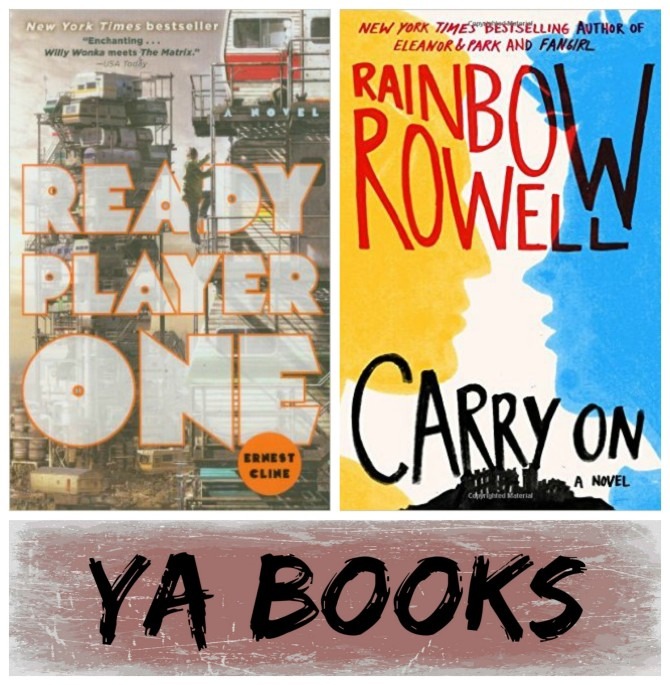 Ready Player One, by Ernest Cline: It's the year 2044, and Wade Watts is a teenage game enthusiast and 1980s culture aficionado who spends his time escaping the grim reality of his bleak life within a virtual utopia, working to solve a puzzle that will lead to the ultimate lottery ticket. Based on its description this is not a book I would have expected to enjoy, but it proved to be a surprisingly fun read. I was impressed (and somewhat frightened by) the author's highly plausible portrayal of future technologies and events, and the setting provides an excellent backdrop to the story without overpowering it. This book isn't perfect: the middle drags, there is an uncomfortable disregard for the Christian faith (or really faith of any kind) and I would have preferred less crass language—something I can tolerate in adult books, but find very off-putting in novels geared toward teens; nevertheless the 15-hour audiobook served as great entertainment on our long drive from California to Texas. I can't wait to see the movie! My Rating: 4 stars.
---
Carry On, by Rainbow Rowell: Inspired by a fictional series featured in Rainbow Rowell's Fangirl, Carry On is itself a type of Harry Potter fan fiction, but with a gay Harry Potter, raunchy language, and the Twilight-ish inclusion of vampires and love triangles. I have such mixed feelings about this book. On the one hand, I was intrigued by its meta nature; I appreciated the connections to Fangirl and had fun spotting the Harry Potter resemblances. I also enjoyed much of the storyline, particularly some of the unexpected surprises in the latter third of the book. However, I could definitely have done without the angst, the adult themes, and the vulgarity (am I a prude for expecting YA novels to be clean?). I was also disappointed by the magical world Rowell has created, which is nowhere near as enchanting as that of Harry Potter. I realize that it would have been impossible for Rowell to do in one book what Rowling did in seven, but as this book was inspired by the Harry Potter series, I couldn't help but make the comparison, and found Carry On significantly lacking. I know that Rainbow Rowell is a favorite of many readers but I just haven't been able to stir up enthusiasm for any of her books. My Rating: 2.5 stars.
---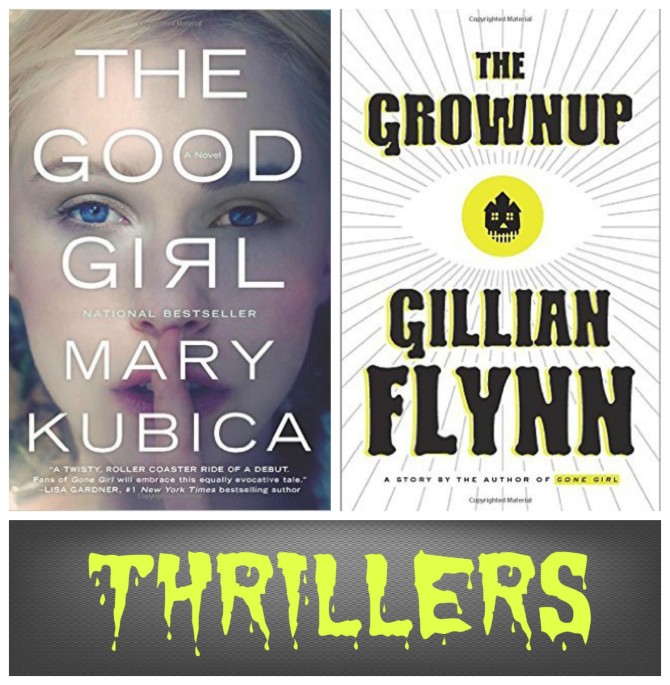 The Grownup, by Gillian Flynn: This short story contains the elements I've come to expect from Gillian Flynn: a smart but twisted narrator, a generous dose of deception, and some unexpected plot developments. The combined effect is a riveting story that is all sorts of creepy and quite crass, but definitely worth the (quick) read. My Rating: 4 stars.
---
The Good Girl, by Mary Kubica: The Dennet family's carefully curated image is shattered when their 24-year-old daughter Mia goes missing. Shortly into the novel, we learn that Mia was kidnapped and has been returned, but the novel bounces around the timeline and between narrators as we piece together the full story of Mia's capture. This book starts strong but quickly fizzles thanks to unimaginative characters and too little action for a "thriller." Gone Girl comparisons led me to spot a key plot twist early on, but the promised "shockers" come far too late in the story and feel almost like an afterthought, tacked on to appease editors asking for a surprise ending. My Rating: 3 stars.
---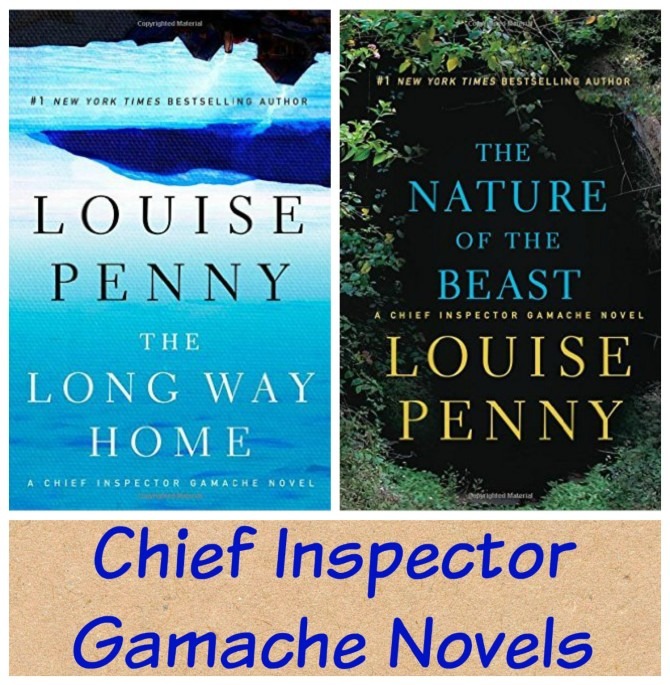 The Long Way Home (Chief Inspector Gamache Novel, Book 10), by Louise Penny: Though Penny wrapped up several series-long story arcs in book 9, the Inspector Gamache series lives on! Officially retired, the Inspector now makes his home in Three Pines. He gets another chance to put his detective skills to use when a friend asks the Inspector to help her find her absent husband, who failed to come home on the anniversary of their separation. This novel is a departure from Penny's usual style, with character development taking precedence over the mystery element. I didn't mind the novel's slower pace and very much enjoyed spending more time with the characters I've grown to love, but the wrap-up felt too abrupt and I didn't care for the way Penny chose to tie up some story threads. I commend Penny for taking a few risks with the set up and structure of the novel but hope she sticks closer to her usual style in future books. My Rating: 3.5 stars.
---
The Nature of the Beast (Chief Inspector Gamache Novel, Book 11), by Louise Penny: I made it to the final (released) installment of the Inspector Gamache series, and I'm sad that now I'll have to wait to get my next Three Pines fix! This latest novel begins with the death of a local boy in Three Pines, resulting in an investigation involving nuclear warfare and decades-old mysteries. There's is a lot going on in this book but it manages to come together in a very exciting and satisfying conclusion. This is the first audiobook in the series to be narrated by Robert Bathurst since the death of previous narrator Ralph Cosham. I missed Cosham's familiar voice but enjoyed Bathurst's reading almost as much. My Rating: 4 stars.
---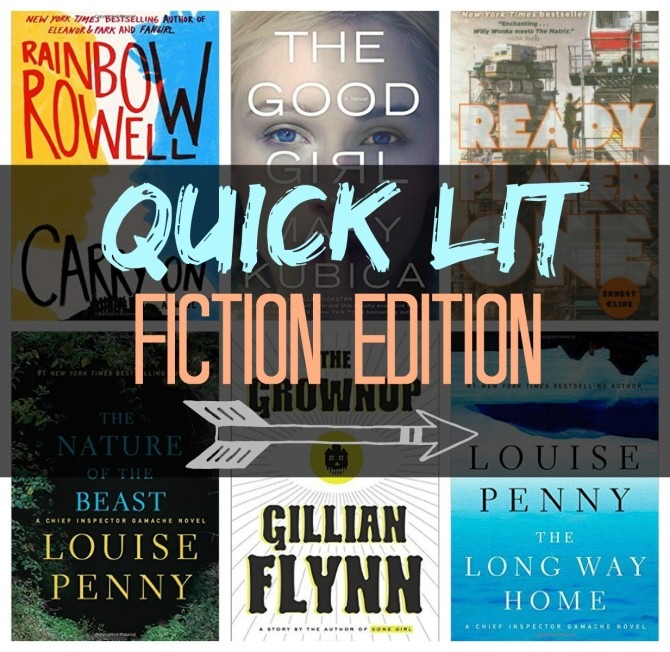 Have you read any great fiction books lately? I'd love to hear about them! And don't forget to check back here on Friday for my thoughts on six nonfiction books I've read lately.