It has been another book-filled month! My reading selections have been pretty eclectic lately. I don't regret any of my recent reading choices, though some of the books will definitely stick with me more than others. Here's a look at the eight books I've read in the last several weeks.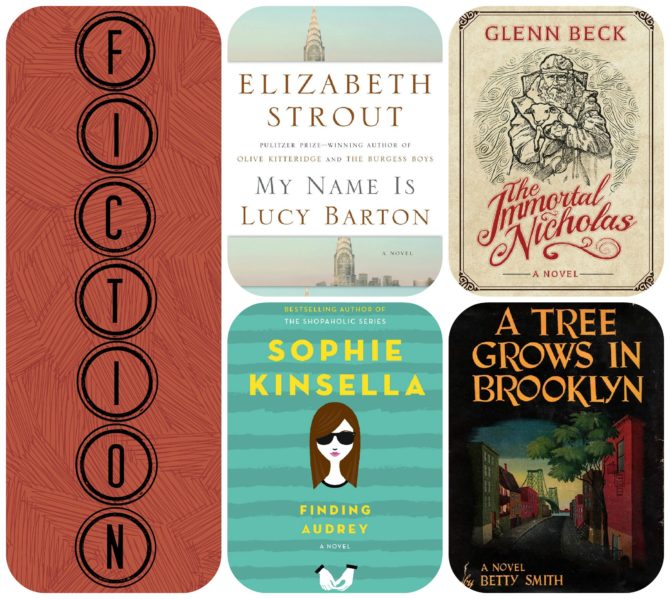 Sometimes you need a little Christmas in July! This reimagining of the story of St. Nicholas traces his origins to Biblical times, weaving St. Nick's story with the birth and life of Jesus. I adored the novel's creative concept; what a wonderful way to bring Christ into one of the more commercial aspects of Christmas. The book is filled with beautiful depictions of grace and active faith, and Beck masterfully captures the person of Jesus through his characters' eyes. The story falters a bit in the second half, and the book has a pedantic tone that I didn't care for. Perhaps I would have been more forgiving of these shortcomings had I been in the "Christmas spirit" at the time of my reading. My Rating: 3.5 stars.
---
Fourteen-year-old Audrey suffers from an anxiety disorder that keeps her from attending school, using a cell phone, or talking with anyone outside of her therapist and zany family members. When Audrey's game-addicted brother brings home a friend, he becomes the one outsider with whom Audrey is capable of making a connection.
The subject matter of Sophie Kinsella's first YA novel is not an easy one, but the quirky characters and conversational narration add an upbeat tone without negating the book's message. I related to Audrey's struggles and can attest to the accuracy of Kinsella's portrayal of mental illness. But Audrey's story is one that is hopeful and very funny. My Rating: 4 stars.
Head's up for audiobook readers: I enjoyed the audio presentation and felt the book was well-suited to the format, but I got a bit annoyed with the reader's sloppy application of character voices (inconsistent and overplayed).

---
I had been wanting to read a book along with my mom and was so excited when she selected A Tree Grows in Brooklyn, as it's a book that's been on my TBR list for a while. This American Classic is a coming-of-age novel set in Brooklyn in the years leading up to the First World War. Francie Nolan is a smart and sensitive girl who is forced to grow up too soon as she struggles to survive a childhood that is marked by hardship and sadness. Her story is heart-wrenching, eye-opening, and inspiring, and her journey exposed me to many shocking aspects of turn-of-the-century urban life.
While the novel has a strong sense of place, its themes are timeless, tapping into universal emotions and plumbing the depths of the human experience in a way that is raw yet familiar. Smith has an uncanny ability to give words to ideas I myself have held but could never have articulated. I highlighted numerous passages that resonated deeply with me, despite their having been written nearly a century ago
As much as I enjoyed and deeply admire this book, I had an oddly difficult time getting through it: I spent almost a month with this book, and it's been a while since I've taken quite so long to finish a novel. This was partially intentional, as I wanted to give the book some time to digest, but I also just had a hard time with the novel's plodding pace, detached tone, and lack of driving storyline. Nevertheless, I am so glad that I pushed through to the end and was rewarded for my efforts. A Tree Grows In Brooklyn has earned its position as a beloved classic and I am happy to join the ranks of those who hold a high opinion of this book. My Rating: 4.5 stars.
---
This short, memoir-like novel is told from the perspective of a middle-aged woman reflecting on her life, specifically a years-ago stint in the hospital during which she reconnected with her estranged mother. Lucy Barton has a lovely narrative voice, but the story lacks substance. The book has almost no plot, and the snippets Lucy shares of her past were not interesting or significant enough to hold my attention. I would have enjoyed this more if the essay-style vignettes and sketched characters had been fully fleshed out. My Rating: 3 stars.
---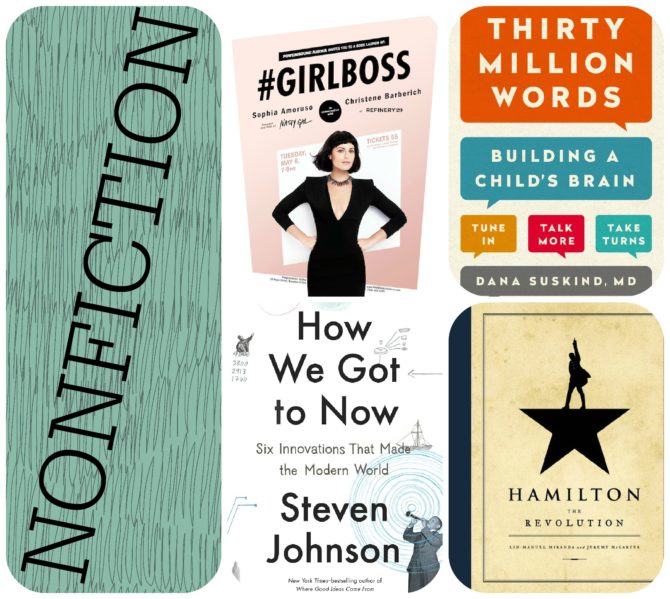 Nasty Gal is not your average fashion company, so it's not surprising that this book from Nasty Gal's founder, Sophia Amoruso, is a bit unconventional. Part memoir, part business guide, #Girlboss recounts Amoruso's journey from dumpster-diving, shoplifting social deviant to successful CEO of one of the nation's fastest growing retailers. Amoroso's inspiring story is interspersed with "no-bologna" advice for aspiring career woman.
Though I'm not the book's target demographic, I found Amoruso's story intriguing and was impressed with her tenacity (but NOT her arrogance or general nastiness). It was also very interesting to get a real-life glimpse into the fashion world after reading a fictional account of the industry in The Knockoff. My Rating: 3.5 stars.
---
In this book of science history, Steven Johnson examines the broad-scale history of innovation, tracing the origins of many inventions and conveniences that we take for granted. Johnson bypasses the "obvious" inventions, focusing instead on more general technologies like glass, sound, and light that paved the way for future developments.
It was interesting to see the broader ramifications of seemingly basic innovations, and stories of various inventors and cultural phenomena gave me an appreciation for the butterfly effect that exists within scientific world. The book failed to hold my attention in some of the dryer, more technical points, but it was a worthwhile read, if for no there reason than it gave me a new framework for understanding modern invention. My Rating: 3.5 stars.
---
The musical Hamilton is taking the nation by storm, and for good reason: the groundbreaking musical uses modern musical styles to give new life to a historical figure in a way that is unexpected and culturally relevant. What's not to love about that?
Like so many, I've fallen in love with the Hamilton soundtrack and was eager to get an inside view of the musical's creation. Hamilton: The Revolution traces the development of the musical from its beginnings as a spoken word piece performed at the White House in 2009, to the Broadway hit that it is today.
Like Hamilton's own story, Lin-Manuel Miranda's creative journey is fascinating and inspiring. Because I'm not as familiar with the production as I could be, a lot of the namedropping and more inside-baseball elements were lost on me. I also regret listening to the audio version, as the annotated footnotes to the musical's lyrics were a bit hard to follow without the script in front of me. (This wouldn't be a problem with those more familiar with the musical's script.)
Hamilton: The Revolution has given me an even deeper appreciation for the creative genius behind this musical. The book served as more fuel for my desire to see the show, and it should be mandatory reading for any Hamilton fans. My Rating: 3.5 stars.
---
Scientists have long known the importance of talking to our children, but until recently, they did not have a full appreciation for the crucial nature of verbal interaction. A study performed in 1995 found that by the time they reach four years of age, some children have heard thirty million fewer words than others. This lack of language exposure leads to an achievement gap that affects a child's potential for the rest of his life. The "thirty million word gap" has become a metaphor for the importance of language in a child's early cognitive development.
Author Dana Suskind became familiar with this concept through her work as a cochlear implant surgeon. In an effort to help bridge that gap, she established the Thirty Million Word Initiative to teach parents optimal methods for communicating with their children. This book outlines the science behind the initiative and describes the initiative's prescribed method of the three Ts: Tune in to what your child is doing; Talk more to your child using lots of descriptive words; and Take turns with your child as you engage in conversation.
Many of the book's suggested methods are things that come naturally to most parents, but I was grateful for the author's ideas for more advanced parent/child communication; her strategies left me better equipped to expose Charlie to adequate levels of language and hopefully further his chances for success. I also appreciated Suskind's explanations for why we should be implementing these methods at a broader societal level. This is a must-read for every teacher and parent. My Rating: 4 stars.
---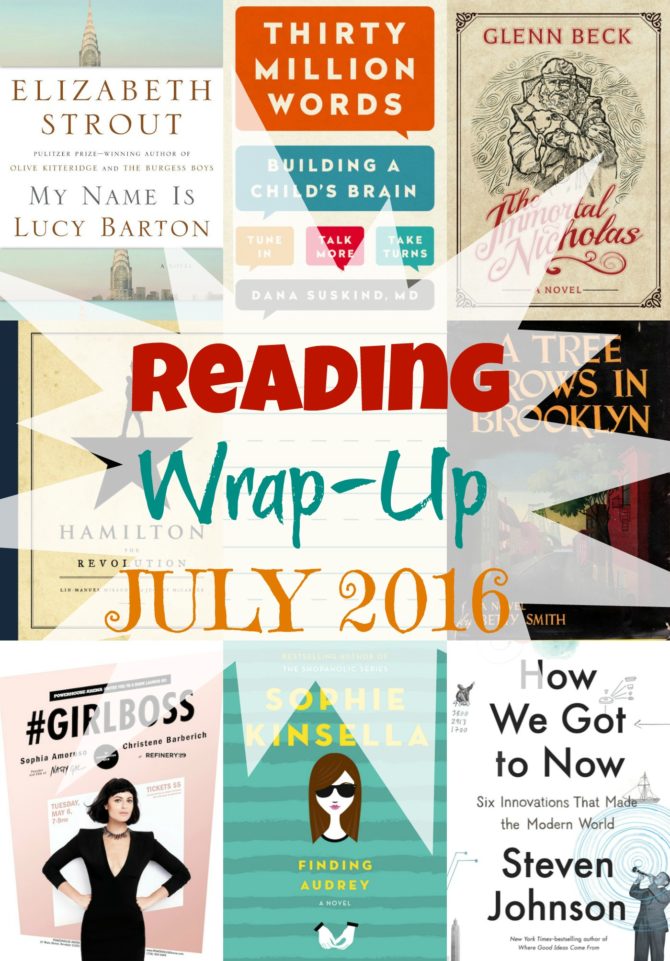 I'm linking up with Modern Mrs. Darcy to share what we're reading this month. Head over to her site for lots of great book recommendations!
Save
Save
Save
Save
Save
Save