Happy St. Patrick's Day, everybody's favorite holiday! Wait, it isn't your favorite holiday? Well, to be honest, it isn't mine either, but it IS a pretty cool holiday with an intriguing history. And though March 17 may be low on the holiday totem pole, I love an excuse for some themed celebration, whether that's with green-colored milk or a festive round up of kid's books!
Since the holiday of note is today, it might be too late to pick up one of these books for the holiday itself, but St. Patrick's Day is one of those fuzzy-boundary holidays that extends the whole month (<— Please don't fact check me on that!), so if one of these titles pops out at you, go ahead and grab it to read with your kids on March 27, or maybe March 31 . . . or, if you're feeling extra rebellious, into April!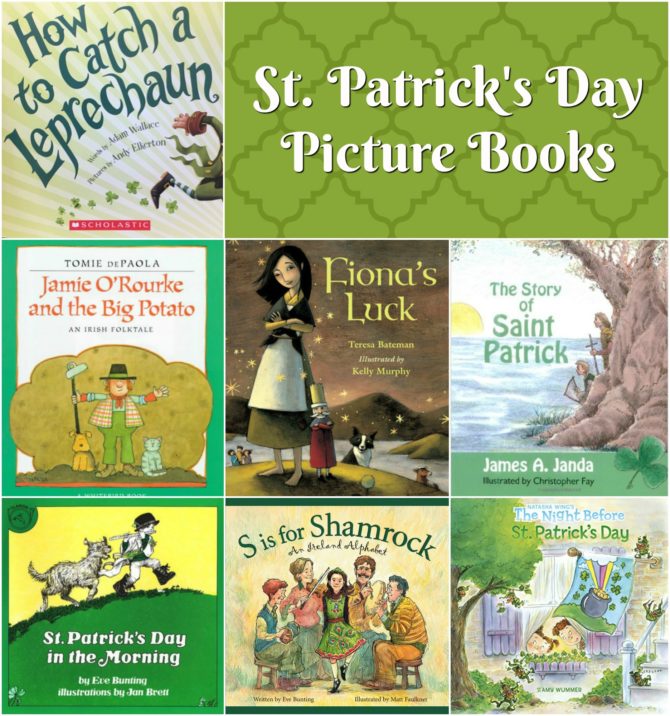 How to Catch a Leprechaun, by Adam Wallace and illustrated by Andy Elkerton: A fun story about catching a leprechaun, and a great way to introduce this tradition in your own family.
Jamie O'Rourke and the Big Potato, by Tomie De Paola: An illustrated retelling of the Irish folktale about "the laziest man in all of Ireland."
Fiona's Luck, by Teresa Bateman and illustrated by Kelly Murphy: Clever Fiona outwits the Leprechaun King and restores luck to the land.
St. Patrick's Day in the Morning, by Eve Bunting and illustrated by Jan Brett: Young Jamie seeks a way to prove that he is old enough to march in the big St. Patrick's Day parade.
S is for Shamrock: An Ireland Alphabet, by Eve Bunting and illustrated by Matt Faulkner: A guided A-Z tour of the country of Ireland, from famous landmarks to legends, culture, and history.
The Night Before St. Patrick's Day, by Natasha Wing and illustrated by Amy Wummer: An Irish twist on the classic Christmas story.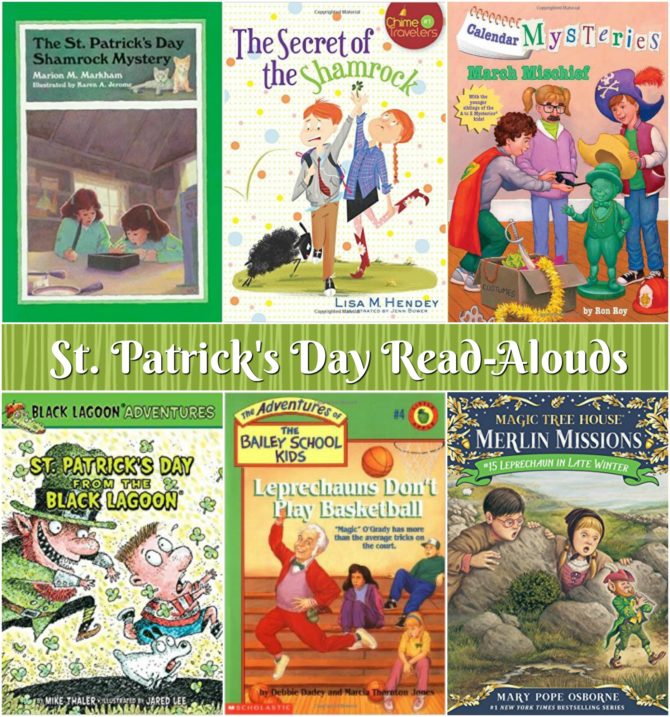 The St. Patrick's Day Shamrock Mystery, by Marion Markham and Karen Jerome: Twins Mickey and Kate Dixon are caught up in a mystery when they find a shamrock painted on their neighbor's door on the morning of St. Patrick's day.
The Secret of the Shamrock, by Lisa M. Hendey: Book 1 in the Chime Travelers series, this is a fun (Catholic-based) introduction to the story of St. Patrick.
Calendar Mysteries #3: March Mischief, by Ron Roy: Four students set out to solve the mystery of leprechaun statues that are going missing around town.
St. Patrick's Day from the Black Lagoon, by Mike Thaler and Jared Lee: A monster-filled book featuring Hubie, who needs to find something green to wear for the St. Patrick's Day parade.
Leprechauns Don't Play Basketball, by Debbie Dadey and Marcia Thornton Jones: A short, treasure-wielding basketball coach visiting Bailey Elementary just might be a leprechaun. (I LOVED this series when I was growing up!)
Leprechaun in Late Winter, by Mary Pope Osborne: In this Magic Tree House book, Jack and Annie meet an Irish girl and go on a magical adventure through Irish Legend.
---
If you don't have kids, or you're simply looking for some St. Patrick's Day books for your own reading pleasure, check out this list of the best Irish novels from the Daily Beast.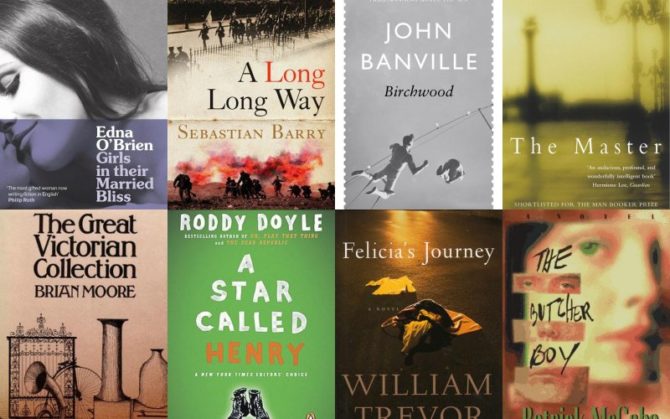 Save
Save
Save
Save