I knew what to expect. From the moment I began sharing the news of my pregnancy, family and friends did their best to prepare me: becoming a parent is wonderful, they said; treasure every moment because the days are long, but the years are short. I wasn't too naive to miss the underlying message behind their words: the transition into motherhood will be hard. And they were absolutely right.
Becoming a mother has been the most incredible experience of my life, but I'd be lying if I said these last few weeks had been completely smooth sailing. Luke and I are learning to adjust to having a new, totally-precious-but-very-needy little human in our lives. We're getting by on somewhat shaky instincts and lots of snuggles, but very little sleep. Fortunately, we have plenty of amazing resources that are making life these days just a bit easier. Last week, when Modern Mrs. Darcy invited fellow bloggers to share the things that are saving our lives right now, I knew I had plenty to say on the subject. Here are a few of the awesome people, tricks, and tools that have kept me afloat as I find my groove as a new mom.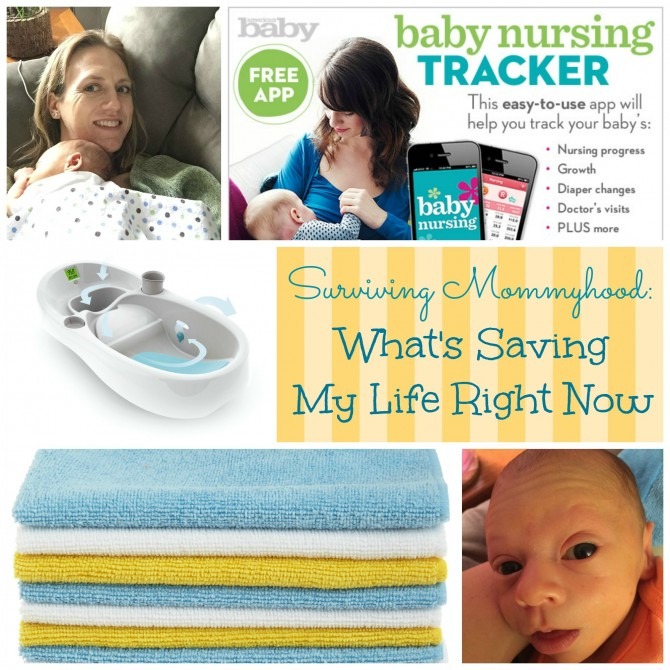 Lifesaving Baby Items
Stockpiled Burp Rags: We bought this 24-pack of microfiber cloths to use as burp rags, and they've been working out perfectly. We've been keeping stacks of them around the house, and they're great for burping Charlie and for cleaning up any other baby-related (and mommy-related) messes on the fly.
SwaddleMe Infant Wraps: Charlie's stance on swaddling is constantly in flux: one minute, he's loving the swaddle, the next minute he's scrambling to get out of it. But for those moments when he's in a swaddling mood, these swaddle blankets are amazing; we haven't mastered the art of swaddling with a standard receiving blanket, so these blankets have definitely been a lifesaver.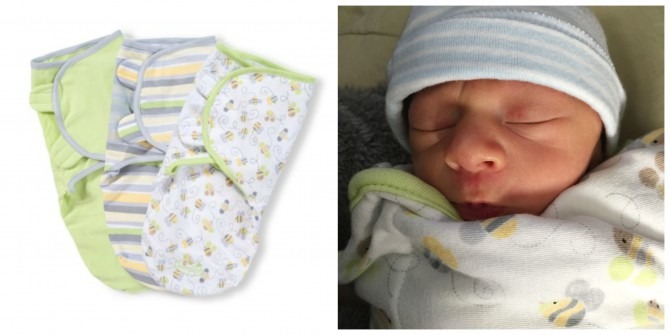 The Baby Nursing App: How on earth did women ever nurse their babies without an app to keep track of it all?! I kid, of course, but this app definitely makes breastfeeding easier. The app allows me to track the length and side of each of Charlie's feedings. We're also using the app to track Charlie's diapers, measurements, and doctor's visits. It's so convenient to have all this information stored in one spot!
Graco Swing Glider and Bassinet: My brother and sister-in-law bought us this bassinet/swing combo and I simply can't say enough great things about it! We've been keeping Charlie in the bassinet by our bed at night, and since it's portable (the bassinet detaches from the swinging base), we have a convenient place to set Charlie wherever we are in the house during the day. (Though to be honest, he spends most of the day in our arms; it's nice to have that option, though!) Charlie's still a bit too small to actually use the swing, but we sometimes set him in the portable bouncer to keep him upright after he's eaten; it's great at keeping his indigestion at bay!

My Makeshift Body Pillow: Like all pregnant women, sleep became pretty elusive as my belly expanded in the final months of pregnancy. Luke offered to buy me a body pillow, but I was deterred by the fairly steep price tag. Instead, I bought a (much cheaper) king-sized pillow that worked beautifully. That pillow served me well during my labor, and is continuing to prove useful as a breastfeeding support.
4Moms Infant Tub: We received this fancy infant tub from my in-laws, and I totally thought it was a bit gimmicky at first. However, now that we're actually using it to bathe Charlie, I can fully appreciate its seemingly over-the-top features. I especially love the built-in digital thermometer, which ensures that Charlie's bathwater is just the right temperature.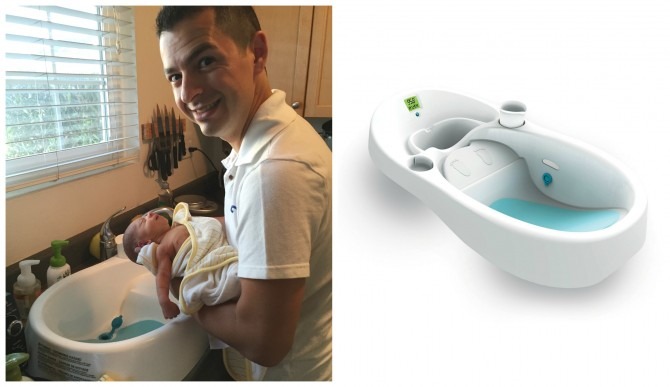 Lifesaving Support System
Having a Full-Time Co-Parent: I am so thankful that Luke was able to take three weeks off of work to help me out as I transition into my new role as a stay-at-home mom. I've loved getting to spend some quality time bonding as a family of three, and the extra pair of hands has been a lifesaver. I'm kind of dreading Luke's return to work next week. If I go MIA on the blog for a bit, you'll know why. . . .
A Mom Who is a Pediatric Nurse: Growing up, it was sometimes a bummer to have a mom who was a nurse: my brother and I never got much sympathy when we were sick, because she'd seen so much worse. Trips to the doctor were almost nonexistent. Now, as a new mom, I could not be more appreciative of the fact that we have a built-in nurse on call. It's so reassuring to know that I have a medical professional (who genuinely loves my baby) that can answer all of my medical questions and concerns and is just a quick text or phone call away.
Our Bradley Class Facebook Group: In addition to preparing us for childbirth, one of the greatest benefits of taking our Bradley Method classes was that it connected us with several other couples in our exact same life stage. One of our fellow classmates had the genius idea of starting a Facebook Group to keep us all connected once the classes finished, and I've loved following along with everyone's births and babies, and chatting with the other moms about everything from spritz baths to tummy remedies.
Other Random Lifesavers
My Day One Journal: I've been using the Day One app on my phone/computer to keep a digital journal for the last year. Now, more than ever, I'm thankful for this easy way to document my daily happenings. I eventually plan to make a thorough baby book for Charlie, but until then, it's nice to know that I have a record of every baby milestone.
Eggs: Luke just completed thirty days on the Whole30 plan, and he liked the diet so much he's planning to stick with it. Unfortunately, one of the drawbacks of Whole30 is that the foods on the diet (specifically, lots of meat) can be pretty pricey. The solution? Lots and lots of eggs. And though I didn't join Luke on his Whole30 adventure, I've also been working to add more protein and fat to my diet, so I've been eating my fair share of eggs as well. On the menu lately have been scrambled eggs for breakfast, hardboiled eggs over salads for lunch, and frittatas and stir-frys (with eggs thrown in) for dinner. Between the two of us, we're going through almost a dozen eggs per day. And somehow, we're not sick of them yet!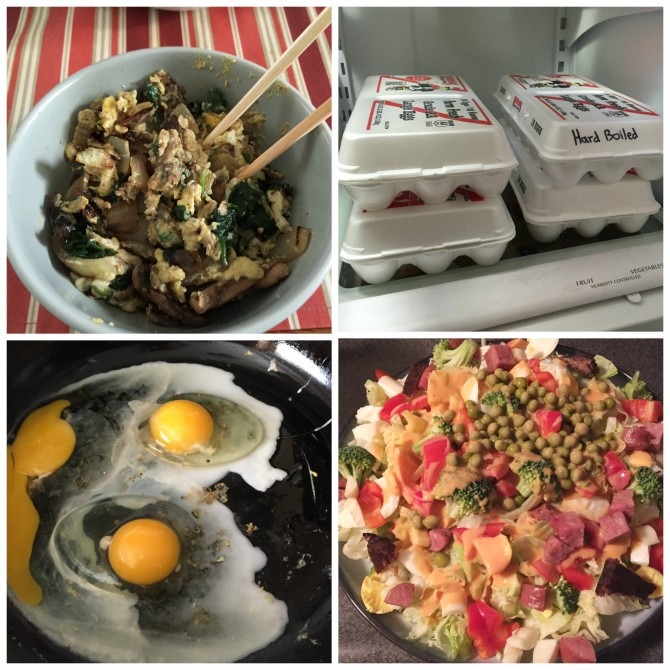 Our Own Washing Machine: In our last apartment, we had a ten-minute walk to get to the laundry facilities. One of the things that drew us to our current home was the fact that it has a washer/dryer hookup. These days, we're doing at least one daily load of laundry (and we haven't even started with the cloth diapers yet!), so the fact that we have our very own washing machine makes my life infinitely easier.
Netflix: I've never appreciated Netflix more than I do now, when I'm spending what feels like half of my time sitting on the couch with a baby attached to my breast. I'm enjoying breastfeeding, but it's nice to have something to keep me entertained while Charlie eats. We'll be finishing up Season 6 of Parks and Recreation today, and I'm thinking we might start Once Upon a Time next. If you have any other show suggestions, please let me know!
My Placenta Pills: I know it's weird. When I first heard about placenta encapsulation, I thought it was disgusting and totally unnecessary. But then I got pregnant, and felt more emotionally stable than I've ever felt in my life; I figured it might be a good idea to bottle up those placenta-fueled hormones to help combat the baby blues after Charlie was born. Though it's hard to gauge their effectiveness, I feel like my postpartum period is going very smoothly. I'm recovering well physically, and haven't really experienced any postpartum depression. Whether or not I have the pills to thank is up for debate, but I'd like to think that they're helping. And as much as it pains me to admit this, the placenta print and umbilical cord heart keepsake that our placenta doula included with the pills are actually pretty cool. (Sorry if the pictures are a bit disturbing; hopefully I haven't scared off any readers!)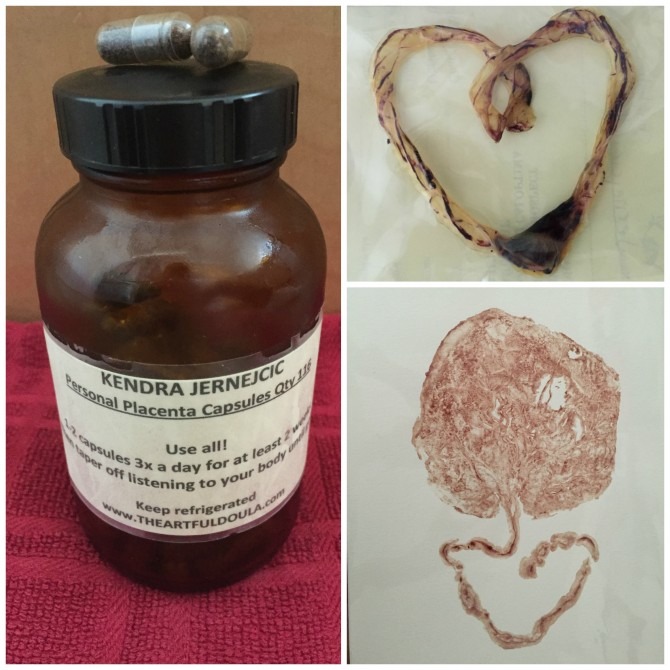 Whether you, like me, are currently embarking on a new life stage, or are just trying to survive the doldrums of winter, I'm sure that you have things that are saving YOUR life right now. I'd love to hear about them! And check out Modern Mrs. Darcy's blog to read up on some other bloggers' current lifesavers.