Happy New Year's Eve! Before we dive into the new year, I wanted to take some time to reflect on this last one. I already did quite a bit of that on Tuesday when I shared what I learned in the last twelve months, but beyond the lessons learned, this calendar year has been filled with so many incredible moments that are worthy of being shared and preserved. I'm feeling particularly nostalgic this year because it was my first year of parenting. A year ago, my child was still growing inside of me, and now he is a happy, energetic almost-toddler. I've taken countless pictures and journaled thousands of pages in an effort to preserve the remarkable moments of this year, but I still worry that I didn't quite capture it all. Regardless of my imperfect attempts at documenting my year, I feel grateful for the year's many wonderful experiences—from the mundane to the momentous. Here are just a few of my highlights from 2015.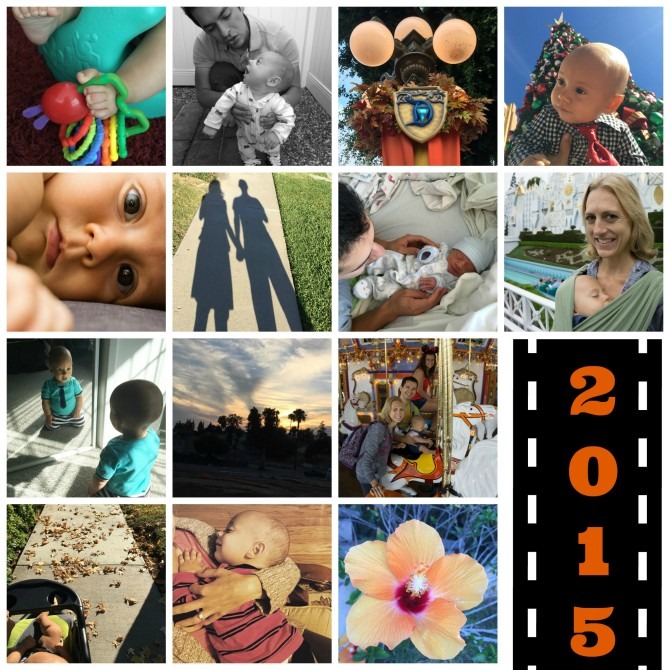 STAND-OUT EXPERIENCES:
It's hard to summarize an entire year's worth of memories in just a few snippets. Many of the most beautiful moments have been those that can't be documented in pictures or even words: the heartfelt conversations over cups of tea, the peaceful moments of rocking my baby as he sleeps, the giggles and smiles that keep me going throughout the day. . . those are the true stand-outs of this year. But I've done my best to pull out a few of the key events of 2015. Of course, most of them are related to Charlie's "firsts." He only gets one first time at these holidays and occasions, so they feel particularly noteworthy. (Don't worry, I've spared you all the significant milestones, like first smile and first tooth, first time crawling and first bite of food. . . those are fairly well documented in his monthly recaps!) These are the documentable experiences that stand out the most.
Being showered with love at two baby showers: one hosted by a group of women from my mom's church, and another thrown by a woman from my Bible study. They were both such beautiful showers, and took place just in time—Charlie arrived just a few days later!

Finishing up Charlie's nursery; I was so happy with how it turned out, and we continue to love this space (which still looks remarkably similar to the way it did in these pictures, although a few of those books have needed to be moved to a higher elevation, since pulling them from their shelves is Charlie's favorite hobby and Mama got tired of replacing them multiple times per day).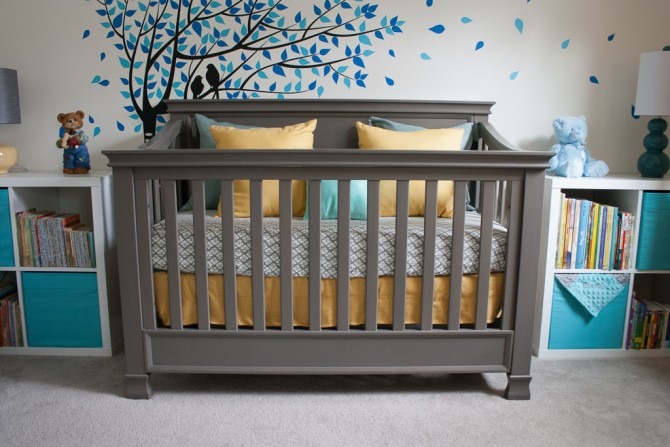 Giving birth to Charleston Michael. . . a terrifying but amazing experience, and unsurprisingly the biggest highlight of my year—and my life! It wasn't the labor I expected, but the outcome was well worth it.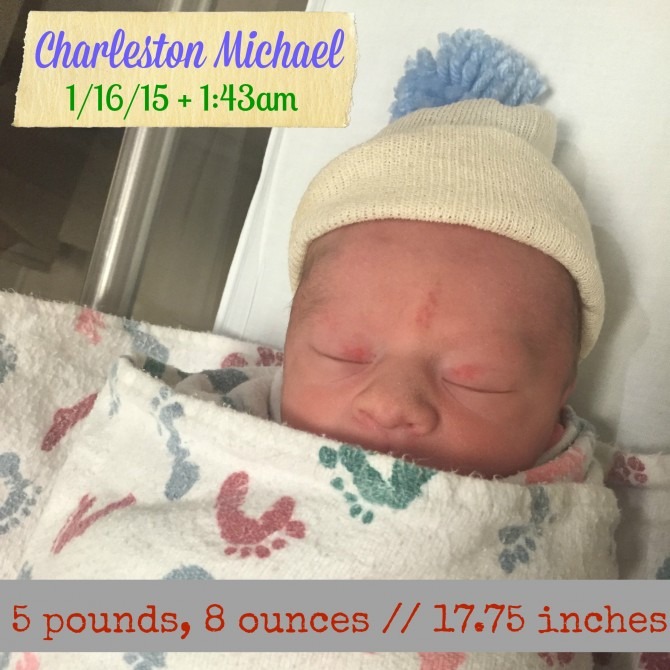 Having Luke home with us for three weeks of paternity leave. It was such a special time of bonding for our little family of three.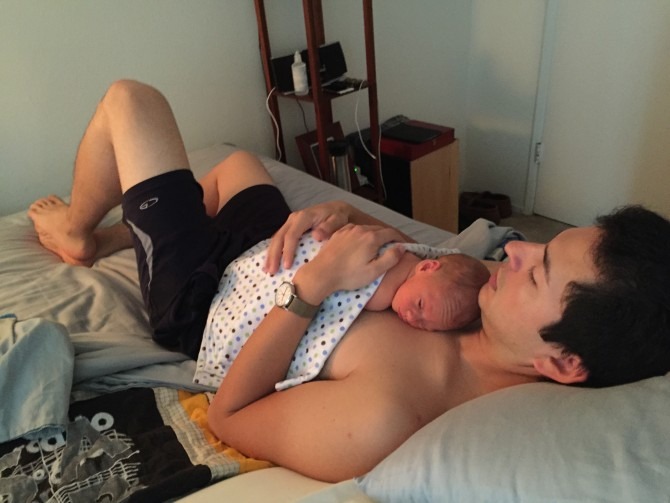 Helping Luke complete his first Whole 30. I was proud of myself for doing the shopping and extra food prep during my last two weeks of pregnancy and first two weeks of motherhood. Though I didn't join Luke in the challenge, it served as a catalyst for some positive lifestyle changes for our whole family.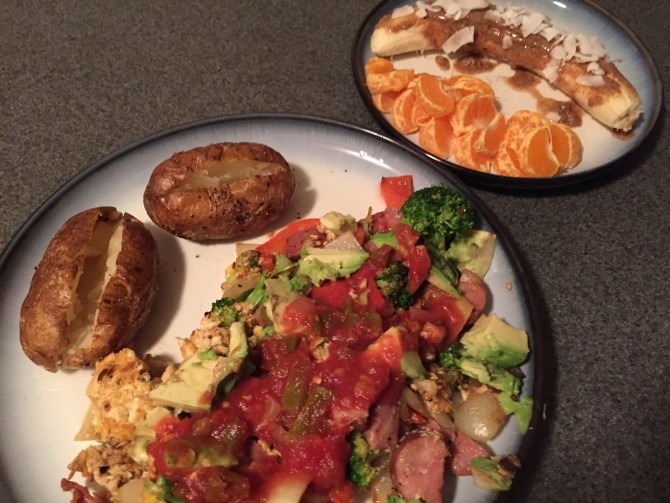 Having newborn pictures taken of Charlie. We debated whether or not we really wanted to have these done, but it turned out to be one of our better parenting decisions—those pictures are precious, and I'm glad that our photographer was able to capture Charlie's little face and personality in his earliest days.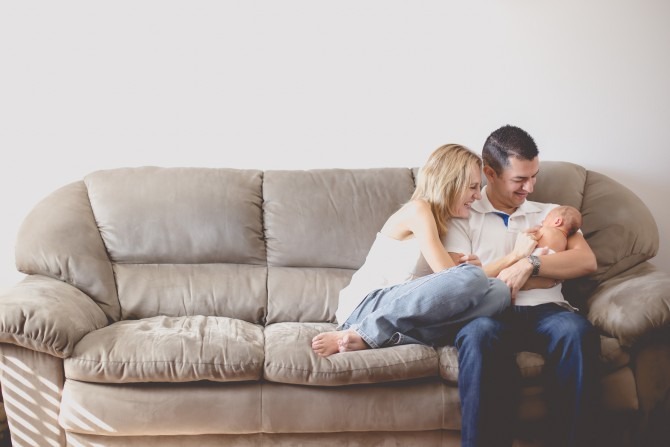 Introducing Charlie to family and friends. The great-grandparent introductions were particularly sweet.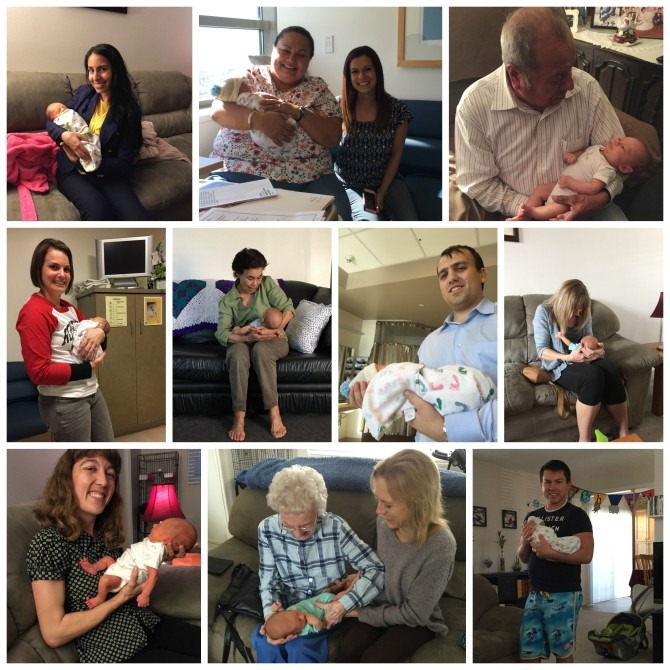 Honoring my grandmother on her ninetieth birthday. My Dad put together a list of interesting events that have taken place during each year of her life, and the party guests took turns reading items off the list. She's a trivia and history buff, so she LOVED it!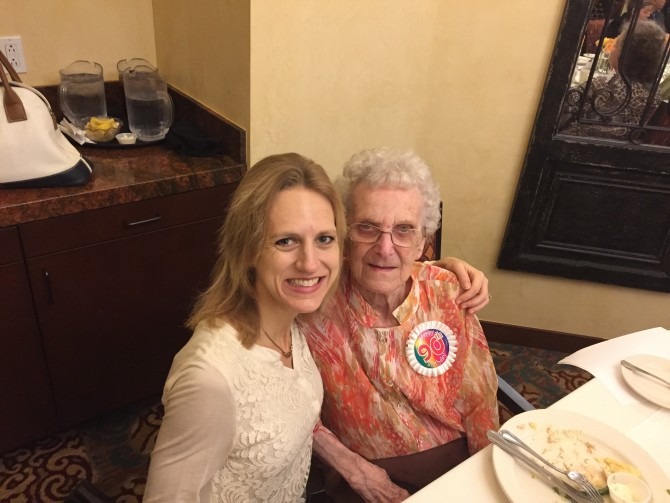 Joining a monthly book club. We don't do too much discussion of the actual books, but I like the accountability to read a variety of books, and I look forward to my monthly night out with the girls.
Celebrating my 31st birthday with Charlie and Luke. It was a simple day, but the best birthday I've had in years.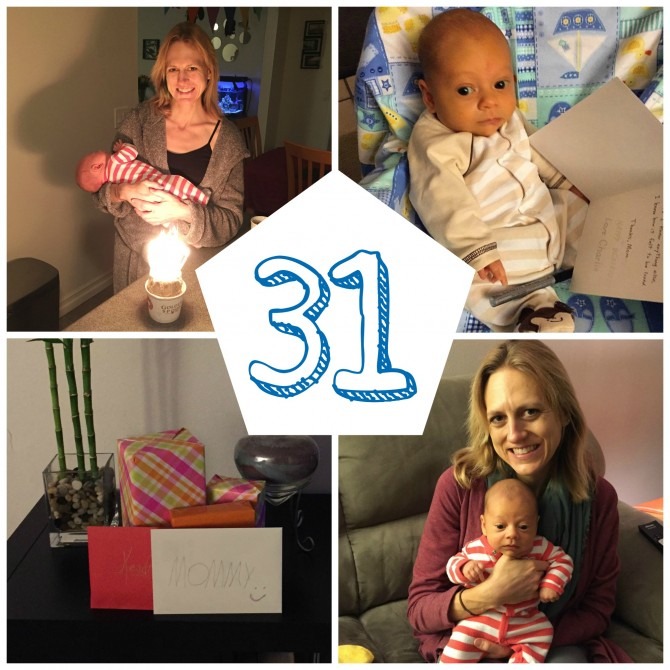 Getting plugged into the MOPS group at my church. I have met so many amazing women, and I love that we are doing this stage of life together. I've also continued to participate in a Women's Bible study, and it's always one of the highlights of my week.
Charlie's first Easter, which entailed a trip to the Easter bunny, dying Easter eggs, and a relaxing day with family.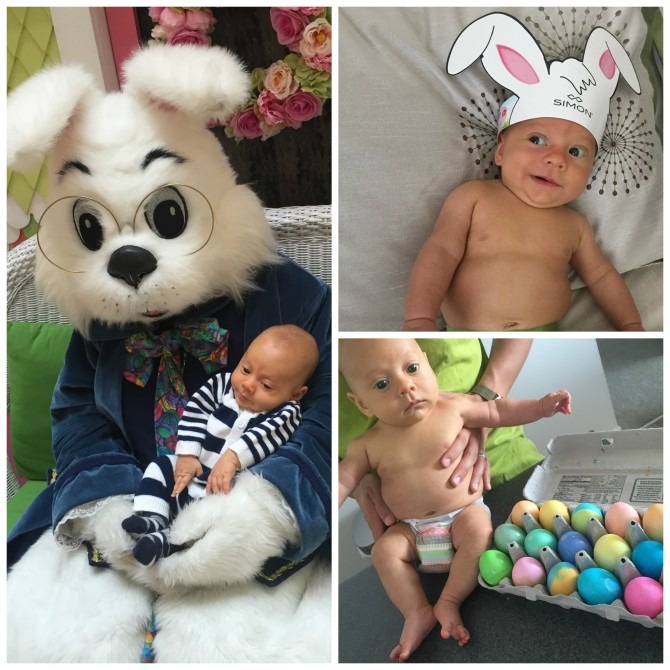 Taking generational pictures with Charlie: first with me, my mom, and grandmother, and then with Luke, Luke's Dad, and Luke's grandfather (four Jernejcic men). I feel blessed that Charlie has gotten to meet four of Luke's and my grandparents.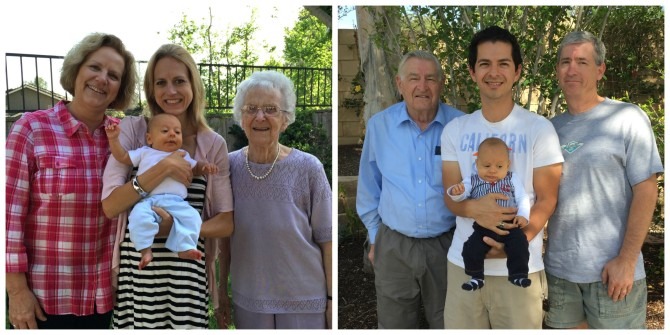 Exploring San Diego and then Arizona as options for places to call home. We eventually decided not to make a move right away, but the experience served as a mind-opening lesson in faith and patience, and it was transformative for my relationship with Luke.
Celebrating my first Mother's Day as a mom. It's something I've dreamed about for years.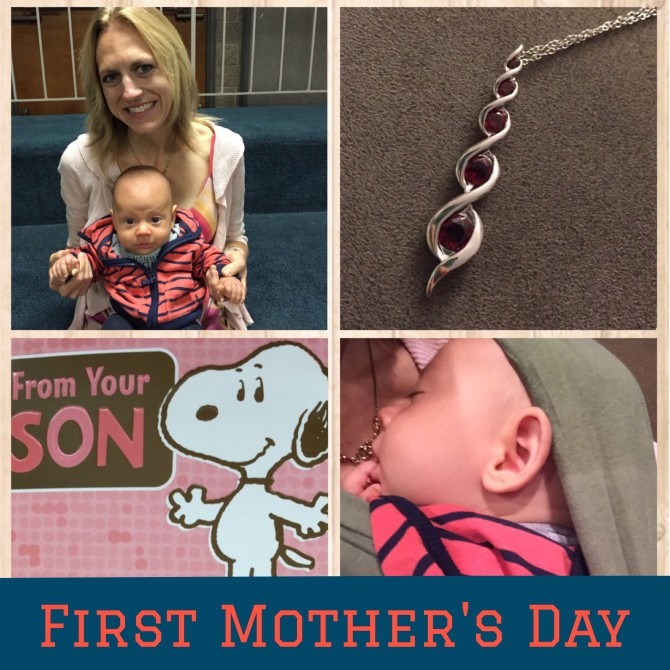 Being selected as part of the promotional team for Emily Freeman's book, Simply Tuesday. It was a treat to read her book before its release, and I enjoyed the community that was developed among members of the team. I also have continued to enjoy participating in her weekly Simply Tuesday hashtag on Instagram, which was especially excited when my picture was included in her weekly highlights collage!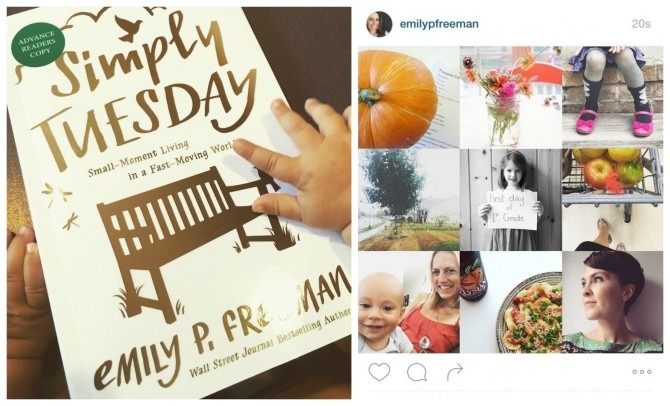 Charlie's first 4th of July, which was celebrated with Luke's extended family and coincided with his first time in a swimming pool.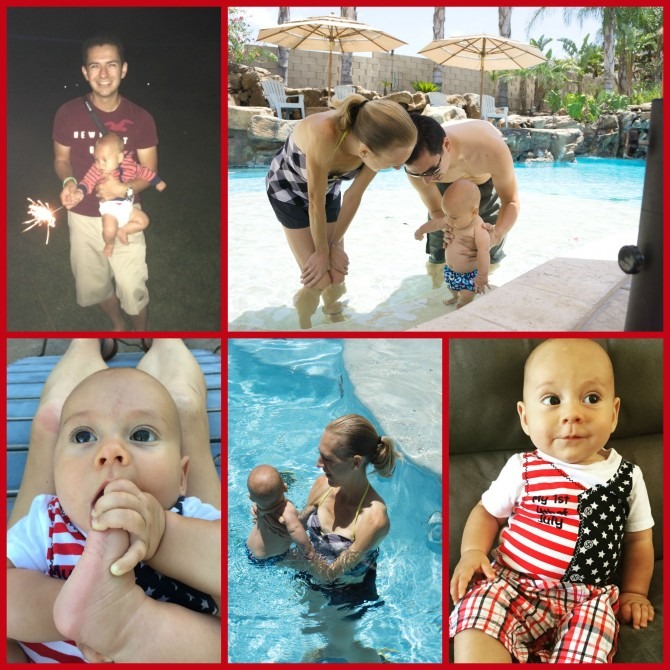 Taking daily walks with Charlie. Sometimes we are joined by Luke or a friend, but often it's just the two of us. I've enjoyed exploring all of our local parks and trails, and I'm glad that Charlie loves our walks as much as I do.
Making excellent use of our annual Disneyland passes. It was especially fun to be in the park for the 60th Anniversary Celebration!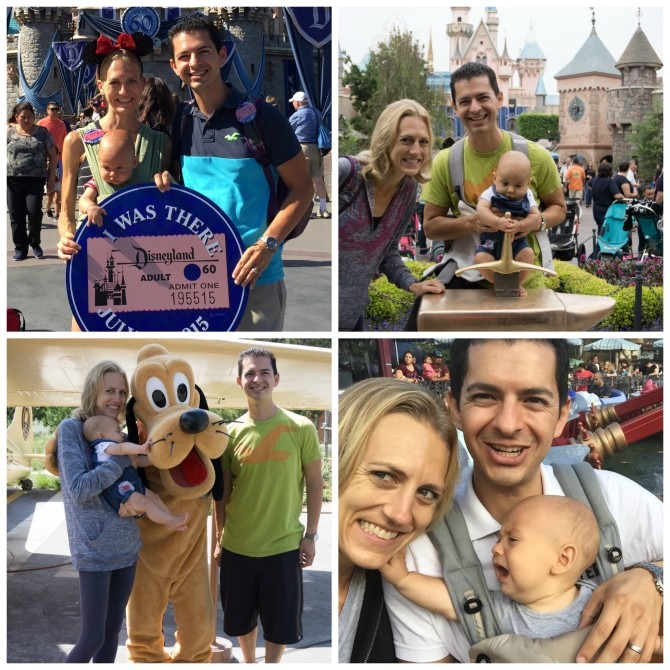 Spending a few months pursuing the possibility of beginning a multilevel marketing business. It was yet another opportunity that we ultimately turned down, but we learned a lot through the process.
Participating in Charlie's Baby Dedication at our church, when we made a public declaration to raise Charlie to know and love God.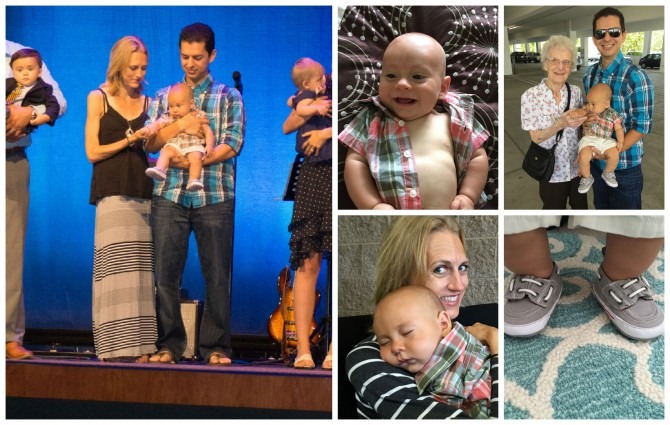 Making it through a week alone with Charlie while Luke was out of town. I wasn't sure how it would go, but we happily survived the time without Daddy home, and we sure were happy to see him when he got home.
Charlie's first Halloween, which involved Trick-or-Treating, pumpkin carving, and two adorable costumes!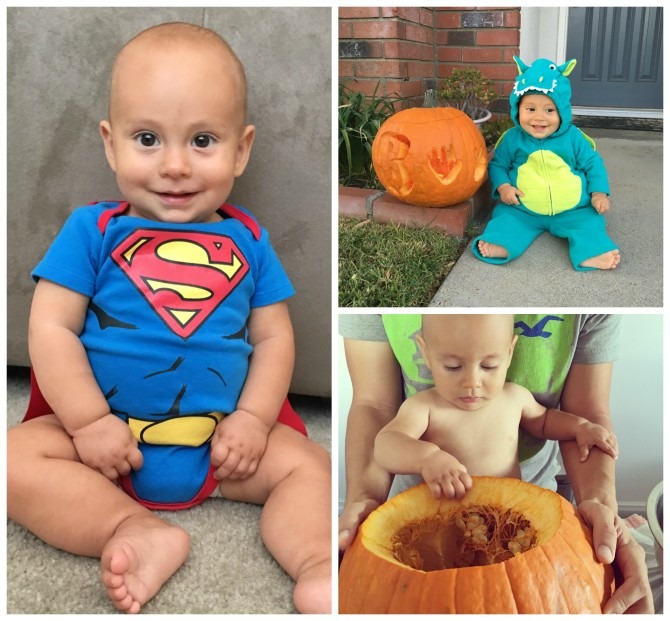 Starting to do dinners together as a family. Luke and I have always eaten dinner in front of the television, but now that Charlie is older and eating solid foods, we're eating with him at the dining table. It's become the high point of my day, and I hardly miss the shows we are no longer watching.
Charlie's first Thanksgiving, celebrated with family time, a Thanksgiving feast, and the Peanuts Thanksgiving Special.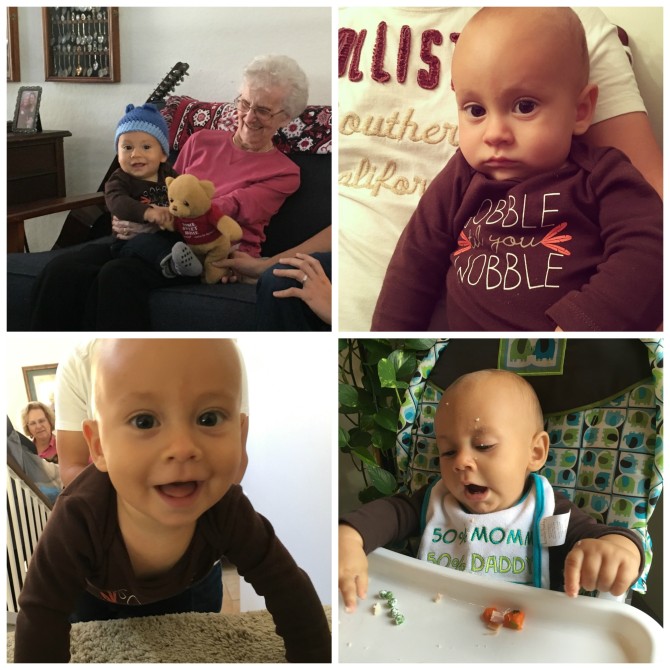 Paying off our second car last month. It was a big goal for 2015, and Luke and I were both a bit shocked that we managed to make it happen.
Joining my parents, brother, and sister-in-law for family camp in the mountains. Charlie got to experience his first snowfall!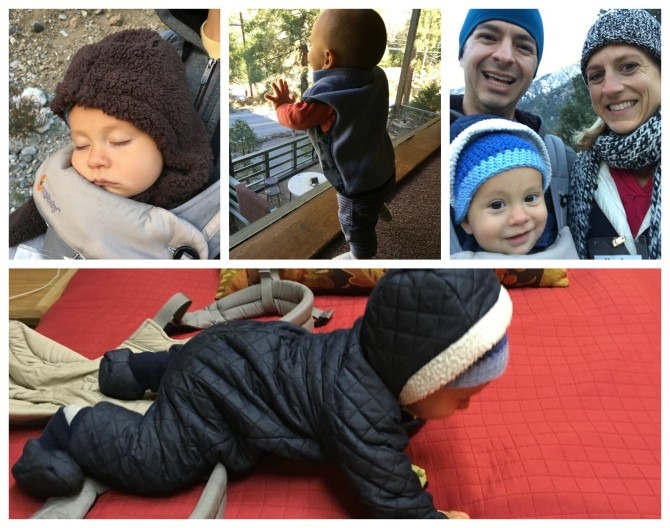 Volunteering for the Christmas Pageant at our county's Juvenile Hall. I had some truly unforgettable conversations and felt honored to be used by God in some awesome ways.
Our first Christmas as a family of three, and all that it entailed: visits to Santa, nightly Advent readings, hanging a new family ornament on the tree and a third stocking in front of the fireplace, and lots of time with family.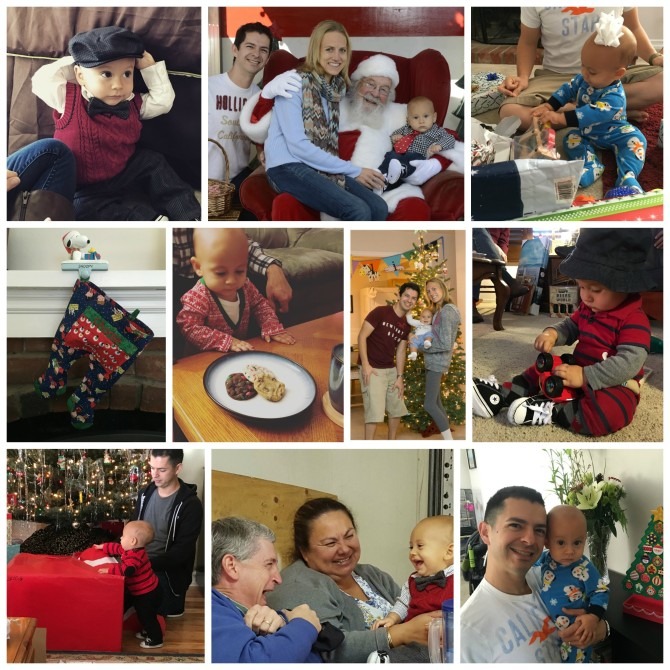 Celebrating our seventh wedding anniversary with our first date night since Charlie was born. We braved the cold and the crowds at Disneyland and then had dinner at Rainforest Cafe, where we went on our very first date a little over eight years ago!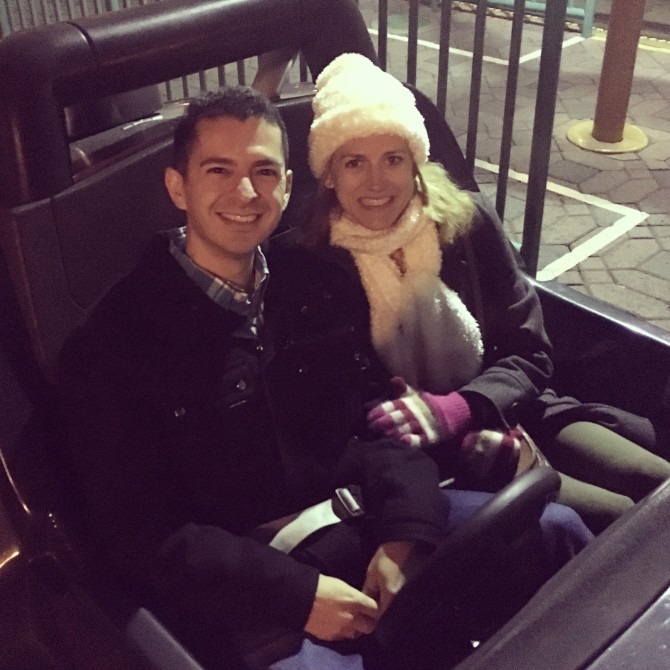 Documenting Charlie's first year with monthly photos, monthly blog recaps, and frequent Instagram postings (I love that my little #CharlestonMichael has his own hashtag!). I know that it's all probably over the top, but when it comes to preserving memories, I'd rather err on the side of too much. (As evidenced by the robustness of this post!)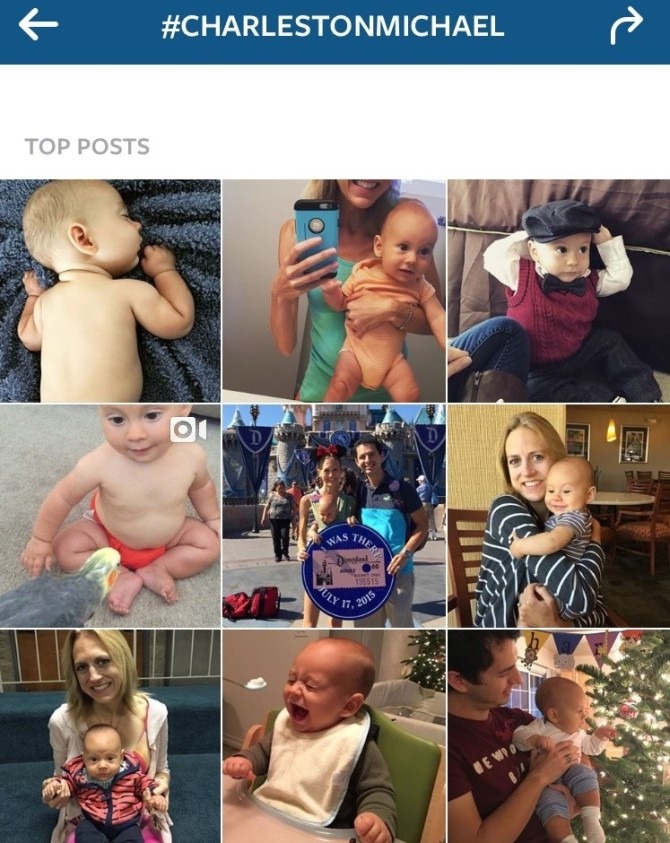 A FEW FAVORITES:
I always have a difficult time narrowing down my favorites—in any category; I have SIX favorite colors!—but that doesn't keep me from trying. These are a few new favorites that have risen to the surface in the past year.
Favorite Blog Discoveries: Swistle (a baby name advice column) and Uncontained Life (a gorgeously photographed and impeccably written travel blog started by a friend of mine from high school)
Favorite New Podcasts: Almost too many to list. . . but a few that I'm always excited to listen to are Happier with Gretchen Rubin (read more here), Sorta Awesome (a fun show hosted by four bloggers who discuss "all things awesome") and Vox Podcast (an edgy faith-based podcast started by my church's former pastor, Mike Erre)
Favorite Albums: Piece by Piece from Kelly Clarkson (I love the pop-y sound, very different for Kelly; favorite tracks are "Heartbeat Song" and "Piece by Piece") and Venus from Joy Williams (such powerful lyrics; I can't pick a favorite track, I love them all!)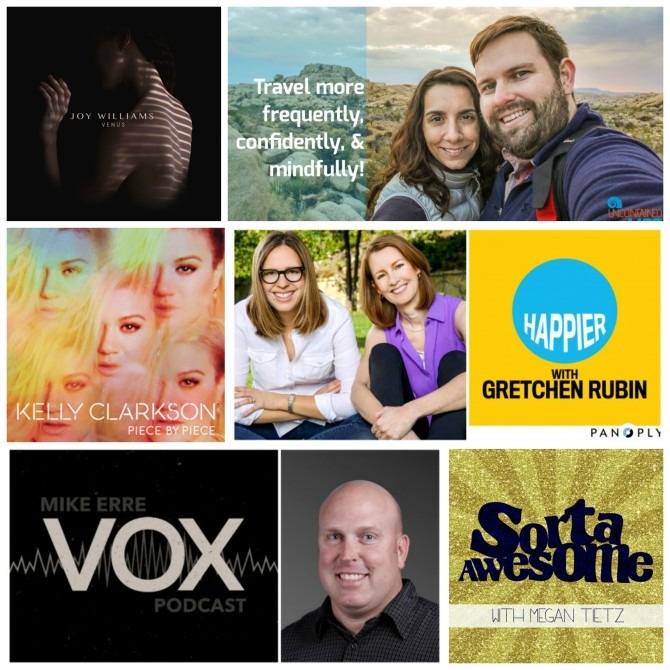 Favorite Book: The Seven Habits of Highly Effective People, by Stephen R. Covey (read about all 21 of my favorite books of the year here)
Favorite Movie: Inside Out (a great movie on so many different levels; I'm a huge Pixar fan, and this one definitely did not disappoint)
Favorite Television Shows: Psych (funny and filled with action; I was sad to see this show end, but was happy with how the series concluded) and Once Upon a Time (such a creative show, though I preferred the earlier seasons to more recent ones)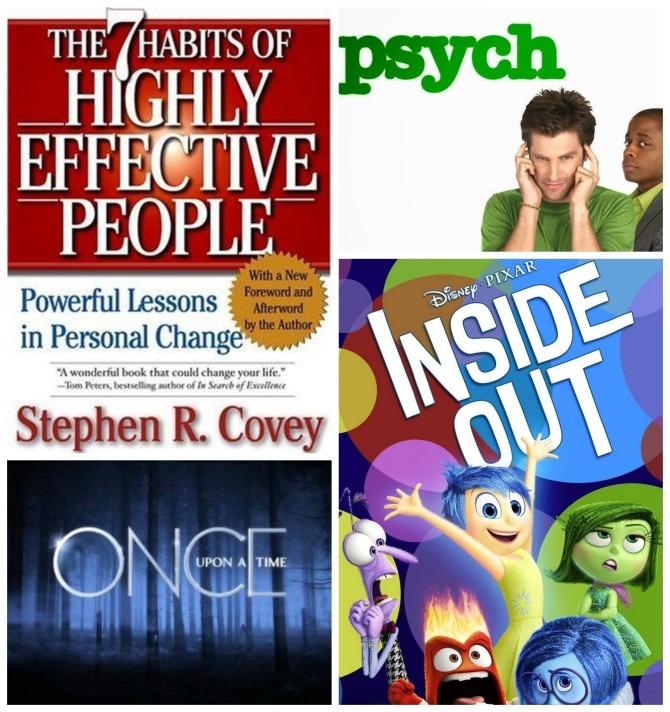 Favorite Food Finds: Norwegian Smoked Salmon Slices and Trader Joe's Dark Chocolate Peanut Butter Cups
Favorite New Household Items: Sonicare Electric Toothbrush (my teeth have never felt cleaner), Aroma Digital Rice Cooker/Steamer (we are eating so much more rice and quinoa these days, thanks to this little device),  and my Shark Navigator Lift Away Vacuum (it actually makes vacuuming an enjoyable chore)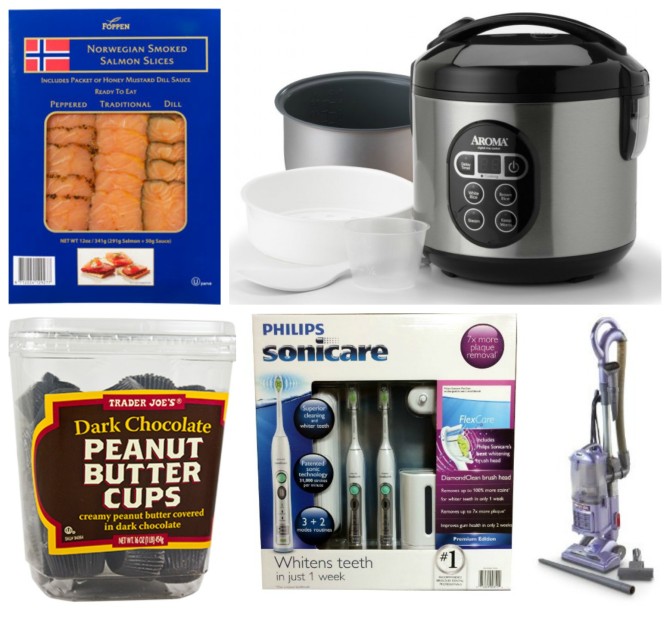 Favorite New Habit: Writing 10 Ideas Every Day (pretty sure you all saw that one coming!)

Favorite Things to Wear: Bobeau wrap cardigans (I own two and wear them constantly; they are cute, and I love that they can double as breastfeeding covers) and Tieks ballet flats (I wore my first brown pair all summer long, and I got TWO more gorgeous pairs for Christmas!)

Favorite Topic to Explore: Personality types, especially Myers Briggs. This has always been a topic of interest for me, but lately it's become even more of an obsession as I delve deeper into the cognitive functions and other, more intense aspects of the system. I'm listening to podcasts, pinning articles on Pinterest, and trying to determine the personality type of everyone in my personal circles. I would LOVE to get my Myers Briggs Certification, but am not quite ready to dish out the $1800 for the course. . . .
Favorite Baby Items: Baby K'Tan Carrier (this is the most amazing carrier: much more user friendly than other wraps, and small enough to fit in my purse; this is the wrap I recommend to all of my mommy friends. Now that Charlie is bigger, we find a more structured carrier works better for us, but the Baby K'Tan carried us through the first nine months or so, and I still use it on occasion.); Our Grecko Bassinet and Glider System (Charlie slept in the bassinet for his first several months, and he still naps daily in the glider; we could not have survived this year without this item!); and Halo Swaddle Sleepsacks (so much easier and more effective than a traditional swaddle blanket)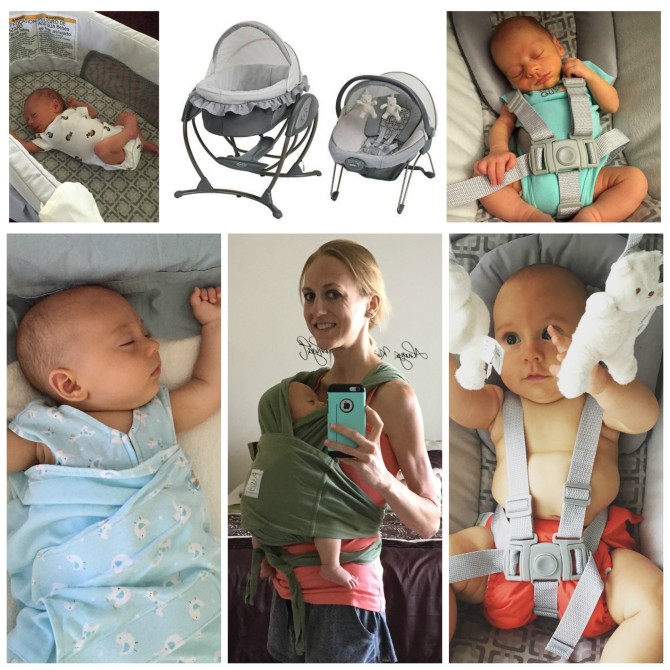 BEST OF THE BLOG:
At the start of the year, I had no idea what blogging would look like for me once I added a baby to my life, but somehow I've managed to keep up with my regular posting. Due to time and sleep-deprived-brain constraints, I'm not always happy with the quality of my posts, and I would definitely like to be posting more frequently, but I'm glad that I've at least been able to keep plugging along. Here are a few of my year's stand-out posts.
Most Transparent: A New Reality: The Good, the Bad, and the Exhausting of Becoming a Parent (in which I shared some of the not-so-rosey aspects of motherhood) and Messy Imperfection (a post about my continuous battle with perfectionism)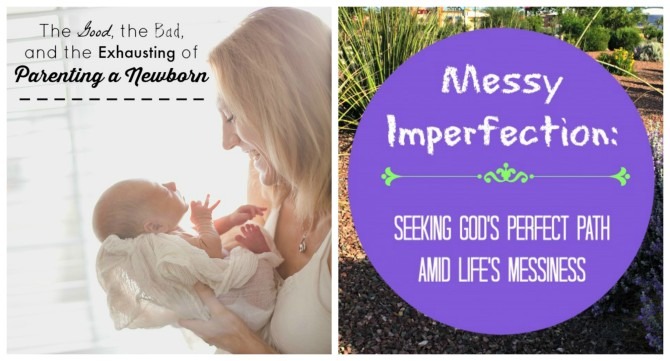 My Personal Favorite Series: Monthly Charleston Michael Updates (for purely sentimental reasons; I'm already mourning the end of the series, which will wrap up with Charlie's 12-month post) and Seasonal Seven Holiday Countdowns (which are SO much fun for me to compile)
Most Fun to Write: C is for Charleston: A Baby Naming Story (I loved sharing how we decided on a name for our little guy)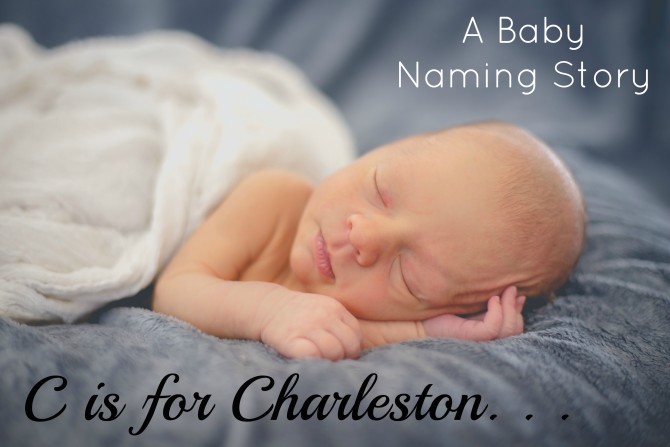 Most Sentimental: To EVERY Mom on Mother's Day (a tribute to my own mom and to every mama out there, particularly those who are grieving) and Happy Father's Day! (celebrating my own dad, as well as Luke in his first Father's Day as Charlie's daddy)
Most Popular Post (by the numbers): Surviving Mommyhood: What's Saving My Life Right Now (a post on the people, tricks, and gear that kept me afloat in my first few weeks as a mom)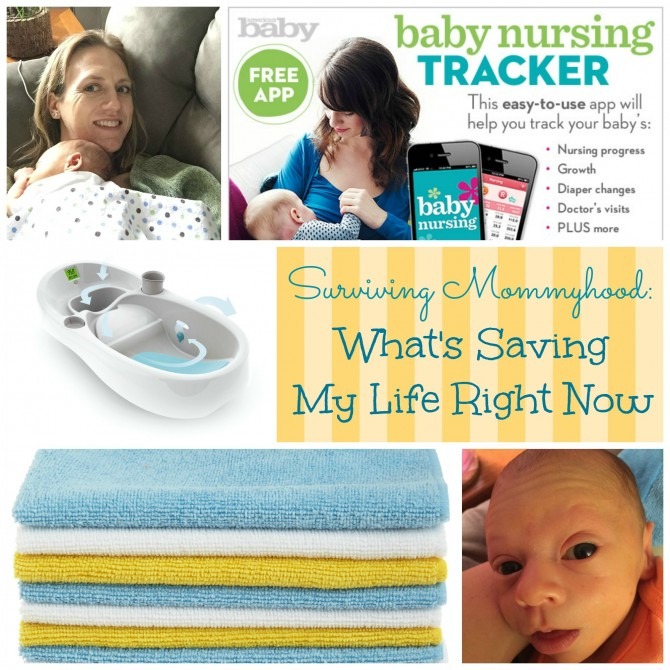 Most Popular Post from Past Years: Wall Mount Jewelry Organizer // Product Review (of all my earlier posts, this one continues to garner the most steady traffic)
My Personal Favorite Posts: Charlie's Birth Story Part One and Part Two (I know that birth stories aren't everybody's cup of tea; I wrote these with purely selfish motives and frequently return to them. . . those life changing moments feel like they happened just yesterday, and yet somehow they also feel like a lifetime away)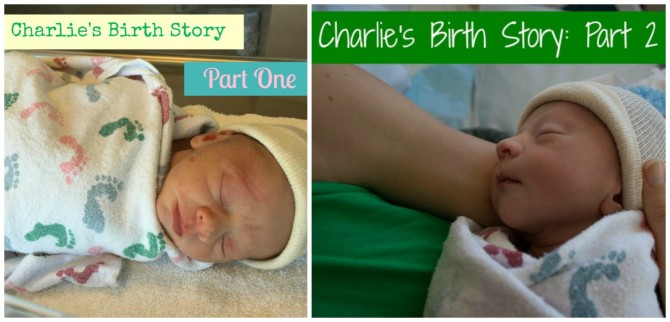 Thanks for sticking with me these past twelve months as I've blogged my way through a wonderful, exhausting, and truly unforgettable year. I can't wait to see all that's in store for me and this blog in 2016! What were some of your year's highlights and favorites? I'd love to hear about them!