After taking last month off from my Tried and True Series, I'm back today with another installment—this time with some of my personal Tried and True items, from skin care favorites to the classic jewelry items I couldn't (or would rather not) do without.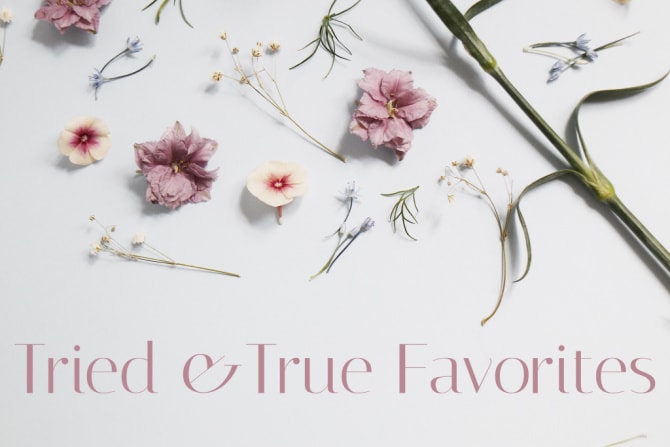 For all of my female readers, my hope is that this post might lead you to discover a new clothing item or beauty product you'll love. And to my male readers (I know there are a few of you out there): don't quit reading just yet, there are some great gift ideas in this roundup. In fact, I received a majority of these items as gifts!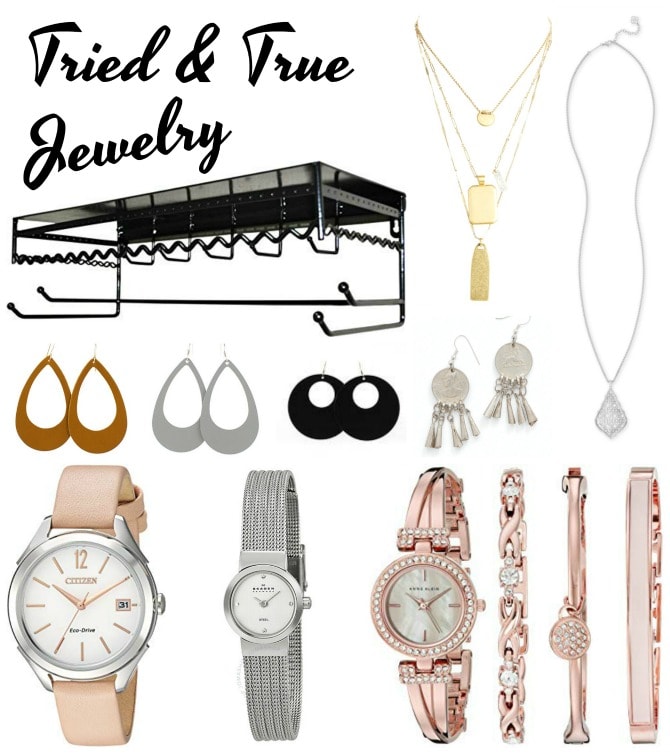 I'm an accessories gal through and through, and while I've rarely met a piece of jewelry I haven't liked—and own a number of more eclectic/unique pieces—the items I'm sharing here are my go-to classic pieces that work with a spectrum of outfits and have fairly universal appeal.
MyGift Wall Mount Jewelry Organizer: A woman with a lot of jewelry needs a spot to display it! This sturdy shelf hangs in our walk-in closet and keeps my necklaces, bracelets, and stud earrings well organized and tangle-free. I've linked to my exact organizer, and while my specific model is currently unavailable, the link will lead you to several similar organizers. And for those who may be wondering: no, this organizer does not hold all of my jewelry, I also have a separate set of hooks for additional necklaces, a classic jewelry box for my nicer pieces, and two of these to hold all of my statement earrings.
Madewell Treasure Pendant Necklace Set: I absolutely love this necklace set, which can be worn together or individually. The varying chain lengths make them easy to pair with almost any neckline, and the simple design matches well with bold statement earrings.
Kendra Scott Aiden Silver Long Pendant Necklace: I own several pendant necklaces, but find myself reaching for this one more than any of my others because it has such a classic look that matches almost anything. I often wear it along with this coordinating necklace for a layered look. In addition to these necklaces, I own several pairs of Kendra Scott earrings (they've become Luke's go-to birthday and Mother's Day gift for me) and I dearly love them all (far too much to highlight any specific favorites!). Here in Austin, it seems like every woman I meet is wearing at least one Kendra Scott piece at any given time, but when we travel to California I am reminded that Kendra Scott isn't quite as popular outside of Texas, so if you don't yet own any of their pieces—it's time! Kendra Scott is fairly spendy for costume jewelry, but the great quality and unique designs simply can't be beat.
Nickel & Suede Earrings: I've been following Kilee Nickels' blog since before she got into the jewelry business, and I was an early convert to her lightweight leather statement earrings. Since then, the company has has grown exponentially and they continue to wow me with their stunning new styles. Though I'd happily add more pairs to my collection, I currently own this tan pair and this grey pair in the classic cutout style, and this black pair in the edgier Nova style. I consider these the perfect "mom statement earrings" because they are so lightweight and damage-proof. (This also makes them great for travel.)
Noonday Regalia Earrings: Noonday is an amazing company that sells jewelry and accessories from artisans across the globe. The company provides sustainable jobs for individuals who need them, so each purchase supports a worthwhile cause. And of course, the items themselves are gorgeous! While Noonday is known for their bolder pieces, I love this understated pair of earrings made from a pair of Ethiopian coins. Like so many of Noonday's items, they make for a great conversation starter!
Citizen Women's Eco-Drive Beauty: I'd been in search of a leather strap watch for a few years, and Luke came through last Christmas with this darling Citizen watch. It's lightweight and makes a statement without overwhelming my petite wrists, and the pale pink leather goes well with most of my outfits.
Skagen Women's Quartz Watch with Stainless Steel Strap: This has been my everyday watch for several years now, and I still love it. It's unobtrusive, comfortable, and works just as well with my casual outfits as with my nicer clothes. The watch I've linked to appears to be a newer version of my own watch, but it has the same aesthetic and hopefully the same durability and functionality.
Anne Klein Watch and Bangle Set: Clearly, I love my watches! (Which is why I don't think I could ever convert to an Apple Watch.) This gorgeous set can be worn together or separately, and is perfect for when I'm in the mood for dressier arm candy. This would make a wonderful gift for a jewelry-loving lady who would appreciate an outside-the-box time piece.
---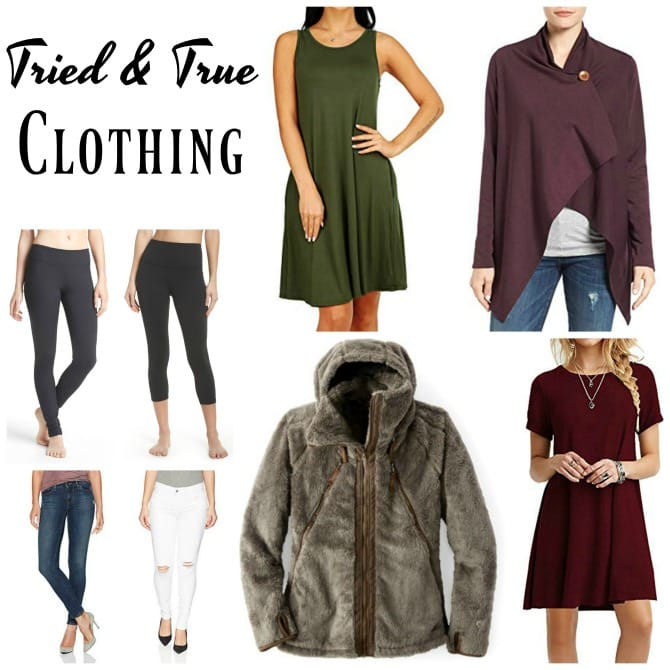 I find it difficult to recommend clothing—partly because clothes are such a personal thing that vary by taste and body type, and also because many of my favorite clothing items are older and no longer available for purchase. That said, I've rounded up a few of my favorite items that fit well with many style preferences and body types and can still be found online.
Alaroo Sleeveless T-Shirt Dress: This dress is perfect for summer! It's comfortable and flattering, fitted in the right places and flowy everywhere else. Plus it has pockets! Available in more than a dozen colors, many of which are less than $10.
Bobeau One Botton Wrap Cardigan: Luke bought me this cardigan in maroon several years ago, and I later added a second one in black-and-white stripes. It's comfortable, goes with everything, and was perfect for discreet breastfeeding, no additional cover needed. This cardigan is no longer available at Nordstrom, where I purchased mine, but a few colors and sizes can still be found on Amazon.
Zella Live In Leggings: These leggings live up to their name, because I truly do live in them for days at a time! Their quality is superb, and their comfort level can't be beat. The thick, opaque leggings hold everything in without feeling restrictive. I own these in three colors. They are expensive, so I always stock up during the annual Nordstrom anniversary sale (which happens to be going on now!).
Zella Live In Crop Leggings: In summer I switch to the cropped version of the Zella leggings, which are just as good as the full-length. I'm disappointed that Nordstrom only carries high-waist now, as I'm more of a low-rise gal; however, I've had luck (when not pregnant) with folding down the waist band for a more comfortable mid-rise fit.
Levi's 711 Skinny Jean: I truly believe that Levi's are the underrated stars of the denim industry. My Levi's fit better and are of higher quality than my higher end jeans that cost me three to four times as much. I've found the 711 Skinny Jean runs tight, so size up if you're between sizes.
Levi's 710 Super Skinny Jean: These jeans are softer and slightly stretchier than the 711s, and just as flattering. I never thought I'd own a pair of white jeans, but I've loved these.
Kühl Flight Jacket: This thick fleece sweatshirt is the coziest item of clothing in my closet, and in winter I find myself wearing it for days on end. It's more fitted than most of my sweaters, which makes it easy to layer under a heavy jacket. My favorite features are the zipper pockets and stowaway hood.
Molerani Simple T-Shirt Dress: This is another cute, easy-to-wear dress that is a staple of my summer wardrobe (even now, at six months pregnant). It comes in more than twenty different colors and summery prints.
---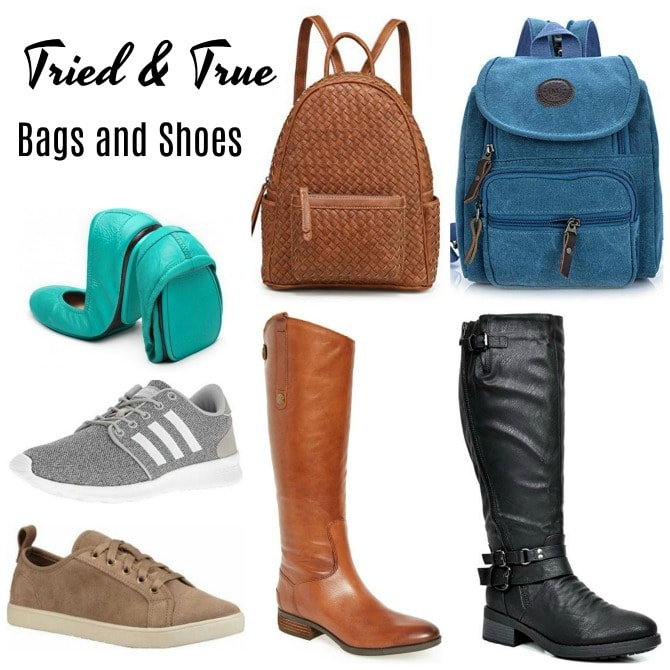 My shoe and bag collections are not quite as extensive as my jewelry stash, but I do have quite an assortment of purses and footwear, all of which are very loved. These are just a few of my favorites that receive my full stamp of approval.
Shomico Faux Leather Backpack Purse: I recently bought myself this backpack purse as my everyday bag, and I am LOVING it! It is roomy enough to hold everything I need, without being too big or heavy to carry all day. I'm a big fan of the numerous outer and inner pockets. Since I haven't had it long, I can't speak to how well it will hold up, but it seems to be well-made and sturdy enough to withstand everyday wear and tear.
Hiigoo Cross Body Backpack Purse: I carried this backpack everyday for more than two years, and it still looks brand new. It's lightweight and durable, and comes in several colors; it's hard to ask for more from a $20 purse!
Tieks: These are the most comfortable flats I have ever tried, and so versatile: dressy enough to wear with dresses and skirts, but casual (and comfy) enough for a day of walking. They are also collapsible, which makes them great for travel. They are more expensive than I would pay for shoes for myself, but I've received three pairs as gifts and would eventually love to add even more colors to my collection.
Adidas Racer Running Shoes: I'm not a runner, but these stylish sneakers have been the perfect gym and walking shoes. They are extremely lightweight and never pinch at my toes or rub against my heels, like many of the tennis shoes I've owned in the past. I love my grey pair, which are cute enough to leave on when running errands after working out.
Koolaburra Kellen Suede Sneakers: These shoes have made me a convert to the "stylish sneakers" trend. They look great with jeans, shorts, leggings, or even a skirt, and they are comfortable enough for a long day of walking. They run a tad small, so size up if you have a wide foot or are between sizes.
Sam Edelmen Penny Boots: After pining after these boots for a very long time, I was thrilled to receive them as a Christmas gift a couple of years ago. They look amazing with skinny jeans, and the whiskey color is great for fall and easy to pair with almost any outfit.
Dream Pairs Knee Hide Riding Boots: I've been quite impressed with these boots, which cost less than $40 and have held up over several winters of heavy wear. The long shaft and faux fur lining keep my calves warm on the coldest of days, and the full zipper makes getting them a breeze to change into and out of.
---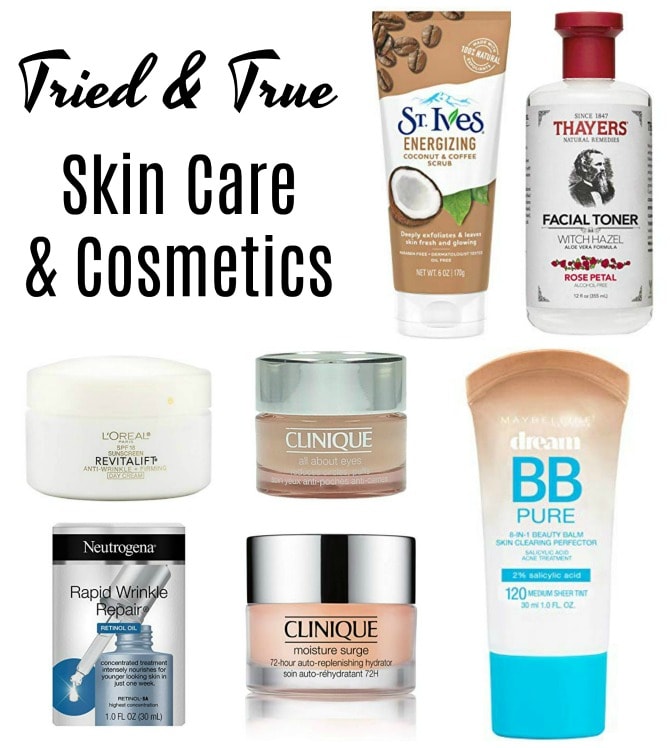 Between age, stress, and hormones, I've been waging an uphill battle with my skin over the last few years, but I refuse to go down without a fight! Over the past year, I have tested numerous products to find the ones that are most suitable to my current needs. At this point, my skin is far from perfect, but I am (mostly) happy with my skin care regimen.
St. Ives Coconut and Coffee Face Scrub: This is my favorite facial scrub of all time. It leaves my face feeling soft and smooth, and I just love the smell! I wash my face with this every morning and at night after removing my makeup with a generic cleansing towelette. At night, I follow up with an acne face pad. I'm not loyal to any specific pads, I just buy what's cheapest; at this point in life, I'm not even sure if the face pads are something I am supposed to be using, but it's hard to give up the one skin care step I've maintained since my teen years, so for now it remains part of my nightly routine.
Thayers Rose Petal Witch Hazel Facial Toner: After washing my face, I use a cotton ball to apply this refreshing toner to my face and neck. This product has improved both the tone and texture of my skin, and it has been effective for helping keep acne at bay.
L'Oréal Paris Revitalift Anti-Wrinkle + Firming Day Cream: I apply this moisturizer to my face each morning before putting on my makeup. It's light and moisturizing without making my face feel greasy, and it contains 25 SPF, saving me the additional step of applying sunscreen to my face every morning.
Neutrogena Rapid Wrinkle Repair Face Oil Retinol Serum: In the evenings I follow up the witch hazel with this serum. To be totally honest, I'm not entirely sure of what it's doing for my skin, but all of the skin care experts insist that retinol oil is a must for combatting wrinkles and fine lines, and this oil from Neutrogena had great reviews at a fraction of the price of some of the more popular retinol serums.
Clinique Moisture Surge Hydrator: This incredibly hydrating product is an absolute treat for dry skin. It costs more than my other facial products, but a little goes a long way (my last 1.7 ounce bottle lasted me nine months).
Clinique All About Eyes Cream: This product hasn't erased my under-eye circles or puffiness, but it has helped. It feels great going on and makes a nice "dessert" to my nighttime skin care routine.
Maybelline Dream Pure BB Cream: I was so sad when I ran out of my previous BB Cream and discovered that it had been discontinued. After doing some research, I decided to replace it with this (very reasonable) drugstore find and have been quite happy with the product! It isn't as heavy as a typical foundation, but provides great coverage and adjusts to my skin tone (I buy the light/medium, which works just as well for my suntanned summer skin as it does for the pasty white hue my skin takes on in the winter). This is the one and only cosmetic item in this list because I wear very little makeup and haven't been too impressed with the other cosmetic items I've tried lately, but this product is too good to keep to myself.
Now Solutions Coconut Oil (Not Pictured): I use this in place of body lotion and occasionally on my face and hair. Though I'm obviously not opposed to more synthetic skin care items, I do like that this one is all natural, and it leaves my skin feeling much smoother and better hydrated than traditional lotions. It's done wonders for my rough heels!
---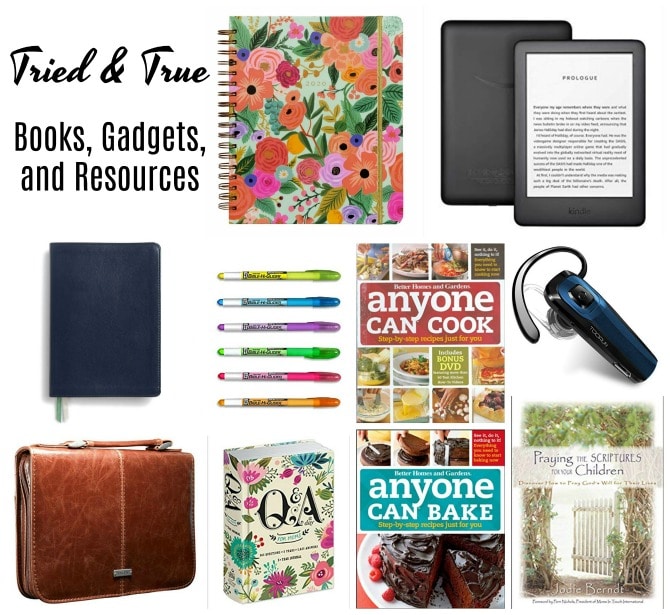 Rifle Paper Co. Spiral-Bound Planner: After years of trying out a new planner every January, I discovered Rifle Paper Co.'s gorgeous planners two years ago and haven't looked back. I use my planner as both a day planner and a bullet journal, and this one has one has enough extra pages for everything I want to include. There are monthly and weekly calendar views and a convenient pocket folder in the back. The spiral binding and lovely floral covers are icing on the cake of this already amazing item.
Kindle Paperwhite: If I could choose just one favorite item from this entire post, it would be my Kindle Paperwhite. I use this for almost all of my reading! It's small enough to keep in my purse, the battery lasts for weeks, and it's easier to hold than a traditional book but more reader-friendly than reading on my phone. Every avid reader needs this item!
She Reads Truth Leather Bible: I can't begin to express how pleased I have been with this Bible, which absolutely achieves She Reads Truth's goal of living "at the intersection of beauty, goodness, and Truth." Its insightful devotionals, helpful maps and timelines, and artist-designed verses at the beginning of each book have made this the perfect companion for my daily Bible reading.
Classic Bible Cover: A beautiful new Bible needs a lovely new cover to go with it, and I am quite happy with this one, which has the look and feel of real leather. The large outer pocket is perfect for holding my prayer journal, and the interior pen loop is just the right size for my Bible highlighter. I bought the large size to fit my Bible.
GTL Bible Highlighter Set: I know that not everyone likes to mark up their Bible (or their books, for that matter), but I am a big believer of writing in and highlighting my Bible. These highlighters work great on the thin pages of my Bible. The pack comes with six highlighters, and I've decided to use a different color each year so that I can look back and remember when a particular verse stood out to me.
Q&A a Day for Moms 5-Year Journal: I've really enjoyed answering the daily prompts in this journal, and it will be fun to look back over five years' of answers, especially as we add more children to our family. This journal would make a great Secret Santa gift or stocking stuffer.
Better Homes and Gardens Anyone Can Cook Cookbook: I received an earlier edition of this cookbook at my wedding shower, and used it to teach myself how to cook during our first year of marriage. The thorough introduction includes a comprehensive beginner's guide to various kitchen tools, techniques, and must-have ingredients. Each recipe contains illustrated step-by-step recipe instructions, and all of the recipes are given a skill-level rating. Even now that I'm a more seasoned cook, I return to this book again and again.
Better Homes and Gardens Anyone Can Bake Cookbook: Ditto everything I said about the Anyone Can Cook book, but with baking!
TOORUN M26 Bluetooth Headset: I'm far too cheap frugal to spring for a pair of Apple airpods. Thankfully, this inexpensive headset meets all of my podcast- and audiobook- listening needs, and also works well for the rare occasions when I use my phone to make a call. It provides a clear sound and fits comfortably in my ear.
Praying the Scriptures for Your Children, by Jodi Berndt: I want to get this book into the hands of every parent I know. Berndt shows parents how to incorporate specific Scriptures into our prayers for our children as we pray for their health, future, character, and relationships. It makes for a great cover-to-cover read, as well as a book to refer back to again and again.
**Check out this post for more of my favorite book recommendations!**
---
Did you spot anything you're dying to try for yourself? If you decide to buy one of these items for yourself or as a gift, let me know about it!