It's been said that there are two categories of people in the world: those who like to categorize people into groups, and those who don't. I'm an unapologetic categorizer. I like to put myself in boxes, and have no problem doing the same with others. So here's a bookish classification question for us to ponder today: are you someone who likes long books, or someone who prefers short ones?
There was a time when I believed that longer was better when it came to my reading choices. Longer books meant that I had more time to spend with the stories and characters I loved, and as a bibilophile that's often a good thing. These days, though, I find myself drawn to shorter titles. Not only are they quicker to get through (which means I get to read MORE books!), they also tend to have storylines that are easier to consume in small snippets of time. And as every parent of a young child knows, small snippets of time is often the only free time we have.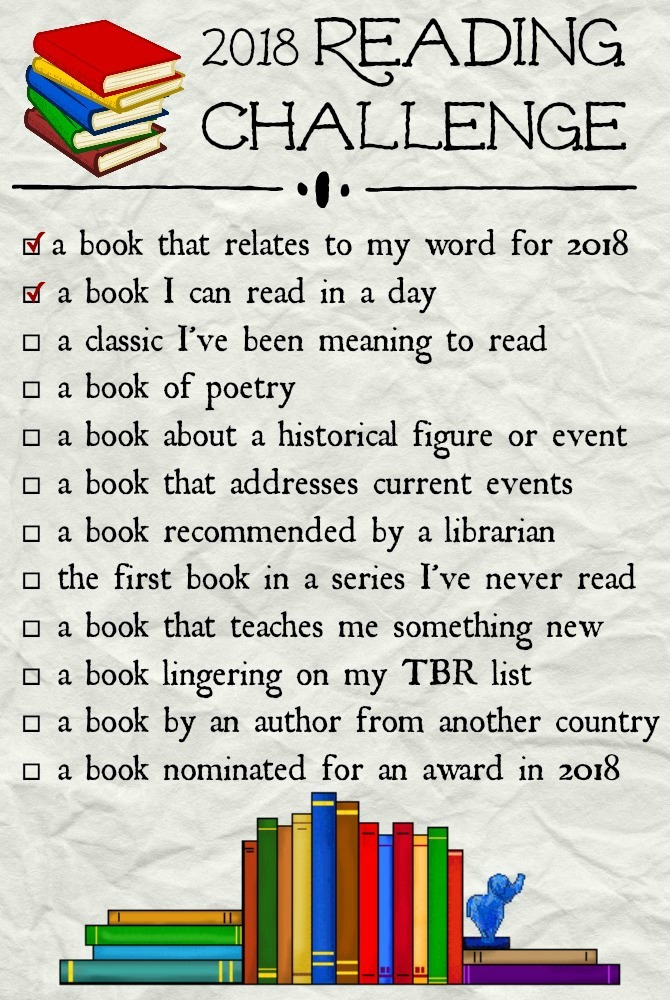 In light of the high number of short titles I am already reading, I probably didn't need to include "a book I can read in a day" in my personal reading challenge. This challenge is designed to stretch me beyond my reading comfort zone, and this is one area of my reading life that needs very little stretching. Nevertheless, the shortest month of the year seemed deserving of a short book. So here we are.
As I mentioned in a post a couple of weeks ago, I spent more time researching this category than reading for it. My options for "a book I could read in a day" seemed limitless: would I choose a novella? A collection of short stories? A children's book? One of the many shortish memoirs on my TBR list? In the end I settled on a novella by an author who has become a favorite of mine in the past couple of years.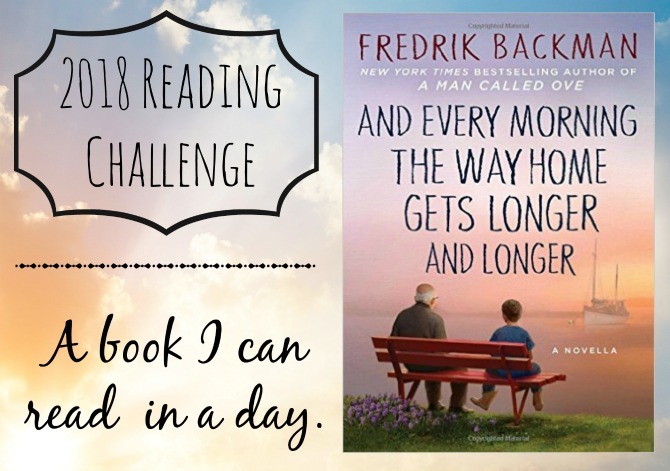 Like most of Backman's fans, my introduction to his writing was the quirky but tender A Man Called Ove. That book captured my attention and my heart, but it was Beartown that solidified Backman as an author of the highest caliber, one who is capable of encapsulating the best and worst of humanity through stories that are harsh and humorous, commonplace, and also unexpected. His storytelling is understated, making space for the magnitude of his themes and the poignancy of his characters.
And Every Morning the Way Home Gets Longer and Longer is a short book with a lengthy title and enormous impact. At its center is an elderly man who is struggling to hold onto the memories that are gradually slipping away. As his dementia slowly consumes him, we learn of his complicated relationship with his son, the tender connection he shares with his grandson, and the profoundly beautiful love story he created with his wife. We experience his joys and his regrets, his triumphs and his fears. And we journey with him into the unknown.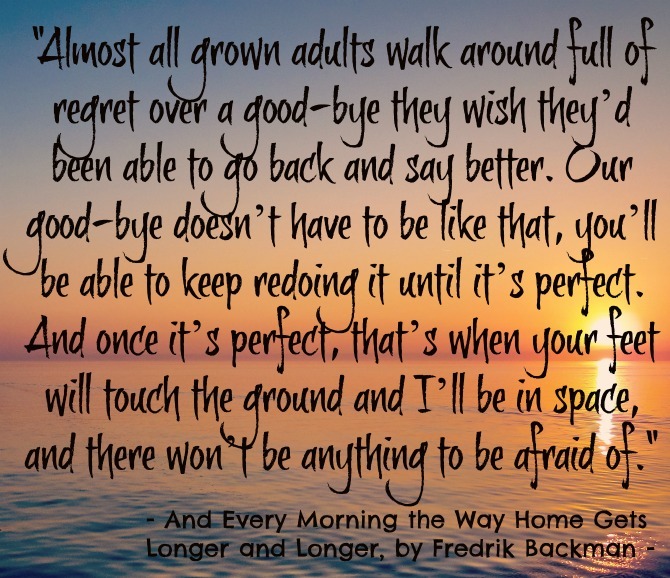 In his introduction, Backman states that he never intended for the book to be published; it was written to help him sort through his own experience of losing someone he loves. I am so thankful he chose to share his words with us. They are breathtaking. Backman sheds light on the confusing experience of losing one's memory, and he offers comfort for anyone who has experienced a loss. This story is as simple as they come, but it is packed with wisdom, truth, and inspiration.
This book was short enough for me to complete during a 45-minute workout (my primary reading spot), and I spent most of those minutes crying my eyes out while trying to ignore that concerned glances of my fellow exercisers. Don't make my mistake of reading this book in a public place. But please, DO read it! And prepare to be moved, challenged, and changed.
My Rating: 5 stars.

---
OTHER BOOKS YOU CAN READ IN A DAY
All of these books are short enough to read in an hour or two. I haven't read a single one of them, but given my love for short books, I have a feeling I'll be checking quite a few of these books off my list in coming months. (In fact, my library hold on Hourglass just came through!)
Heating and Cooling: 52 Micro-Memoirs, by Beth Ann Fennelly
A Room with a View, by E. M. Forster
Fish In A Tree, by Lynda Mullaly Hunt
We Have Always Lived in the Castle, by Shirley Jackson
The Great Divorce, by C. S. Lewis
The Quotidian Mysteries: Laundry, Liturgy and "Women's Work", by Kathleen Norris
Esperanza Rising, by Pam Muñoz Ryan
The Little Prince, by Antoine de Saint-Exupéry
Hourglass: Time, Memory, Marriage, by Dani Shapiro
Of Mice and Men, by John Steinbeck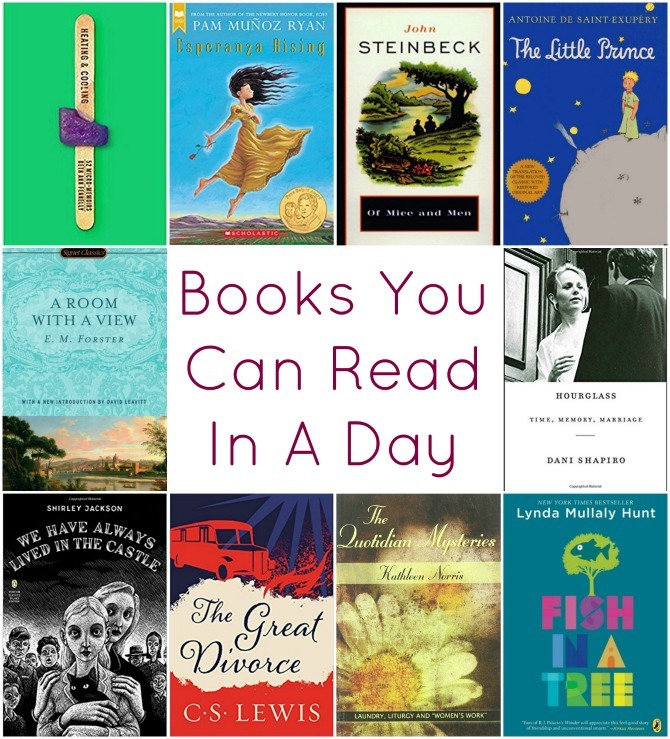 Are you a fan of shorter books? What is your favorite? What book would you choose to read for this category?