At the end of last month I was feeling emotionally battered and bruised—not because of any difficult life circumstances (outwardly, things were great) but simply due to some mental health issues that were determined to make me miserable. I knew I couldn't keep going on that way, so I did everything I could to prompt a change. I opened up about my struggles and intentionally sought out encouragement from friends and support from my fellow prayer warriors. I made a few dietary changes and added in some healthy new habits (more on that below!), and since my own head had become an increasingly scary place, I spent more time serving others in an effort to stop focusing on myself.
In a blessed answer to prayer, something about my new regimen did the trick, and I'm happy to report that my emotions have done a complete turnaround in the last few weeks. My mental state is always a perpetual roller coaster, so this could just be a temporary high, but for now I'm relishing my newfound sense of clarity and peace, and celebrating a renewed sense of hope about the future. Not every day is easy, but I am truly thankful for each moment that is.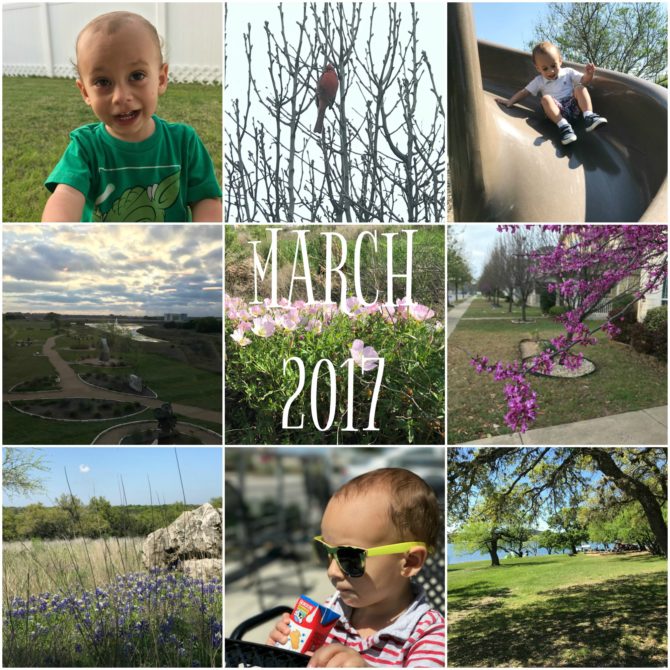 // READING LATELY //
I've read a few great books this month. A couple of surprise standouts were The War That Saved My Life, which is a charming yet impactful middle grade book about World War II, and The Bookshop on the Corner, which is a light romance with a fun bookish theme. For this month's Reading Challenge book (a book written during the 1920s), I read The Blue Castle. This was the first non-Anne book I've read by L.M. Montgomery, and I loved it! I'm looking forward to sharing more in next month's Challenge post.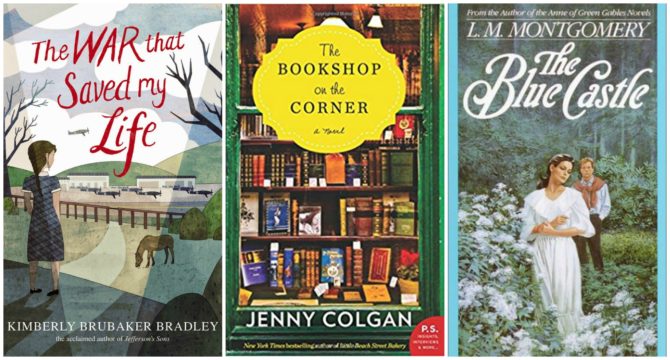 On the nonfiction front, I devoured Women Are Scary, which left me feeling empowered in my terrifying-but-totally-worthwhile quest to make new mom friends. I also learned a lot from The Happiness Equation and Gluten Exposed—two very different books, but both quite insightful. As always, I'll have full reviews for you in my April Quick Lit post.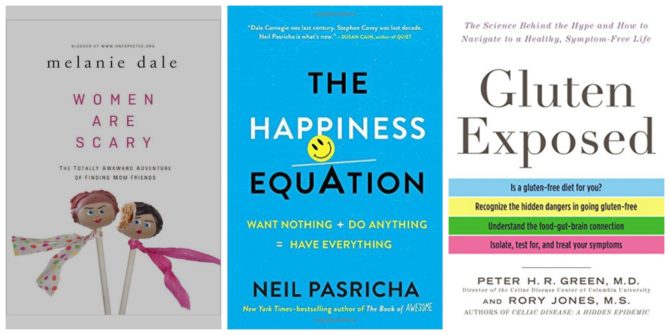 ---
// WATCHING LATELY //
Jane the Virgin, Season 2: Are you watching this show? If not, you totally should! (You should also stop reading this review to avoid spoilers). In Season Two, Jane (a conservative 20-something Catholic who in Season One was artificially inseminated with her boss's sperm) is raising her son and trying to navigate life as a student, daughter, and mom.
I wasn't sure if the show would remain interesting once Jane gave birth, but this season is even better than the first! The humor is just so quirky and fun; I especially love the way the show pokes fun at itself and at the telenovelas it mimics. I also really enjoy the character of Jane, particularly her relationships with her mom and grandmother. Many of the plotlines are completely over the top, but the sweet characters keep it grounded. I can't wait to see what happens in Season 3!
My Rating: 5 stars.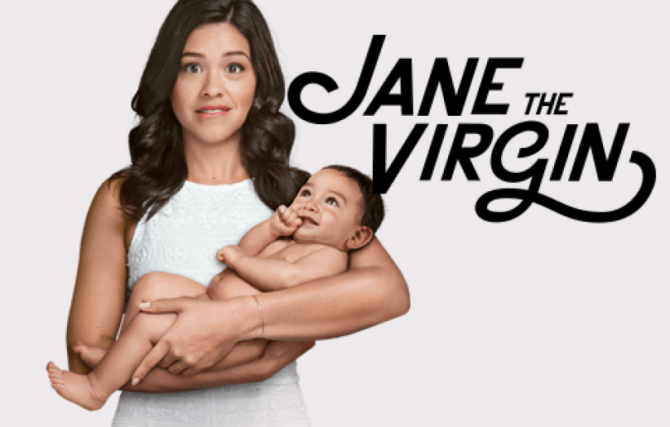 Gilmore Girls: A Year in the Life: I shared in my review of Lauren Graham's memoir that I was never a Gilmore Girls fan, but with all the hype surrounding this revival I knew I couldn't stay away. I read a few Wikipedia synopses of the the original show's plot and characters to give myself some background, then dove right in. While I'm sure I would have appreciated this revival much more if I were a longtime fan, I still enjoyed it—at least enough to watch all four parts. Stars Hollow is truly a magical town, and Lorelei and Rory are both compelling characters; I can understand why they've gained so many fans over the years.
A big reason why I think I (mostly) enjoyed this revival much more than the few episodes I've seen of the original show is that the dynamic between mother and daughter makes a lot more sense to me now, with both of them as adults, than it did when Rory was a teen. I didn't love the trajectory their lives have taken, but thought the writers handled their storylines over this particular year quite well. I'm curious to see what might happen in a possible sequel.
My Rating: 3.5 stars.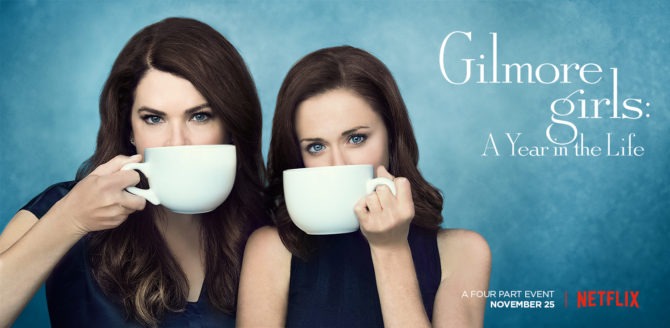 The Shack: I was a little nervous about seeing this movie because The Shack is one of my favorite books and I feared the movie wouldn't do it justice; I needn't have worried—everything about this movie is perfection! The casting is spot on, and the filmmakers did a great job of conveying the deep spiritual themes and exploring the main character's internal journey while keeping the story moving forward.
I don't want to give too much of the plot away, but if you aren't familiar with the story, I'll just say that it's about a man who has gone through a great personal tragedy that ultimately leads him to know God in a very personal way. The film is rare in that it is heavy with metaphor and theology while also tapping into all of your emotions (and I do mean all of them . . . I laughed out loud AND sobbed ugly tears through this film). I love movies that reach into your heart without being emotionally manipulative or dumbed down, and while The Shack is certainly moving, there's definitely no shortage of things to think about.
When it was first published, The Shack (book) was considered controversial within some Christian circles and I'm sure many will choose to skip the film. Theologically speaking, I agree that there are a few problematic areas, but even though the presentation is pretty unconventional, I found both the book and the movie to be mostly in line with Scripture; at the very least, the story prompts us to reevaluate our interpretation of it.
When I first read The Shack, it helped me understand the trinity in a whole new way and shed light on some difficult theological questions that many Christians—myself included—grapple with (like the reason bad things happen in the world, and why we should talk to God when He already knows everything we are going to say). These topics all come up in the movie, and watching it, I was reminded of many truths about God, like how He delights in His children and longs for a relationship with us, and how His primary goal is NOT for us to be unthinking slaves to His rules if that means we have forgotten about His love; these are all things I know, but often forget.
In the past I've pointed Christians and non-believers to this book as a tool for better understanding their personal faith. I am glad that I can now recommend the movie as well. If you are religious, spiritual, or none of the above, you need to watch this movie—and then let's talk about it!
My Rating: 5+ stars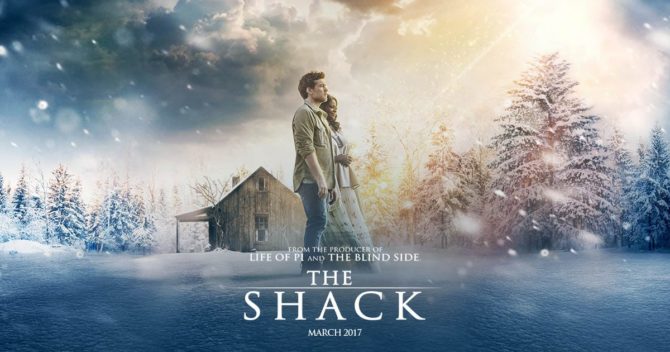 Minimalism: A Documentary About the Important Things: I've listened to The Minimalists podcast and am on board with their message, so I was eager to watch their documentary. The film shares the stories of Joshua and Ryan (the duo that make up The Minimalists), as well as those of others who have chosen to live a minimal lifestyle. I appreciated the diversity of voices and the opportunity to see how minimalism can look different depending on an individual's life situation. I also loved and wholeheartedly agree with the anti-consumerism message of the documentary (and of the minimalist movement in general).
Now for what I didn't like: I thought the documentary focused way too much on Joshua and Ryan's book tour and not nearly enough on the subject at hand; the film explains why minimalism is necessary, but there isn't a whole lot of explanation of what minimalism really is, or how it can be achieved. It also seemed that minimalism was being touted for its own sake, which made me sad; having less stuff can be a good thing, but only if the stuff you remove is replaced with things that are more important. I wish the film had devoted more time to discussing what that "more important" might be.
My Rating: 2.5 stars.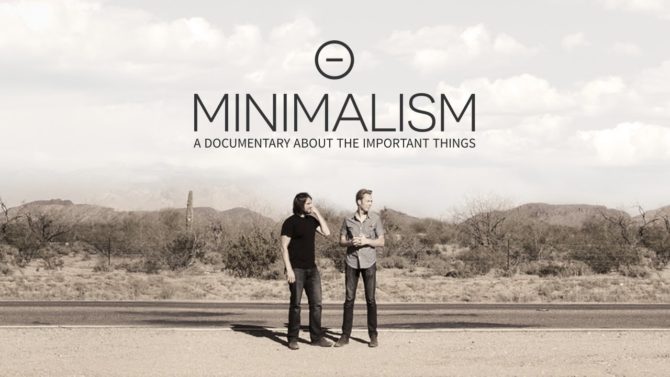 ---
// LISTENING LATELY //
Pink Babies Blue Podcast: Brett Trapp grew up in the Christian South, the youngest son of a Baptist minister. Though he became aware of his homosexuality at an early age, he was well into adulthood before he began coming out to select friends and family, and it wasn't until last year that he came out publicly. In 2016 he quit his corporate job to commit full-time to sharing his story. For 44 days, Brett shared daily installments of his experience growing up gay (you can read his story here), and earlier this year he released these as a podcast. I binge-listened to all 44 episodes in a single weekend, and it is incredible. Brett's storytelling is of the highest caliber, and due to the Netflix-like format (all podcast episodes were released at once) I felt like I was listening to the audio version of a (very well-written) memoir.
Brett shares with vulnerability and candor, but in a way that is also positive and humorous. Brett's story stands out among other coming-out journeys in that it is completely affirming of Christians and the Church. Growing up, Brett's experiences with the church were positive ones, and the Christians in his life all responded beautifully to his coming out. (In fact, their gracious responses were an excellent model that I hope to emulate if I ever find myself in their shoes.) It was encouraging to hear from a homosexual individual who was not throwing Christianity under the bus.
To be candid, I do not agree theologically with Brett's ultimate decisions and lifestyle choices. But I admire him for bravely sharing his story, and for helping to bridge the gap between the homosexual and Christian communities. Even though we don't see eye to eye on certain areas, I am thankful for his story because, just as Brett is more than his sexuality, his story itself is not just about being gay: any single individual would likely resonate with parts of his journey, as would anyone who has struggled with portions of their identity. (I recognized a lot of my own eating disorder journey in Brett's story.) There is so much power in this sort of soul-bearing narrative, which reminds us that we all have our own personal struggles, but none of us is alone if we are willing to honestly share our true selves.
Before you read and/or listen (and I really think you should) check out Is Brett Trapp Gay?, the Gossip Guide Brett released prior to starting his story; it's pretty hilarious. (My favorite: "I heard him singing Taylor Swift in the office once." "Nah, 1989 was really good. . . That's not gay.")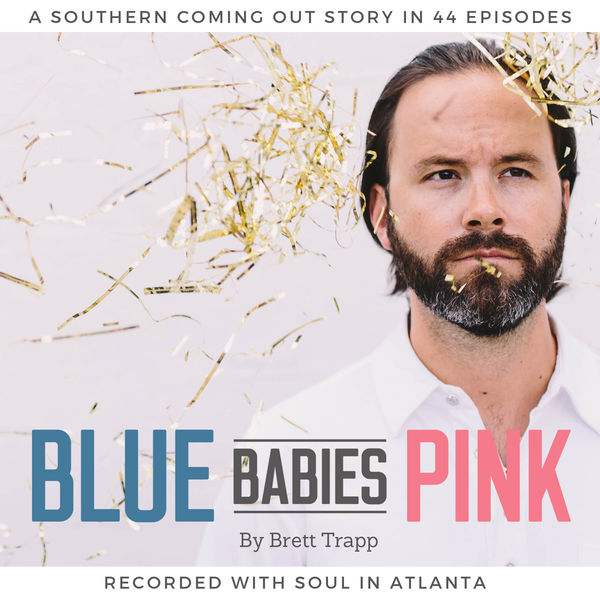 ---
// FAVORITE RECENT PURCHASE //
A few months ago I was (somewhat creepily) admiring a friend's gorgeous eyelashes and she shared her secret: Clinique's High Lengths Mascara. As soon as it was time for me to change out my own mascara, I ordered this one and it is awesome! A lot of reviewers say they don't care for the comb brush, but I love it; I usually have to comb out my lashes after applying mascara, so this brush saves me a step and leaves my lashes looking dark, long, full, and completely clump-free. This same friend introduced me to my hairdresser, so I now have her to thank for good hair and great lashes!

---
// NEWEST MUST-HAVE APP //
Luke has been using the meditation app, Headspace, for over a year and has been nagging me encouraging me to check it out, insisting that it might help with my moods and general sense of overwhelm. I was reluctant to try it because meditation (i.e., sitting and thinking of nothing for long spans of time) sounded like the ultimate form of torture. But after my debilitating past couple of months, I knew I needed to do something, and agreed to give Headspace a shot. The app is attractive and easy to use, with daily 10-minute exercises that introduce you to the practice of meditation.
I've been using Headspace every evening for about a month now, and to be honest, I hate it. I'm terrible at clearing my mind and dread it every single time. I had no idea that ten minutes could feel so long! But, if I'm being completely truthful with myself, I have to admit that I have noticed a difference in my moods and general mindset. I feel calmer and more focused, and the meditation itself is getting a bit easier. I'm not sure whether it's the meditation that's making the difference, or something else, but I'm feeling so much better that I'm reluctant to make any changes to my current regimen. And if it is Headspace that's been prompting these changes, ten minutes per day is a small price to pay for such a positive shift.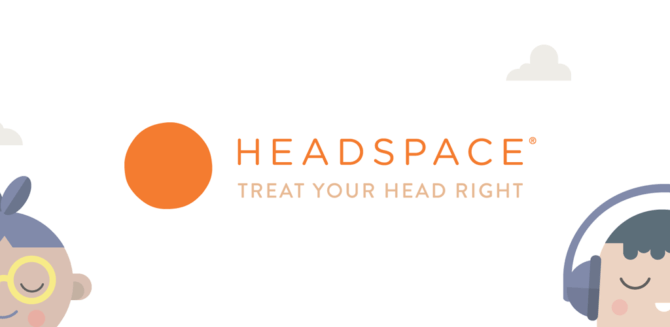 ---
// 2017 LOVE CHALLENGE //
I'm focusing on becoming more loving in 2017, and since I celebrated all things book-related this month on the blog, I decided to carry my book theme into my monthly Love Challenge. To do this, I read through Gary Chapman's Love is a Verb with the purpose of being personally inspired by its stories of love in action. I'll share a full review of the book itself in my next Reading Wrap-Up; while it wasn't a favorite, it did offer lots of great inspiration for me in this year of focusing on becoming more loving. It's easy for me to prioritize my personal comfort over demonstrating love, and the stories of this book provided me with some great examples of people who decided to take action with their love, even when it wasn't easy. I want my own life to be filled with stories like those shared in this book.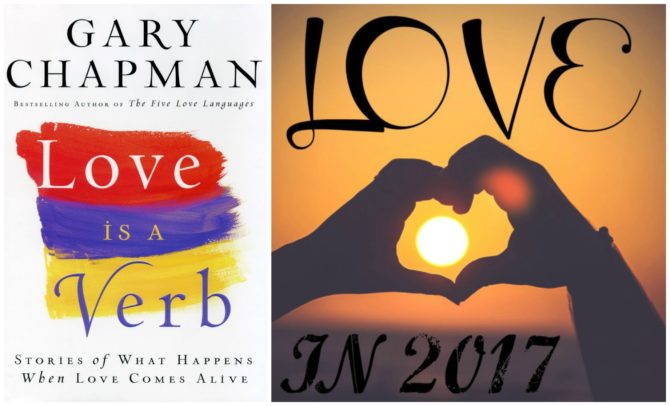 ---
// HAPPENINGS AND HIGHLIGHTS //
I turned 33 on March 2nd. The older I get, the less I enjoy celebrating my birthdays, but this one turned out pretty well. I woke up that morning to Charlie saying "Happy Birthday, Mama" and trying to sing the birthday song to me—probably one of the best birthday gifts I've ever gotten! My birthday happened to fall on Bible Study day, and my group embarrassed me by singing to me, which was actually really sweet. Later, my boys and I went to lunch and when we got home they showered me with cards, flowers, and a gorgeous pair of Kendra Scott earrings. We ended the day with our traditional birthday fro-yo, and I had plenty of help blowing out my candles!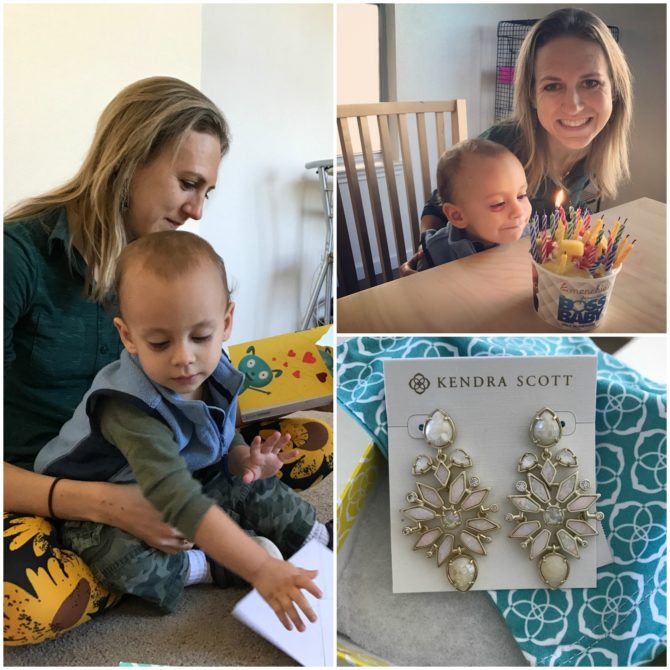 Amanda watched Charleston for a whole Saturday and Luke and I had the day to ourselves! We went to see The Shack, marking my second time in the theater this year; that's twice the number of times I went to the theater in the past TWO years combined! Afterwards we had lunch in Georgetown, went to Luke's favorite coffee shop for coffee/tea and a round of cards, and got frozen yogurt at Menchie's. (I'm sensing a theme: all of my March highlights seem to have involved fro-yo!) I love my time with Charlie, but it's also super nice when Luke and I get a day away; thanks Amanda!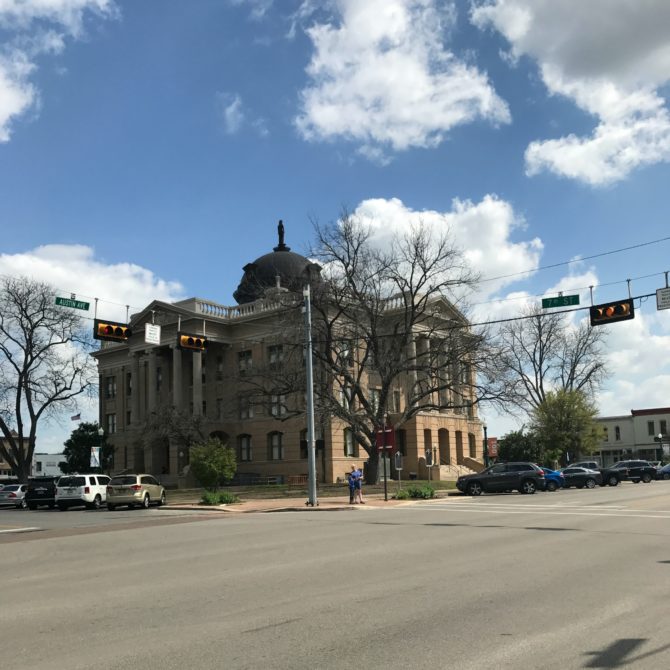 And speaking of Amanda. . . she asked Charlie to be a ring bearer in her wedding. He was honored to be asked 😉 and the little Ring Bear she gave him, accompanied by two ring pops, was so cute!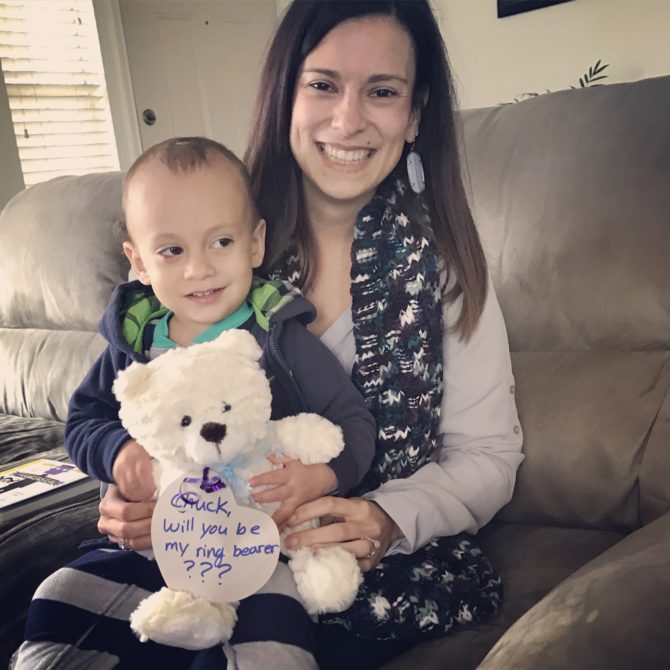 Some friends of ours went camping for the weekend at Inks Lake State Park. We're not really campers (yet…) but our family joined them for a Saturday at the lake and we had an awesome time! Charlie loved poking around the campground, hanging out in a hammock, and going on his first canoe ride, and we enjoyed socializing with the other adults. The lake itself was gorgeous, and I'm super excited that my in-laws just bought a house that's only minutes away from this little piece of paradise.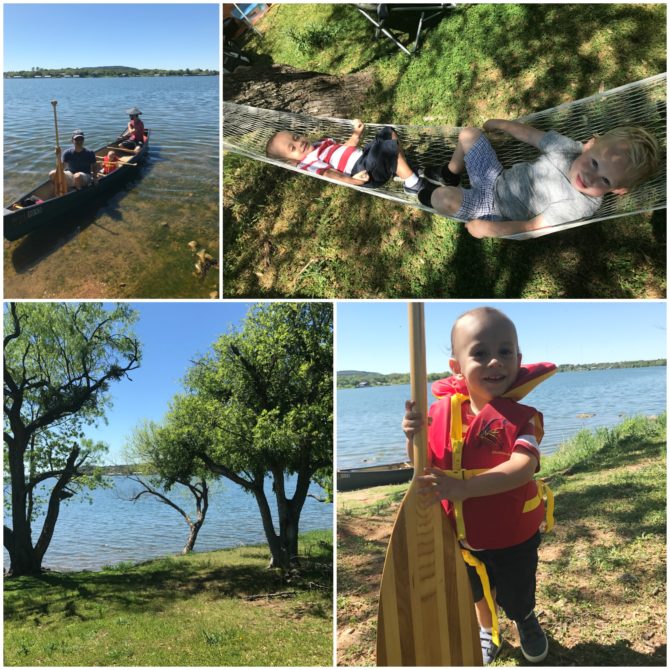 Perhaps the best highlight of the month was the arrival of spring. It seems like the trees sprouted leaves overnight, and there are patches of bluebonnets and yellow wildflowers everywhere I look. The landscape is truly stunning and I'm remembering why I immediately fell in love with Texas when we moved here this time last year. Sometimes I just marvel at how beautiful this world can be, and feel so thankful that God created it for us!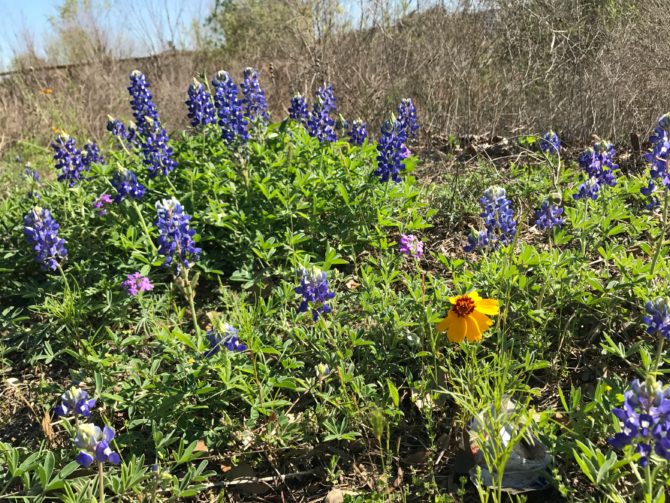 I'm linking up with Leigh Kraemer to share what we're into this month!
Save
Save
Save
Save
Save
Save
Save
Save
Save
Save
Save
Save
Save
Save
Save