Is it just me, or is this month just flying by?! I think I'm in denial that the year is almost over: I feel like we should still be back in summer, but somehow there are Christmas decorations popping up everywhere! Things have been pretty busy here in the Jernejcic household; I tend to default to a less hectic schedule, but I've been making a concerted effort to say "yes" more often. A year from now—or ten years, for that matter—I want to be able to look back on a life well-lived, and not one spent sitting at home because I was afraid of feeling a bit stressed. So, I'm doing my best to savor every minute of this busy season, and while the activities and social events of the past several weeks have stretched my introverted soul to capacity, I'm thankful for the family, friends, and opportunities that have been filling my days.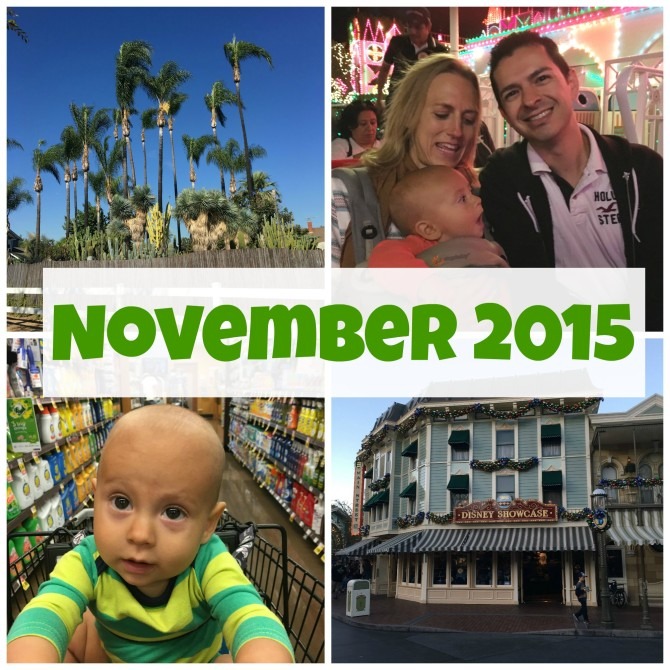 Reading Lately . . .
After what felt like months of reading, I finally made it through Andy Weir's The Martian. Without the motivation of my book club, I doubt I would have completed this book, though I am glad that I read it and can't wait to see the movie.
In an attempt to knock off a few more titles from my list of 2015 reading resolutions*, I started Jesus Feminist, a book I've been meaning to read since completing Lean In (and realizing that I am more of a feminist than I'd thought). I'm only a few chapters in, but so far I'm loving Bessey's take on the intersection between feminism and faith.
* With six remaining books and less than two months left in the year, I'm slowly realizing that I might not make it through all seventeen titles on my list. But I'm still determined to make as much progress as possible in the weeks ahead.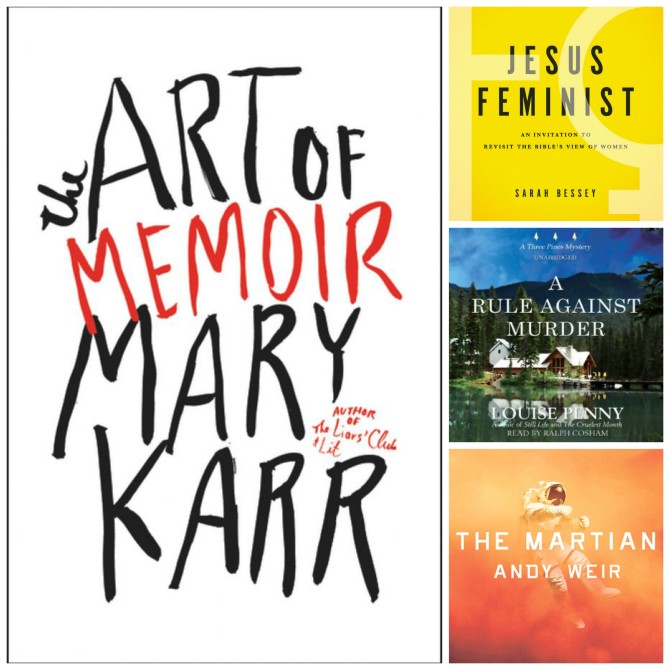 On the audiobook front, I listened to Louise Penny's A Rule Against Murder; I had to skip over books two and three in the series due to lack of availability at my library, but I simply couldn't wait to read another of Penny's enticing mysteries.
I am currently listening to Mary Karr's The Art of Memoir. Though I've never read Karr's personal memoirs, nor do I have intentions of writing a memoir of my own, I'm learning a lot about the writing process and have been introduced to a number of memoirs I would like to read. I appreciate that Karr herself is the reader for this audiobook—it's a pet peeve of mine when a memoir is read by someone other than the author.
What I've Been Watching. . .
Melissa and Joey, Season 4: Many TV series grow on me over time, but Melissa and Joey took an opposite path, starting off strong and slowly losing its appeal. While I continued to love the actors and characters, the episodes in season four were more sexualized and less entertaining than ever. As far as the longer story arcs went, I was happy with where the show ended off, but I can't say that this is a show I will miss. My Rating: 2.5 stars.
Once Upon a Time, Season 4: I have been eagerly anticipating the Netflix release of Once Upon a Time's fourth season since we finished binge-watching the first three seasons earlier this year. It took me a bit to get back into the show, and I found I'd forgotten some key plot points and intricacies of the characters' backstories. I thoroughly enjoyed the Frozen story arc, as well as the introduction of several Disney villains. However, I felt that some of the stories got a big convoluted, making it hard for me to feel fully engaged in the show. Overall, this season had its high points, but the show has lost some of its magic from earlier seasons. My Rating: 3.5 stars.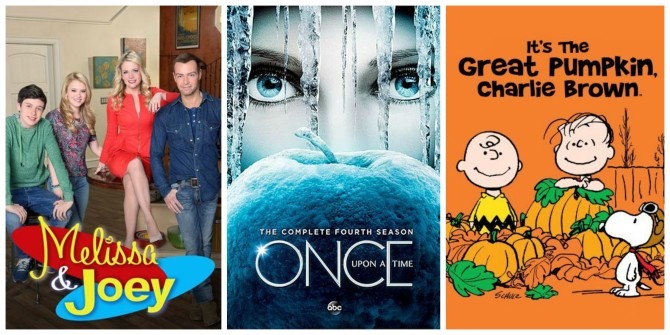 It's the Great Pumpkin, Charlie Brown: I've never been a huge Peanuts fan; I tend to reserve my cartoon time for Disney shows. And yet, having a son named Charlie has given me a new appreciation for all things Charlie Brown. We bought a DVD collection of the holiday-themed Peanuts Specials, and on Halloween we watched It's the Great Pumpkin Charlie Brown. In watching the special I realized I had never even seen it! I was struck by how non kid-friendly it was, with words like blockhead and stupid, not to mention plenty of mean kids. The story was cute but I felt brokenhearted for poor Linus whose faith in the Great Pumpkin was apparently misplaced; I kept waiting for The Great Pumpkin to appear and actually cried when he didn't! This special won't be a favorite but I'm glad that I watched it; I feel like I owe it to my Charlie to at least familiarize myself with his "namesake." And speaking of Charlie, we don't let him watch TV but we did watch this with him. For a boy who always seems eager to catch any glimpse he can of a screen, he really didn't show much interest and spent most of the time crawling around on our laps. I suppose there's always next Halloween! My Rating: 3 stars.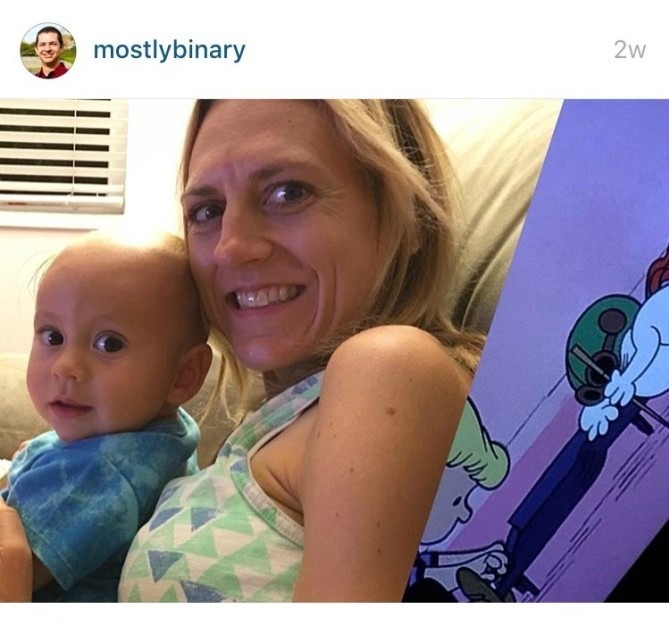 New App I'm Exploring. . .
The List App: Like most people I know, I have a sort of love/hate relationship with social media, but this is one social platform that I'm totally digging. The app allows you to create and share lists about anything and everything, from personal favorites to experiences and opinions. I haven't worked up the nerve to share any of my own lists yet, but I'm having so much fun reading through the lists from celebrities, magazines, and even news sources. Currently, my favorite list creators are Mental Floss, Hello Giggles, and Rachel Ray.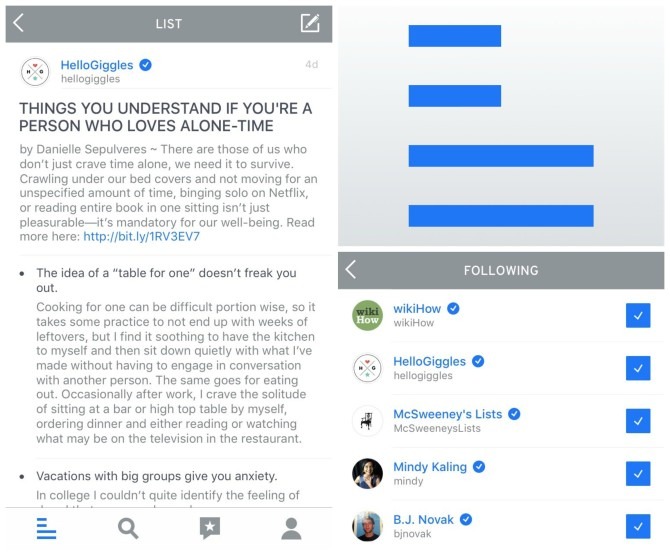 Thought That I'm Pondering. . .
I've been a loyal listener of the new podast from our church's former pastor, Mike Erre. (I shared more about it last month.) Mike has been tackling the challenging issue of the church's prickly relationship with the LGBTQ community, and something he said in a recent episode has really stuck with me: "Why are we more afraid of being seen as condoning sin than being unloving?" I agree with Mike that we have become so consumed with attacking the sin we see around us that we bypass Christ's greatest commandment to us, which is to live a life of love. Turning a blind eye to sin (of ALL kinds, not just sexual sin) isn't the answer, but I don't want to be so focused on others' behavior that I neglect to treat them with respect and love.
New Favorite Product. . .
Mrs. Meyer's Lavender-Scented Cleaning Spray: We've slowly been transitioning to more natural foods and products in our home, and our latest shift was to a more environmentally friendly line of cleaning products. I am in love with this lavender-scented cleaning spray, which does double-duty as cleanser and calming agent. The scent is heavenly and I love that this aromatherapeutic spray is not filling our home with the harsh chemicals found in cleansers I've used in the past.
What I'm Inspired By. . .
A few weeks ago I received an unexpected (but much appreciated) invitation to a girls' dinner at the home of a childhood friend. Though my friend and I have crossed paths in recent years, we hadn't spent time together since we were in elementary school so it was wonderful to reconnect. The dinner was simple but lovely, and her example of hospitality has inspired me to be more intentional about fostering community with people outside of my regular circles. While I crave authentic relationships, I do little to cultivate them, and my friend's gesture is serving as a gentle nudge to stop making excuses and simply open my life and my home up to those around me.
Melting My Heart. . .
Each year my parents send out Thanksgiving cards in lieu of a traditional Christmas card. Rather than including the customary family newsletter,  my dad uses the annual card as a place to share a personal reflection or inspirational story. This year's card starred our own little Charlie (who happens to be my parents' first grandchild). My dad had asked me for pictures of Charlie ahead of time, so I knew that the card would be featuring Charlie in some way, but I didn't get to see the card itself until it arrived in the mail this week. The tribute to Charlie was incredibly beautiful. There is something so touching about the relationship between grandparents and grandchildren, and I feel unbelievably blessed to have parents who love my little boy so much.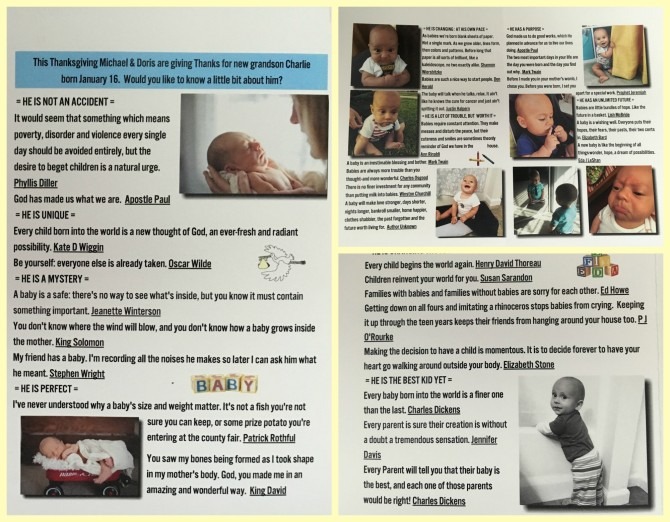 What I'm Excited About. . .
Family Camp in the Mountains: This weekend our little family will be headed to a Thanksgiving-themed family camp with my parents, brother, and sister-in-law. This has been a tradition in our family for the past few years, and I spend all year looking forward to the weekend together. This year I'm so excited to be bringing Charlie with us. It will be his first time in the mountains, and though he's still a bit young to appreciate the camp itself, I'm excited to introduce him to a place that is so special to me.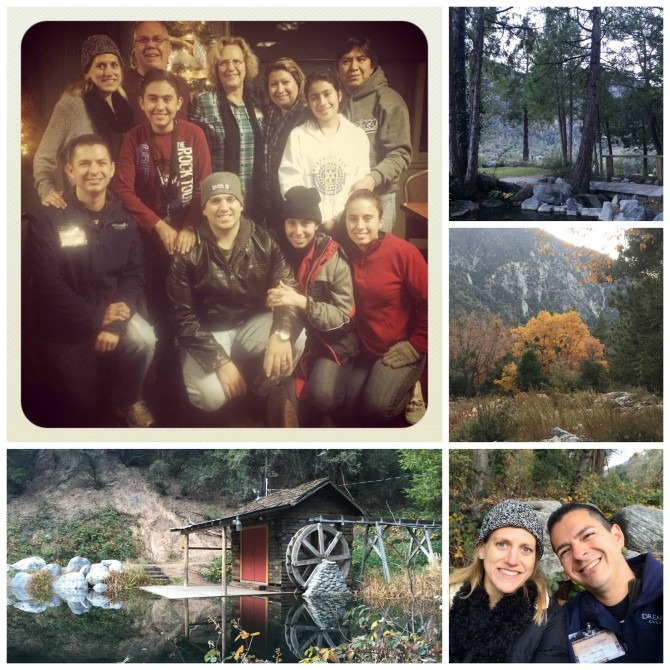 What has your November been looking like lately? Leave me a comment to share a highlight from your month! Then head to the link-up over on Leigh Kraemer's blog to check out what others have been into lately.