Welcome to Quick Lit, my monthly recap of the books I've been reading lately. Today I'm sharing reviews of the five nonfiction titles I read over the last four weeks. There weren't any huge stand-outs this month, but I'm still eager to share my thoughts. I hope you find these reviews helpful!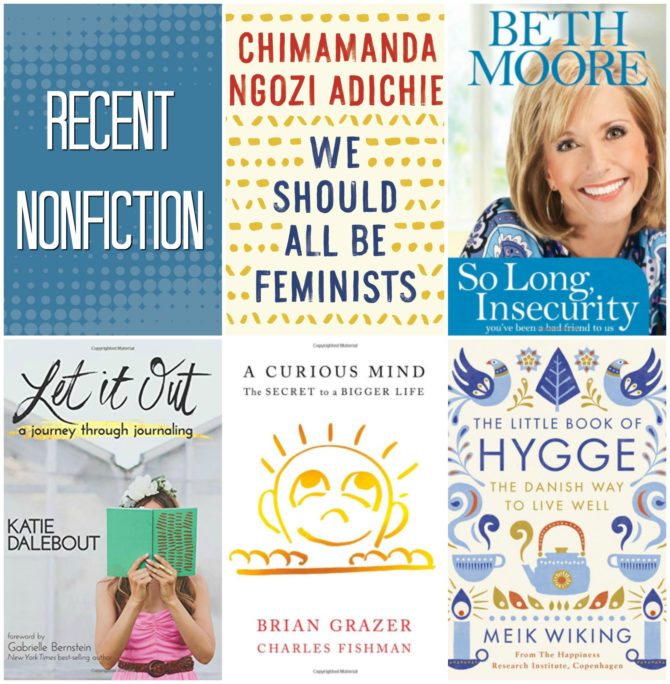 We Should All Be Feminists, by Chimamanda Ngozi Adichie: This is an essay, not a full book, but it's been getting a lot of attention, so I figured it was worthy of a full review. Adapted from her TEDx talk on the subject, the essay expresses Nigerian author Chimamanda Ngozi Aidichi's views on feminism and draws from Aidichi's own experience of growing up as a girl in Africa, which exposed her to the many ways women are marginalized around the world. The essay delves into societal norms related to gender and explores the ways in which cultural conditioning shapes our perceptions of ourselves as men and women. Aidichi also expresses her strong views on what it means—and should mean—to be a woman and a feminist in the twenty-first century.
This is a topic I've spent a lot of time pondering over the last several years, and I am far from arriving at any conclusions on the subject. I do consider myself a "feminist" in that I believe men and women are equal and deserving of the same opportunities and privileges. However, I am also a traditionalist who supports old-fashioned notions like gentleman-like behavior and a man's role as the head of the family. I also believe very strongly that the feminist movement—while largely necessary and even advantageous—has whitewashed distinct and important differences between men and women in ways that have not benefited society. Aidichi argues against what she describes as the "weight of gender expectations," but I don't agree that all gender expectations are wrong or bad.
This essay was beneficial in that it provided more fuel for thought on the subject. I've heard most of the ideas before, but it was helpful to see them presented in a new way. I obviously don't share all of Aidichi's opinions, nor do I think this essay offers a comprehensive view of feminism (it's a highly nuanced subject, much broader than could be addressed in an essay or even an entire book), but I appreciate her perspective. It was especially insightful to read about feminism from a woman who grew up in a culture that is much more oppressive towards women; it reminded me of how much I take my gender for granted given that, in addition to being a woman, I am also white, upper middle class, and American.
I've heard many say this should be required reading. I don't know that it's quite the Essential Manifesto it's being made out to be, but I do believe this is a subject we all should be (and are) talking about.
My Rating: 3.5 stars.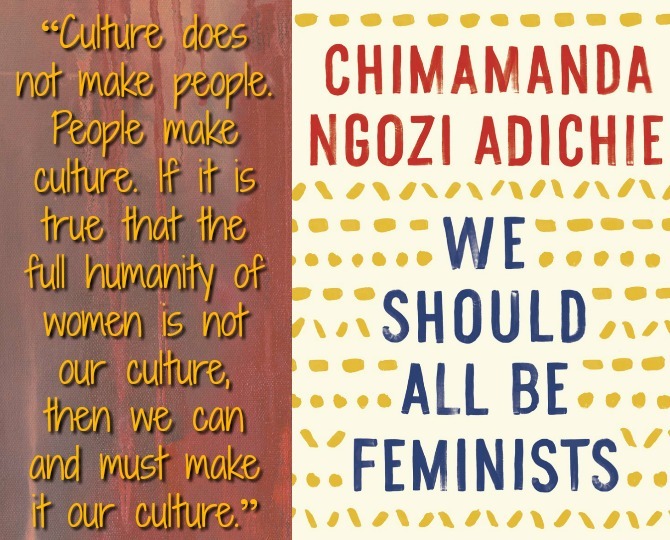 ---
Let It Out: A Journey Through Journaling, by Katie Dalebout: As a passionate journal enthusiast, I was excited when a favorite podcaster released her own book all about journaling. I bought the Kindle version when it first went on sale last year, but somehow just got around to reading it. The book begins with a long introduction in which Katie shares her personal experience with journaling and its role in her life, specifically the part it played in her eating disorder recovery. The body of the book contains 55 unique journal prompts divided by category: Get Going, Get Organized, Find Presence, Create Abundance, Heal, Feel, and Reveal. These prompts would be useful to someone who is new to journaling as wells as lifelong journals like myself. I didn't work through each of the prompts as I read, but did highlight specific ones I would like to try in the future. I found the prompts for healing and recovery to be particularly insightful and am looking forward to journaling through them.
After listening to Katie's podcast for over a year, I feel as though I know her personally and enjoyed hearing her voice through her writing and getting to know even more of her personal journey. However, I imagine that those who aren't fans of her show might have a hard time with Katie's overly enthusiastic tone and general naïveté. Katie is in her early twenties, and her youth is very apparent in both her writing and outlook on life; this book is definitely best suited for a younger audience (one with hours upon hours to devote to uninterrupted journaling—i.e., not parents). Her ideas are also pretty "out there" (lots of talk about The Universe, the Law of Attraction, the Power of Positive Thinking, etc.); I'm not completely closed to all of these ideas but had to do quite a bit of reframing to make the prompts line up with my personal belief system.
If you are looking to expand your own journaling practice, I'd give this book a shot; just keep your expectations in check and be prepared to find a lot you'll love and some that's not a perfect fit.
My Rating: 3.5 stars.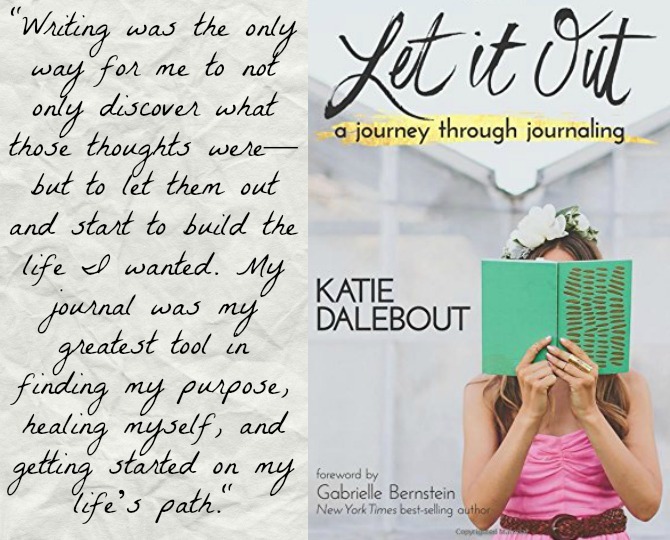 ---
A Curious Mind: The Secret to a Bigger Life, by Brian Grazer and Charles Fishman: I'm a huge believer in the power of curiosity and its potential for contributing to both happiness and success, so I was eager to read this book that is described by the publisher as "a brilliantly entertaining, fascinating, and inspiring homage to the power of inquisitiveness and the ways in which it deepens and improves us." This description proved to be a bit misleading.
More than anything else, A Curious Mind is the autobiography of Brian Grazer, a movie producer behind several successful movies and shows including Splash, Apollo 13, Frost/Nixon, and 24. Many of these endeavors would never have existed if it weren't for Grazer's self-professed defining characteristic—curiosity—which led him to have weekly "curiosity conversations" with subjects of his future projects.
While I enjoyed getting a behind-the-scenes look at Grazer's creative process and the way curiosity plays a role in it, I found Grazer himself to be arrogant and his stories to be fairly repetitive (and an excuse to do a lot of boasting and name dropping). This book isn't actually a tribute to curiosity at all, but to a self-involved Hollywood success who wants his readers to be as impressed with Brian Grazer as he is with himself.
Final verdict: a few intriguing takeaways, but just not what I wanted or expected from this book. I am left with a desire to cultivate more curiosity in myself and in my son, too, but I don't know that Brian Grazer is the best role model for this pursuit.
My Rating: 2.5 stars.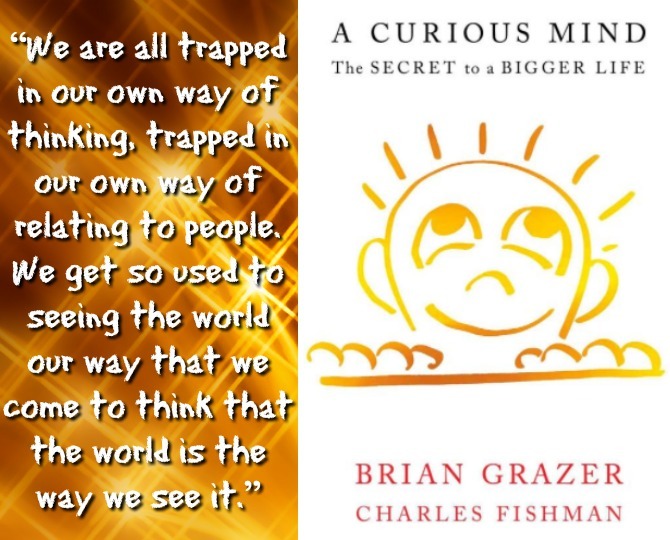 ---
So Long, Insecurity: You've Been a Bad Friend to Us, by Beth Moore: I've battled insecurity for most of my life and it's easy to feel like I'm alone in this battle—especially when it seems like everyone around me has it "together". I'm realizing, though, that most (if not all) women battle insecurity in some form or another, which is why books like this one exist. In So Long, Insecurity, Beth Moore opens up about her own insecurities while addressing the roots of this universal struggle and the various ways in which it manifests itself. She then digs into Scripture to help her audience relinquish insecurity once and for all as we find identity and purpose in Christ.
The messages of this book were both relevant and useful to me, especially the discussions of insecurity around other women and what we can do to combat this. I also found it encouraging to read the stories of others' insecurities: many were heartbreaking, but hearing them helped me to feel less alone in my struggle and reminded me of how unhelpful and debilitating such self-defeating beliefs can be. It's easy to think my own insecurity is just something I need to "get over," but I have more compassion—and desire for radical transformation—for other women with these hangups, and once I get fired up on their behalf, it's an easier leap to start fighting for myself, too.
I've never been the biggest Beth Moore fan, and though I love her message here, something about the delivery just didn't quite resonate with me. For whatever reason, she doesn't come across as totally sincere, and her writing feels more like a sermon than a book. I know many love her writing style, but it just isn't for me. This book reminded me a lot of Lysa TerKeurst's Uninvited, which I liked much better. Still, this is a message I can stand to hear again and again, so I have zero regrets about reading it and would recommend it to anyone who has difficulty doubting their intrinsic value.
My Rating: 3.5 stars.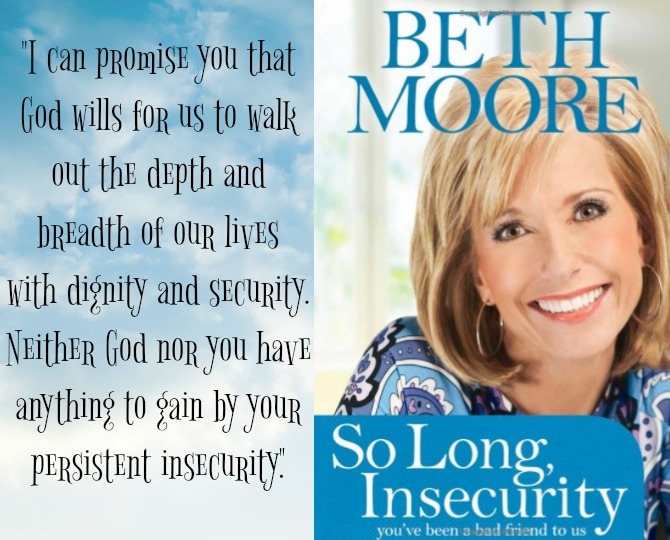 ---
The Little Book of Hygge: The Danish Way of Living, by Meik Wiking: It seems I can't turn on a podcast or read a blog post these days without hearing some reference to hygge (pronounced hoo-ga), a Danish concept loosely translated as "coziness." In The Little Book of Hygge, Danish happiness expert Meik Wiking defines hygge and makes a strong case for a hygge-centric culture as the reason for the Danish people's high levels of happiness. Wiking provides many insights into the Danish culture and offers suggestions for bringing more hygge into your own life, from inviting friends over for an evening of board games to spending more time on your bike. And lighting candles! Hygge is ALL about the candles! Hygge is generally associated with winter and home, but Wiking offers ideas for bringing hygge into every season and to places outside the home.
I LOVE learning about other cultures, so I really enjoyed reading about the Danish lifestyle. I had the opportunity to visit Copenhagen when I was in my early twenties, and after reading this book I'm dying to go back. I'm a little skeptical about whether hygge is really quite as pervasive in Denmark as Wiking claims (is it really an all-encompassing way of life, or is it simply trendy right now)? Still, I think that hygge is a fun concept and am eager to incorporate more of it into my own life.
As for this book itself, I was only semi-impressed. The writing style is light and humorous and filled with the type of coziness the book is describing, but Wiking's "research" is far from groundbreaking and a lot of his ideas weren't anything I hadn't already learned from other sources. If you're new to hygge and want to know more, this basic guide is a good place to start. Be sure to read it wrapped up in your coziest blanket . . . and don't forget to light the candles!
My Rating: 3.5 stars.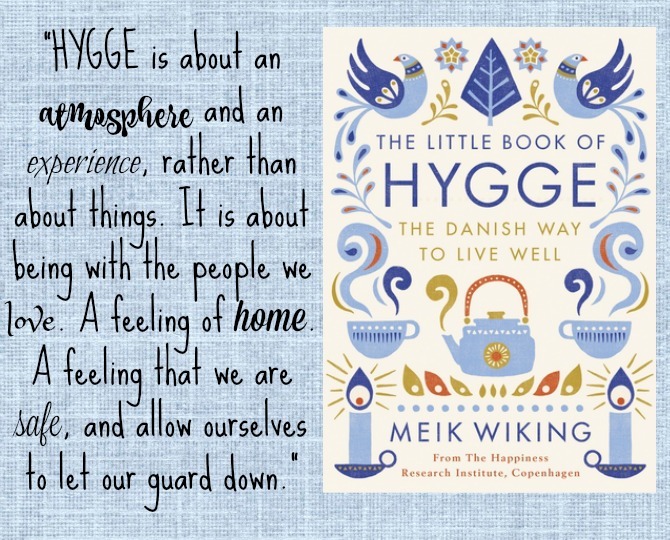 ---
I'll be back Wednesday for a full recap of my latest fiction reads. Until then, I'd love to know if you've read any of these books, and what you thought! I'd be particularly interested to hear any opinions on We Should All Be Feminists; it's the one book this month that I can't get off my mind and I'm dying to talk more about it!