Back today with Round Two of this month's book reviews. I had very strong feelings—some good, some bad—about a few of these books. Let's dive right in!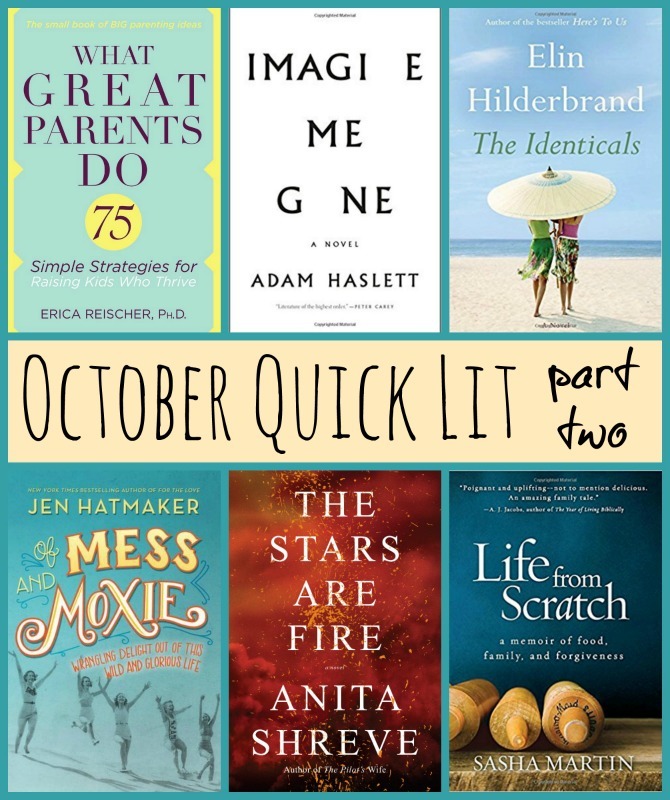 Imagine Me Gone, by Adam Haslett: Told from the perspectives of each family member, Imagine Me Gone is the story of a depressed British man, his American wife, and their three children. The book moves along the timeline, jumping back to the 1960s before Celia and John are married, and moving into the present day to follow their children into adulthood. From his earliest day, their oldest son, Michael, is obviously plagued by the same demons that haunted his father. His younger siblings—the conscientious Celia and tightly-wound Alec—manage their father's and brother's pains and eccentricities in their own ways.
This could have been an incredible book. Mental illness is a hard topic, but one that many of us deal with (either first- or second-hand), and I believe we need more stories that capture the ways that generational illness and trauma manifest, and the toll they take on both the victims and the bystanders. Imagine Me Gone does manage to capture the gravity of this issue in ways that are painful yet moving. Haslett describes the inner worlds of those suffering and those who want to help but don't know how.
Unfortunately, there is very little plot to tie these painful moments into one cohesive story. As much as I wanted to become absorbed by this family's tragic tale, I just couldn't get into it. It didn't help that the central characters had very few redeeming qualities, leading me to pity them, but not to experience true empathy. There was also a lot of sexual content that I could have done without.
My Rating: 2 stars.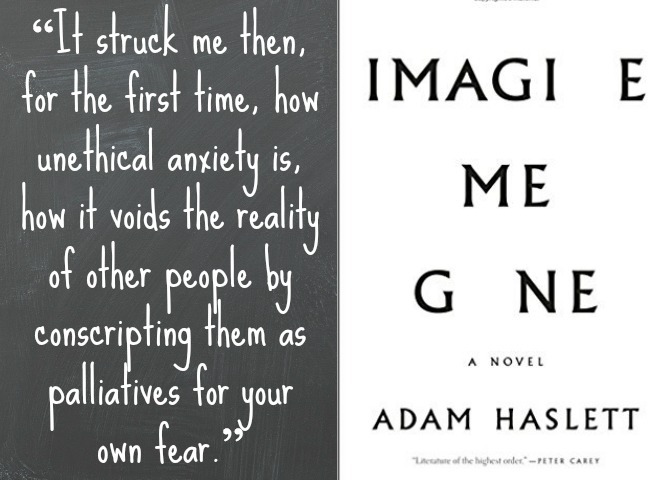 ---
Of Mess and Moxie, by Jen Hatmaker: Jen Hatmaker has become quite the polarizing figure in the Christian community: people either are in love with her, or they love to hate her. I find myself somewhere in between. I've read a few of her books, listen to her podcast, and follow her on social media, and I like her humor and a lot of what she has to say, even though I don't agree with her on all issues and sometimes have a hard time with her sarcasm.
My thoughts on Mess and Moxie reflect my impressions of Jen herself. The book is a random essay collection loosely centered on the ideas of life's messiness (and our messiness as individuals) and discovering our inner moxie. The book contains a healthy mix of teaching and comedy, with a break every few chapters for tongue-in-cheek "How To" lists (My favorite: HOW TO SURVIVE YOUR FIRST YEAR IN TEXAS AS A TRANSPLANT, which begins with "Speak about gun control, politics, immigration, and football with no one.")
Jen is a great storyteller and her writing is smart and very, very funny. (I literally laughed out loud quite a few times, which rarely happens for me in books). She can be pretty crass, deprecating, and snarky, though, which isn't really my thing. And at times the tone felt forced and artificial, trying too hard to be cute and "OMG Relatable;" in trying to build bridges with nonbelievers, Jen spends a lot of time throwing Christians under the bus, and though in many ways it is well-deserved, I didn't love her approach. And (while I'm being nitpicky): Jen's addressing readers as "beloved" and "dear reader" started to drive me crazy after a while!
That said, there are some amazing takeaways in the book; I especially appreciated Jen's thoughts on how to navigate change within ourselves and others, and learning to value the nuance within life, which is something I really struggle with. I wish the book had held more such nuggets—perhaps more moxie and less mess. The high humor-to-content ratio left me with the impression that she was trying to distract from the uncomfortableness of her truth telling.
My Rating: 3.5 stars.
---
The Identicals, by Elin Hilderbrand: Identical twins Tabitha and Harper Frost were at one time inseparable; now in their late thirties, the women have been estranged for nearly two decades. Tabitha lives on Nantucket with the girls' elitist mother Eleanor and her troubled teen daughter, Ainsley. Harper, the edgier sister, lives on Martha's Vineyard where she takes care of their ailing father (and begins an affair with his doctor). A series of unfortunate events leads the sisters to switch islands and lives for a summer; within their swapped lives, Harper and Tabitha must each confront the disastrous life the other has left behind and begin to pick up the pieces of their fractured family.
This breezy summer read is a Hallmark movie in book form: heavy on sentiment, and very light on substance. I actually liked the cheesy Parent Trap-esque premise and enjoyed reading about the similarities and differences between Nantucket and Martha's Vineyard (which I will admit are one and the same place in my outsider's mind). The story is predictable, but totally readable and very satisfying. I could have done with a lot less sex and alcohol, though, and hated the justifying of infidelity and other immoral behavior. (I know, I know, my prudish self should probably just steer clear of this genre, but I would be remiss not to include that caveat in my review.) I also found the narrative style (jumping between characters and overlapping scenes) a bit odd, and I had trouble keeping track of all the side characters. Still, not at all bad for lighthearted Chick Lit, and I think it would make a great movie.
My Rating: 3 stars.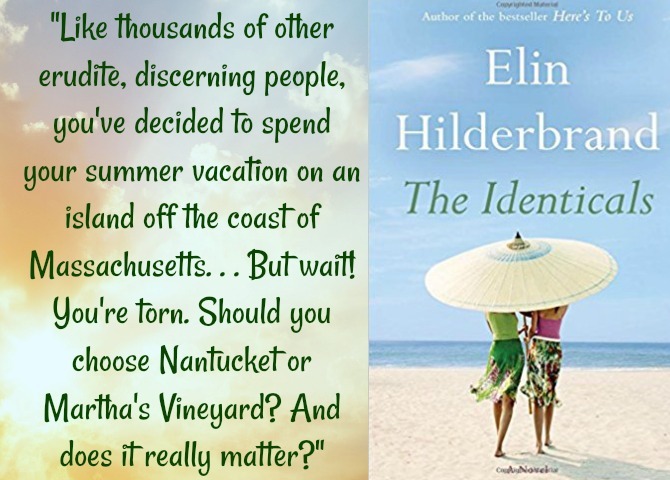 ---
Life from Scratch, by Sasha Martin: Five years ago, I came across one of the most amazing blogs I'd ever seen: on Global Table Adventure, blogger Sasha Martin shared her family's culinary journey as they enjoyed one meal per week from every country in the world. I am a lover of both food blogs and all things multicultural, so Global Table Adventure immediately became one of my favorite spaces on the internet. I even featured it in my very first blog Spotlight post.
Not long after cooking through nearly all 200 countries, Sasha released her memoir. I immediately added it to my TBR but only now have gotten around to reading it. And it left me nearly speechless.
Sasha's blog is light, fun, hopeful. I always appreciated the optimistic spirit of her writing, and now, having learned of her traumatic past, I am even more in awe of Sasha as a cheerleader for peace and a force for good in the world. Sasha experienced unspeakable hardship in her formative years, and much of her story was very painful to read; I had a particularly hard time with the sad content (and needed to take many breaks to process) because I felt as though I already "knew" Sasha through her blog, and reading about her hardship was like sharing the pain of a dear friend. I also had a difficult time reconciling the bubbly image Sasha had carefully curated for her blog with the brokenness of her reality (clearly a coping mechanism, as she discusses in her story). That said, this is not a depressing book. Sasha has obviously done a lot of personal work and is able to present her story authentically but with an eye toward the future, and grace for those who have harmed her.
The last third of the book focuses on Sasha's blog and cooking project, and this was my favorite part of her story. I enjoyed getting a behind-the-scenes look at a journey I had witnessed as a blog reader, and it was helpful for me (as a blogger) to read the experience of another individual who struggled to find balance between her online presence and her day-to-day reality.
Two of the components that I loved most about Global Table Adventure—the beautiful, poetic writing and the wonderful recipes—are both present in Life From Scratch. I love Sasha's writing style, which balances vivid storytelling with evocative descriptions of food and feelings. And the recipes sprinkled throughout the book enhance the narrative and convey the powerful role food plays in Sasha's story. It makes so much sense to me that she would channel her past into a cooking blog.
Writing and publishing a story like this one takes courage and I feel honored that Sasha chose to share it with the world.
My Rating: 4.5 stars.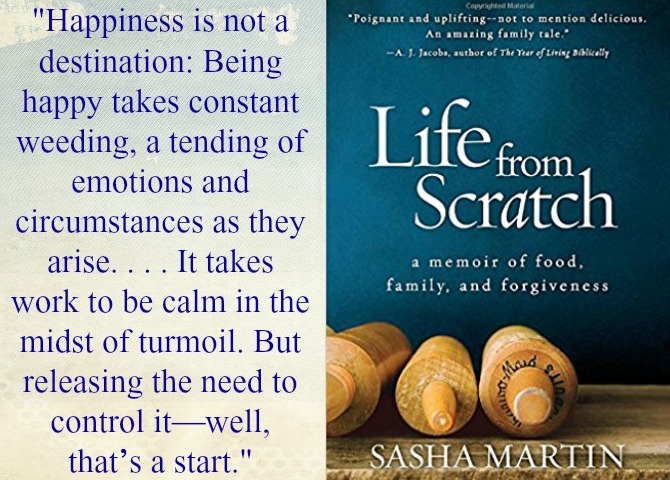 ---
What Great Parents Do: 75 Simple Strategies for Raising Kids Who Thrive, by Erica Reischer: If you've been following my book reviews for the past few years, you know that I've read quite a few parenting books during Charleston's short life. This might be my favorite yet! Delivered in short, easy-to-read chapters, Psychologist and parenting coach Erica Reischer describes 75 straightforward parenting strategies that work for kids of all ages. Some of these strategies are common-sense tools described in nearly all parenting books, while others are less familiar. Reischer briefly explains the why and the how of each strategy, then offers a very practical "try this" detailing how the strategy can be executed. She also links to other related strategies within the book, demonstrating how they intersect.
My favorite aspect of this book is the format. The book could easily be read in pieces by using the Table of Contents to pick out tools to implement on an as-needed bases. I personally liked reading the book cover-to-cover, seeing how the strategies build off of one another. The short chapters made it easy for me to read just a few strategies per day and spend some time thinking about how to incorporate them into my own parenting.
A lot of these tools are strategies I've already been using, but others were reminders of things I've known about but forgotten or was unsure how to execute, and one were totally new. I'm coming away from this book with a much deeper understanding of the type of parent I want to be and actionable steps I can take to get there. I'll be making sure that Luke reads this one too, and I plan to recommend it to all of my mom friends.
My Rating: 5 stars.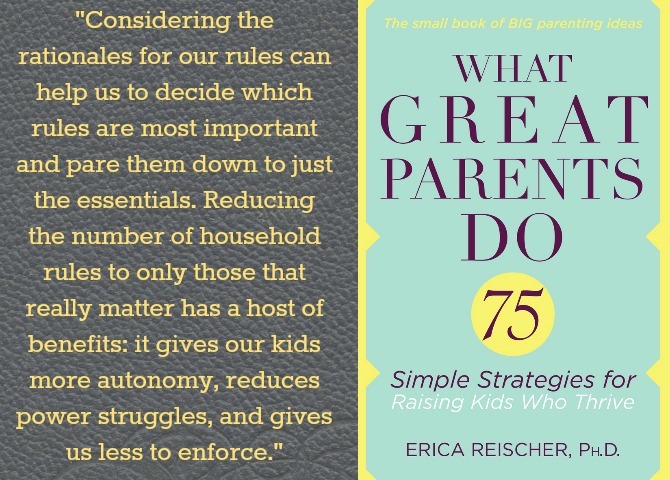 ---
The Stars Are Fire, by Anita Shreve: In October of 1947, following a long summer drought, fires broke out along the coast of Maine, destroying everything in their path. In The Stars Are Fire, we experience this historical event through the eyes of Grace Holland, a pregnant young mother of two who is trapped in a loveless marriage to Gene, a former soldier who returned from the War a broken man. When the wildfires break out, Gene joins a team of volunteer firefighters in digging a firebreak, leaving Grace to watch her home burn to the ground. Gene doesn't return, and assuming her husband is lost forever, Grace goes about creating a new, happier existence for herself and her children—one that would not have been possible with Gene in their lives. All seems right in her world until a new, different form of tragedy strikes and her courage is tested like never before.
I liked the premise of this book, but that was about it. The writing style seemed distant, and the secondary characters were very one-dimensional. I even had a hard time connecting with our protagonist or empathizing with her plight; she should have been a likable character (strong, virtuous, smart) but I couldn't muster any good will towards her. The dialogue and plot felt too modern for the historical setting, and the story itself lacked the suspense and the redemption that would have made it a more enjoyable read.
My Rating: 2 stars.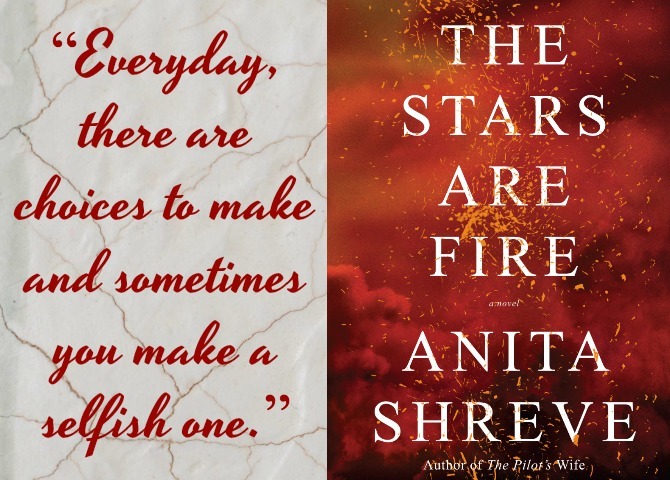 ---
If you've read any of these books, I'm dying to hear your thoughts.
I'm linking up with Modern Mrs. Darcy to share what we've been reading lately. If you're stopping by from the link-up, be sure to check out Monday's post with my reviews of the other six book I read this month.