Many moms begin planning for their child's first birthday party before the baby is even born; I am not one of those moms! I'm not exactly a "party" person: I don't particularly enjoy attending parties myself (#IntrovertProblems), and I have very minimal experience as a party planner and hostess. To be honest, simply having friends over for dinner throws my inner perfectionist into overdrive, so the thought of a full-on party was entirely overwhelming. I contemplated forgoing the first birthday party altogether, or perhaps just doing a small little gathering with immediate family. However, as Charlie inched closer to his first birthday, I knew that I would regret skipping the chance to celebrate our little man. And with our upcoming move, this would be our last chance to get together with extended family and friends, so we decided to go all out with a grand celebration.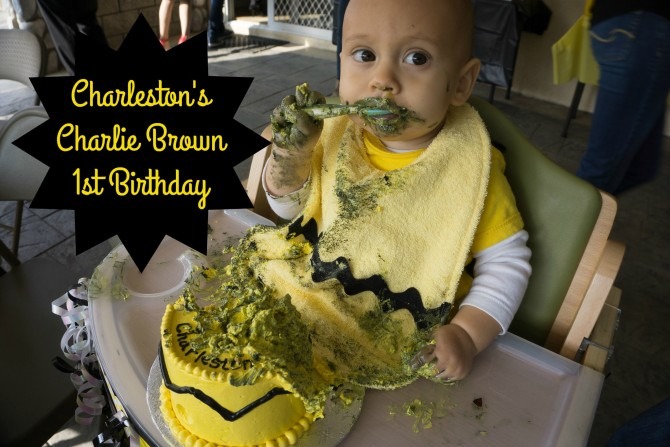 Choosing a theme for the party was easy: "Charlie Brown" is one of Charlie's main nicknames, and with the recent release of The Peanuts Movie I figured it would be easy to find Charlie Brown paraphernalia in the stores. (I was wrong.) I kicked off the theme with these adorable customized invites that I found on Etsy. We sent out nearly fifty invitations, so I was thankful to my in-laws for offering their home as our party venue since we have a small home with no yard, and the possibility of rain ruled out a park party.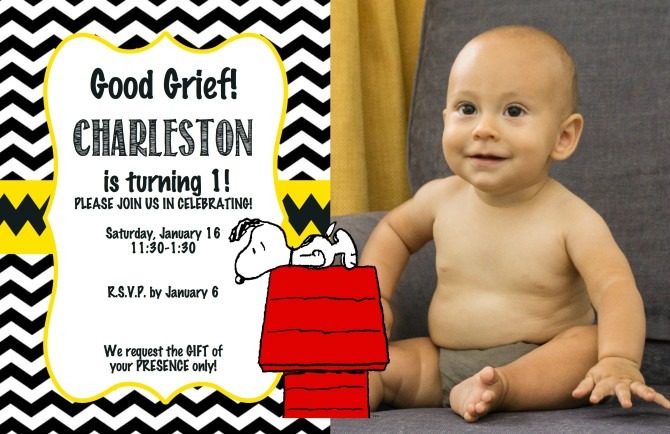 Our guest of honor was cute-as-could-be in his Charlie Brown onesie. My mother-in-law made him a matching bib (which proved quite essential during cake time!) as well as a hat, that he of course refused to wear.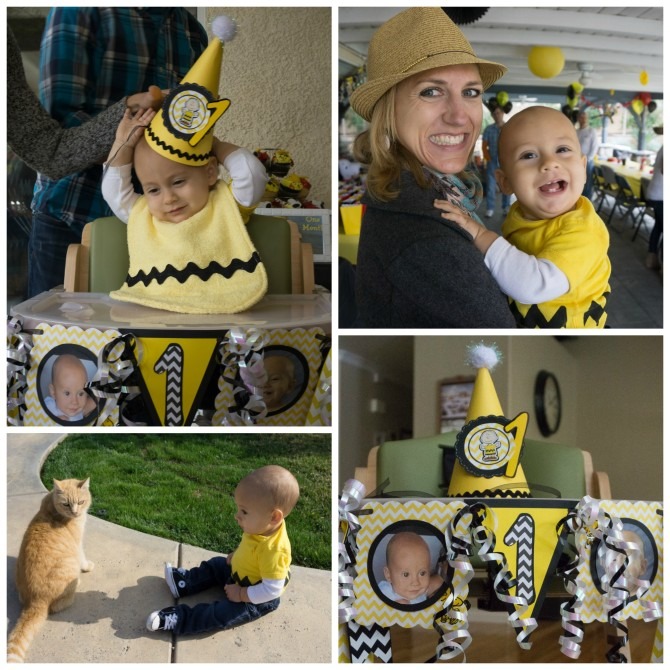 I had so much fun gathering together decorations to fit with our theme. Guests were greeted at the door with a Peanuts Welcome banner, and the entire yard was filled with red, yellow, and black streamers and balloons. We strung red chains across the patio and used clothespins to display Charlie's monthly pictures. I also set up a mini photo display on our dessert table using frames I found in the Target discount bin.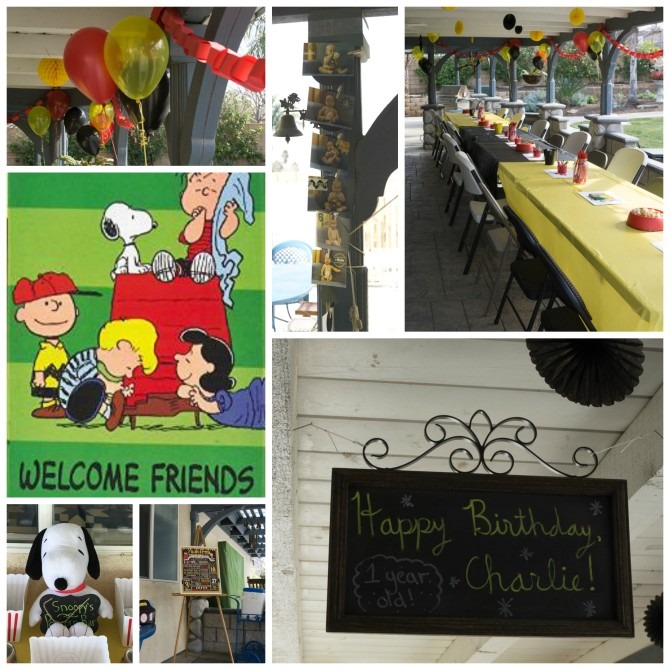 My ultra-creative mother-in-law made a birthday banner as well as a one-year sign for Charlie's high chair. And I purchased a customized First-Birthday poster, which I had printed onto a posterboard at Walgreens.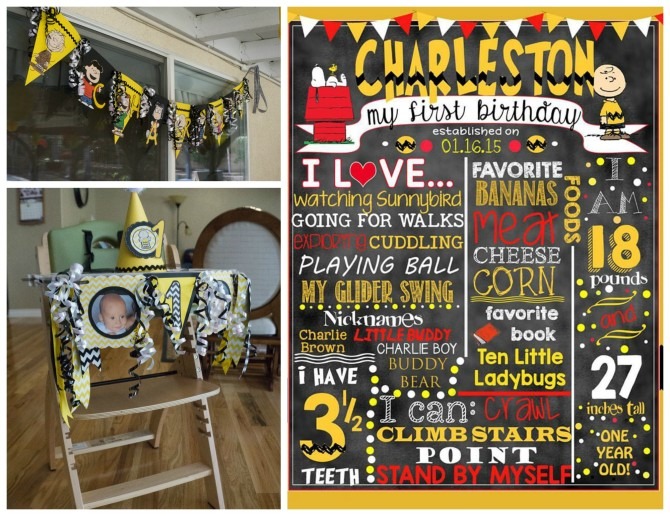 I didn't get too elaborate with our menu. For appetizers, we set out Chex mix (served in dog dishes!), mason jars filled with red licorice, and little pails of peanuts so that guests would have something to munch on until lunch was served. My sweet mom, who is a great cook and master of the crockpot, made a delicious chili (based on this recipe), and we had sour cream, cheese, and tortilla chips for the toppings. I also got a few fruit and veggie trays from Cotsco, and I set out bowls filled with bananas and cutie oranges. Our paper goods were all yellow, red, and black (of course!).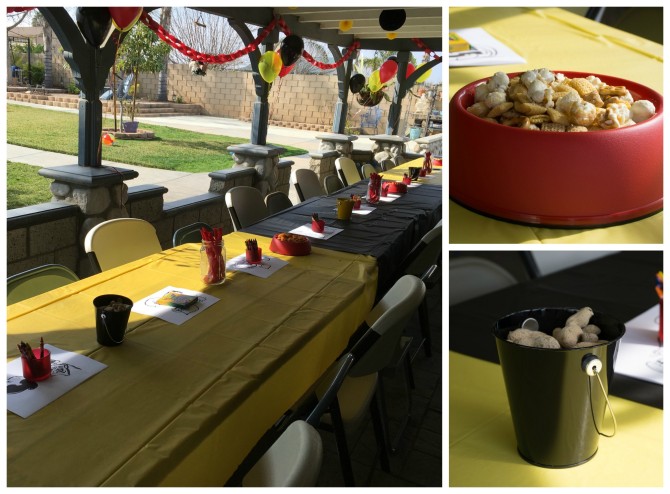 Of all the party elements, I think I am most proud of the popcorn bar. We filled giant popcorn containers with buttered popcorn and set out mason jars filled with a variety of candies so that guests could make their own popcorn mixes. I had anticipated that this would be a more popular with our guests (who seemed more into the Chex mix), but at least it looked cute!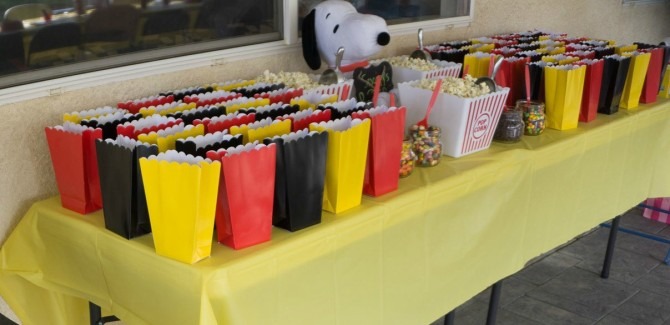 We kept the entertainment simple: I printed out Peanuts-themed coloring pages, and had them out on our tables along with jars of crayons. Since it was a nice day, we were able to make good use of my in-laws' gorgeous yard. We set out a bean-bag toss and badminton set, and scattered beach balls around the lawn; those were quite the hit with our younger guests! Midway through the party we played two rounds of trivia: the first was Peanuts-themed (using questions I found here) with Peanuts figurines as the prizes. Our second round of trivia was all based on our own Charlie, and the winners received Charleston Chews. These candies also made a debut at one of my baby showers a year ago, so I thought it was fun to incorporate them into the birthday party.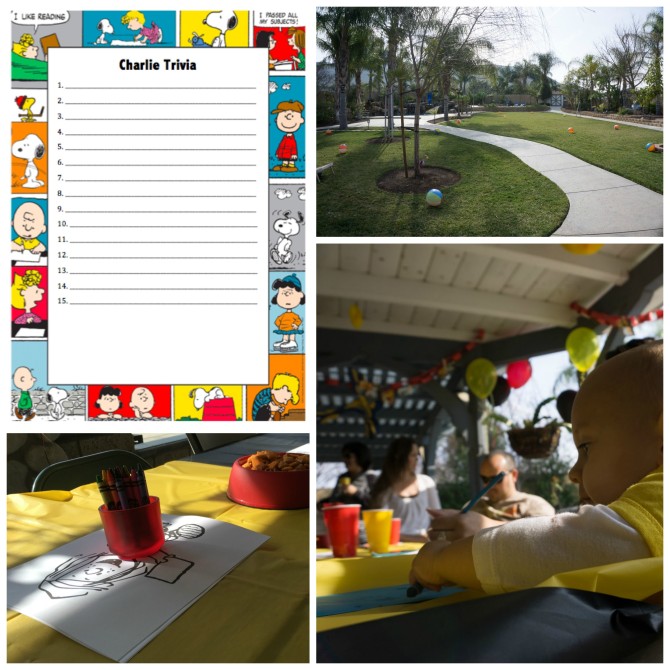 No birthday party would be complete without cake! Since I wanted Charlie's cake to be gluten free, I ordered it from a custom bakery. For the rest of the guests, we served cupcakes that I bought at State Bros, which we topped with cupcake rings I found online. Unfortunately the cupcakes got  a bit melty in the sun, but at least they still tasted good. We served ice cream along with the cupcakes, although it was getting chilly by cake time, so I probably could have nixed the ice cream.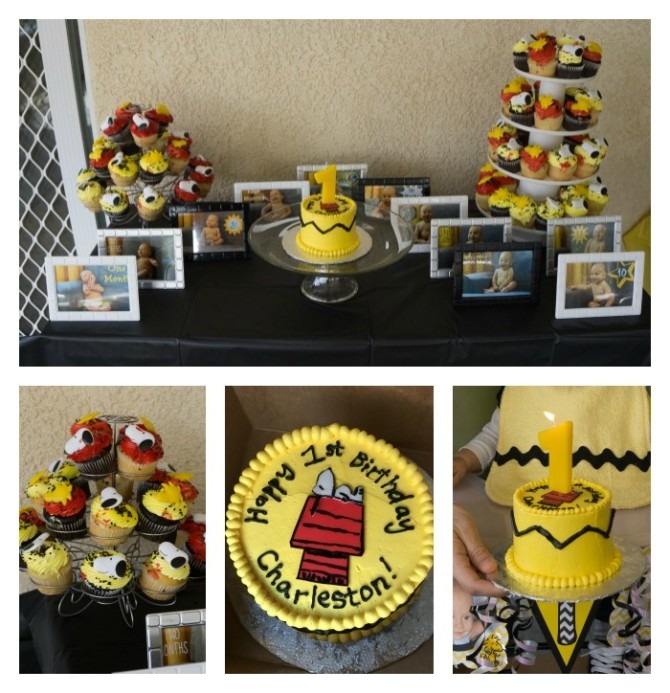 Charlie was, of course, adorable with his cake. He was totally cautious at first, but eventually we got the "smash" experience we were hoping for!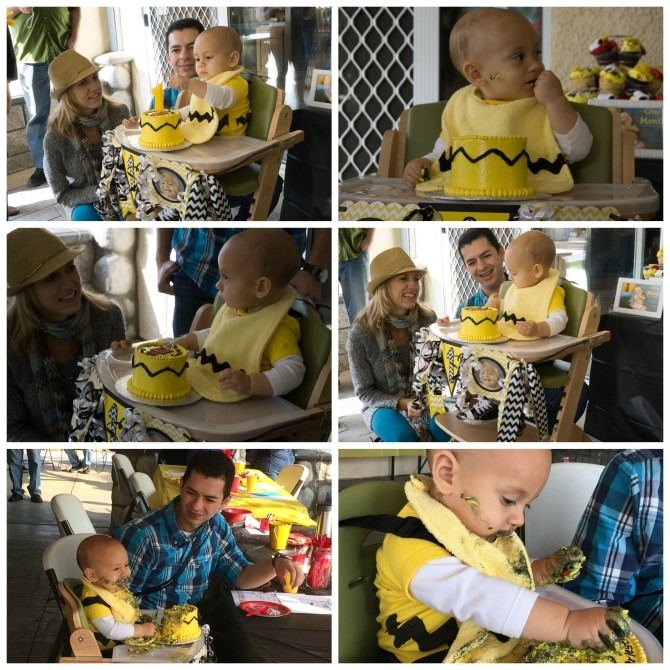 We sent our youngest party guests home with Charlie Brown-themed goody bags. I bought the containers at Party City and decorated them with Peanuts stickers purchased online. Inside each goody bag was an assortment of Charlie Brown candy (one of the few Peanuts items I found in the store!), Peanuts stickers, a Snoopy's doghouse notepad (taken from a package of Peanuts Valentine's cards), a few Peppermint Patty's, and a handful of Charleston Chews. I wanted to include Circus Peanuts candies, but couldn't find them in fun-sized packing.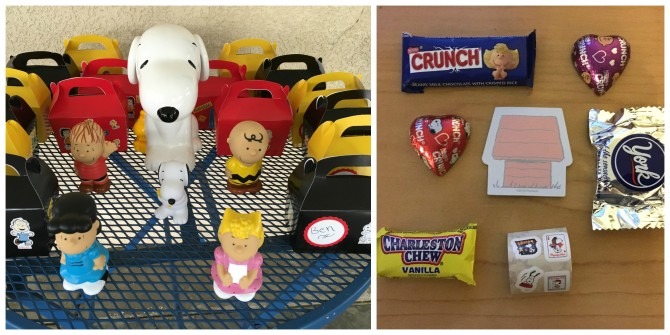 We thanked our guests for coming with some customized Thank You notes that I ordered through Walgreens. Of course we mailed them out with our personalized return address labels!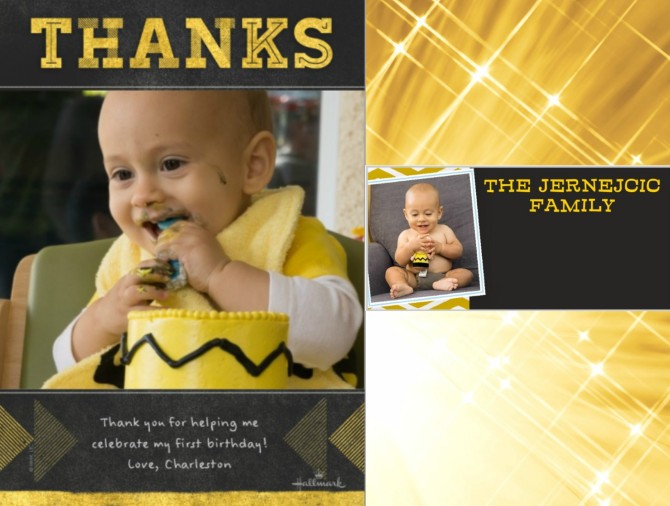 Despite my trepidation about this party, it came together beautifully, and I think it's safe to say that we had a First Birthday success. We felt so blessed and loved by those who joined us in celebrating our little man, and though Charlie will not remember his "epic" party, we will be able to tell him about it when he's older, and I'm glad that we created this memory for our family.