It's only been five weeks since my last "lately" post, but with all the activities that have taken place in the past month, it feels like ages since I've updated you all on what I've been into and up to lately. During those five weeks, our little family celebrated a wonderful Christmas, survived an onslaught of illness, toasted to seven years as a married couple, and commemorated Charlie's first birthday with an exciting Peanuts birthday party. In the midst of all the big events, there have been plenty of smaller pleasures too. Here are a few of the little things that have brought joy to my January.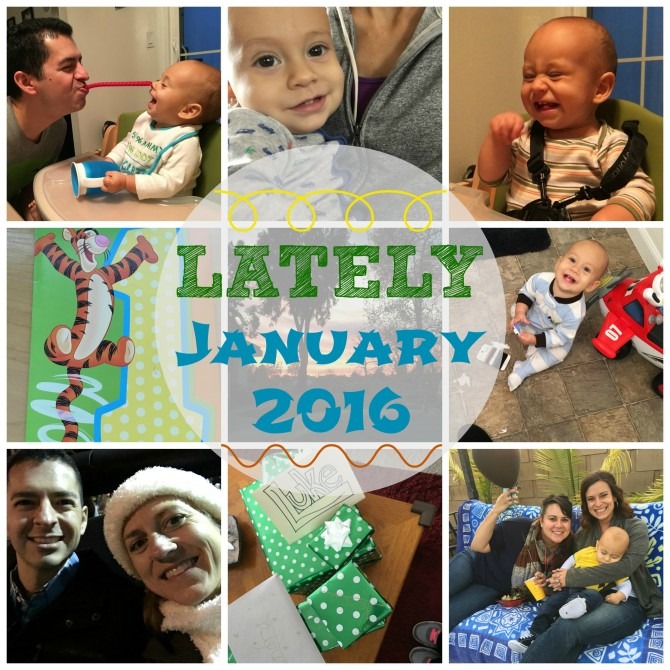 Reading Lately. . .
At the start of the month I read The Invention of Wings with my book club. This was my first introduction to Sue Monk Kidd and I enjoyed both the story and the writing style. Luke and I are finishing up Solve Your Child's Sleep Problems, which we plan to use as a guide in addressing some of Charlie's sleep issues. We are all dreading the sleep training process, but Dr. Ferber's guidelines are helping me to feel more comfortable with both the concept and the application. I also started reading Lara Casey's Make it Happen as the second book for my 2016 Reading Challenge. I expected to be inspired by this "book by someone I heard interviewed," but it is challenging me in ways I hadn't anticipated!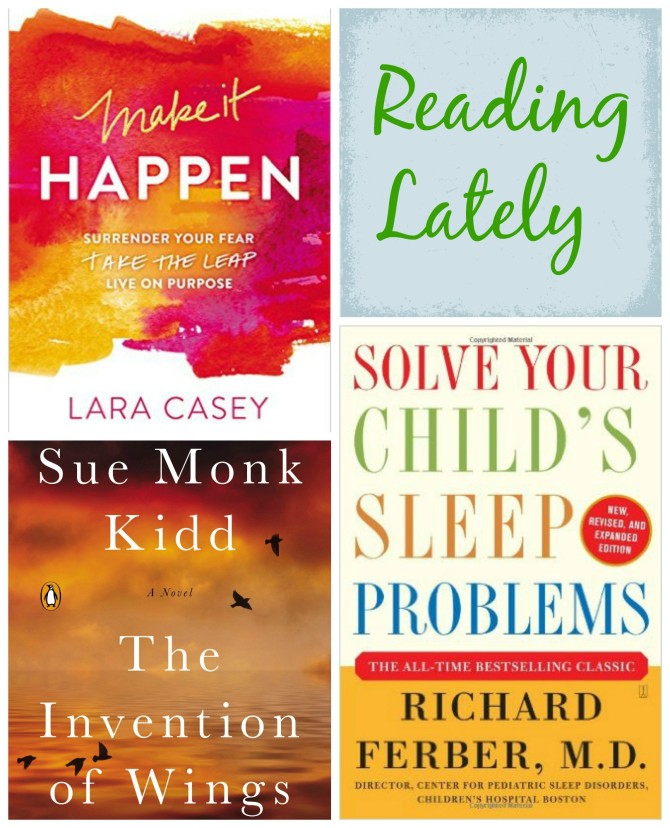 On the audiobook side of things, I listened to Eight Hundred Grapes, which I found entertaining, but not nearly deserving of all the rave reviews. I also listened to Big Magic, which partially inspired my impromptu post on pushing through perfectionism.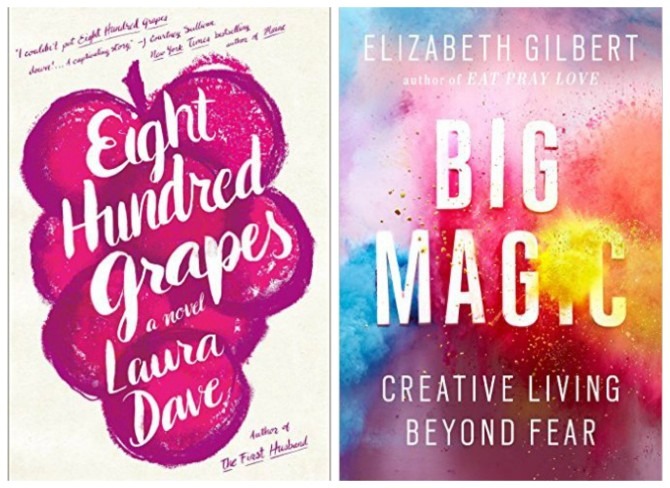 For the past couple of weeks, my listening hours have been dominated by Louise Penny's Three Pines series. I've listened to four more of these mysteries and I think it's safe to say that I'm utterly addicted. At this rate I'll be through all eleven books in the series before I know it. Any recommendations on another mystery series to satisfy my latest craving for this genre?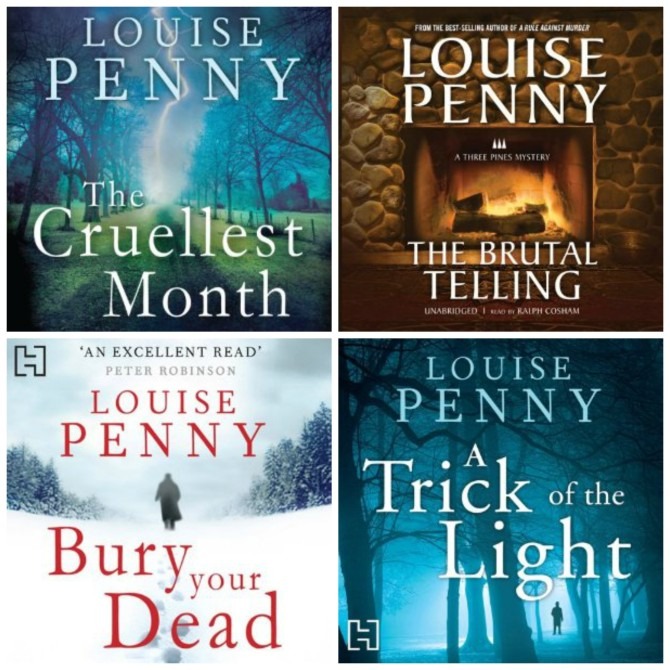 What I've Been Watching . . .
With Luke home from work—and all of us sick—the week after Christmas, we watched a bit more television than usual. We wrapped up one series and started a new one, and we managed to fit in THREE movies (which is more challenging than one would think with a one-year-old in the household!).
Jane the Virgin (Season 1): Much to our surprise, Luke and I both loved this telenovela-like show about a virgin who finds herself the victim of an accidental artificial insemination. Despite the absurd premise and over-the-top characters, the show is both hilarious and heartwarming, with a healthy dose of intrigue added to the saccharine love triangles. The season ended on quite a climatic note and I hate that we have to wait until next year for Season 2 to come to Netflix! My Rating: 4.5 stars.
New Girl (Season 4): While I loved the first season of this show, I've been disappointed to see the series grow progressively raunchier. Zooey Deschanel is still as cute as can be, and the season has had a few great one-liners, but these few high points don't compensate for the lackluster storylines, and I would have abandoned the show by now if Luke weren't so into it. My Rating: 2 stars.
Update: We finished the season, and the last few episodes were much funnier and less dominated by sex. I especially enjoyed the season finale (yay for Cece and Schmidt getting married!). So I'm changing my rating to 3 stars and am board with watching season 5!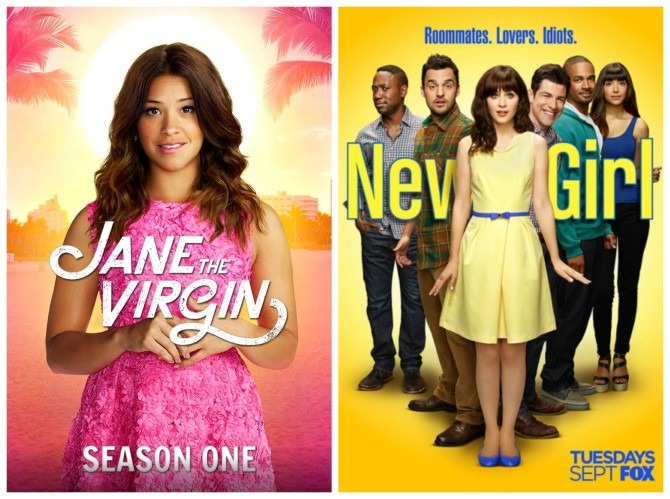 Inside Out: I'm a huge Pixar fan and was so excited to finally watch this movie that everyone has been raving about. Inside Out certainly did not disappoint. Once again the Pixar team created a brilliant film that appeals to a wide audience at so many levels. I loved the story, the layers of meaning, and the film's potential to help kids understand their emotions. (Gosh, it helped me come to a healthier understanding of MY emotions). With so much going on in this movie, I feel like I need to see it a few more times to fully appreciate its significance. I don't think this quite ranks as my favorite Pixar film, but it's pretty high on the list. My Rating: 5 stars.
Max: I was reluctant to rent this movie because I thought it was going to be a hard-core war movie (and I do NOT like war movies!), but Luke really wanted to see it, so it became our New Year's Eve entertainment. Max is the story of a war dog suffering from post traumatic stress following the battlefield death of his handler, Kyle Wincott. After returning home, Max is adopted by the Wincott family and forms a special bond with Kyle's teenage brother, Justin. Elements of the movie were pretty cheesy and the acting seemed forced, but I'm a sucker for a sweet animal story, and while this is no Marley and Me or Homeward Bound, it's still a very watchable film about a boy and his dog. My Rating: 3 stars.
Pan: I've been loving all the recent films inspired by Disney's animated classics, and I was intrigued by previews for this Peter Pan "prequel." I found the movie creative and quite visually appealing. Hugh Jackman is excellent in his portrayal of Blackbeard, and I was very impressed with young Levi Miller's depiction of Pan. The film is much more juvenile than I'd anticipated, and I would have preferred fewer action scenes in favor of deeper story development, but this is a fun, family-friendly movie and I'm glad we finally got around to seeing it. My Rating: 3.5 stars.

Latest Steps Toward Minimalism. . .
A Streamlined Handbag: For all my talk about moving towards a minimalist lifestyle, I have one (or more. . .) glaring flaw: I tend to carry a TON of stuff with me at all times. For years, I've been known for my giant purses with their capacity for carrying everything under the sun. When I requested a smaller crossbody purse for Christmas, I anticipated using it only on rare occasions when I would only "need" to carry a few essentials. However, Luke really came through in the gift department with a gorgeous bag, and the minute I opened it on Christmas morning, I knew I would do whatever possible to make it my primary bag. I drastically pared down the number of items I carry, even purchasing a new, smaller wallet that would actually fit in my new purse (I previously carried an enormous pocketbook). I'm three weeks in to my minimized purse-carrying, and I couldn't be happier. I'm feeling lighter and more stylish, and much to my surprise, I don't miss the extra "essentials" I had been toting around.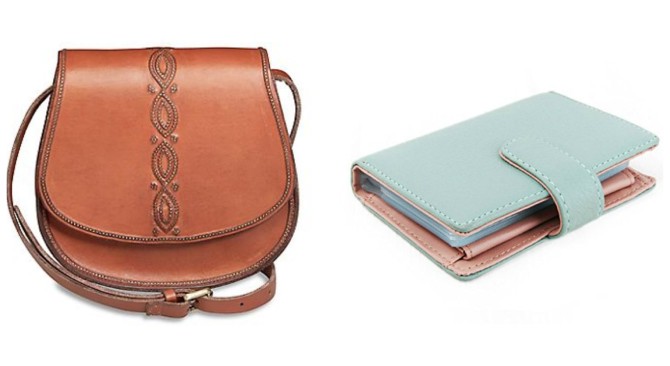 Fresh From My Oven. . .
Healthy Cookies: I'm constantly on the lookout for healthy finger foods for Charlie, and last week I made these banana oatmeal cookies from one of my favorite recipe blogs. I left out the nuts, bringing the recipe down to just two ingredients: oats (I used gluten free) and banana. Our whole family (Charlie included!) has been loving these, and I can't get over how easy they are to make. I've since made a second batch with a few tablespoons of creamy nut butter stirred in to the batter, and we like the nutty cookies even better.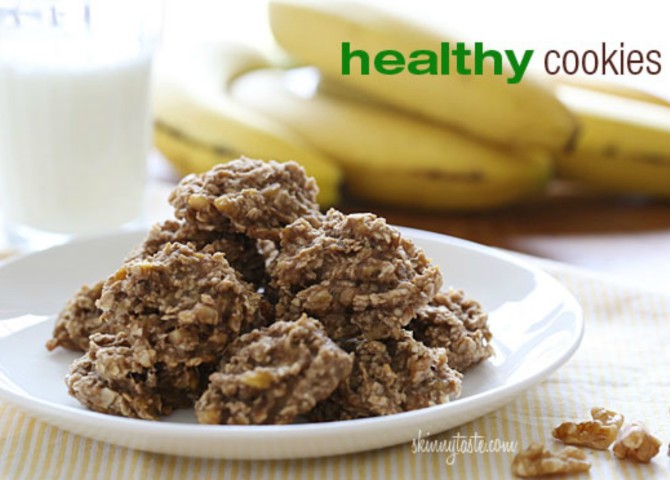 Website I'm Exploring. . .
ISideWith.com: With so many candidates and issues muddying the waters of the upcoming presidential election, I've been having a hard time settling on a candidate to support. This website features a comprehensive quiz on various political issues, matching up your answers to a candidate whose stance is most closely aligned to your values. The site also offers in-depth explanations of each candidate and his/her platform, as well as visitor polls and political articles on a wide range of issues and topics. Even if you are already backing a candidate, I'd recommend checking out this site for its wealth of information.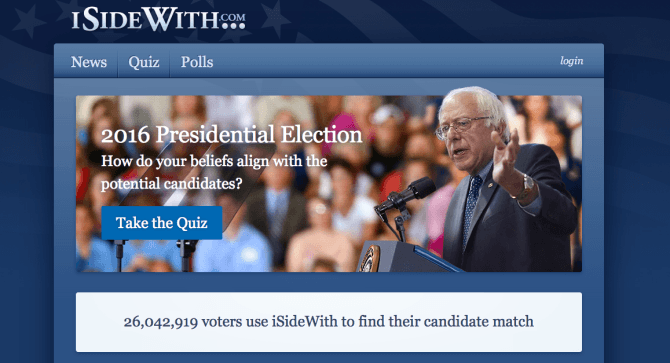 Favorite New Photo Discovery. . .
Chatbooks: I heard about this service on a podcast recently and couldn't wait to check it out. Chatbooks is a phone app and website that provides a quick and inexpensive way to create physical photo books using pictures from your phone and social media. You can create custom books, or have books automatically created based on your Facebook or Instagram photo stream. I ordered my first Chatbook (filled with pictures of Charlie, of course) as a birthday present for my grandmother. I am thrilled with both the service and the quality of the book, and can't wait to order some books for myself.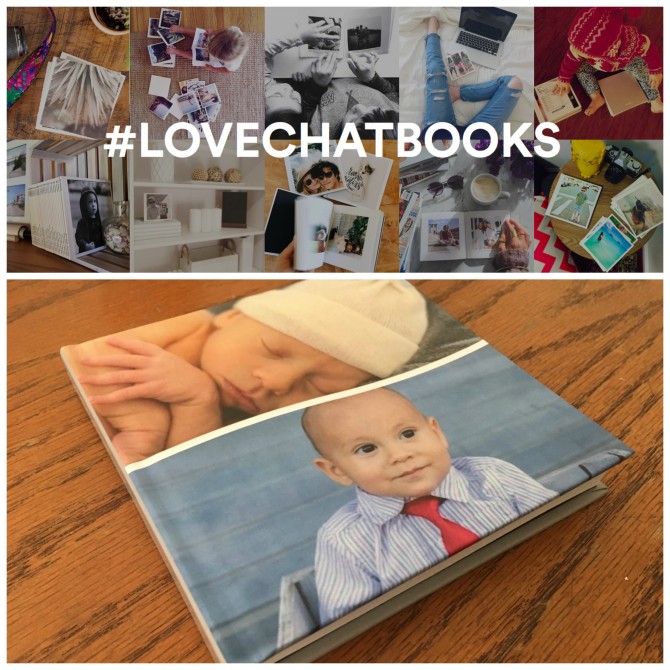 Birthday Books I'm Loving. . .
Personalized Birthday Book from I See Me!: Charlie received a lot of toys for Christmas, so we decided to take the book route for his first birthday present. I ordered a customized board book from I See Me!, and I can't get over how adorable it is! The book includes Charlie's name, picture, and even details about his birth date. The book was pricey, but I know it's something we will cherish for years to come.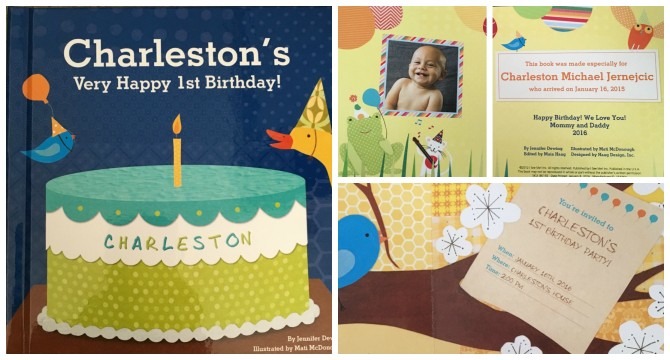 Dr. Seuss's Happy Birthday to You: I've seen this book before, but was super excited when Charlie received a special edition from Luke's cousin Beck. She filled out the custom pages with Charlie's personal details and brought the book to his party for guests to sign. It was a truly thoughtful gift, and yet another book that we will treasure.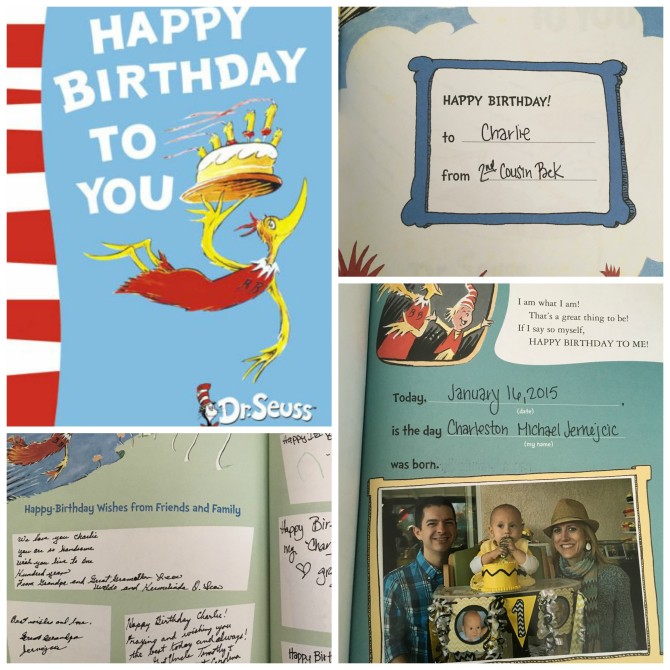 Simple Pleasures I'm Enjoying. . .
My Burlap Bag Candle: A friend from church has a daughter who owns a custom candle store in Austin, and for Christmas my friend gifted each of the ladies in our Bible study with one of her candles. I received the "Baked Bread" candle and it is truly one of the most amazingly scented candles I have ever owned. All of the candles sold at the Burlap Bag feature unique scents and zany names. I am looking forward to visiting the store—and picking up some more candles—when we are in Austin. (Fun Fact: In getting the links for this candle and for the banana cookies I wrote about above, I discovered that Gina's cookies were inspired by the recipe featured on The Burlap Bag website! What a crazy coincidence!)
Bluetooth Wireless Headset: This is another Christmas gift request that has exceeded my expectations. I love that I no longer get tangled up in a headphone cord when I'm listening to audiobooks and podcasts on the go. The only downside to this headset is the short battery life, but at just $18 I was able to justify buying myself a second headset so that I could have one charged at all times. Not exactly in line with minimalism, I know, but I've been happy with my decision.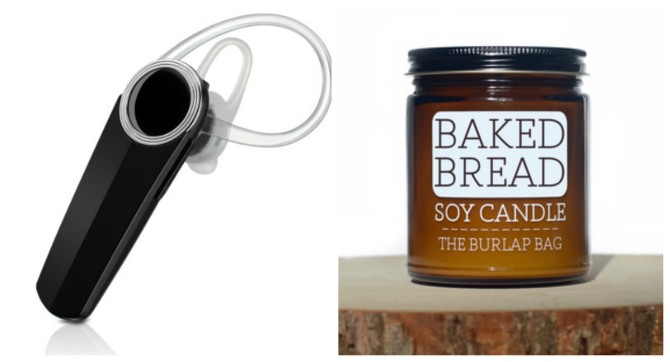 What I'm Appreciating. . .
I admit that I went through a bit of a grieving period just before Charlie turned a year old. This year has flown by much quicker than I would have liked, and it's not easy for me to see how fast my baby is growing. However, now that we've crossed the one-year mark, I've come to terms with no longer having a true "baby" and am fully appreciating Charlie for the older kid that he is now. Life with my one-year-old is much easier than with an infant, and he is cuter and funnier than ever. It's a continual effort for me to savor the moments AS they happen, not just in retrospect. I am so thankful for the wonderful first year we had together, and now I am enjoying this new stage for our family.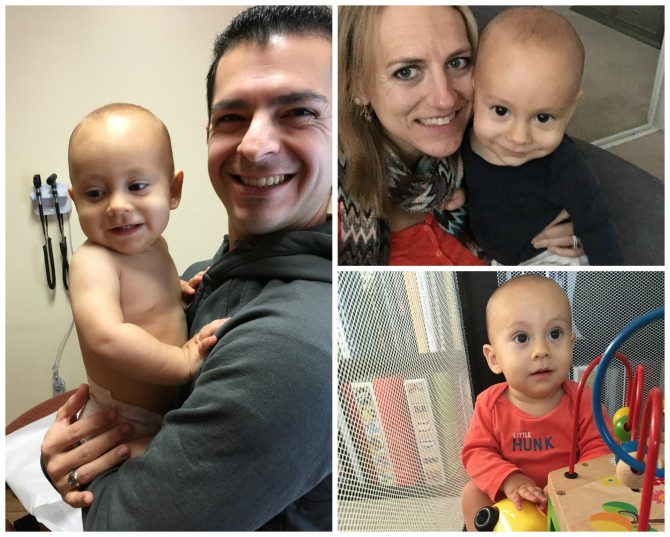 I'm linking up with Leigh Kramer to share what we are into this month. Head to her site to check out what others have been up to lately!