Well, here we are, at the very tail end of yet another year. 2016 has certainly been memorable: on a national and global level, the year brought unfathomable heartache and chaos, making it one that many would rather forget. For me personally, though, 2016 proved to be a wonderful year; it wasn't without its challenges, but as the year draws to a close, I feel so blessed by the experiences I've had and the ways that I've grown over the last twelve months.
The year flew by as years tend to do, but this one was filled with many adventures and moments that I hope never to forget. Settle in with a cozy blanket and a mug of cocoa as we take a reminiscing field trip through the highlights, memories, and personal favorites that defined my year in 2016.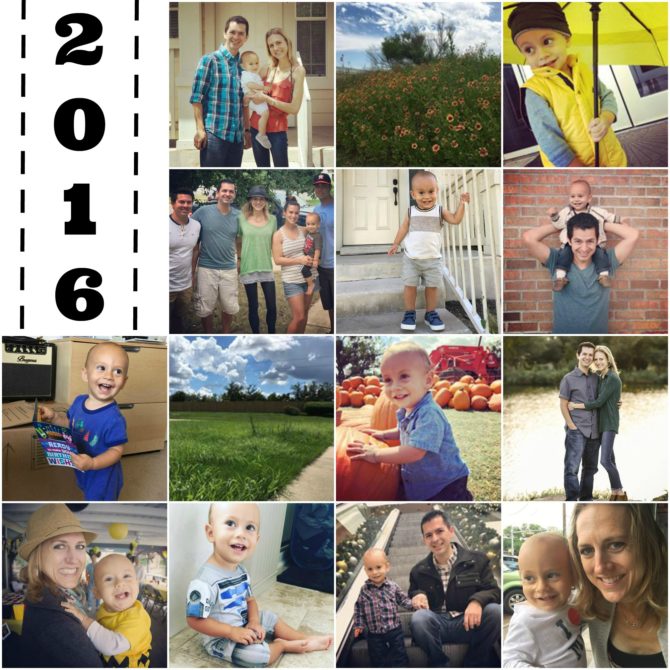 PERSONAL AND FAMILY HIGHLIGHTS:
We celebrated Charlie's first birthday with a big Charlie Brown party. I went a little over-the-top with the details, but I have zero regrets. I had fun putting the party together and we enjoyed celebrating our boy with all of our family and friends. It was great to have one final time with all of our people one last time before our move.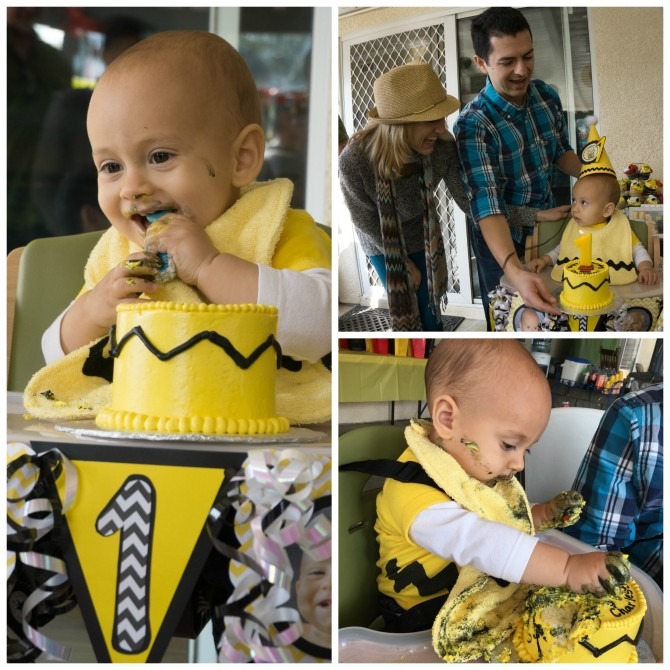 My parents treated us to breakfast at Goofy's Kitchen to celebrate our birthdays. Charlie was afraid of the characters, but it was still such a fun and memorable experience. It was our last time at Disney, and also our final pre-move activity with my parents, making it a day I will never forget.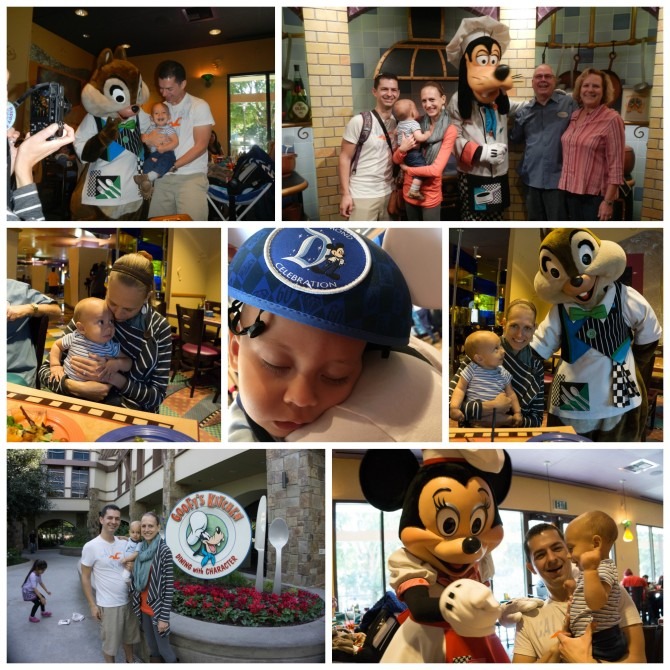 In February we flew out to Austin to find a place to live. Charlie went on his first plane ride, and he did great. That trip marked my very first visit to Texas, and it solidified our decision to move to Austin. During our week-long stay we explored our soon-to-be home, found a house to rent, and even made time for a day-trip to San Antonio for lunch on the River Walk.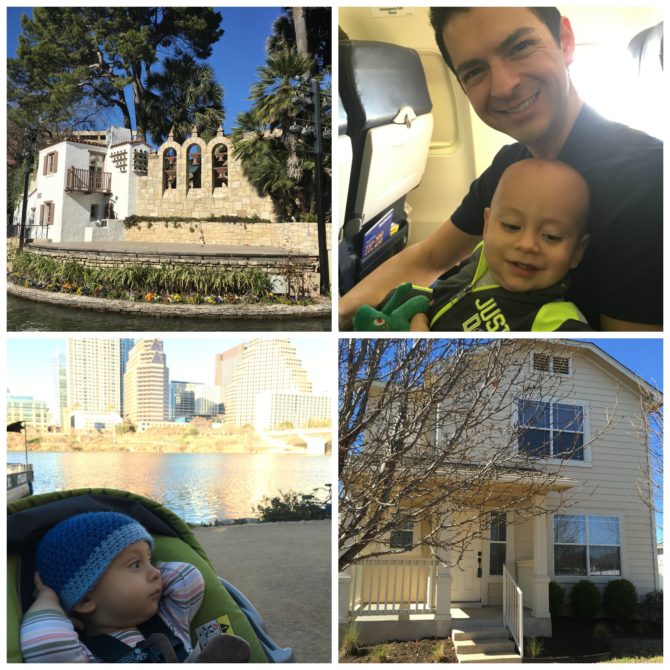 At the end of February we packed up our home in Yorba Linda, said goodbye to loved ones, and drove to our new home state. We lived in an empty house for nearly a month while we waited for our furniture to be shipped, but we eventually got unpacked and settled in. The drive and all of the details surrounding the move were pretty miserable, but it all proved to be worth it. This was truly the defining memory of our year.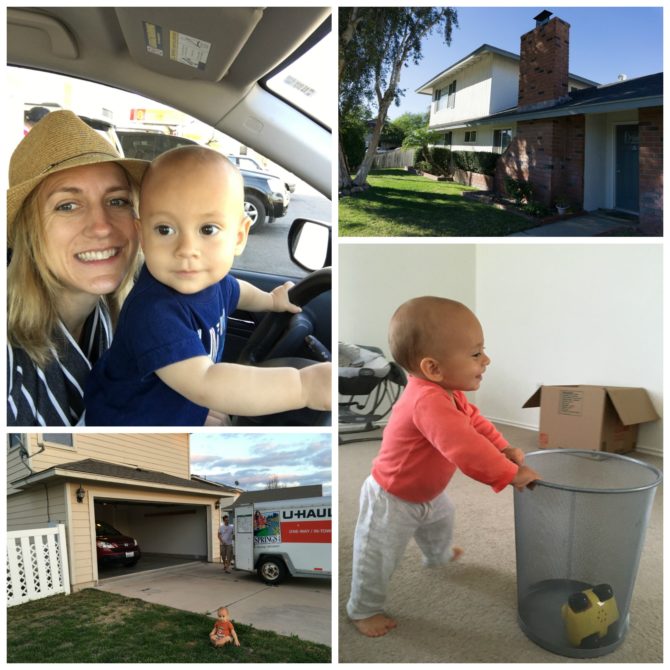 We (and seemingly the rest of the state) attended the Zilker Kite festival in March. It was our first big event in Austin and it even though it was insanely crowded, it was so festive and fun.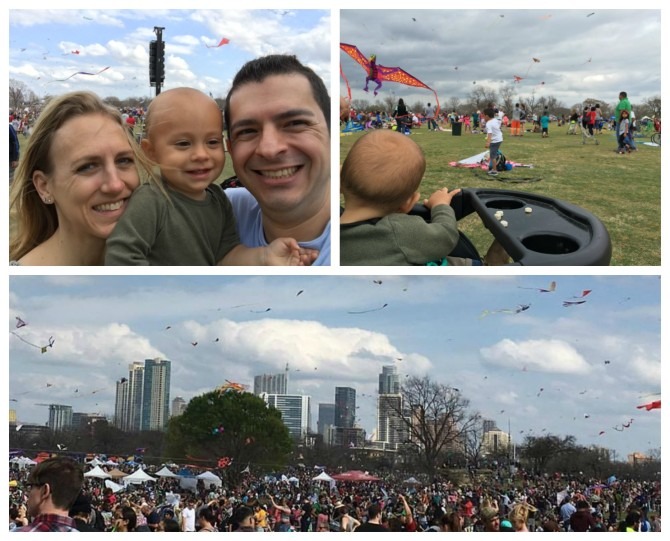 We celebrated Easter week with a trip to see the Easter Bunny, a community egg hunt, dying eggs, and a small egg hunt at home. This was the first holiday that Charlie was old enough to really get excited about, which made all of our usual traditions more special and distracted from the loneliness of our first big holiday away from extended family.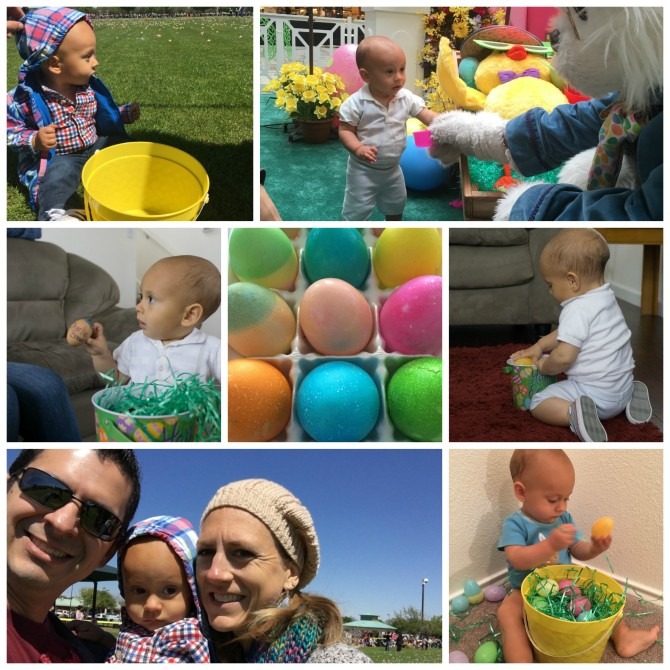 I was honored to be able to take part in my mom's 60th birthday celebration. My dad put together an awesome scavenger hunt honoring each decade and stage of her life, and though I couldn't be physically present for her big day, I'm glad I was able to participate through phone calls and FaceTime.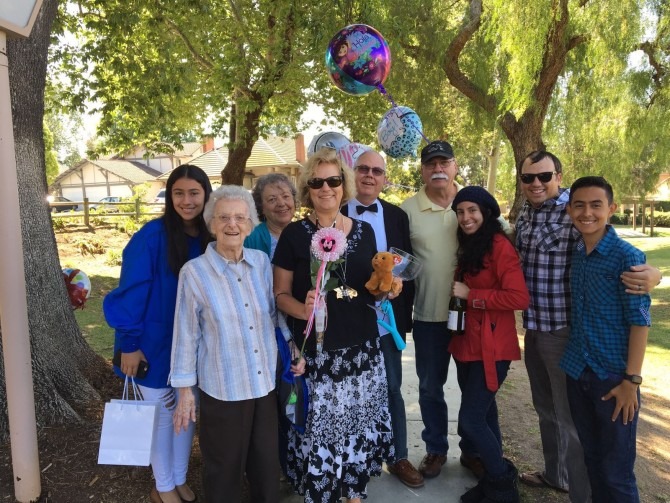 On Memorial Day we visited the Austin Zoo with Amanda and Steven. It's a small zoo, but it was the perfect size for Charlie, who was able to walk most of the zoo on his own. The animals were a big hit.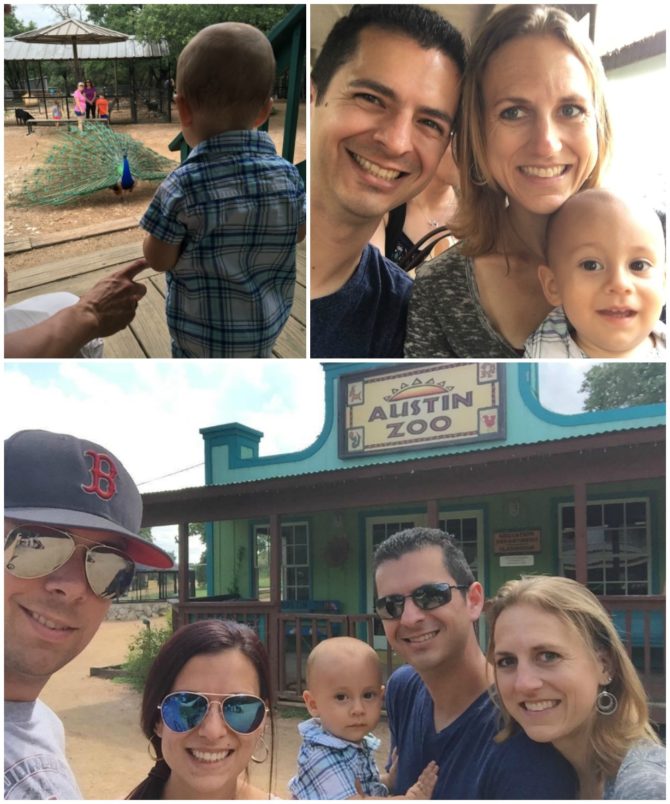 Throughout the year we made many weekend drives to downtown Austin to visit the Botanical Gardens, walk along Lady Bird Lake, ride the train at Zilker park, and eat at Wahoo's. We love this city and wish we lived even closer!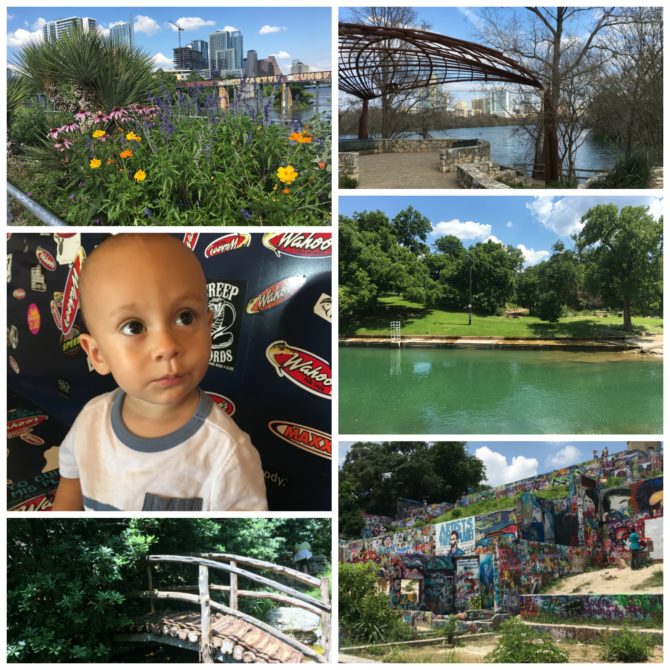 In June, my friend Cara came to visit us in Austin. While she was in town we took a day trip to Magnolia Market, explored some popular tourist attractions downtown, went to see the bats come out at Congress Bridge, and went dancing at a Country Western bar. Cara was our first guest in our new home and we were so blessed by her visit.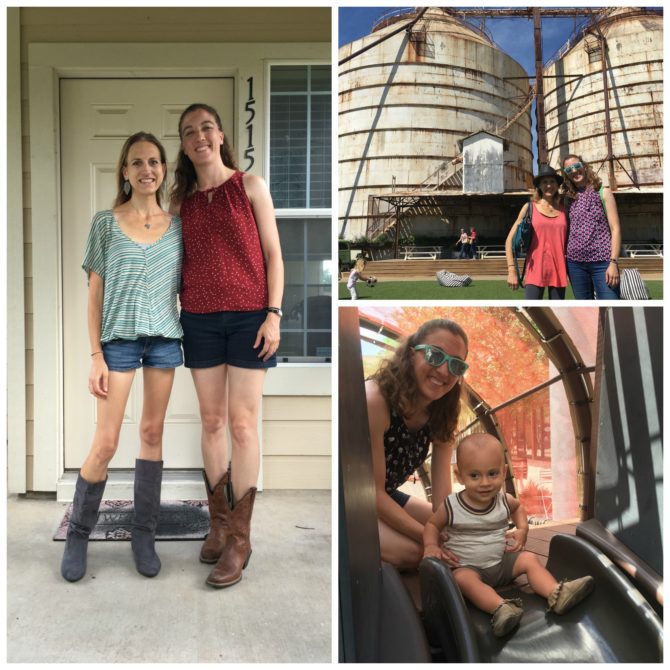 On 4th of July we attended a parade and festival in Cedar Park. We've found these home town celebrations to be less elaborate than their California counterparts, but I appreciate the community enthusiasm and small-town vibe.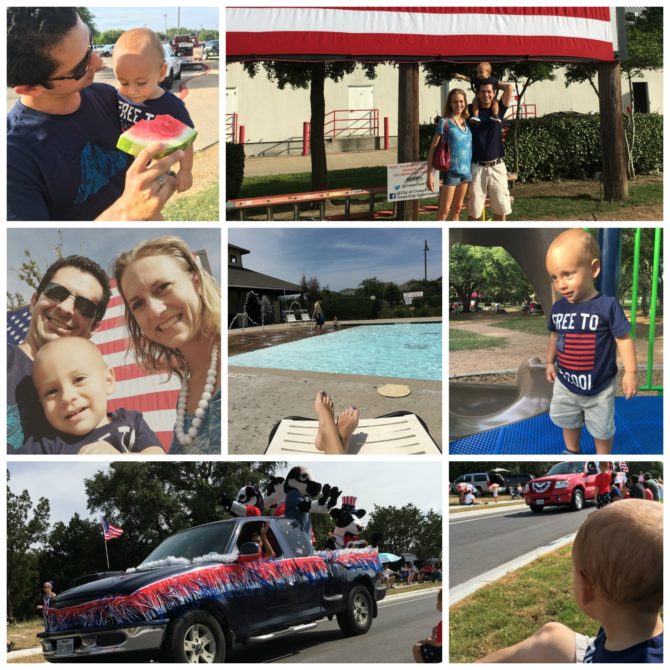 Charlie got to take his first swim lessons! He was a wonderful student, and Luke and I both got to participate which made it a fun family event.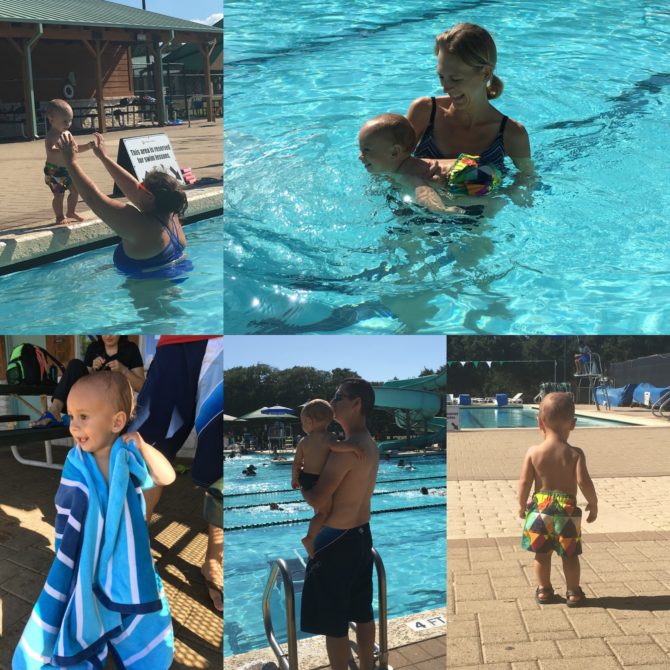 In August, Luke and I went on our very first (post-Charlie) All-Day-Date! We took a tour of the Austin Capitol and had lunch at an actual sit-down restaurant. I love Charlie with everything in me, but spending a whole, kid-free day with Luke was fantastic.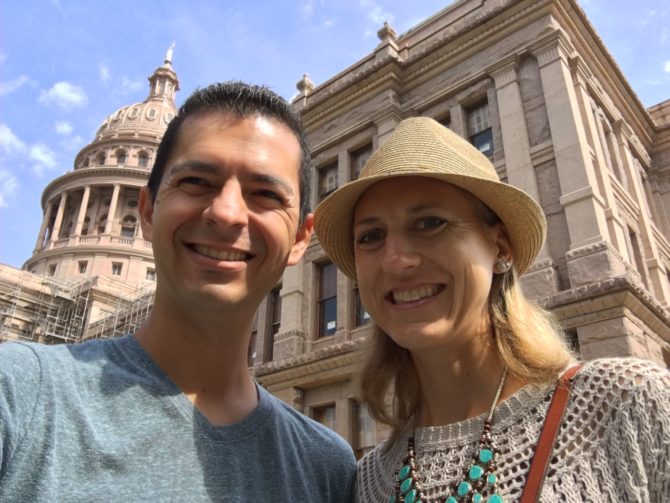 At the end of the summer we drove out to California to visit both sets of parents. It was wonderful to reunite with family and "reintroduce" them to Charlie, who had grown up so much in the six months we'd been away. I also got to say goodbye to the house I grew up in before my parents prepared to sell. It was bittersweet to be back on the west coast again after being away for so long, but ultimately it was a good trip.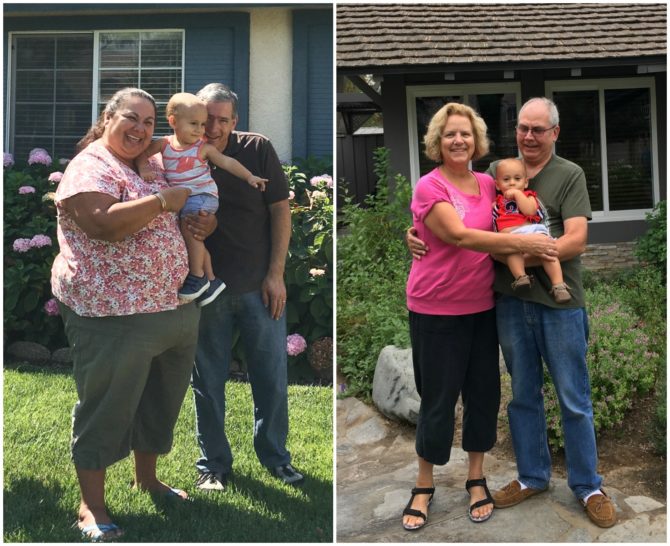 While we were in Orange County we took Charlie to the beach for the first time. He wasn't sure about the waves or the sand at first, but by the end of our quick visit he was a big fan.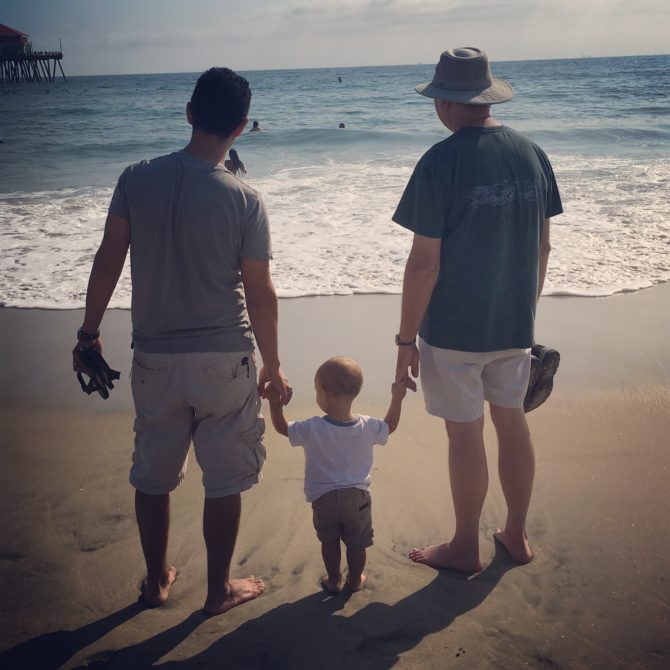 In October we spent a fun day at Sweet Berry Farm. We walked through a real corn maze, picked flowers from the fields, rode a few carnival rides, and spent the day feeling like true, country-living Texans.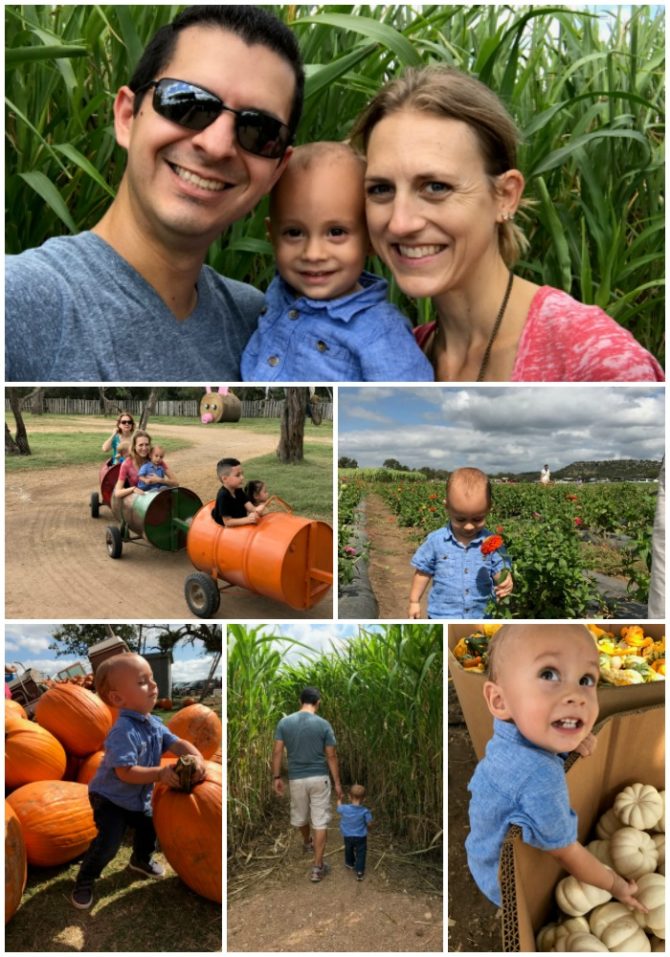 We celebrated Halloween with pumpkin carving, Trick-or-Treating at City Hall, and then Trick-or-Treating in our neighborhood. Charlie was cute-as-could-be in his pre-Halloween Tigger costume, and I was pretty proud of our little family's safari-themed matching costumes that we donned on Halloween night. We were all sick that weekend, but it was still a very memorable holiday.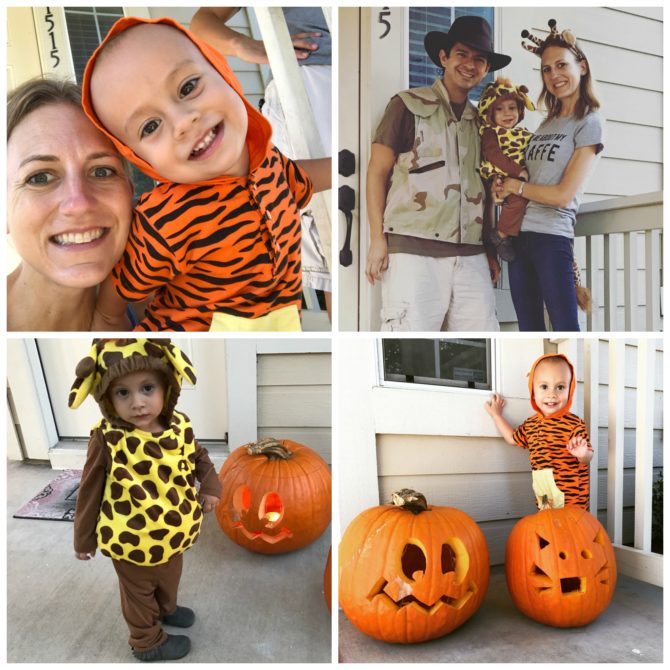 In November my friend Deanna came to visit and brought her daughter Kate. We had fun showing them around Austin and San Antonio, and Charlie was smitten with his little friend: two months later, and he still asks for Kate almost every day.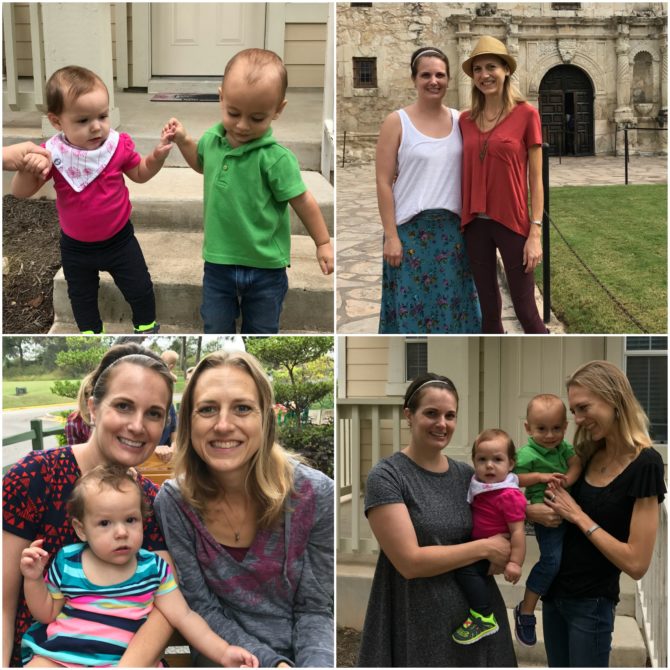 Everything about the Christmas season was a highlight: decorating our tree, attending holiday community events, and celebrating Advent traditions . . . . I've always loved this season, and Charlie's enthusiasm made this year my favorite Christmas yet.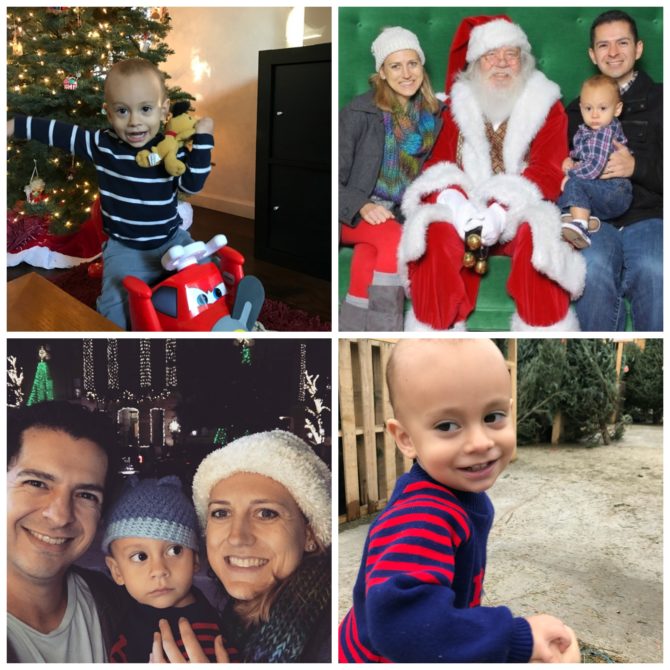 Christmas itself was a great way to end the year: we went to a Christmas Eve service, set out cookies and milk for Santa on Christmas Eve (Charlie had to taste-test the cookies), and had a fun jammies-all-day kind of day on Christmas. It was magical to experience Christmas through Charlie's eyes and to see his excitement as he opened his presents Christmas morning.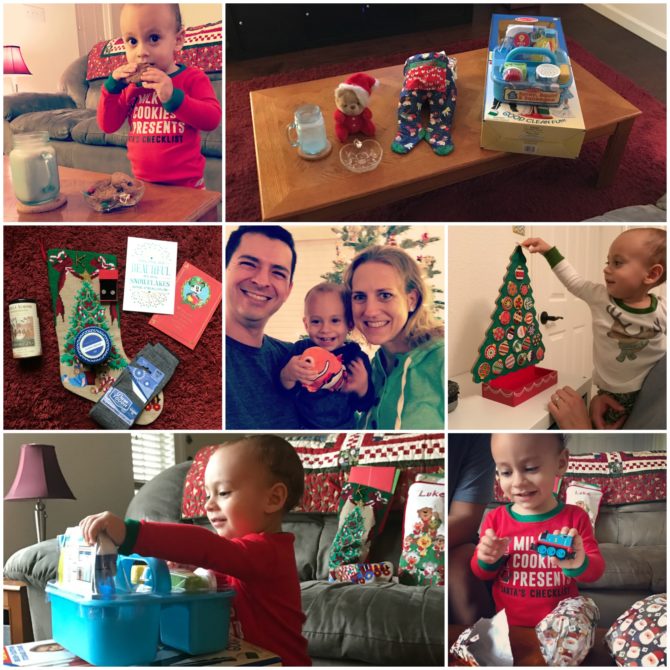 As I type this up, we are driving back to California for Rounds Two and Three of Christmas with Luke's parents and then mine. We are looking forward to seeing our families and I know the visit will be the cherry on top of a wonderful year.
QUOTIDIAN MEMORIES:
It's fun too look back at those bigger experiences, but really, it's the day-to-day happenings that I want to remember most. These mundane moments seem insignificant at the time, but "how we spend our days is how we spend our lives," and a life worth living is one worth savoring and treasuring. Some everyday highlights this year included: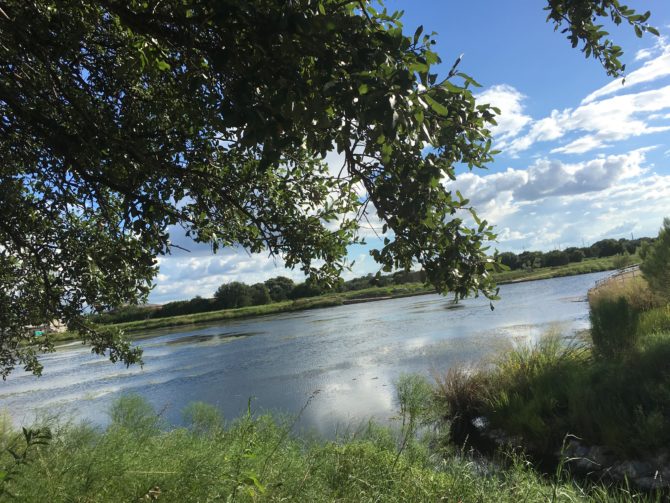 Long walks through our neighborhood, to the playground, and around our community lake.
Story time at the Cedar Park library, followed by play time in the kids' section.
Visiting as many local parks as we could find.
Weekend drives through Hill Country, taking in the natural beauty of our new home.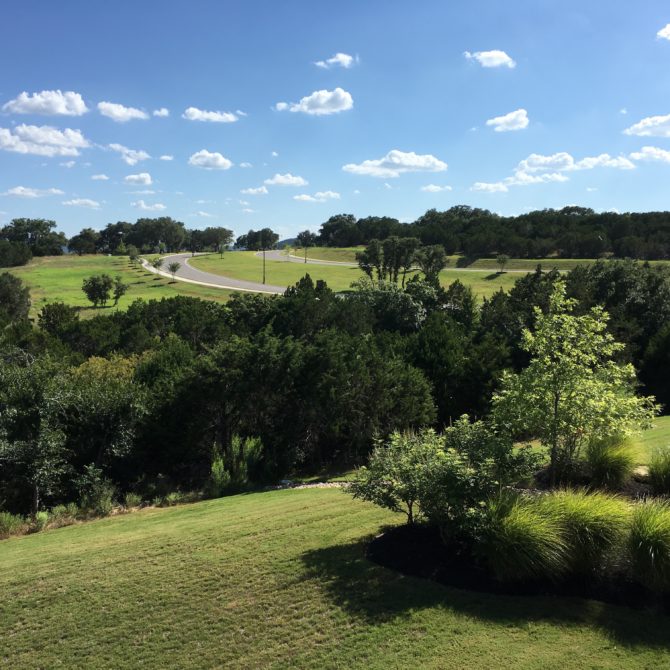 Finding a home church (after trying many!) that we love, attending and serving in the nursery each Sunday, and participating in a Monday night community group with other couples from church.
Attending a weekly women's Bible study and getting to know the women in my small group.
Play dates with other moms and their kids. I love that Charlie is finally old enough to enjoy these (and that we finally found friends here to do them with).
Weekly dinners with Amanda. She was the only person we knew when we moved here, and we are incredibly thankful to have her nearby.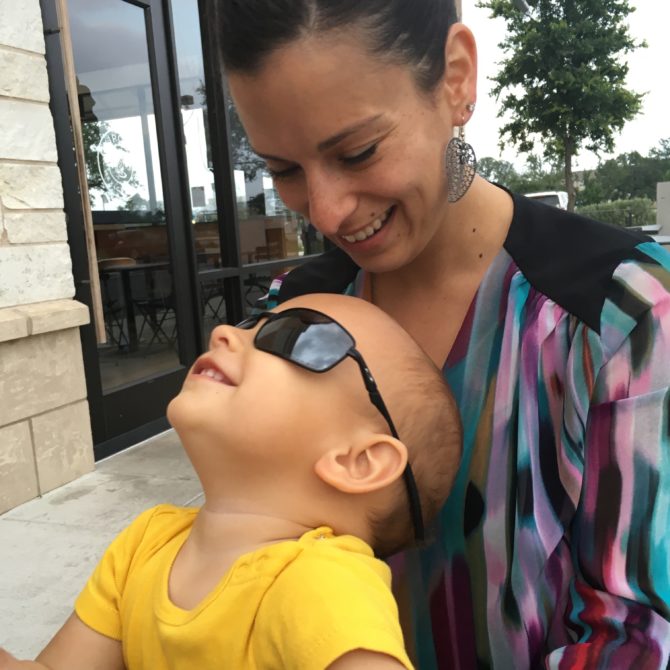 Sitting at the desk in our loft/play room blogging, while Charlie runs around the room or sits on my lap nursing.
Daily workouts at our community rec center. They have free child care, and Charlie adores the babysitters and the time with the other kids. And I love getting a little time to myself! We end each trip to the gym with an elevator joy ride and playing in the statue garden our front
Daily lunches as a family—the very best perk of Luke working from home.
Watching Charlie grow up: this year he morphed from a baby into a toddler. He learned how to walk and then how to talk, and he captured my heart again and again. Being his mom, and getting to do life with him by my side, outshines every other highlight of the year.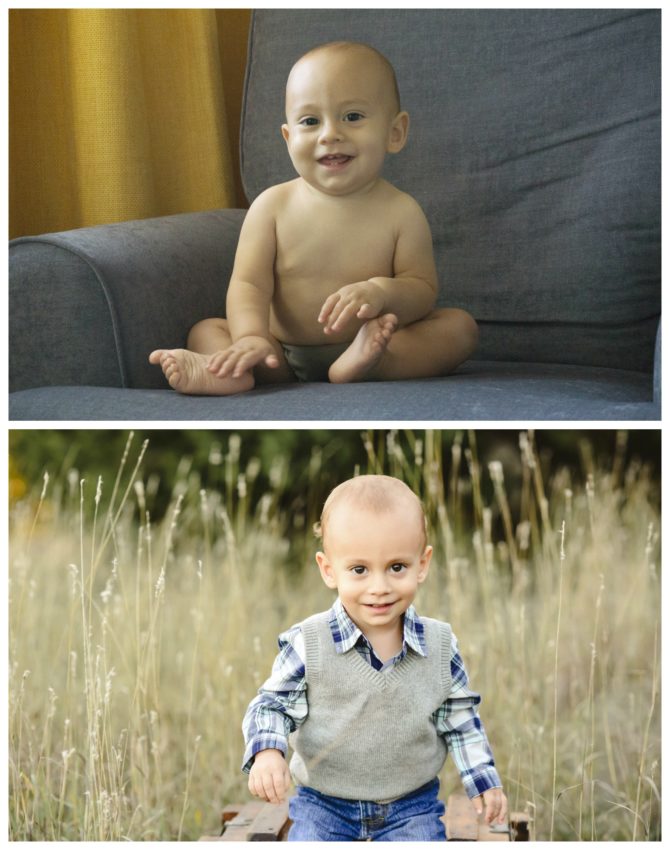 A FEW FAVORITES:
Trying to pick general favorites for some of these categories would be next to impossible, so I've kept my top picks to just those shows, foods, blogs, etc., that were brand new to me this year.
Favorite New-to-Me Blogs
It seems like blogs are closing left and right, but there are still some great ones out there. I continued to follow all my old favorites and added a few new ones to my daily feed.
One Little Momma // This is primarily a fashion blog, and I love Kilee's style, but I keep reading because of her positive but realistic reflections on her life as a small business owner and mom to four boys.
The Lazy Genius // Kendra's tagline is: "Be a genius about the things that matter and lazy about the things that don't," and her blog contains a great mix of fun/frivolous posts and more serious, thought-provoking content.
Design Mom // I enjoy Gabby's casual tone and the intriguing topics that she brings up for discussion with her audience. My favorite posts are the weekly home tours from guest mom bloggers. I learned just last week that Joanna Gaines was discovered on this blog!
Austin Moms Blog // Inspiring and relatable thoughts from fellow Austin moms. Some posts are specific to Austin (these have become my go-to source for fun things to do in our area), but most of the content centers around mothering issues faced by all moms, regardless of location.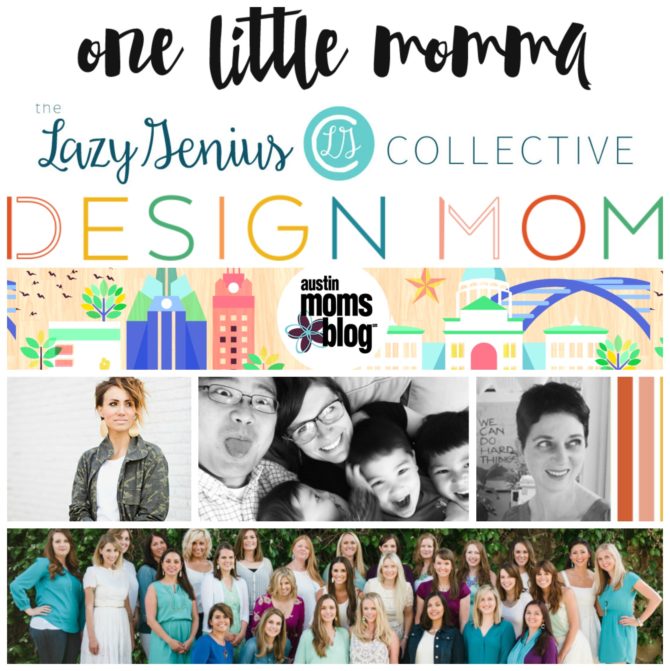 Favorite Podcast Discoveries
This just might have been The Year of the Podcast. I've been a podcast enthusiast for nearly a decade, but the number of shows being produced seems to have exploded in the past several months. These are just six of the fantastic new shows I added to my queue this year.
Food Psych // Show host (and Registered Dietitian) Christy Harrison has made me aware of the unhealthy diet mentality that is so prevalent in our society. This show has transformed my thoughts regarding the Health at Every Size movement and helped me come to a better understanding of what is truly healthy. (I'm still waiting for my actions to come into alignment with my beliefs on this, but that's a topic for another post . . . .)
Harry Potter and the Sacred Text // This show taps into my loves of Harry Potter, literary analysis, and spiritual exploration. The premise is a bit strange, but the show itself is great. (I shared more here.)
The Happy Hour // Jamie Ivey is an excellent host, and her interviews with other Christian women are inspiring and relevant.
What Should I Read Next // Fun book discussions and recommendations from my favorite book blogger. This show has blown up my TBR list! (More thoughts here.)
The Perfect Wife // I was first introduced to Jessie through the podcast she does with her husband (another favorite!). In this new show, Jessie interviews fellow Christian wives about their marriage challenges and success. The conversations have inspired me to strive for greatness in my own marriage.
Pantsuit Politics // I often don't agree with either of the cohosts, but appreciate their nuanced approach to politics. This is the only political show I will listen to, and it has kept me informed about our country's political climate both before and since the election. (I shared more just last month.)

Favorite Treat
Afternoon walks to Chick-fil-A for an ice cream cone and a Diet Dr. Pepper. It's hard to believe I'd never been to Chick-fil-A before this year. Their ice cream is even better than McDonald's (which is hard to beat!) and the service is superb.
Favorite Food Finds
Pickled Hearts of Palm // I buy the two-packs of large jars at Costco and eat the spears straight from the jar; I seriously can't get enough.
Toasted Coconut Vanilla Dannon Light & Fit Greek Yogurt // Probably the best Greek yogurt I've ever tasted! I eat a container of this at almost every meal.
Favorite Restaurant
VERTS Mediterranean Grill // I'm obsessed with their falafel salad and sweet potato fries! I'm at our local VERTS so often that I'm on a first-name basis with all of the employees.

Favorite Purchases
Holiday Gift Wrap Organizer // After many frustrating years of wrangling loose ribbon, gift bags, and rolls of wrapping paper, I finally have a system of keeping it all together. My only regret is that it took me so long to buy this.
Nest Thermostat // I was hesitant in agreeing to this purchase, but Luke convinced me it was a good investment, and I'm glad that he did; I particularly love having the ability to adjust our thermostat from our phones (this comes in really handy when I don't want to get out of bed to turn up the heat when I wake up cold in the middle of the night!).
Favorite Gift
Heart Necklace // I am in love with the heart necklace that Charleston (Luke) gave me for Mother's Day. It has his name engraved on one side and a map of his birthplace on the other—such a special piece of jewelry to remind me of my greatest treasure.
Favorite Clothing Item
LuLaRoe Leggings // I live in leggings year-round and I'm so excited to have found such a comfy brand. The adorable patterns are an added bonus.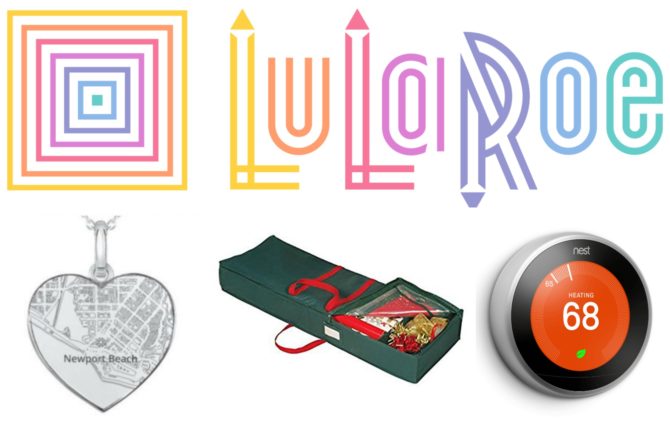 Favorite Books
On Wednesday I shared my twenty favorite books of the year, but these four are the best of the best:
The Storied Life of A.J. Fikry by Gabrielle Zevin (Review)
Rules of Civility by Amor Towles (Review)
A Gentleman in Moscow by Amor Towles (Review)
On Writing Well by William Zinsser (Review)
Favorite Television Shows
Parks and Recreation // We'd watched the first six seasons prior to this year, but in 2016 we watched the series from start to finish. Season seven was my least favorite season, but I still love the show. This is one of the few shows that literally makes me laugh out loud, and Leslie Knope is one of my favorite characters in television history. (Read more here.)
Downton Abbey // I loved everything about this show, from the costumes and cinematography to the intriguing characters and engrossing plotlines. (I gushed more about this show here.)
Favorite Movie
The Age of Adaline // Wonderful acting and a heartwarming story with an intriguing premise. (Full review here.)
Favorite New Phone App
Duolingo: This has been a fun and effective way to help me brush up on my rusty Spanish skills.
Favorite Album
Hamilton Soundtrack: I caught Hamilton fever along with the rest of the nation. I will probably never get to see the show, but I've fallen hard for the music!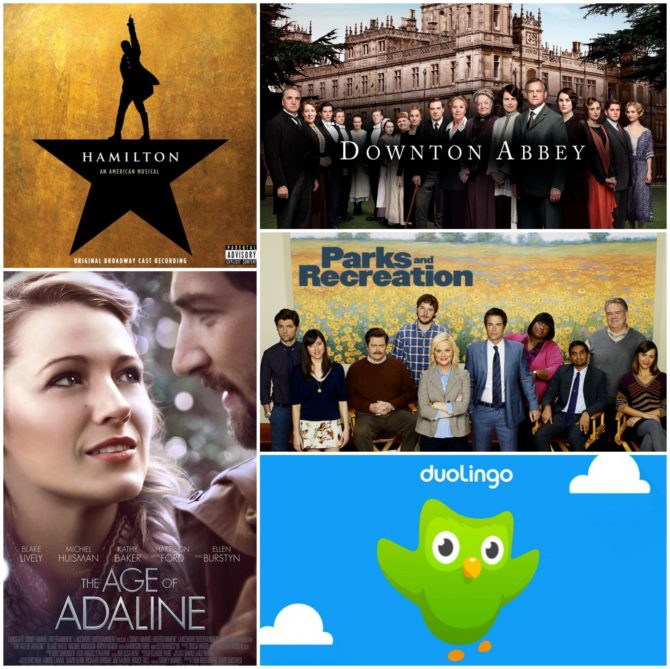 BEST OF THE BLOG:
The blog celebrated its third birthday this past August, and I'm on track to publish my 500th post by March. That's a lot of writing! This year I doubled my readership and increased my weekly content from three posts to four. I wish that I had more time to dedicate to this space, but for the most part I've been happy with the quality and variety of my content. Of course, there is huge room for improvement, and I have some exciting ideas for changes and updates in the coming year. But for now, let's focus on the blog highlights from this year.
Most Popular Series
Thanks to a monthly link-up, my Quick Lit Reading Round-Ups receive the most traffic and are usually my most commented-on posts. I love sharing reviews of the books I read and am so glad that these posts resonate with readers.
Most-Visited Posts
All of the most popular posts in 2016 were actually written prior to this year!
Crunch Gym Business Review // It's ironic that this post receives so much traffic, since I don't work out at this gym any longer (though I would if we still lived in California!). I'm almost embarrassed to link to this because it's one of my earliest posts and the formatting and graphics are terrible; let's just consider it a reminder of how far I've come.
Wall Mount Jewelry Organize Product Review // This is another super old (poorly formatted) post, but I stand by the review. The organizer came with us to Texas and continues to meet all of my jewelry storage needs. It can still be purchased on Amazon, if you're looking for a place to store all the beautiful jewelry you received this Christmas!
Journaling 101: How Writing Each Day Has Improved My Life, and How You Can Start a Journaling Habit of Your Own // Deciding to keep a daily journal is one of the decisions I've ever made. If you're looking to start a journaling practice of your own in the new year and are eager for tips, this post is a great place to start.
Best Feedback
Killing the Butterfly // Many readers resonated with the idea of relinquishing overzealous idealism to pursue an even better reality.
Saying Goodbye // Writing about my miscarriage was personally very healing, and I was humbled and touched by the feedback I received from readers who have had similar experiences.
Most Helpful
How to Read More Books: My Nine Best Tips // I wrote this in response to my most frequently asked question ("how do you read so much?").
5 Start Points for Becoming an Idea Machine // If you're looking to take up the practice of writing 10 ideas each day, these five themes will help get you started.
Most Transparent
Perfectionism Strikes Again: Messy Toddlers, the Enneagram, and a Trip to Costco That Sent Me Into the Arms of God // The title of this one explains it all.
Living With Anxiety: A Mother's Perspective // How my lifelong battle with anxiety plays into my role as a mother.
#momlife // Vulnerable thoughts on parenthood as I celebrated my second Mother's Day as a mom.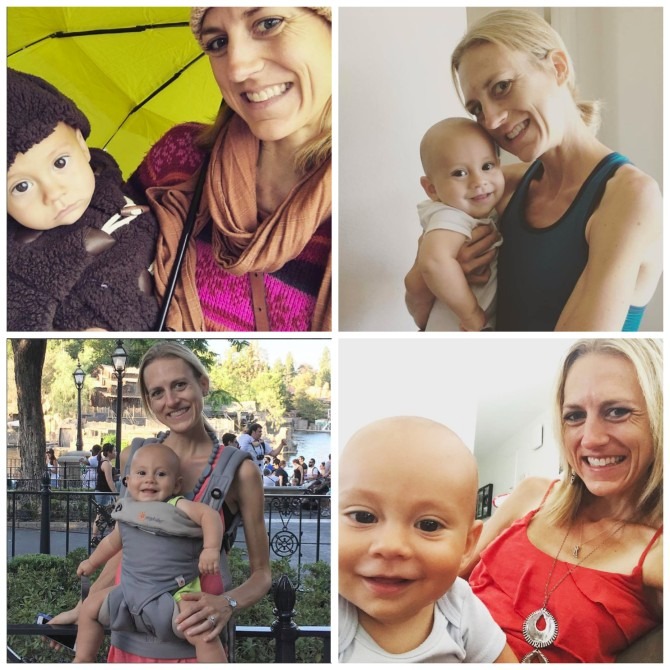 Most Introspective
The Big Magic of Little Things // My quest to conquer perfectionism in the name of creativity.
The Soul-Tending Practice of Tackling Chores // My "aha moment" about a form of self care that is easy to overlook.
Longing for Home // What being homesick for California has taught me about my personal faith journey.
My Personal Favorites
All of my What I Learned Posts (particularly this one) // These posts are my absolute favorite to write, and preparing for them has gotten me in the habit of keeping a running record of the things I am learning throughout the month; this reflection has done wonders for my mind and my mood!
Mother Knows Best and Lessons from the School of Dad // Tributes to each of my parents on Mother's Day and Father's Day.
Why I Blog // An explanation and analysis of why I've chosen to continue blogging in an age when the personal blog is a dying medium.
Sweet 16 // A (now-nostalgic) look at sixteen of Charlie's favorite things on his 16-month birthday (which seems so long ago already!).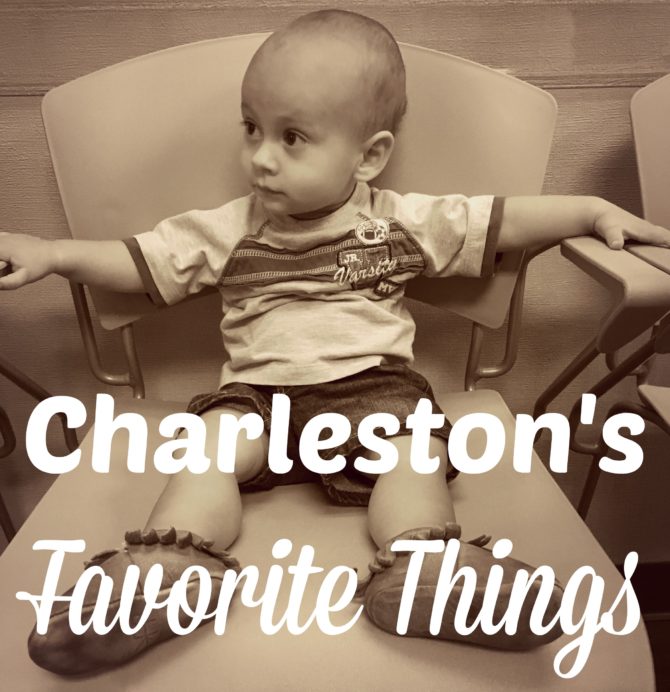 And that's a wrap! Thank you so much for joining me in this walk down memory lane as I reflected back on my momentous year. I'm looking forward to bringing you along with me for my adventures in the year to come!
Save
Save
Save
Save
Save
Save
Save
Save
Save
Save
Save
Save
Save
Save
Save
Save
Save
Save
Save
Save
Save
Save
Save
Save
Save
Save
Save
Save
Save
Save
Save
Save
Save