Inspired by a segment on one of my favorite podcasts, my friend Cara and I recently took up the practice of giving a daily "Gold Star" to a person, item, daily event, or other general highlight. These Gold Stars are purely metaphorical, and we generally don't talk about them with anyone else, but the simple act of acknowledging something good—and then sharing it with a friend—has been a lot of fun, and a great way for the two of us to stay connected despite our geographical distance.
Taking our cue from Gretchen and Elizabeth, we have also been giving daily Demerits. These go to negative events, poorly behaving individuals (though we try not to be gossipy), and—in my case, at least—to ourselves for our own regrettable actions. The aim in giving a Demerit is partially to vent, but also to acknowledge areas that could use some improvement and then hold each other accountable to making necessary changes.
You don't need to hear about our Demerits, but I thought it would be fun to share some of my recent Gold Stars! Here's a look at four of my particularly noteworthy Gold Stars from the past few weeks.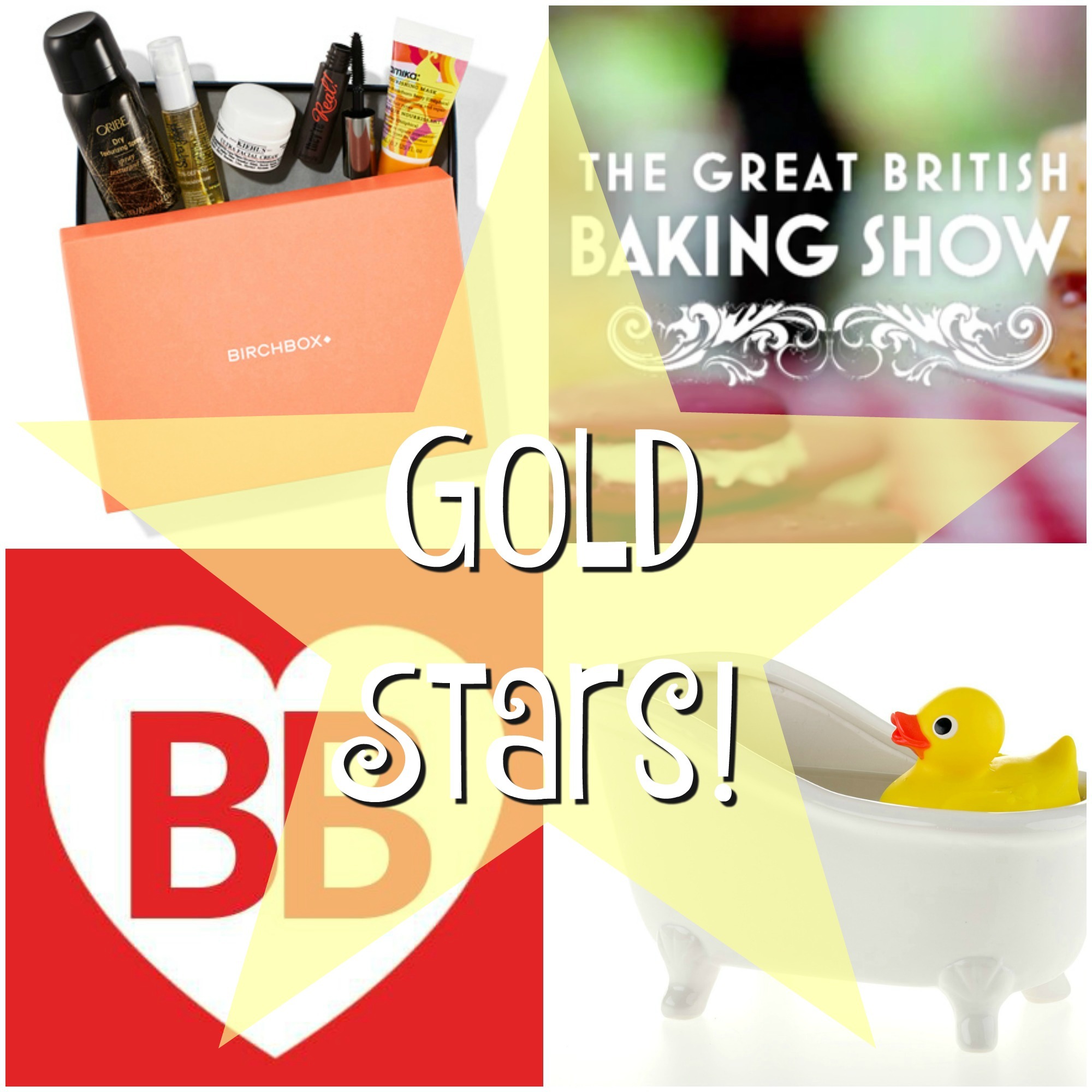 I'd heard good things about Birch Box and even wrote about the subscription service in a past gift guide, but I'm not particularly into makeup or other cosmetics, so I'd never considered it for myself. Then Cara (yep, my texting buddy!) gifted me a subscription for my birthday . . . and I'm loving it! I've now received three monthly boxes, each filled with five sample-sized beauty items such as hair masks, face cream, perfume, or lipgloss. The items in the boxes have been customized for me, based on the preference form I filled out online when I redeemed my subscription.
Not all of the items have been wins for me, but I've found a couple of items I really love. (I especially enjoyed this heavenly fragrance and this face mask, which left my skin feeling insanely smooth.) It turns out that a gift like this is perfect for a cosmetics klutz like me, because it's pushing me outside of my drugstore beauty routine comfort zone and introducing me to items I would never have tried on my own.
The Birch Box website has proven to be a gem, too. Each box comes with a card detailing the items that were included and how it can be used, but if you lose the card (like I did), the info is all on the website. The Birch Box site also features customer reviews of all of the sample products, and if you find something you like, you are able to purchase the full size.
The photo below is a stock photo from the site because their photography is way better than anything I could capture myself, but the boxes really are that cute, and each month's design is different. Another fun touch is the unique complimentary titles on the address labels: my box this month came to "The Faithful Kendra Jernejcic." Well played, Birch Box!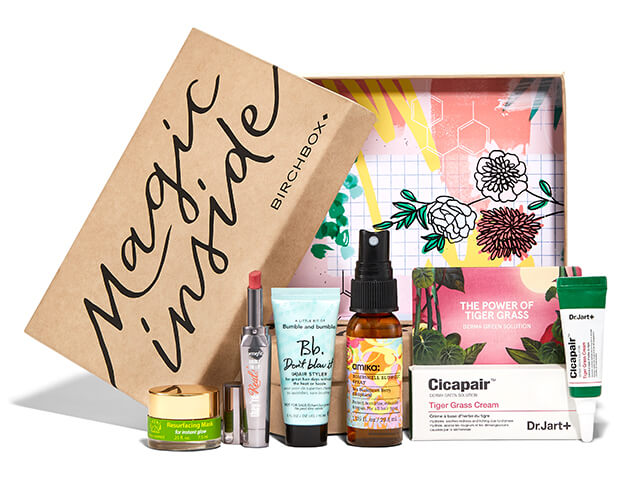 ---
I'm no stranger to daily emails featuring heavily discounted eBooks (I wrote about a few favorites here). Reading books in digital form (especially on your phone) is my number one tip for anyone looking to up their book count, and eBook bargain round-ups are a great way to keep your digital bookshelf fully stocked when the library holds aren't pulling through.
Book Bub is my newest and favorite discovery for scoring great deals on eBooks. Not only do these daily emails offer more suggestions for discounted books than similar services, but the books that BookBub recommends are more likely to be titles I will actually enjoy. When you sign up for the free service, you fill out a fairly thorough questionnaire about your genre preferences so that you are only alerted of deals on books that are to your personal reading taste.
Once your account is set up, you can browse the site for all of the latest deals, not just those specific to your particular preferences, but I generally just rely on the personalized email to alert me of books I will want to buy. And the deals are great! Most of my recommended books have been under $3 and many have been free!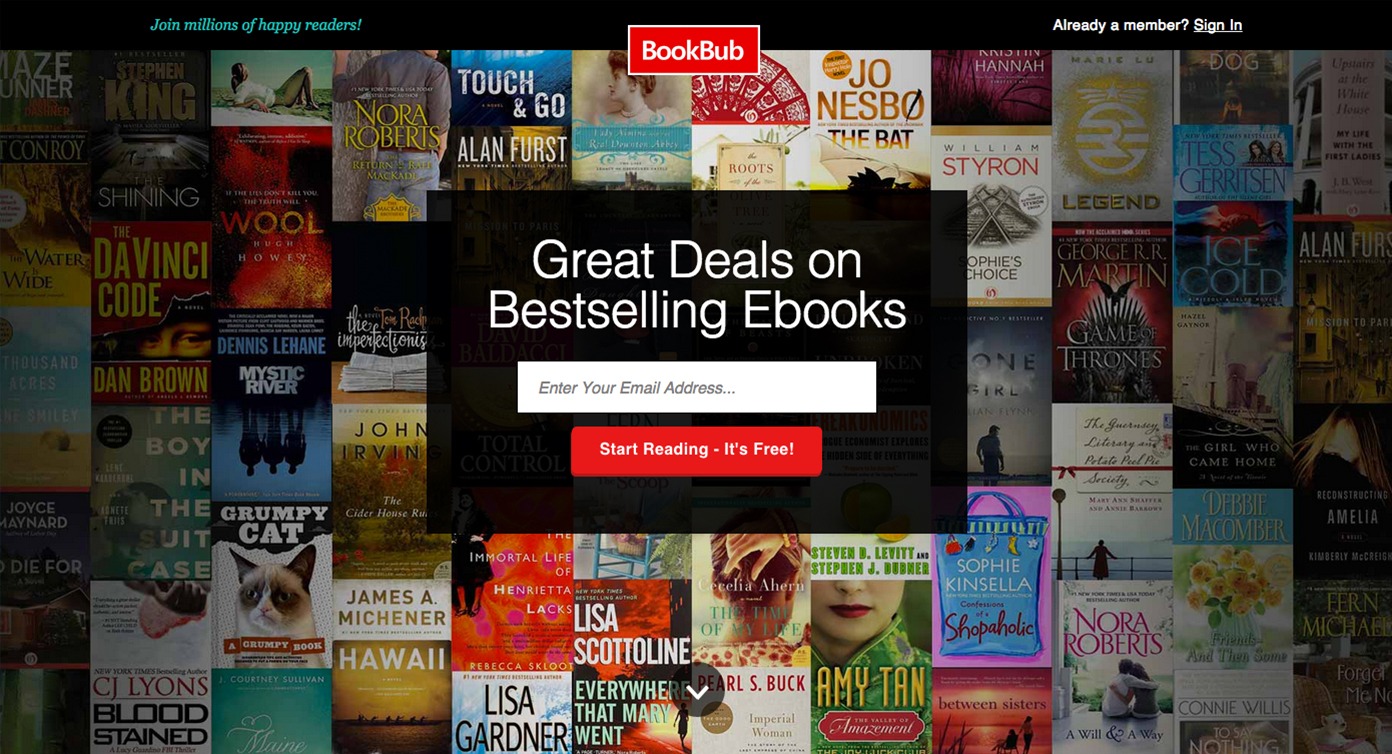 ---
Bubble Baths
Not for me, for Charleston. (I personally hate baths.) I wasn't going to include this in my list until I realized my other three Gold Stars all began with B so I figured, why not toss this one in too!
A little back story: Charlie had been refusing to take a bath since last December, when we had an unfortunate and slightly terrifying incident involving some inadvertent poop action during bathtime. Ever since that traumatizing December night, my poor boy has burst into tears and run screaming from the tub every time we merely turned on the faucet. Don't worry, he hasn't gone unbathed all that time—we've just had to resort to showers to keep him clean. Until last week . . . .
My friend Salisa sent me a video of her son in the tub, practicing his rather impressive breath-holding skills. Seeing me smile at the video, Charleston of course wanted to watch it too. He loved seeing his friend in the bath tub, and for the rest of the day he insisted that he wanted to "take a bubble bath like Bennett." I was skeptical that this enthusiasm would last once he was faced with an actual bath tub, but sure enough, when evening rolled around he was still eager to face his fears and go for a dip in the tub. The entire bathtime remained tear-free and we actually had to bribe him to get him out of the tub. And since that day, he has decided he is once again a friend of the tub.
Luke usually takes care of bathtime and other evening routines, and over the last few months he discovered that showering with Charlie was a lot easier than giving him a bath, so Luke isn't overly thrilled with our son's rediscovered love. But I'm very happy that he has overcome his fears—and thankful to Salisa for sending me that video. Three cheers for the power of positive peer pressure!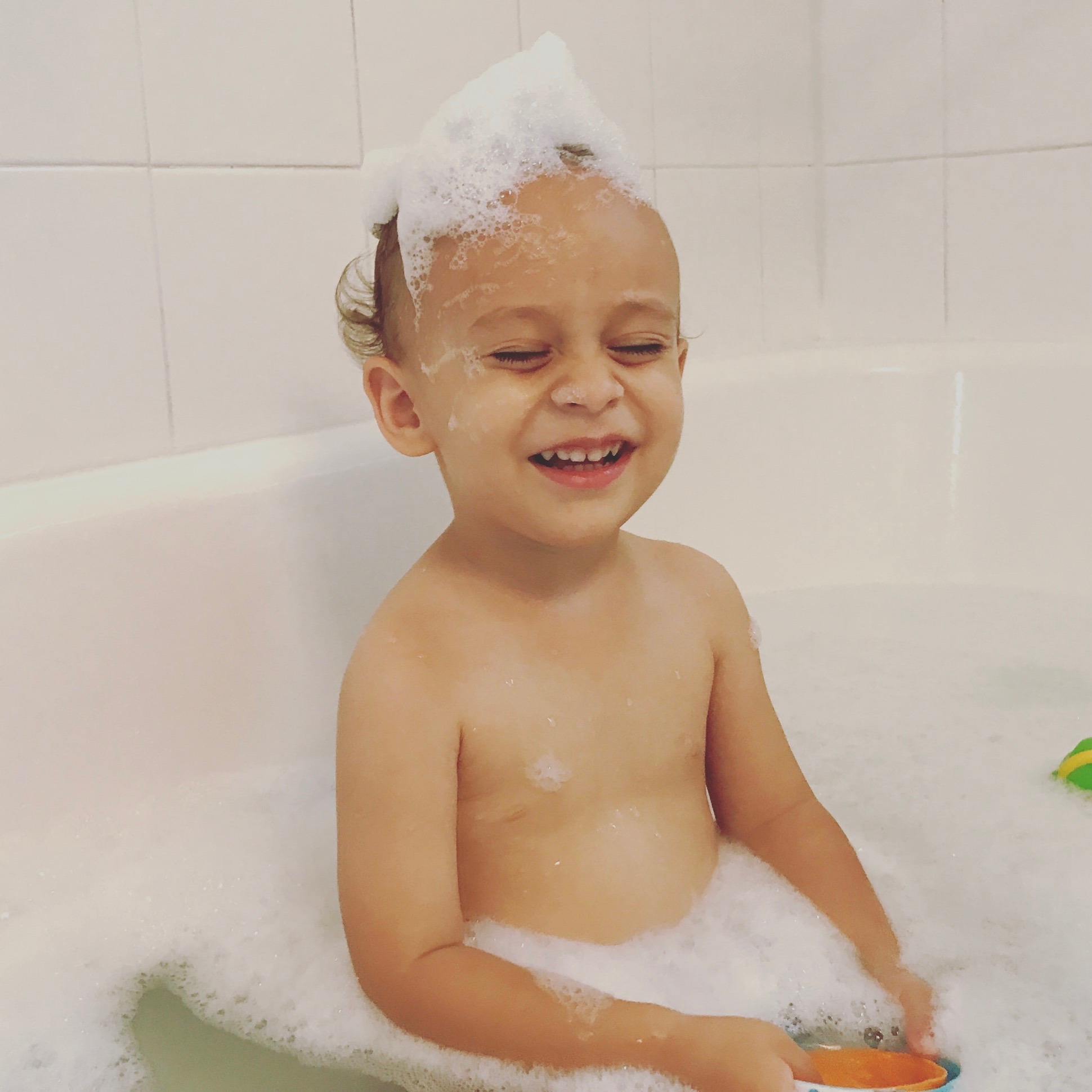 ---
I've saved my favorite Gold Star for last! Are you familiar with this show? I'd heard lots of people talking about it and didn't totally understand the hype; after all, reality competitions and cooking shows are a dime a dozen these days. Despite my skepticism, I decided to give the show a shot and was immediately smitten.
There is so much to love about this show (which is known as The Great British Bake Off in England). First of all, the setting: it's filmed in the English countryside, and the scenery shots between segments are absolutely stunning. Then there's the whole British aspect of the show: from the accents to the dry, punny humor of the hosts, to the impeccable manners, it's all so genteel and utterly delightful. Watching it makes me feel as though I've just sat down to tea with a few old chums.
I love the contestants themselves (at least, those in the season I've watched so far). They are a diverse group, and they each bring a unique personality and set of skills to the competition. They are an unpretentious lot, committed to their craft, but never taking themselves too seriously. Not every baking challenge is a success, and I admire the contestants' willingness to laugh at themselves, learn from their mistakes, and move on. (I could learn a thing or ten from their attitudes!)
I think my favorite aspect of the show is how positive it is. American competitions are generally pretty cutthroat, but TGBBS is quite the opposite. The contestants all seem genuinely happy just to have the chance at participating: they aren't upset when they lose, they are friendly and supportive of the other contestants, and seem genuinely happy for the other competitors when they succeed. Even the judges are kind, offering gentle but constructive criticism that is received with humor and grace.
We can't talk about this show without mentioning the baking. The level of talent and inventiveness among these amateur bakers boggles my mind; their culinary creations are truly masterpieces, and just seeing them on the screen is a feast for my eyes. I'm not a great baker, but watching the show has inspired me to spend some more time getting creative in the kitchen.
I almost never watch television apart from the half hour(ish) that Luke and I watch together each night while we eat dinner. Luke isn't interested in watching this show, so it's a testament to how much I'm loving it that I've been carving out time in my day to watch it by myself. A bonus is that I can watch a few minutes at a time (usually via the Netflix app on my phone) without losing any continuity, as I would with a sitcom or drama.
If you haven't given The Great British Baking Show a watch yet, I simply insist upon it. And if you're already a fan, check out The Lazy Genius's fun list of life lessons from The Great British Baking Show as well as this post with some fun behind-the-scenes facts about the show.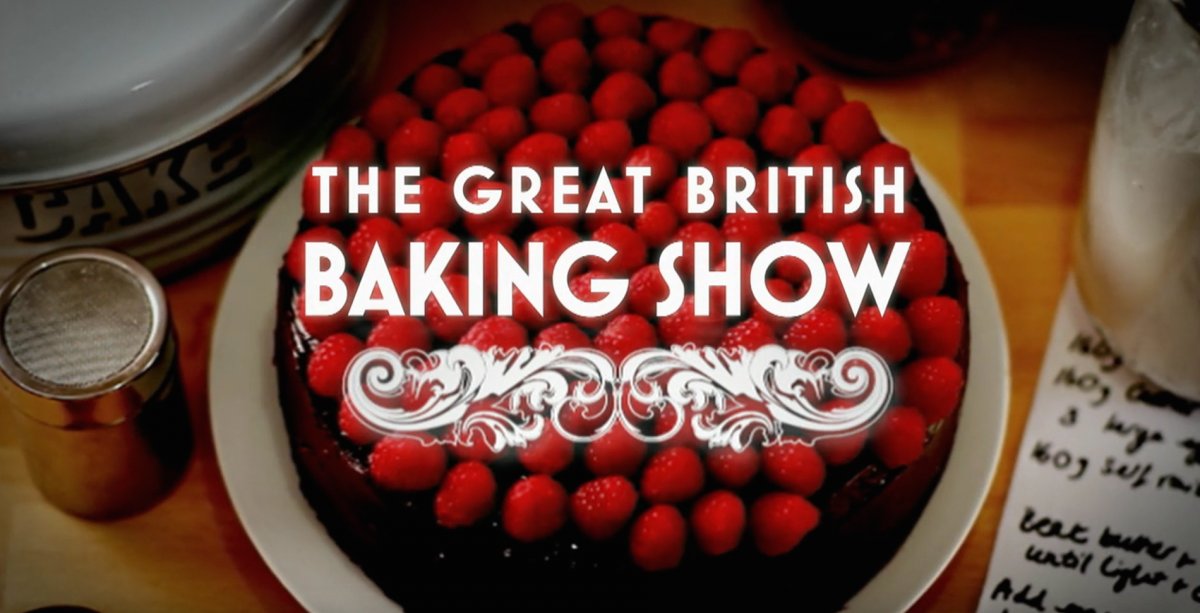 ---
And there you have it: four Gold Stars that have added a little extra awesome to my life lately. I'd love to hear about some of your recent Gold Stars!