When it comes to Christmas gifts, does your family follow a tradition of wish-list making, or do you take a surprise-gift approach to the holiday? I come from a tradition of surprise gifters, but married into a family of wish-list makers. Each October my mother-in-law starts reminding us all to submit our Christmas lists, and though it's taken some getting used to, I've come to appreciate this way of doing things. In addition to sharing our lists with the family, Luke and I rely heavily on each other's lists when buying for one another, which has really helped to take the guesswork out of our holiday shopping.
When I started brainstorming for this year's holiday gift guide, I decided to draw inspiration from what I knew best: our little family's own wish lists! As with last year's guides, I've divided items into for simple categories: Something we want, something we need, something to wear, and something to read. I hope that our family's lists will inspire your own Christmas gift buying. . . or perhaps give you some ideas for what to include in a wish list of your own!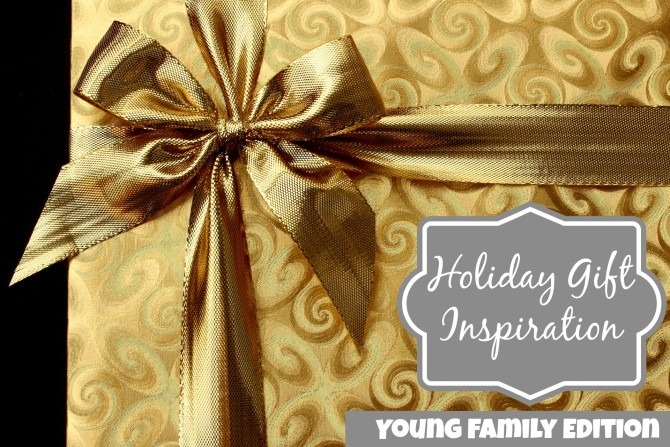 Kendra's Wish List. . .
As I've gotten older I've grown much less interested in the gift aspect of Christmas; as they say, it truly is more fun to give than receive. However, I won't pretend that I don't enjoy compiling an annual wish list, and I would be happy to find any one of these items under my tree this year. I'm sure that any young mom on your Christmas list would feel the same.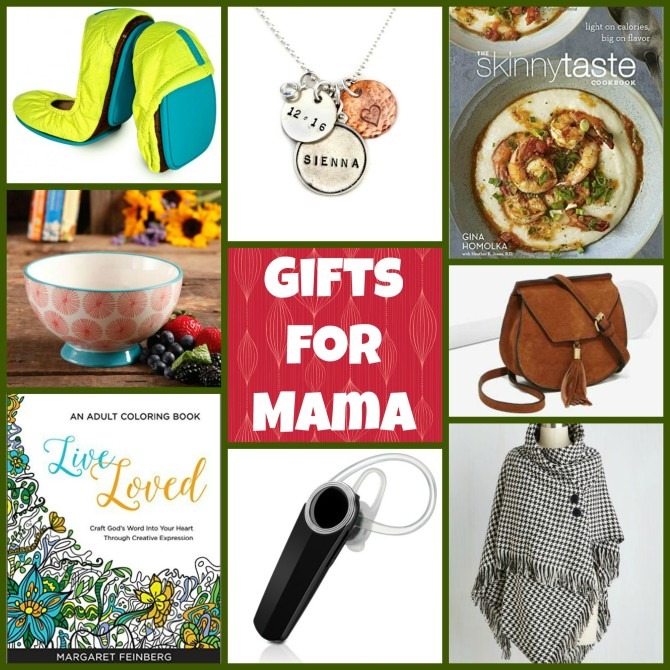 // WANT //
Nila Anthony Wild West Suede Bag: I prefer a larger bag for everyday use, but I've been in the market for a smaller crossbody purse for the times when I don't need to carry as much (or when I'm already carrying a diaper bag in addition to a purse). This gorgeous suede bag is just the right size for carrying my necessities without taking up too much space.
New Mom Necklace: This customizable necklace feature's a child's birthstone as well as silver pendants that can be engraved with the child's name, birthdate, or any other special words. It's also easy to add additional charms to commemorate future children.
// NEED //

Bluetooth Wireless Headset Earpiece: I listen to podcasts and audiobooks throughout the day and am tired of wrestling with an unwieldy strand of earbuds. Luke has been using this wireless earpiece for while and I think it's time I joined him in taking the wireless route.
The Pioneer Woman Dinnerware: Since getting married nearly seven years ago, Luke and I have used the same set of everyday dishes that he received second-hand in college. The few plates and bowls that haven't fallen victim to slippery hands and dishwashing mishaps are looking pretty tired, so I think we're due for a dinnerware update. I'm in love with just about every piece in the Pioneer Woman's new product lineup; the only hard part is deciding which pattern I like best!
// TO WEAR //
Brightly Colored Patent Tieks: I received a pair of brown Tieks as a birthday gift back in March and I wear them constantly. Tieks makes shoes in nearly every color of the rainbow, and I would love to add a second (brightly colored) pair to my closet.
Ticket to Fairy Ride Cape: Capes, ponchos, and kimonos are all the rage at the moment, and this boho-loving mama couldn't be more excited about this trend! This houndstooth cape looks warm, comfortable, and versatile enough to be warn with over everything from dresses to jeans.
// TO READ //
The Skinnytaste Cookbook, by Gina Homolka: Skinntyaste is one of my favorite cooking blogs: I appreciate Gina's whole-food approach to healthy eating, and everything I've cooked from her site has been delicious. I've thumbed through her cookbook at Target and the recipes look just as good as everything featured on her blog.
Live Loved: An Adult Coloring Book, by Margaret Feinberg: This book from motivational speaker and author Margaret Feinberg is one part coloring book, one part prayer journal, and all parts inspirational. I love the idea of incorporating coloring into my daily quiet times with God.
Luke's Wishlist. . .
Not being a man myself, I have a ridiculously hard time shopping for guys. Thankfully Luke puts a lot of thought into his Christmas lists, doing much of the legwork for me. His list is sure to help you when shopping for that hard-to-buy-for Dad in your own life.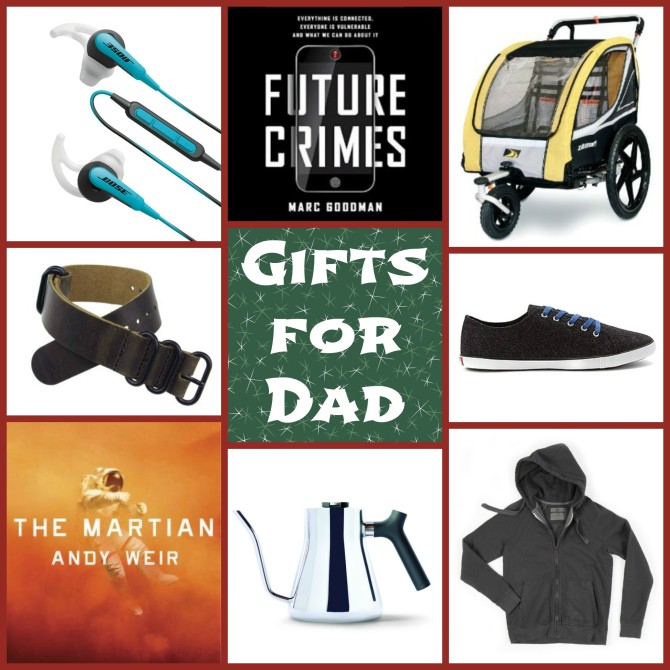 // WANT //

INFANTRY Genuine Leather Watch Strap: Luke regularly wears the Timex Weekender watch I got him last Christmas but has been wanting to change out the casual strap for something a bit nicer. This leather one is a bit more sophisticated without being too formal for everyday wear.
Aosom Elite II 3in1 Double Child Bike Trailer: Before having Charlie, Luke and I enjoyed taking casual bike rides together. This trailer would allow us to return to the hobby as a family.
// NEED //

Stagg Pour-Over Kettle: Few things bring Luke greater joy than his Saturday morning coffee-making ritual, and this kettle—with its built in brew-range thermometer—would allow him to take his pour-over habit to the next level.
Bose SoundSport In-Ear Headphones: I'm no expert when it comes to sound equipment (or any sort of technology), but I'm married to a gadget fiend. Luke has done his research and assures me that these headphones are the best.
// TO WEAR //

Flint and Tinder 10-Year Hoodie: When you work as a computer programmer, a decent hoodie is a wardrobe necessity. This stylish hoodie looks so cozy that Luke might have a hard time keeping me from stealing it!
Woolrich Men's Strand Fashion Sneaker: Luke would live in his Rainbow sandals throughout the year if he could, but much to his chagrin, his employer prefers that he wear close-toed shoes. These wool sneakers offer the comfort Luke desires with an upscale look that would make them suitable for work.
// TO READ //
The Martian, by Andy Weir: The Martian wasn't a personal favorite, but the entire time I was reading I couldn't stop thinking about how much Luke would love the book's quirky blend of humor and science. Luke wants to read the book before watching the movie with me, so I'm eager for him to read this one ASAP.
Future Crimes: Everything Is Connected, Everyone Is Vulnerable and What We Can Do About It, by Marc Goodman: We heard Marc Goodman when he was featured on a podcast a while back, and Luke immediately added this book about cyber crime to his TBR list. It's a scary topic but an important one to understand.

Charlie's Wishlist. . .
I know there will come a day in the not-too-distant future when Charlie would like to have a say in what he receives for Christmas. Until then, we get to make his wish lists for him! A number of the gifts on his list are on the spendier side of things, but I'm hoping that they are items that will grow with him. If you're shopping for a soon-to-be toddler this year, you can't go wrong with any of the items on Charlie's list.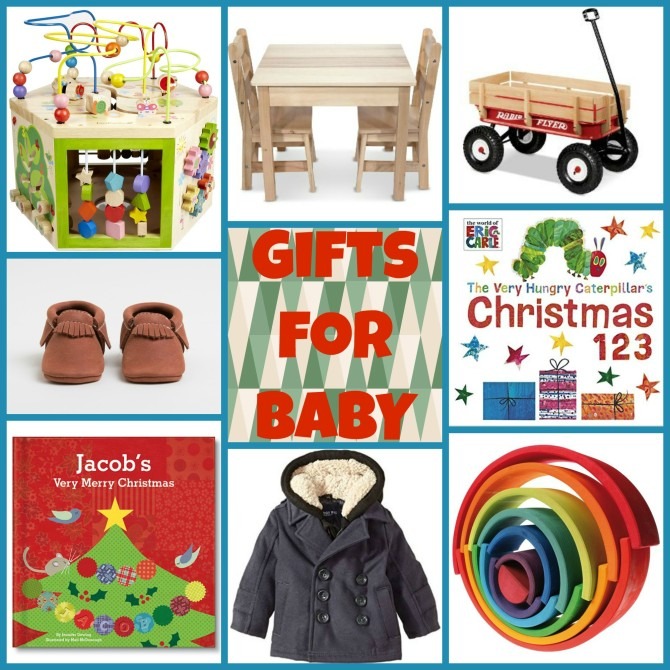 // WANT //

Grimm's Rainbow Stacker Wooden Nesting Puzzle / Creative Building Blocks: In searching for toys for Charlie, we've found it surprisingly difficult to find well-made toys that encourage imaginative play and foster creativity, but these handcrafted blocks fulfill every one of our toy requirements. Durable, attractive, and versatile. . . I can see Charlie playing with these for years to come.
EverEarth Garden Activity Cube: This elaborate activity cube features several play options that would appeal to Charlie now, and also assist in his cognitive and fine motor development in the future. The cube comes pre-assembled, which is a feature that Mommy and Daddy would definitely appreciate.
// NEED //

Radio Flyer Full Size All-Terrain Steel and Wood Wagon: Every young child needs a wagon, and the Radio Flyer is a classic!
Melissa & Doug Wooden Table Set: I've been wanting to get Charlie his own little table to use for crafts and snacktime (when he's a bit older, of course), and this wooden set looks just perfect. We love just about everything from Melissa & Doug!
// TO WEAR //

Freshly Picked Leather Moccasins: Though definitely on the pricey side, there's no denying the superb quality or adorability of the moccasins from Freshly Picked; there's a reason why they are so popular, and I would love to see Charlie's cute little feet in a pair of these.
Baby Unisex Hooded Claw Button Zipper Jacket: It doesn't get too cold here in Southern California, but I'd like to get Charlie a warm jacket for our chilly evenings or trips to the snow. This little parka looks warm enough for the mountains, and it simply couldn't be any cuter.
// TO READ //
I See Me! Personalized Board Book: I See Me! allows you to customize picture books with a child's own name. How fun for a child to read a story featuring himself as the hero! I See Me! has an assortment of stories to choose from, including several Christmas-themed books.
The Very Hungry Caterpillar's Christmas 123 Board Book: We are big fans Eric Carle fans in our house (who isn't?) and would be thrilled to join the Very Hungry Caterpillar in his holiday-themed counting adventure. You can never have too many Christmas board books!
---
I'll be back this Thursday with some more holiday gift inspiration for you. Hint: it's all about the stockings!