I'm back from vacation, and what better way to return from a break than with a monthly recap?!
August has been good to our little family. The month was filled with laughter, adventure, family time, and memories that I will treasure forever. Our busyness levels exceeded my usual threshold, but I wouldn't change a thing. Here's a look at some of what made me smile in these dwindling days of summer.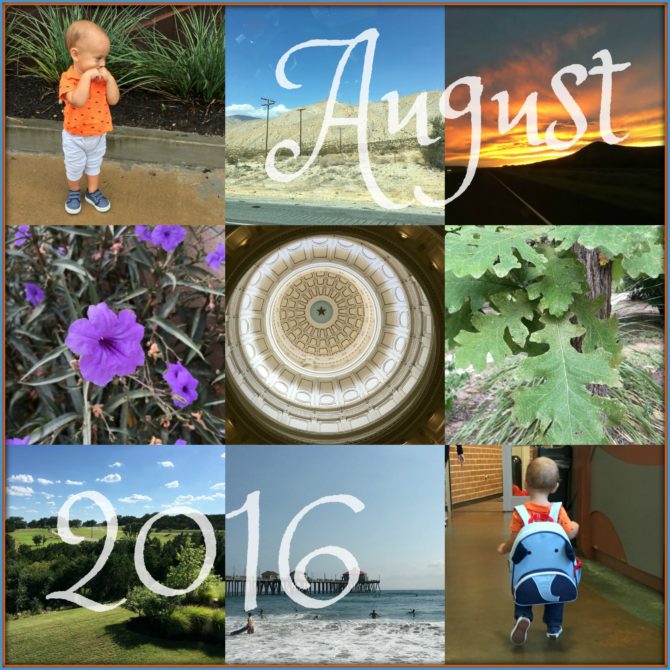 // READING LATELY //
I read three "Jane-inspired" books this month: The Secret of Pembrooke Park (written in the style of Jane Austen); Eligible (a modern retelling of Jane Austen's Pride and Prejudice); and Rebecca, which is highly reminiscent of Jane Eyre. You'll have to wait for next month's Quick Lit for full reviews, but I will say that I enjoyed each book very much.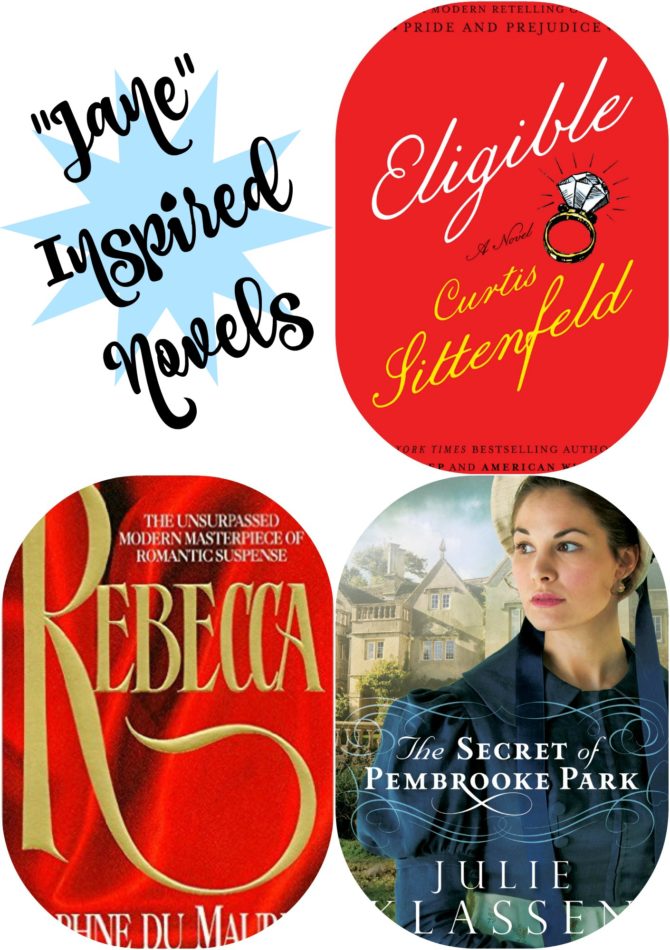 On the Reading Challenge front, I finished up my "book about parenting" and will be sharing a full review later this week. It was an enlightening and helpful read. I am now devouring On Writing Well as my "book that will help me improve as a writer—I believe it will indeed help to transform my writing, but it is also quite a humbling read  as it's highlighting how much I have been doing wrong.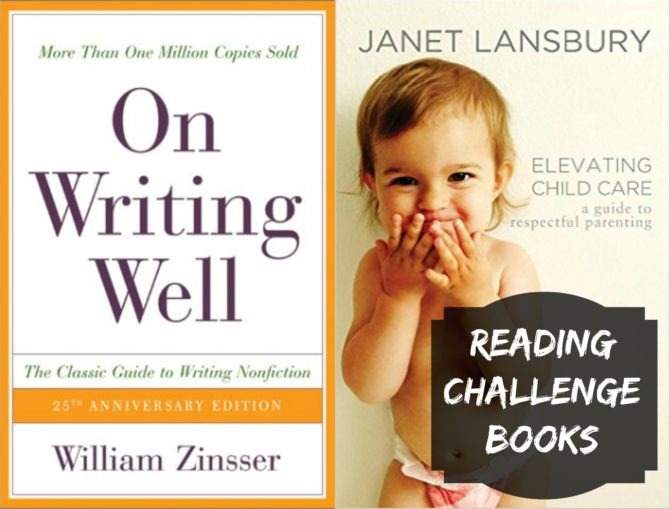 Between podcasts, I've been listening to Lila. I really liked Gilead and had high hopes for this third book in the trilogy, but so far I'm not totally impressed: the story moves slowly at first, and I'm having a hard time with the shifting timeline. I admire Robinson's writing style, though, and am hoping the book will get better as I get further in.
My current "for fun" book on my Kindle is Rules of Civility. I've only read a few chapters, but the writing is already blowing me away; it's hard to believe this is a debut novel (from someone who makes a living as an investment professional!).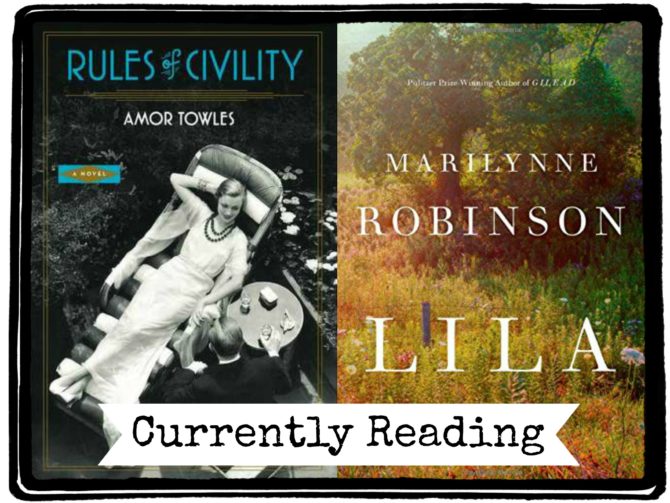 ---
// WHAT I'VE BEEN WATCHING //
We finished up Downton Abbey and I have SO many thoughts! I don't know if I can adequately express how much I adored this show. The cinematography is stunning: such gorgeous countryside, a beautiful house, charming village. And the costumes are absolutely amazing, leaving me wishing that I could be transported back to the 1920s just so I could wear those clothes.
Then there are the characters: they are complex and believable, and they drew me in like no other television characters have done before. I literally felt like we were spending time with our friends each time we sat down to watch a show. Even the characters I hated at first (Thomas, Tom, Edith) had won me over by the end of the series. I related on some level to almost all of them—the family and staff. My heart ached with them in their deepest struggles, and I rejoiced with them in their triumphs. Their terrible decisions evoked legitimate anger, and when some of them died I wept actual tears (RIP Sybil and Isis).
Downton is the rare show for which every season is equally strong, with writing that remains engaging until the very last episode. Each story arc is dramatic without feeling overdone, and the show moves at such a rapid clip that none of the plotlines are strung out for too long; I appreciated the fact that we were given just enough insight into every story and each character to understand the broader picture without having to be shown every detail.
Forgive me for waxing poetic about a television show; I just want to fully convey how much Downton captured my heart. I am so sad that the show is over, but incredibly happy with how the series wrapped up. My Rating: 5 stars (I'd give more if I could!)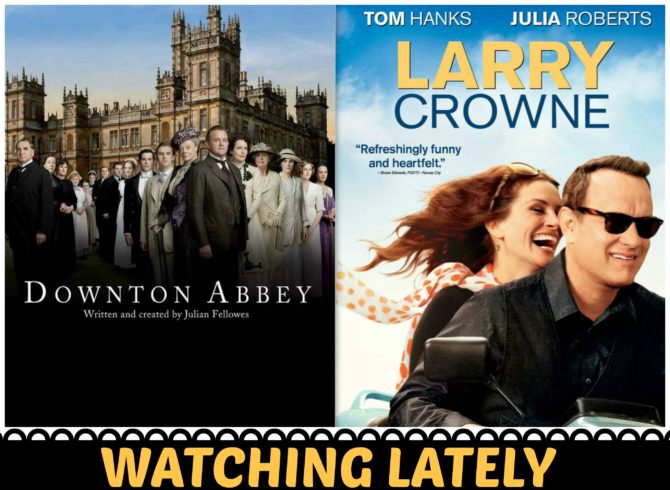 Between seasons of Downton, we watched another Netflix movie this month: the titular character of Larry Crowne is a middle-aged Navy Veteran who returns to college after being fired from his job at a big-box store. In his new life as a student, Larry joins a club for scooter riders and acquires an updated, youthful identity. His college adventures also lead to a budding relationship with Mercedes, his cynical speech professor with an alcohol problem and a disastrous home life.
This is a very artsy (read: slow) film, but it's a sweet story with strong themes of hope and renewal. Tom Hanks and Julia Roberts are, of course, fantastic in their roles. My Rating: 3.5 stars.
---
// MONTHLY HIGHLIGHTS AND HAPPENINGS //
Swim Lessons: We kicked off the summer with swimming lessons at our city pool. Prior to this month, Charlie hadn't spent very much time in the water; his lack of exposure, combined with the fact that he was bumped up to an older class due to low enrollment, had me worried about how the lessons would go, but Charlie did great! He loved the water and his instructors, and he impressed us all with his enthusiasm and courage. By the end of the week Charlie was kicking, blowing bubbles, jumping off the side, and even going underwater—basically, he was the next Michael Phelps. Luke and I took turns joining Charlie in the pool, and I am glad we were able to make it a family affair.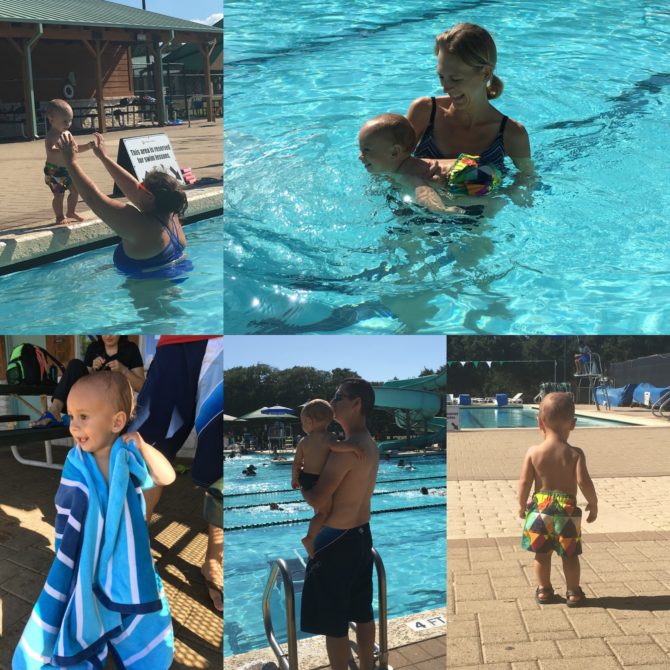 ---
Dating My Spouse: Luke and I left Charlie with Amanda (my sister-in-law) one Saturday for our first date since the move (and only our second real date since Charlie was born). We headed downtown and took a tour of the Texas capitol. It was a fantastic (free!) tour and we learned so much about the building and the state; these types of activities have been absent from my life since becoming a mom, and I was reminded of how much I adore history.
After the tour we had lunch at South Congress Cafe. It actually wasn't the greatest dining experience: the food was just mediocre, and the service was disappointing. But it was wonderful to enjoy a child-free meal with Luke. Since becoming parents—and especially since moving to Texas—we haven't made enough of an effort to create time for each other, so our day together was deeply needed and hopefully the start of a more regular dating habit.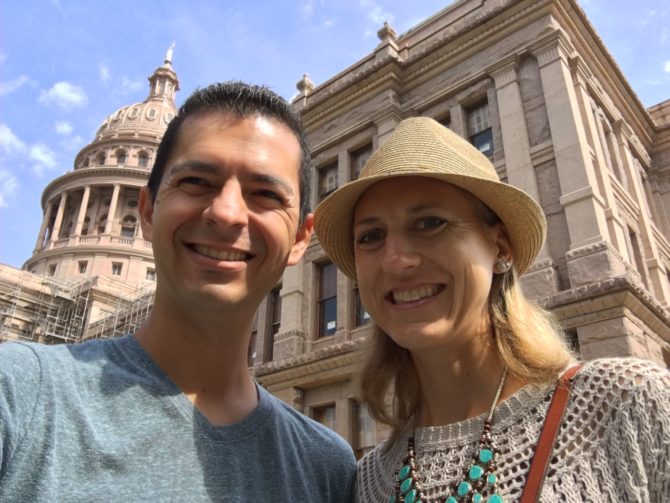 ---
Trip to California: We finished off the month with a road trip home to California. The drive out was REALLY hard. We left on a Thursday afternoon and drove for 23 hours straight, with only quick bathroom and nursing stops along the way. Amanda was with us for the drive and helped with the driving and entertaining Charlie, but even with three adults it was a long and tiring trip. Charlie cried for most of the night and we had to stop hourly for me to nurse him. Even the daytime was rough: despite numerous entertainment options, Charlie just wasn't a fan of the road trip. But we got to experience an awesome thunderstorm and a gorgeous sunset on our drive, which was fun. And we made it to California in one piece, so all those tears were worth it!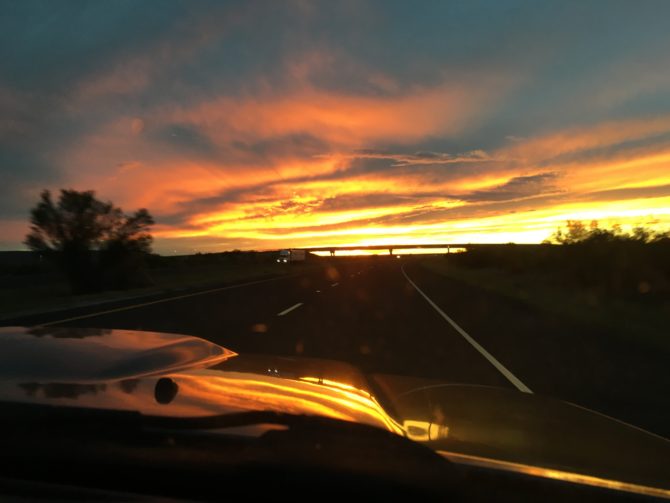 It was wonderful for Charlie to see all of his grandparents again, and for them to see him for the first time since he has been walking and talking. He is definitely a different kid than the one who first moved to Texas so I'm thankful that they got a chance to see him in this fun new life stage. Thanks to FaceTime, Charlie recognized both sets of grandparents and was able to pick up with them like no time had passed at all. It melted my heart to see these special bonds forming.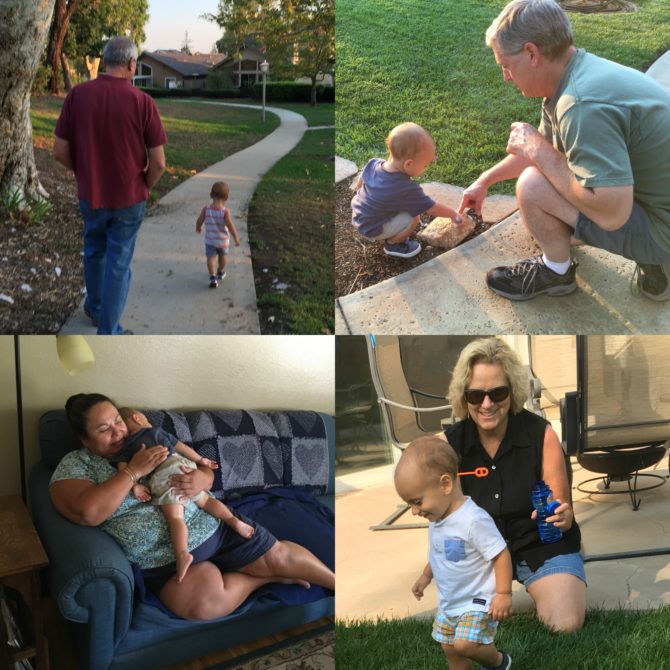 We also got to see several other family members including all of our siblings and all four of our living grandparents. It's hard to live away from family, but I'm glad that both of our families are still in Southern California so we can visit a lot of people at once.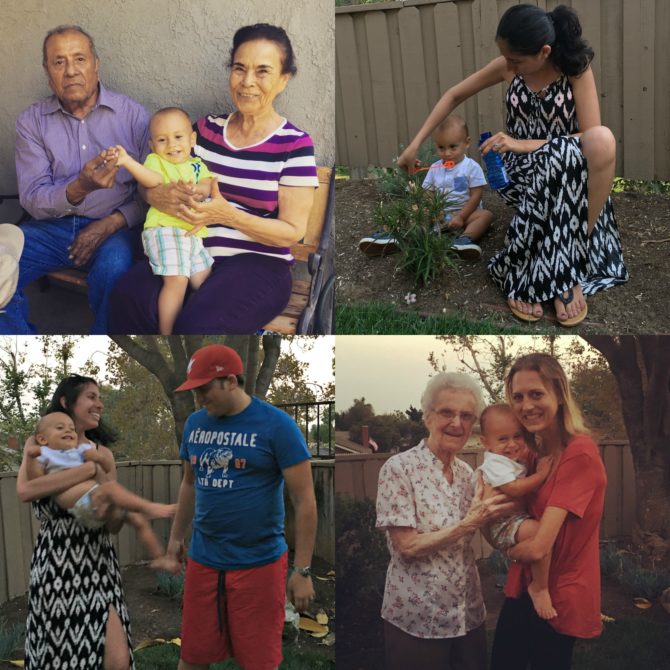 The week was very low-key, with lots of downtime and quality conversations and relaxed meals (well, as relaxed as you can get with an active toddler at the table). We spent our first few days at Luke's parents' house in Riverside. Charlie loved exploring their big yard and playing in their pool, and he fell in love with their cat and dogs.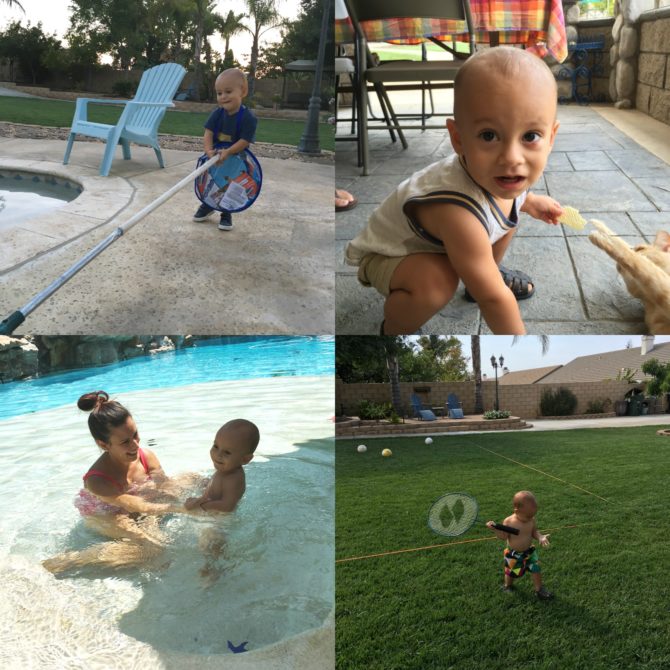 My in-laws hosted a big get-together with Luke's extended family, and it was good to see everyone again. Charlie was enamored with his cousin Aubrey, who was quite the mother hen to Charlie. He was disappointed that he couldn't join the adults in a game of badminton or volleyball, but was a very good spectator.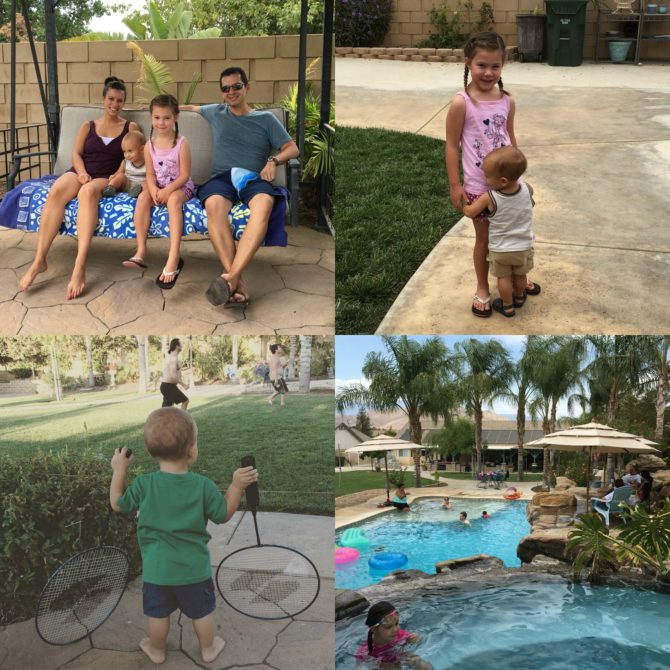 We spent the second half of the week with my parents in Orange County. We got to explore our old stomping grounds, eating at my favorite restaurants (hello Flame Broiler and Golden Spoon!) and taking a stroll along the trail I used to walk along every day with Charlie. We played in the greenbelt outside my parents' house and took several trips to the tot lot where I played as a child. My friends and I use to play house in that very space; how magical to now be playing there with my very-real child!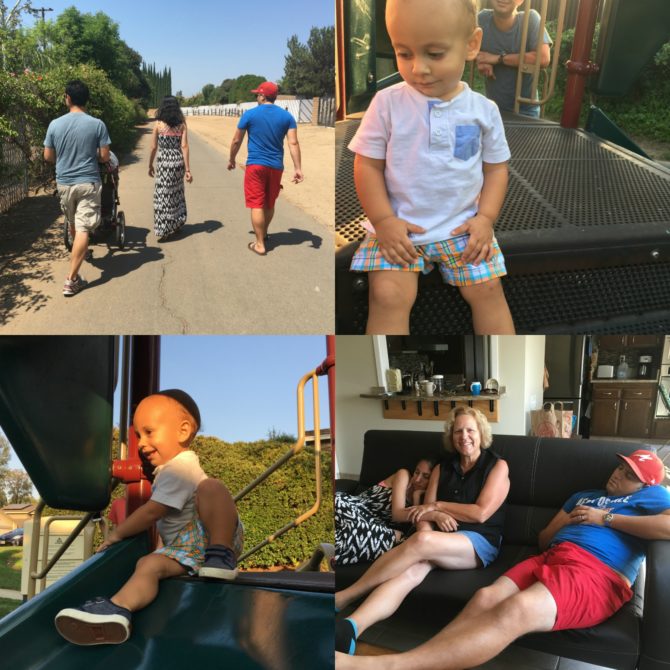 We wanted Charlie to experience the beach (he's seen the ocean, but never touched it) so we spent an afternoon in Huntington. Charlie was hilarious with the sand and the water: he didn't like either at first, but warmed up to the experience and soon was having a blast. I've never been a huge fan of the beach, but absence seems to have made my heart grow fonder: for the first time, I was able to fully appreciate the magnificence of the ocean, and I realized that I've missed it.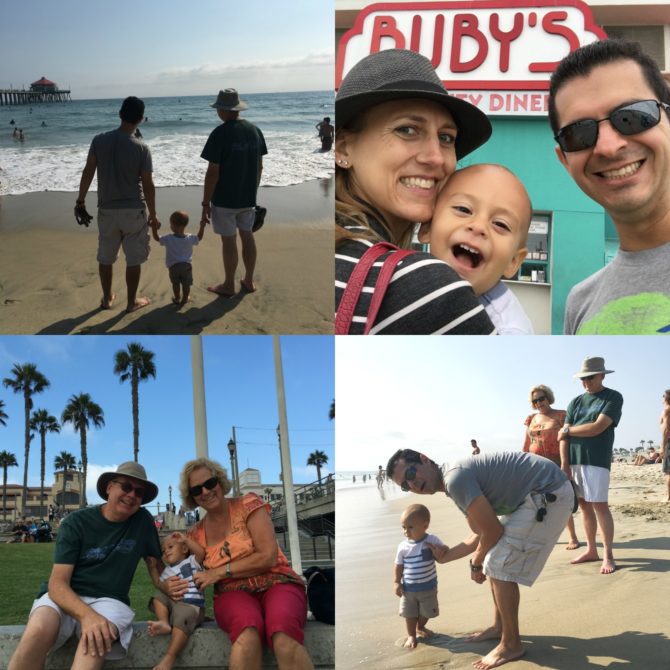 Staying at my parents' house was bittersweet: they are preparing to sell it, so this was likely the last time I will stay there. Mom and Dad have lived in this house since I was a year old, so it's really the only home (pre-marriage) that I've ever known. I took time saying goodbye to each room, reflecting on the decades' worth of memories that have taken place withing those walls. Some of my happiest moments occurred there, and also some of my saddest. I know that those memories don't disappear when the house sells, but it was still very emotional to say goodbye. I'm thankful I got the chance to sleep in my childhood home one final time.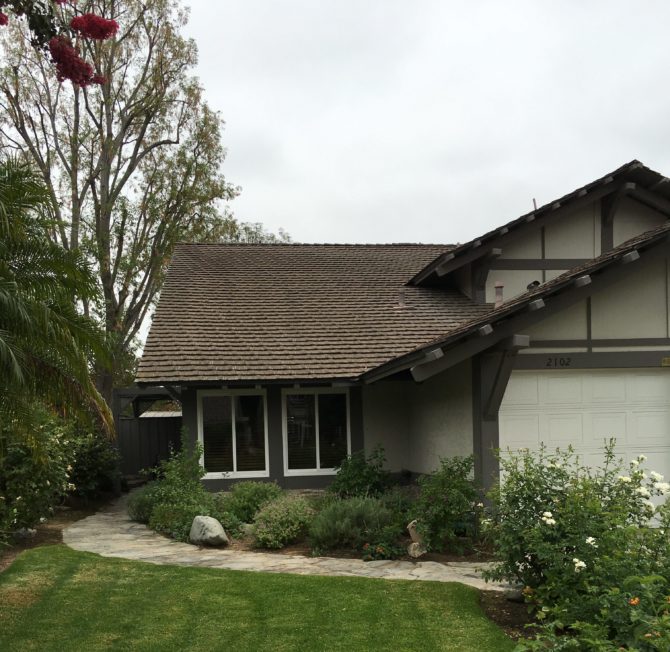 ---
// WHAT I'M PONDERING //

Our trip back to California was wonderful, but emotionally it was also very hard. Being back, I was reminded of how much we left behind, and I miss it—the people, the familiar places, the beach and the mountains, and the general sense of belonging that I haven't found yet in Texas. But the trip also reinforced many of the reasons why we left California: I'd forgotten how crowded it is there, how smoggy it can be, and how brown it all is. I've already started to take the blue skies and green trees of Texas for granted and I was actually quite happy to return to these aspects of our new home. I was even eager to get back to Texas humidity: the dryness of California was killing my skin!
I'm realizing that my heart now belongs to two homes, and I don't quite know how to hold all of these feelings at the same time. How do I embrace a new home without feeling like I'm betraying the old one? These emotions are further complicated by the fact that we still don't know where we'll end up: our move was an experiment, and we are still seeking clarity—do we stay in Texas, return to California, or try a new place altogether? It's exciting to have options, but also scary and overwhelming.
One thing I keep coming back to is how thankful I am to have Charlie and Luke. They are my family now, and wherever I end up I will have them with me; that's truly what matters most. I'm also VERY thankful for modern technologies that make it possible to stay connected to everyone else I love. If only I could figure out how to live in multiple places (with various topographies!) at once!
These ideas and emotions are still very much in process, so I'm sure you will be hearing much more from me on these topics as I sort through my feelings in search of some answers.
---
I'm linking up with Leigh Kramer to share what we are into this month. I'd love to hear about how you spent your August; share with me in the Comments!
I'Save
Save
Save
Save
Save
Save
Save
Save
Save
Save
Save
Save
Save
Save
Save
Save
Save
Save
Save