As promised, I'm back today with my third and final installment of this month's Quick Lit book reviews. There are some fantastic books here, as well as a couple of great book pairings that I stumbled into accidentally!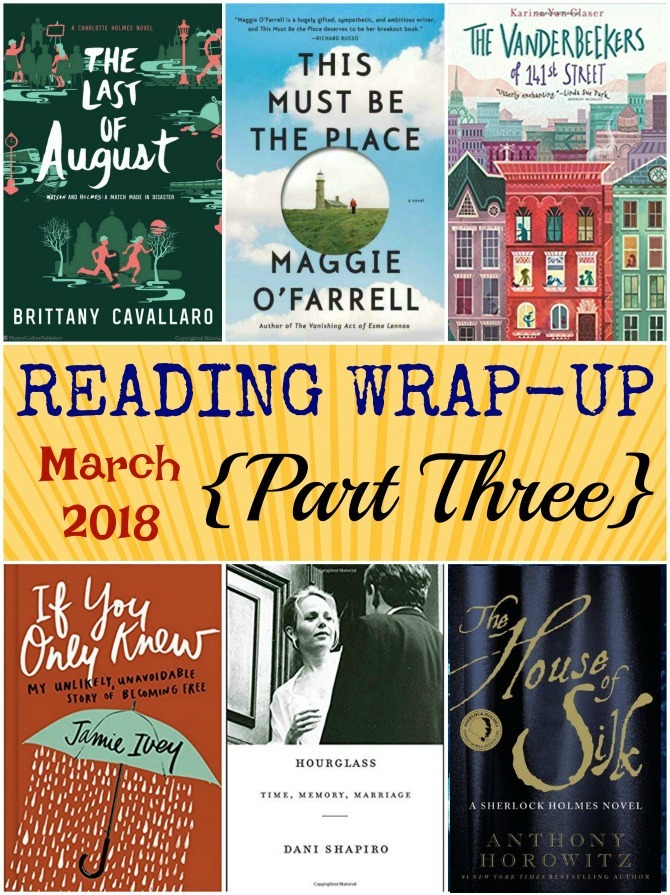 The Last of August, by Brittany Cavallaro: Jamie Watson and Charlotte Holmes—the descendants of THE Watson and Holmes—have returned to England to recover from their disastrous fall semester at their American boarding school. They hope to put crime and death behind them for a while as they get to know one another in a "normal" context, and determine what their relationship will look like moving forward. But then Charlotte's favorite Uncle, Leander, goes missing and Charlotte and Jamie set off across Europe to find him. Their search takes them undercover into the enigmatic German art scene and leads them straight to the deadliest of enemies: The Moriarty Clan.
I really enjoyed A Study in Charlotte and was excited to read this second installment of the trilogy: I was looking forward to following Holmes and Watson into their next adventure, and was eager to see how their complicated "romance" played out. But The Last of August let me down. Holmes and Watson are still wonderful characters, and its was interesting to see them each sort through their personal emotions and baggage to try to form some sort of mutually beneficial relationship. This could easily have fallen into dramatic teen angst, but it didn't, and I empathized with both protagonists. The book also wins points for its wry humor and clever connections to the original Holmes stories, two aspects that I loved about Book One.
But—and this is a big but—the story itself didn't work for me. The plot has a lot of threads that simply don't pan out and left me confused. I spent a lot of the book having no idea what was gointg on, and the end offered almost no resolution. I hope that we get some answers in Book Three (released this month, but I'm still waiting on my library hold) because this series is too good to fall victim to messy storylines.
My Rating: 3 stars.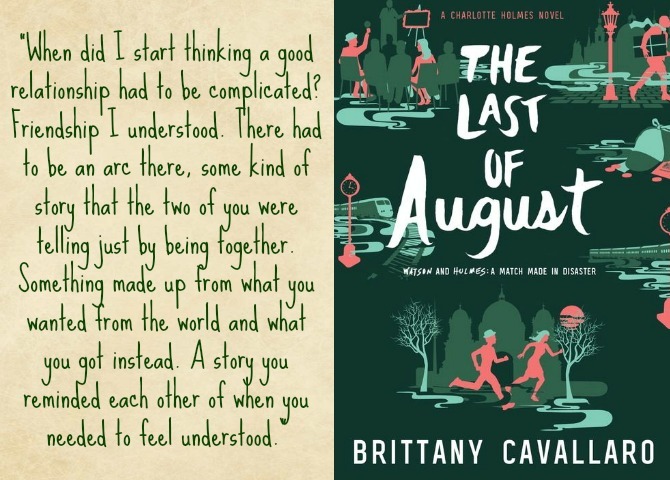 ---
The House of Silk, by Anthony Horowitz: I coincidently listened to this book at the same time as I was reading The Last of August, and it was fun to be reading two Holmes spin-offs at once! (Thankfully they are quite different, which kept me from mixing up the stories.)
The House of Silk—the first Sherlock Holmes adventure to be approved by the Conan Doyle Estate—begins with a personal recounting from Watson, who is elderly and alone since the pdeath of his friend Holmes. Watson claims that he has one final tale to share with his readers, but given its shocking nature, his story must be consigned to his solicitors' vault for 100 years.
With this clever introduction, Horowitz had me convinced that I was indeed reading a long lost tale from the pen of Dr. Watson himself, and the novel continued to emulate the original stories in style, tone, and content. The characters are just as Conan Doyle would have written them, almost to the point of becoming cliché, though I can't say I minded. And the story—which begins with a straightforward plea for the good detective's assistance, and quickly snowballs into a dark and twisted investigation into London's darkest corners—builds upon the Holmes legacy, filling in some of the fictional gaps and even featuring Holmes' most infamous nemesis.
The House of Silk receives full marks from me for creativity and literary merit. However, it wasn't as entertaining as I would have liked. The ending is quite good, but I was nearly two-thirds through the book before the story began to hold my interest. The straightforward recounting, while fitting with the time period in which it is supposed to have been written, wasn't quite engaging enough for my modern tastes. Still, this is a must-read for any Sherlock Holmes fan.
My Rating: 4 stars.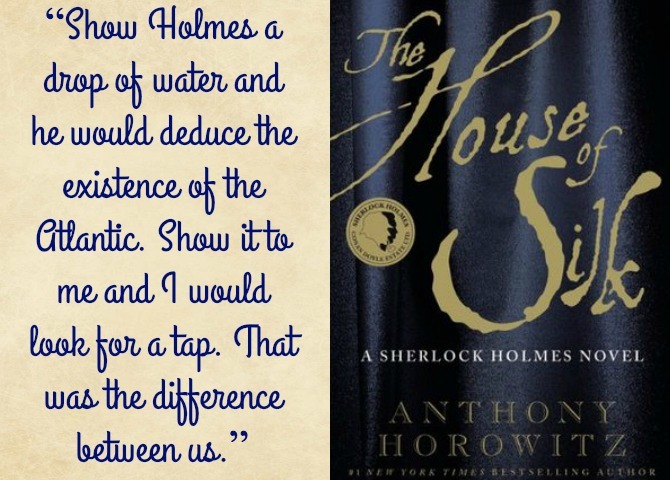 ---
If You Only Knew: My Unlikely, Unavoidable Story of Becoming Free, by Jamie Ivey: Authenticity seems to be the buzzword of the decade. In fact, I've heard it said that millennials value authenticity over integrity. But just because we want others to share openly about their lives doesn't mean we are doing it ourselves. Many of us—especially Christians—have skeletons in our closets that we are terrified of having exposed. Jamie Ivey nows that our secrets keep us imprisoned by shame and prevent us from living out the grace God offers us. In If You Only Knew, she encourages women to open up about our past sins—and she goes first, sharing candidly about her rebellious youth and even some of her more recent sin struggles. Throughout her story she brazenly proclaims the power of the Gospel and invites her readers to walk into the freedom that comes when we choose to speak the truth.
I am a HUGE Jamie Ivey fan. In fact, I think she is my very favorite podcaster (and I listen to a LOT of podcasts), so I have eagerly awaited the release of this book. Despite following her for a while, I was surprised by some of her story and admire her deep vulnerability. I appreciated that the book is less about her personal story and more about how God has redeemed her past, and wants to redeem ours, too. The book reads like a sermon, filled with Scripture and continually pointing to God. Were I not already on Team Jamie, I might have had a hard time with the writing (it's not the best-written memoir I've read), but because I am so familiar with her voice, reading it felt like sitting down to coffee with a friend—and this imaginary scenario kept me from focusing on the lackluster prose.
While Jamie certainly succeeded in inspiring me to share more from my own past (more on that to come), my biggest takeaways were from the chapter on refusing participate in Sin Shock (aka shaming others for their sins)—this was convicting and left me with a lot to think about.
My Rating: 4 stars.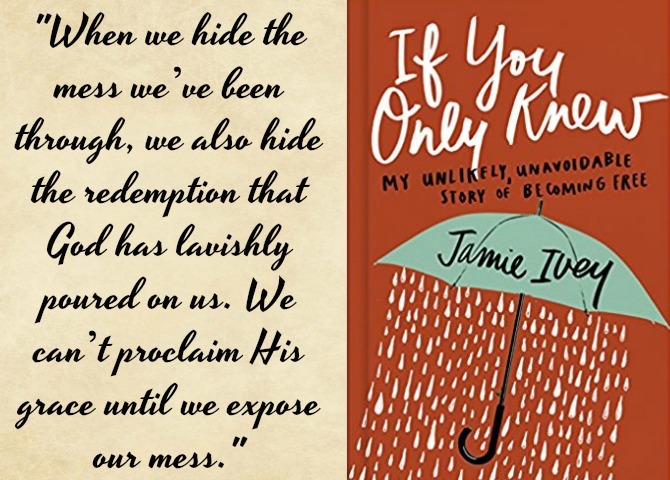 ---
This Must Be the Place, by Maggie O'Farrell: This Must Be the Place is a complex novel, one that moves freely along a timeline that spans decades and crisscrosses continents. O'Farrel paints a masterful portrait with her words, but the puzzle comes together one piece at a time, through the stories of so many narrators that I began to lose count. At the core of this tapestry is a love story between Daniel Sullivan, a divorced American linguistics professor, and Claudette Wells, a reclusive former movie star. Despite the complicated roads that led to their first meeting in a remote corner of Donegal, the two settle into a comfortable life together. But their story is far from over, and when ghosts from Daniel's past come back to haunt him, the couple is forced to reevaluate past pains and question whether their wounded hearts can continue to coexist.
This book won't be everyone's cup of tea. It requires a great deal of time and patience, and also some suspension of disbelief. I spent the first third of the novel in confused frustration, but once I'd settled into the story and began to make sense of the disparate threads, I was smitten. The reminder of the novel had me wishing I had someone to discuss it with, while also bemoaning the fact that I couldn't think of a single person in my life who would enjoy it as much as me. Enjoy might not be the right word here; there are some extremely comical moments, but there is also a lot of pain and a great deal of prompting to do some soul-searching of my own. Books such as this one force us to reevaluate our pasts and come to terms with mistakes and regrets. But they also offer hope, and help us make sense of our own meandering stories.
It's not uncommon for novels to ignite my introspective tendencies, but This Must Be the Place stands out for its ability to do so in such a spectacular manner. O'Farrel's characters are stunning, adding color and nuance to themes that range from addiction to adoption, and demonstrating how none of these issues exists in isolation and can domino into the lives of surrounding individuals. The pièce de résistance of the novel is the breathtaking writing; it's been a while since I've had to look up so many words in book, but this sophisticated vocabulary sets the tone for the intricate story and blends beautifully into narration that is at once whimsical and accessible.
My Rating: 5 stars.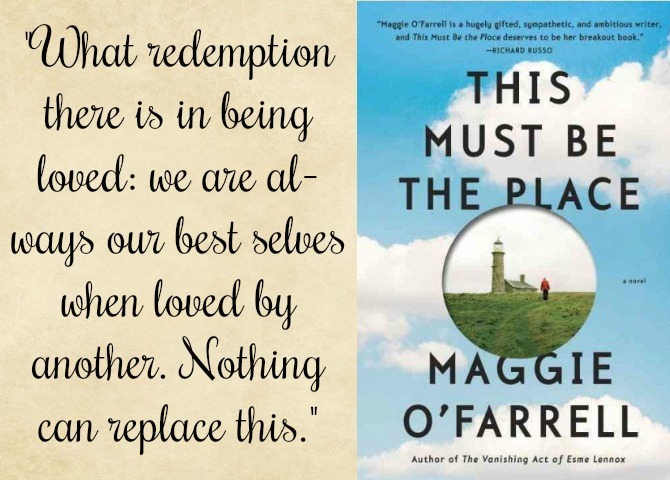 ---
Hourglass: Time, Memory, Marriage, by Dani Shapiro: I love the publisher description of this book and couldn't say it any better: "a piercing, life-affirming memoir about marriage and memory, about the frailty and elasticity of our most essential bonds, and about the accretion, over time, of both sorrow and love. Hourglass is an inquiry into how marriage is transformed by time—abraded, strengthened, shaped in miraculous and sometimes terrifying ways by accident and experience."
This was the first book I've read from Dani Shapiro and was mesmerized by her writing. She reflects on her own story, but in a way that is intimate and easily extrapolated: it's a memoir, but it's less about the author's life than about the themes of marriage, time, and memory. Shapiro keeps the book from becoming self-referential through the inclusion of quotes and ideas from other writers—she is an excellent thought curator, and these proved to be some of my favorite passages.
This is a short read, but not a quick one. The concepts are deep and pensive and I needed to take frequent pauses to chew on the ideas and translate them into my own experiences. It's also not an uplifting read; it's very affirming of marriage, but Shapiro doesn't shy away from the hardships she and her husband have faced.
I read this immediately after finishing This Must Be the Place; it wasn't an intentional pairing, but I found it to be a fitting one. The books are different in all the expected ways (one is fiction, the other is nonfiction, one is short while the other is long), but they both shed light on the experience of marriage and how it shapes those within it over time.
My Rating: 4.5 stars.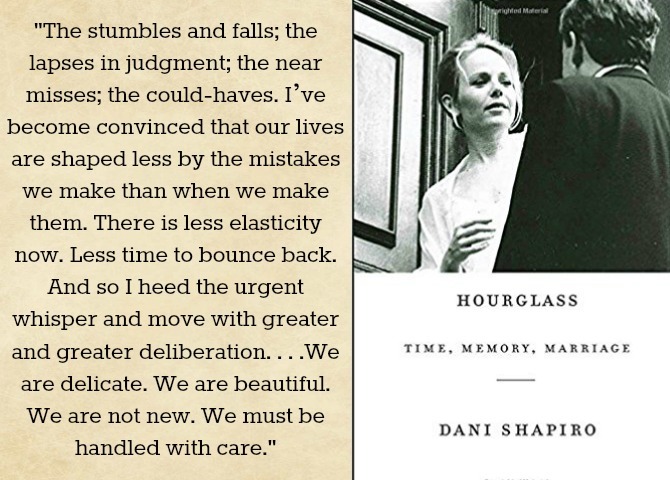 ---
The Vanderbeekers of 141st Street, by Karina Yan Glaser: When Sarah Mackenzie of Read Aloud Revival cited this as her new favorite read-aloud on a recent podcast episode, it definitely caught my attention. Sarah has created a business around children's literature, so I knew that a book that left such a strong impression on a professional reader needed to be added to my TBR list ASAP. As luck would have it, my library's copy was available, so I didn't have long to wait!
As we know from the title, the book is about the Vanderbeeker family—two parents, five children, and an assortment of pets—who live in a brownstone on 141st street. When the family receives an unexpected eviction notice just days before Christmas, the five Vanderbeeker children take it upon themselves to change their disgruntled (and mysterious) landlord's mind and convince him to let them stay. Their attempts at winning over "The Biederman" range from comical to disastrous, and as eviction day grows closer, the family makes many discoveries about their landlord, their fellow family members, and most of all their appreciation for their beloved home.
Sarah Mackenzie did not steer me wrong, this book is indeed a delight. The Vanderbeeker family belongs right up there with the Ingalls, the Penderwicks, the Weasleys, the Boxcar Children, and the other endearing families of middle-grade fiction. I loved the individual characters, but I adored them as a family unit. The story itself is a bit predictable, but quite sweet, and filled with wonderful lessons of family, kindness, and savoring life's simple pleasures. By the end, the Vanderbeekers had me longing to move right into that cozy brownstone with them!
My Rating: 4 stars.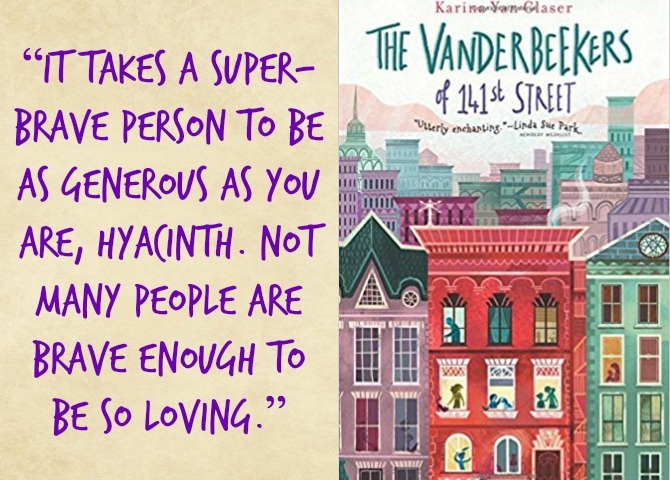 ---
I'm linking up with Modern Mrs. Darcy to share what we've been reading lately. If you're here from the link up, thanks for stopping by. Be sure to check out Part One of this month's Quick Lit posts. . .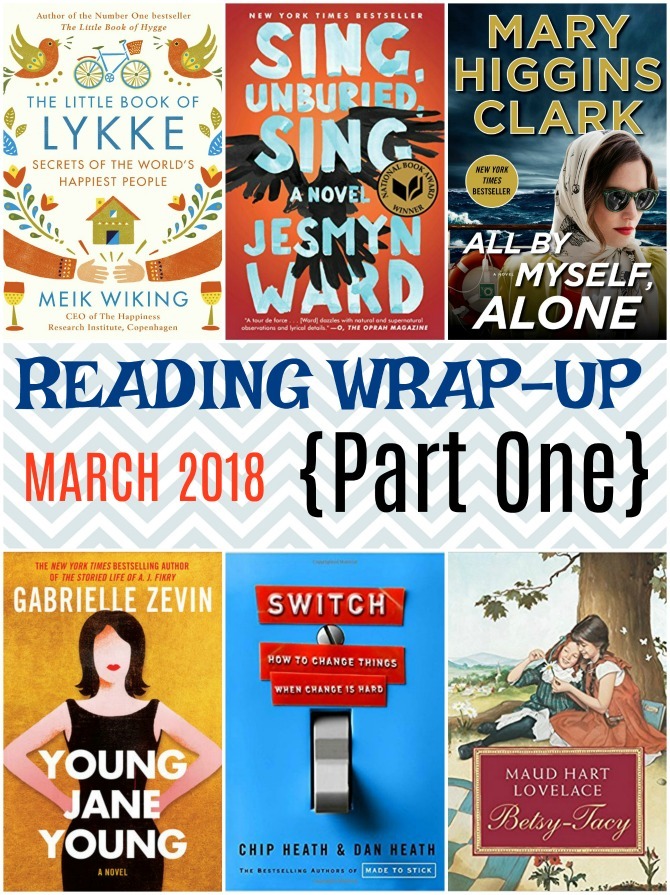 . . . as well as Part Two. I'd love to hear about what you read this month!