I'm kicking off the week with Round Two of this month's quick(ish) book reviews. I (mostly) enjoyed all six of these books, and a couple of them were truly outstanding. Here are my reviews!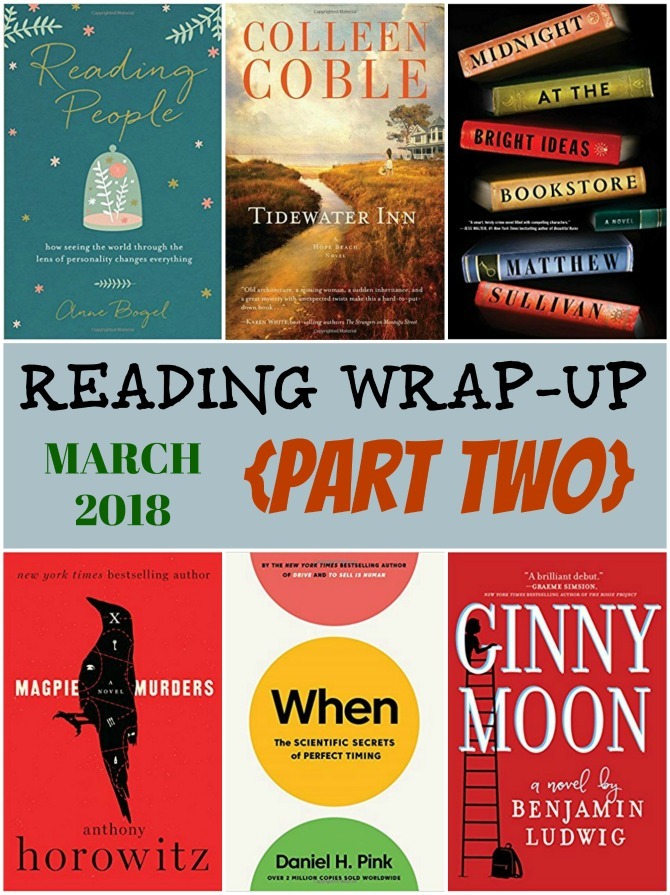 Reading People How Seeing the World through the Lens of Personality Changes Everything, by Anne Bogel: I read this book last year (I was on the launch team) and have been wanting to reread it ever since. When my library added the audio version to OverDrive, I knew it was time. I loved it just as much with this reading (listening). It's a great introduction to multiple personality models, all in one place, so it's perfect for those wanting to learn more about their personality but unsure where to start. But the book isn't just for newbies; it also has enough deeper content to be worthwhile for those of us who have already spent quite a bit of time with Myers-Briggs, the Enneagram, Strengths-Finder, and the other models discussed. I especially appreciate the personal examples and literary references, which set Reading People apart from similar books.
The audio version is read by Anne, who is a great narrator (as I knew she would be, based on my experiences with her podcast). However, there is a lot of content (charts, etc.) that was easier for me to digest in print/ebook, so I wouldn't recommend the audiobook for a first reading, especially if you aren't already a personality junkie who is familiar with the terminology.
Regardless of how you choose to read this book, you definitely SHOULD!
My Rating: 5 stars.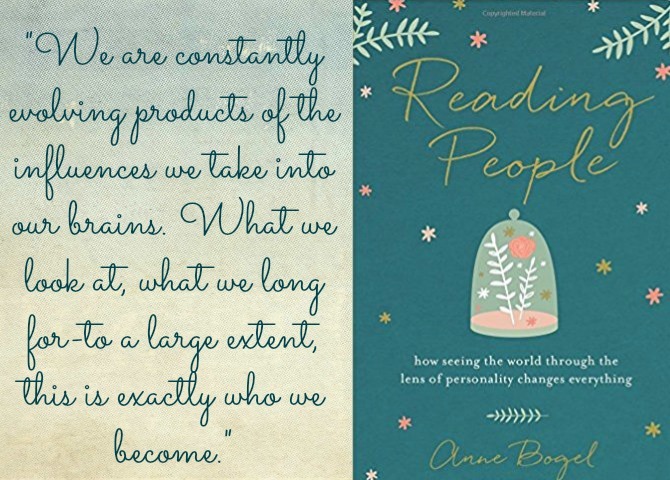 ---
Tidewater Inn, by Colleen Coble: With her sentimental spirit and passion for renovation, Libby Holladay seems to have stepped into a dream situation when she inherits a beautiful historic inn from her deceased father. However, when Libby goes to the Outer Banks to view her inheritance, she learns the painful truth that her father—whom she'd thought was dead since her childhood—has only recently died. And while she's eager to meet the half siblings she never knew she had, they are less than enthusiastic about her arrival. The situation is especially strained because Libby's good friend and business partner, Nicole, has gone missing, and Libby herself is suspected of fowl play. Her desperate attempts to find her friend, make amends with her estranged family members, and navigate decisions about the future of the inn are further complicated by the secrets she is discovering about her past, not to mention the confusing relationship that is forming with a handsome Coast Guard lieutenant who seems intent on playing games with her heart.
A few years ago, I went on a Colleen Coble binge and read nearly everything she'd published at the time, but I hadn't read any of her subsequent books in recent years. My experience with Tidewater Inn revealed how my literary tastes have evolved and matured since I began blogging about books. Tidewater Inn is an easy and enjoyable read, but I found myself much less forgiving of its literary shortcomings than I would have been in the past. The character development is lacking, and many of the plot lines were too farfetched for me. I also didn't care for the over-the-top preachiness, which I know would be a turnoff for non-Christian readers. Still, I have a hard time turning away from a clean and cozy mystery, especially one with a sweet little romance thrown in, so I have no doubt I'll be reading more of Colleen Coble in the future.
My Rating: 3.5 stars.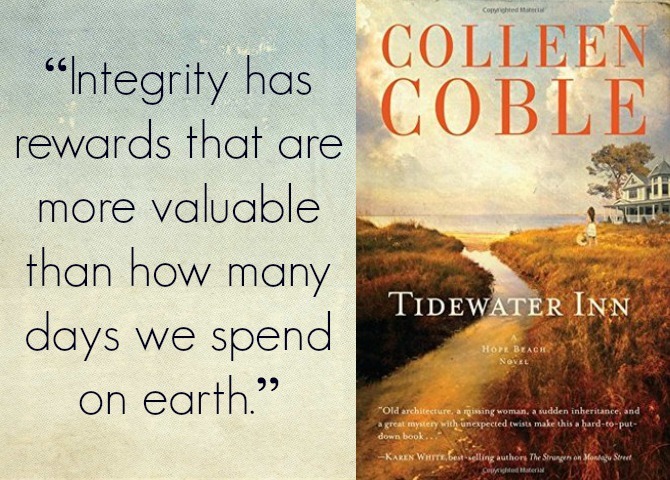 ---
Magpie Murders, by Anthony Horowitz: Susan Ryeland has a complicated relationship with Alan Conway: she doesn't care for him as a person, but adores his mystery novels. And as an editor for the company that publishes his books, she has a vested interest in their success. When Susan receives Conway's latest manuscript, she's eager to spend time with his famous detective, Atticus Pünd—a Hercule Poirot-like character whose penchant for solving mysteries in sleepy English villages has made his creator a millionaire.
This latest novel about a series of recent crimes within a local manor house is meant to be the last in the Pünd series. Susan is nearing the end of the manuscript, and is on the verge of seeing Pünd solve the mystery—but then the manuscript comes to an abrupt halt. She soon becomes convinced that this unfinished novel provides keys to another, real-life mystery taking place within her own circles.
This book is an homage to the classic whodunit, and it is brilliant! Everything about it is perfect, from the novel-within-a-novel format, to the intertwining of both stories. . . not to mention the behind-the-scenes glimpse at the publishing world, which shed light on many aspects of this genre that I'd never noticed. As an unapologetic Agatha Christie enthusiast, I especially enjoyed the English village mystery at the heart of the novel, but the modern-day thriller is fun, too. I haven't read much from Anthony Horowitz, but this novel has me convinced that I should (though I'll always wonder how many character traits he shares with the author of THIS book!). [Update: I immediately followed Magpie Murders with another Horowitz novel, which I'll be reviewing on Wednesday!]
My Rating: 5 stars!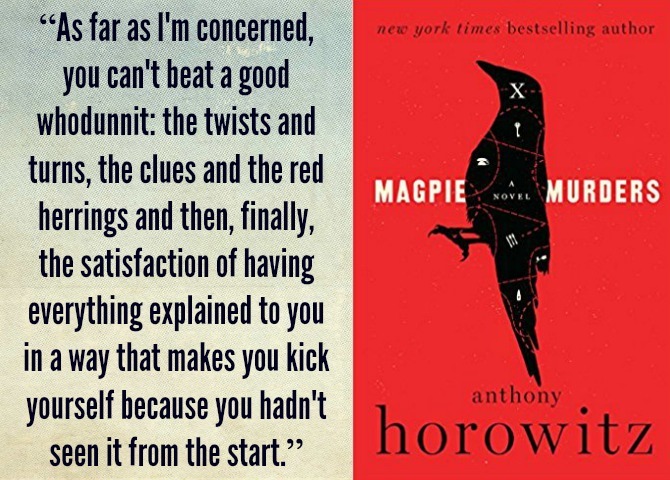 ---
Ginny Moon, by Benjamin Ludwig: Ginny is a 14-year-old girl whose autism is currently the least of her problems. After years of bouncing around the foster system, she seems to have settled happily into life with her Forever Parents. But the upcoming birth of a new Forever Sister has Ginny longing to return to the difficult life she left behind. She will do anything to get back to her abusive and addicted birth mother, who is the key to retrieving her "baby doll" that she abandoned in a suitcase when social services took her away. None of the adults in her life will listen to Ginny's insistent pleas, so she she takes matters into her own hands—even when that means jeopardizing herself and those who love her.
In Ginny Moon, Benjamin Ludwig has done an amazing job at offering readers a glimpse into the mind of someone with autism. Seeing the world through Ginny's eyes gave me a taste of the logical and emotional challenges experienced by people whose minds work a little differently. My heart broke for her, even as I resonated with the frustrations of her caregivers who simply didn't get it.
Despite its strengths, I didn't love the book. The story is slow and tedious, and spending so much time in Ginny's hyper focused, black-and-white brain was exhausting (though I suppose that was the point). The book ends on a positive note but the trauma and sadness of the first 90% of the book was hard for me to stomach.
My Rating: 3 stars.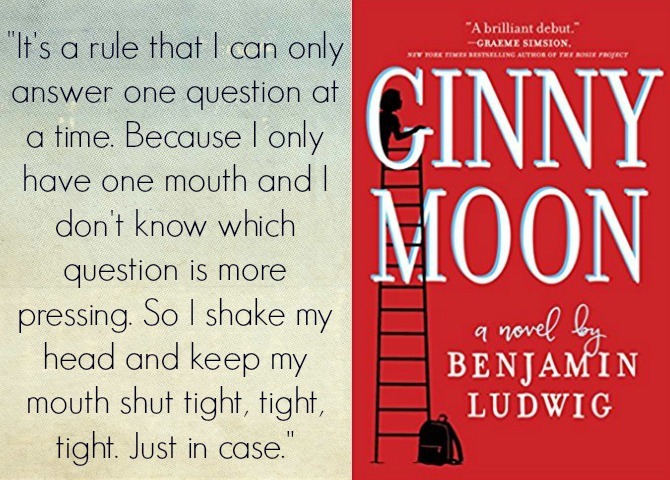 ---
When: The Scientific Secrets of Perfect Timing, by Daniel H. Pink: We all spend a lot of time thinking about the "whats" and "whys" of life, but there is a crucial component that often gets overlooked: the when. According to Daniel Pink, the timing of things—from when we check off certain tasks in our day to the time in life when we get married or quit a job—can make or break our success. When draws upon a wealth of statistics from sociology, biology, economics, and psychology to demonstrate the importance of timing and help readers make time work for us, rather than against us.
Pop Psychology books like this make for fascinating reads, and this one not only entertains but also offers excellent takeaways, many that would NEVER have occurred to me. I especially liked the suggestions for harnessing my Night Owl tendencies, as well as the myth-dispelling related to midlife crises and happy endings.
My Rating: 4 stars.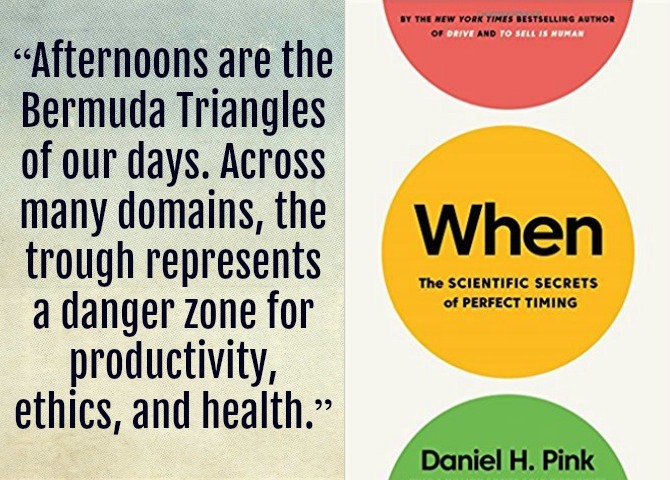 ---
Midnight at the Bright Ideas Bookstore, by Matthew Sullivan: A mystery that takes place in a bookstore? Sign me up! Lydia is a 30-year-old bookstore employee who has spent decades running from a traumatic event that defined her childhood. When Lydia's favorite bookstore patron commits suicide—leaving Lydia to uncover his body, as well as a trail of clues about his own troubled past—she begins to investigate. What led Joey to take his own life, and why does his past seem to be intertwined with her own?
This novel contains less book talk than the title and setting would suggest. It is also much darker and contains more graphic violence than I'm usually able to tolerate. (Don't make my mistake and read this book alone, at night; you will have nightmares.) However, the story is complex and captivating and kept me guessing until the very surprising ending. And despite the brutality and sadness, there is also warmth, friendship, and some truly beautiful souls. If you are a fan of Gillian Flynn's books (especially Dark Objects) this book will be a home run for you.
My Rating: 4 stars.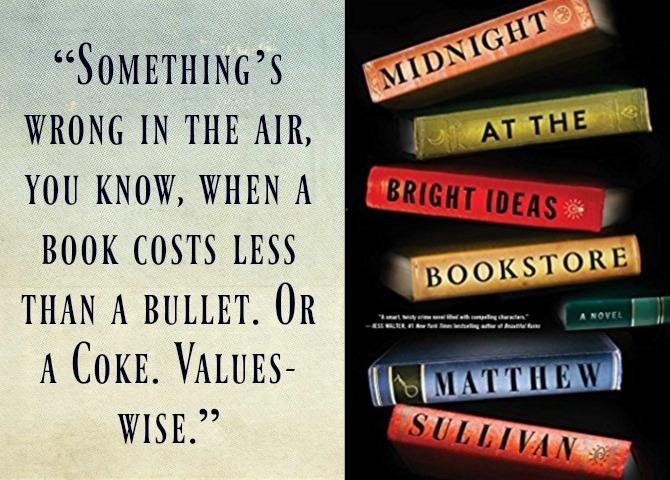 ---
In case you missed it, I shared Part One Last Friday. I'll be sharing my final installment of this month's Quick Lit reviews on Wednesday. See you then!