Last year I had fun sharing some of our family's favorite items in my Tried and True series featuring everything from favorite kitchen items to baby essentials to travel gear. I thought that I'd maxed out that series, but a couple of months ago I had the idea to write up a list of some of our favorite indoor activities.
We've spent quite a bit of time at home since the twins' birth and I thought it might be helpful for other moms of littles to see some of the activities, games, and toys that Charleston and I enjoy when we can't get out. Little did I know when I first planned out this post how relevant it would become in the coming weeks, when the rest of the country (and much of the world) joined us in staying home—and in search of some new ways to fill long days indoors.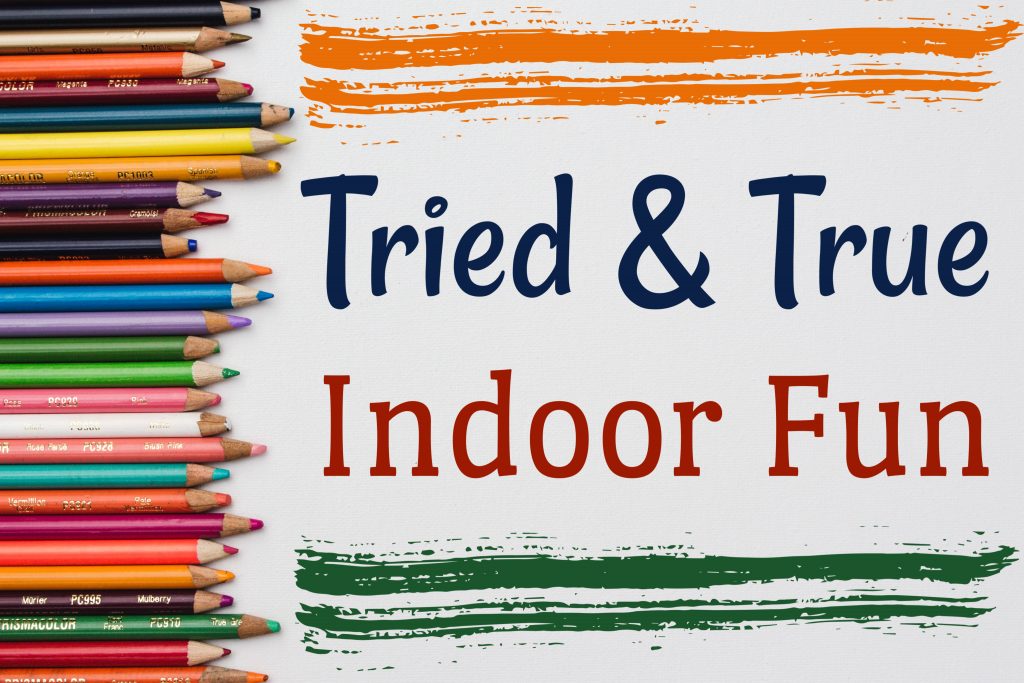 A majority of the items on this list are things that Charleston can enjoy independently, or with minimal supervision from me. The exceptions are the games, which I am able to play with Charleston while also nursing or holding the babies. A lot of the items have great educational value, and only a couple require batteries, as I prefer for our toys and activities to be analog whenever possible.
All of these items are things we have purchased ourselves (or received as gifts) that we give our full stamp of approval.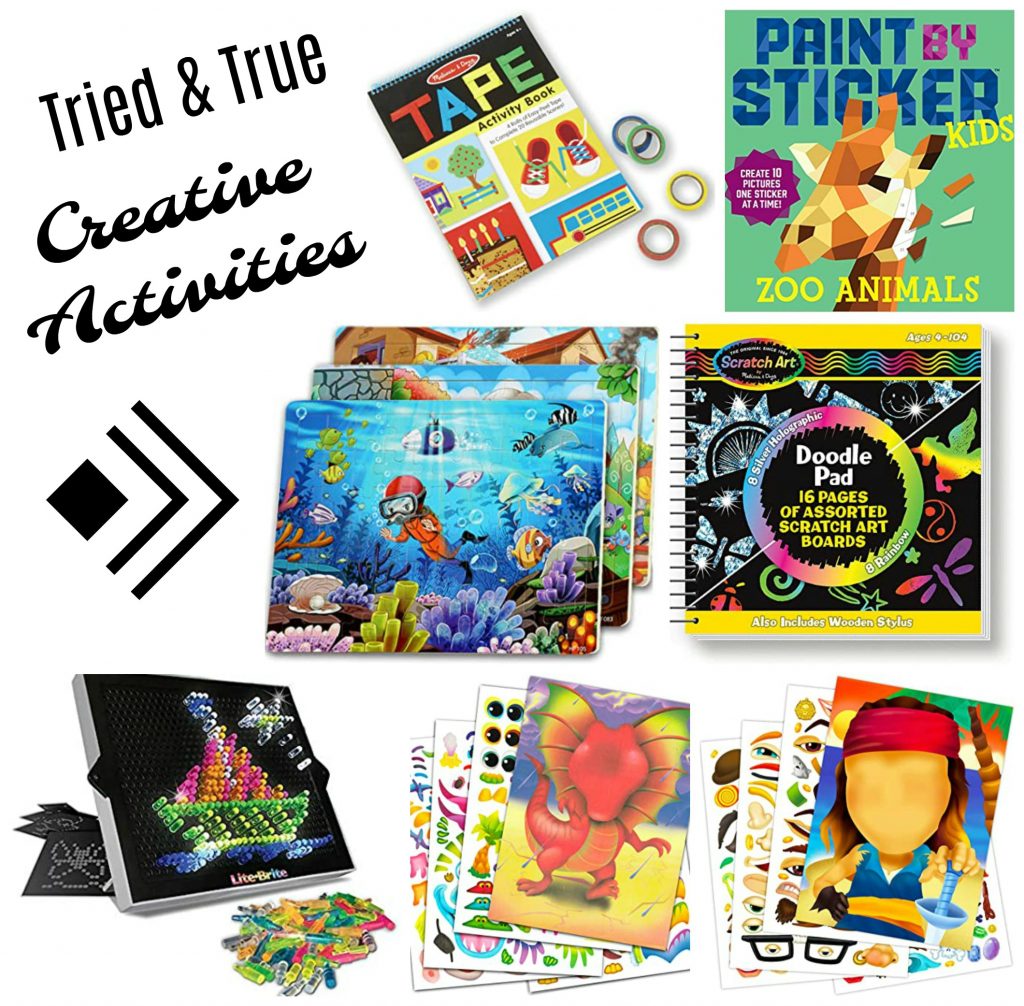 Tape Activity Book // This simple activity consists of a spiral bound book of laminated pages featuring lined images that kids can "trace" with tape. I wouldn't have thought that cutting and taping could be so entertaining, but Charleston really loves this, and it's been a great way for him to develop his fine motor skills.
Paint by Sticker Book // Like color-by-number, but with stickers! This is a fun activity for Charleston and I to do together, and the completed pictures look great hanging on our art wall.
Wooden Jigsaw Puzzles // These 60-piece puzzles bridge the gap between basic puzzles geared towards toddlers and more difficult puzzles designed for adults. The puzzles are sturdy and nicely packaged and the images are colorful and fun.
Scratch Art Doodle Pad // This easy-to-use scratch pad is simple but so much fun. Perfect for the kid who loves to draw.
Lite-Bright // I'm such a sucker for the modern versions of toys I grew up with. I will admit that the quality of this retro toy doesn't quite compare with the original, but it still offers the same entertainment value, and it doubles as a fun nightlight.
Make a Face Sticker Books // We learned about these from the babysitter at our gym, and Charleston just can't get enough of them! It's fun to see the creativity and silliness Charleston puts into each created face.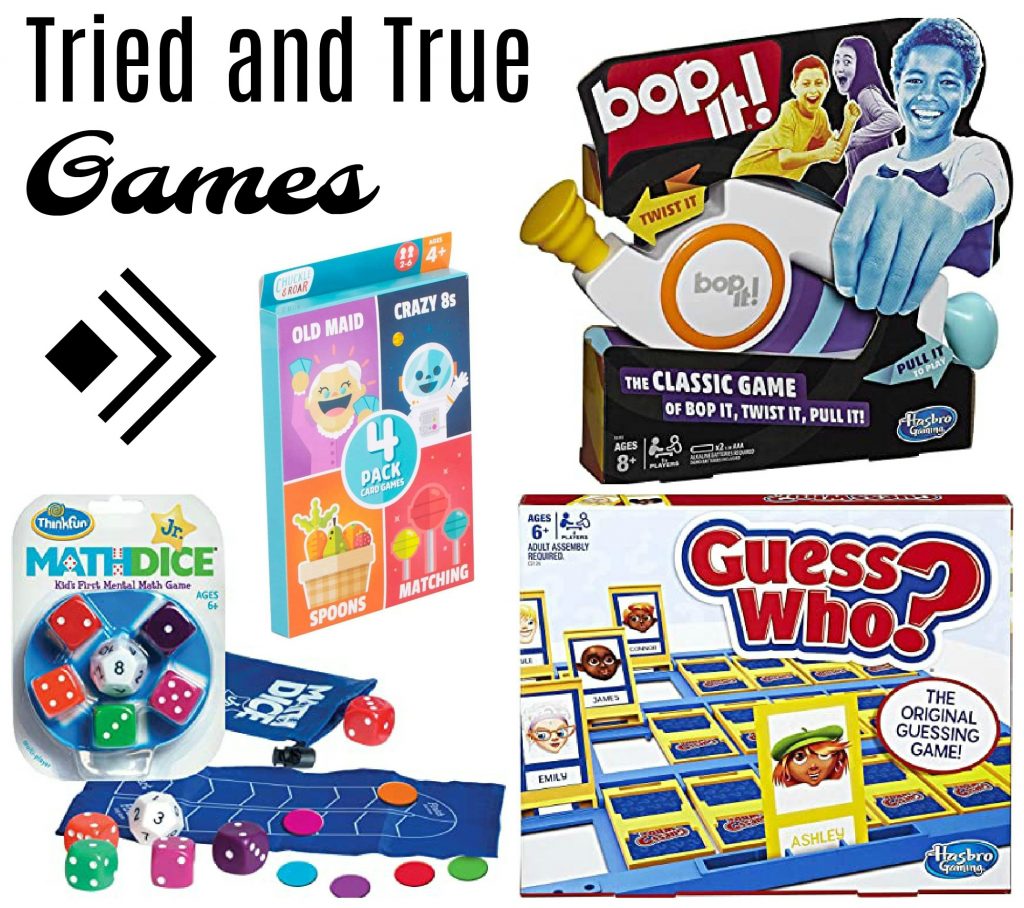 Chuckle and Roar Card Game 4-Pack // We received this set of four card games as a gift and we have gotten so much entertainment out of them! The set includes four familiar games (Old Maid, Crazy 8's, Spoons, and Memory) that are made much more kid-friendly thanks to the colorful pictures. It's nice to have a portable game that I can keep in my purse to play while we are out; Charleston has enjoyed bringing one or two of these games with us on our Mama/Charlie dates. Pro tip: we use the "Spoons" deck to play Memory, as it makes the game a little easier.
Bop It! // I loved this toy as a kid and have enjoyed watching Charleston master it as well. If you can get over the annoying sounds, it's a great toy for helping improve coordination and focus.
Math Dice Game // This simple game provides a fun way for us to practice mental addition and subtraction and build on critical thinking skills. Charleston is just on the cusp of being able to play it now, at five, and I imagine it will grow well with him over the next few years as his math abilities improve.
Guess Who // This is yet another favorite game from my childhood that Charleston loves just as much as I did as a kid (and still do!). I find it much more enjoyable than most children's games, which are simply games of chance. This one requires critical thinking and problem solving skills, so I have no problem incorporating it into our homeschool time. I appreciate that the characters of this new edition are much more diverse than the board I grew up with, making the game more challenging.
Superbounce (not pictured) // Charleston learned this make-it-yourself game from one of Mo Willems' Lunch Doodles videos, and he has been obsessed with creating new board games—and then recruiting Luke and me and even my parents via Facetime to play them with him. The game requires very few materials you'll have at home, and it has literally provided hours and hours of entertainment in our home.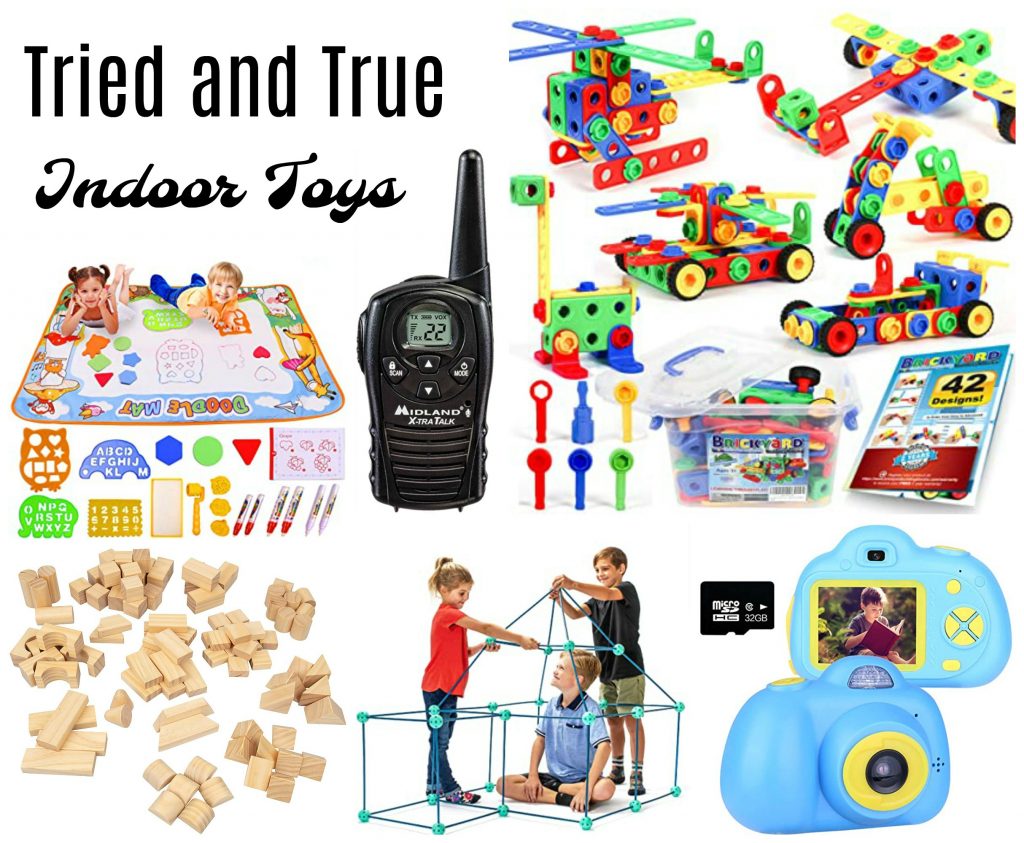 Doodle Mat // We just love this mess-free mat that allows Charleston to "draw" and "write" all over the floor. We use it for practicing letter-writing and math problems, but it could be enjoyed by much younger children as well.
Walkie Talkies // Charleston has a blast using these walkie talkies to communicate with Luke or me from across the house, or with Luke at home when we are out on walks.
Brickyard Engineering Blocks // These colorful, sturdy blocks are perfect for the Lego-loving kid—and they're a lot less painful than Legos when stepped on!. I love that they come in their own convenient storage case.
100-Piece Wooden Building Blocks // A child can never have too many blocks. This set of smaller blocks (which comes in a mom-approved and appreciated storage tub) has been a great addition to Charleston's block cities.
Fort Building Kit // I have yet to meet a child who doesn't love building forts, and this kit makes it easier than ever to transform a simple blanket into a magical hideout.
Kids Digital Camera // Charleston watches me take pictures from my phone all day long, so he's loved having a camera of his own to capture photos of everyday items and events. He's enjoyed bringing this camera to take pictures on our neighborhood walks, and he takes full advantage of the camera's built-in puzzle games when we are home.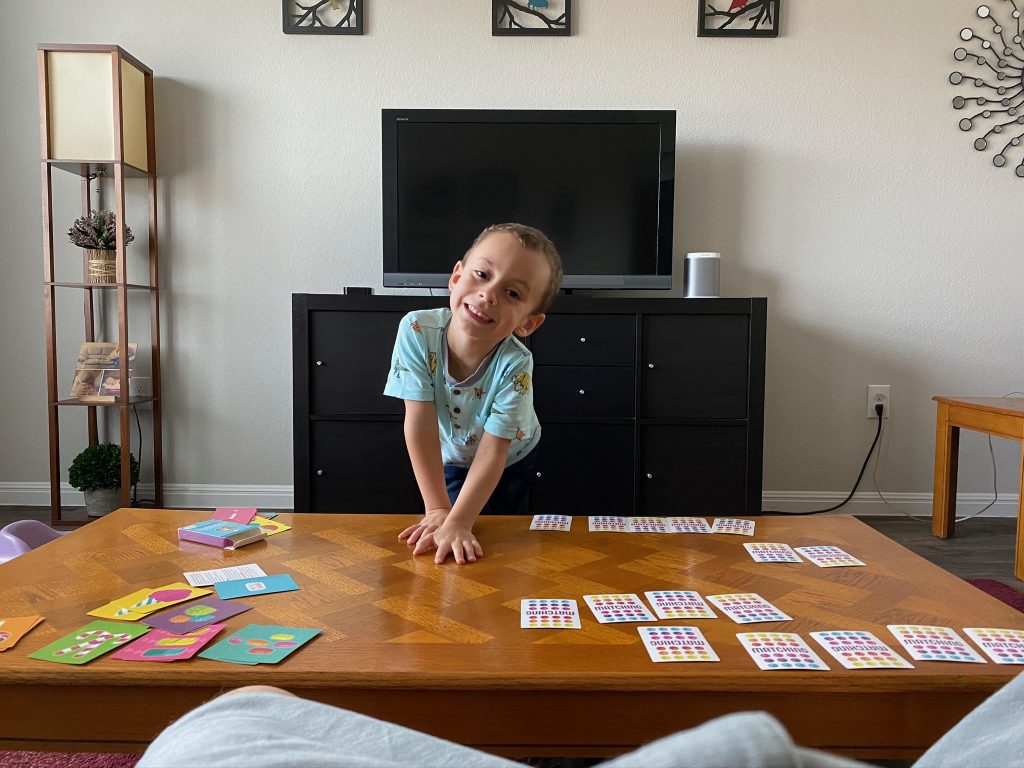 ---
In addition to all of these toys and games, Charleston still loves all of the preschooler-friendly items listed in this Tried and True post. And if you are looking for activities for your babies and toddlers to enjoy, we've got you covered.
What are some indoor toys, games, and activities that your family has been enjoying during these days of sheltering indoors? We'd love to hear your recommendations!