As much as I enjoy compiling a list of my favorite books at the end of each year, it's consistently a challenge to narrow that list down to a reasonable number of titles. There are always more books I want to share—some because they were also deserving of recognition, and others because they were memorable in some way (memorable being the generous term in a few instances). Today, in order to fill in some of the gaps left by my 2022 Reading Highlights post, I'm sharing some bookish superlatives from last year's reading. (The books on this list are all books I read in 2022, though few were actually published last year.)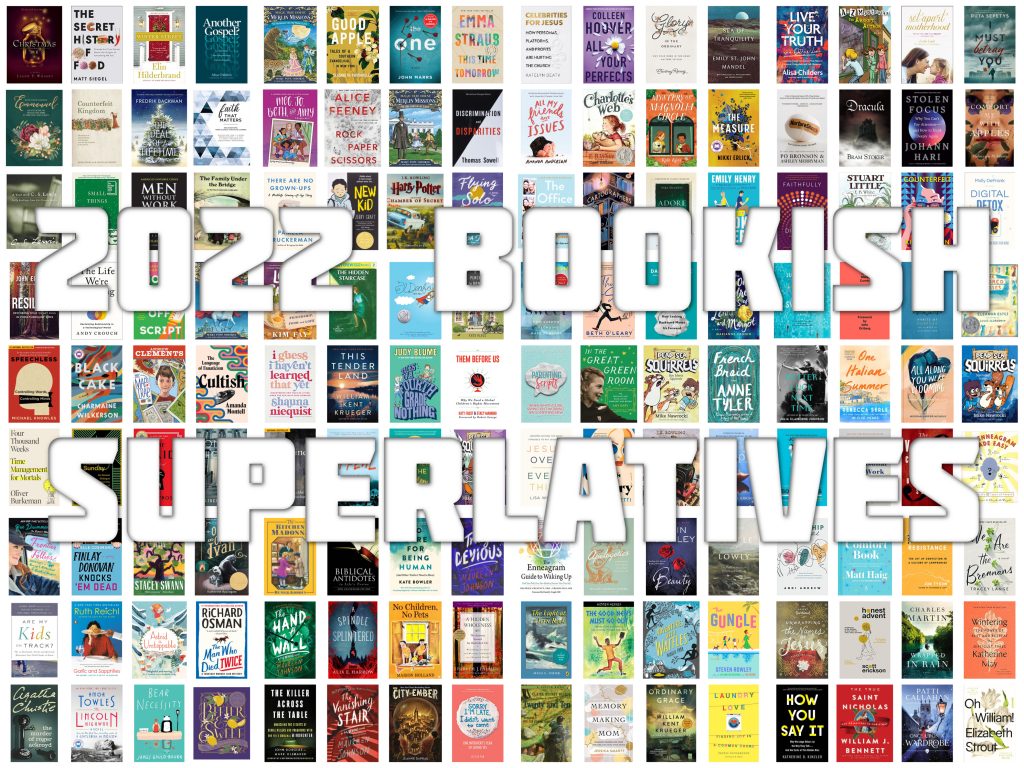 The first half of these superlatives are books that did not make my Top 22 for 2022. As you will see, not all of these superlatives are positive, and not all of these books are ones I would necessarily recommend! Books with an asterisk are books that received less than a 4-star rating from me.
MIDDLE GRADE & YA
Most Heartwarming Story of Found Family: A Place to Hang the Moon, by Kate Albus (Review)
Best Graphic Novel: El Deafo, by Cece Bell (Review)
Most Clever Premise for a Middle Grade Novel: The Map Trap, by Andrew Clements (Review)
Best Backlist Middle Grade Gem: No Children, No Pets, by Marrion Holland (Review)
Best Middle Grade Take on an Adult Classic: Mystery on Magnolia Circle, by Kate Klise (Review)
Most Endearing Young Protagonist: Astrid the Unstoppable, by Maria Parr (Review)
Favorite Family Read-Alouds: Harry Potter and the Sorcerer's Stone and Harry Potter and the Chamber of Secrets, by J.K. Rowling
Children's Classic Most Deserving of a Revisit: Charlotte's Web, by E.B. White (Review)
Book Every Teen Needs to Read: I Must Betray You, by Ruta Sepetys (Review)
ADULT FICTION
Best Book Inspired by True Characters: Once Upon a Wardrobe, by Patti Callahan (Review)
Sweetest Father/Son Story: Bear Necessity, by James Gould-Bourn (Review)
Cutest Banter, Best Romantic Comedy: Book Lovers, by Emily Henry (Review)
Biggest Brain-Bender, Most Literary: Sea of Tranquility, by Emily St. John Mandel: (Review)
Most Propulsive, Creepiest: The One, by John Marrs (Review)
Most Surprising Twist: Cover Story, by Susan Rigetti (Review)*
Sweetest Father/Daughter Story, Best Time Travel Novel: This Time Tomorrow, by Emma Straub (Review)
NONFICTION
Most Gorgeous Prose: No Cure for Being Human (And Other Truths I Need to Hear), by Kate Bowler (Review)
Most Thought-Provoking: Bittersweet: How Sorrow and Longing Make Us Whole, by Susan Cain (Review)
Most Uplifting: Aggressively Happy: A Realist's Guide to Believing in the Goodness of Life, by Joy Marie Clarkson (Review)
Biggest World-View Adjustment: Live Your Truth and Other Lies: Exposing Popular Deceptions That Make Us Anxious, Exhausted, and Self-Obsessed, by Alisa Childers (Review)
Most Worshipful: Adore: A Simple Practice for Experiencing God in the Middle Minutes of Your Day, by Sara Hagerty (Review)
Best Devotional: A Year With C.S. Lewis: Daily Readings from His Classic Works (Review)
Most Practical Parenting Guide: Parenting Scripts: When What You're Saying Isn't Working, Say Something New, by Amber Lia and Wende Speake (Review)
Best Lenten Devotional: Bitter & Sweet: A Journey into Easter, by Tsh Oxenreider (Review)
Most Beautiful Advent Devotional: Emmanuel: An Invitation to Prepare Him Room at Christmas and Always, by Ruth Chou Simons (Review)
Most Convicting: Jesus Over Everything: Uncomplicating the Daily Struggle to Put Jesus First, by Lisa Whittle (Review)
NEGATIVE SUPERLATIVES
Most Disappointing Sequel: Finaly Donovan Knocks 'Em Dead, by Elle Cosimano (Review)
Book I Wish I Could Scrub From Memory: All Your Perfects, by Colleen Hoover (Review)*
Least Deserving of the Hype: The Maid, by Nita Prose (Review)*
Book That Didn't Live Up to Its Premise: The Cartographers, by Peng Shepherd: (Review)*
Book Everyone Else Loved (But I Didn't): The Violin Conspiracy, by Brendan Slocumb (Review)*
Most Disappointing Retelling: Meg, Jo, Beth, and Amy: A Modern Graphic Retelling of Little Women, by Rey Terciero (Review)*
Most Bizarre Allegory: Comfort Me With Apples, by Catherynne M. Valente (Review)*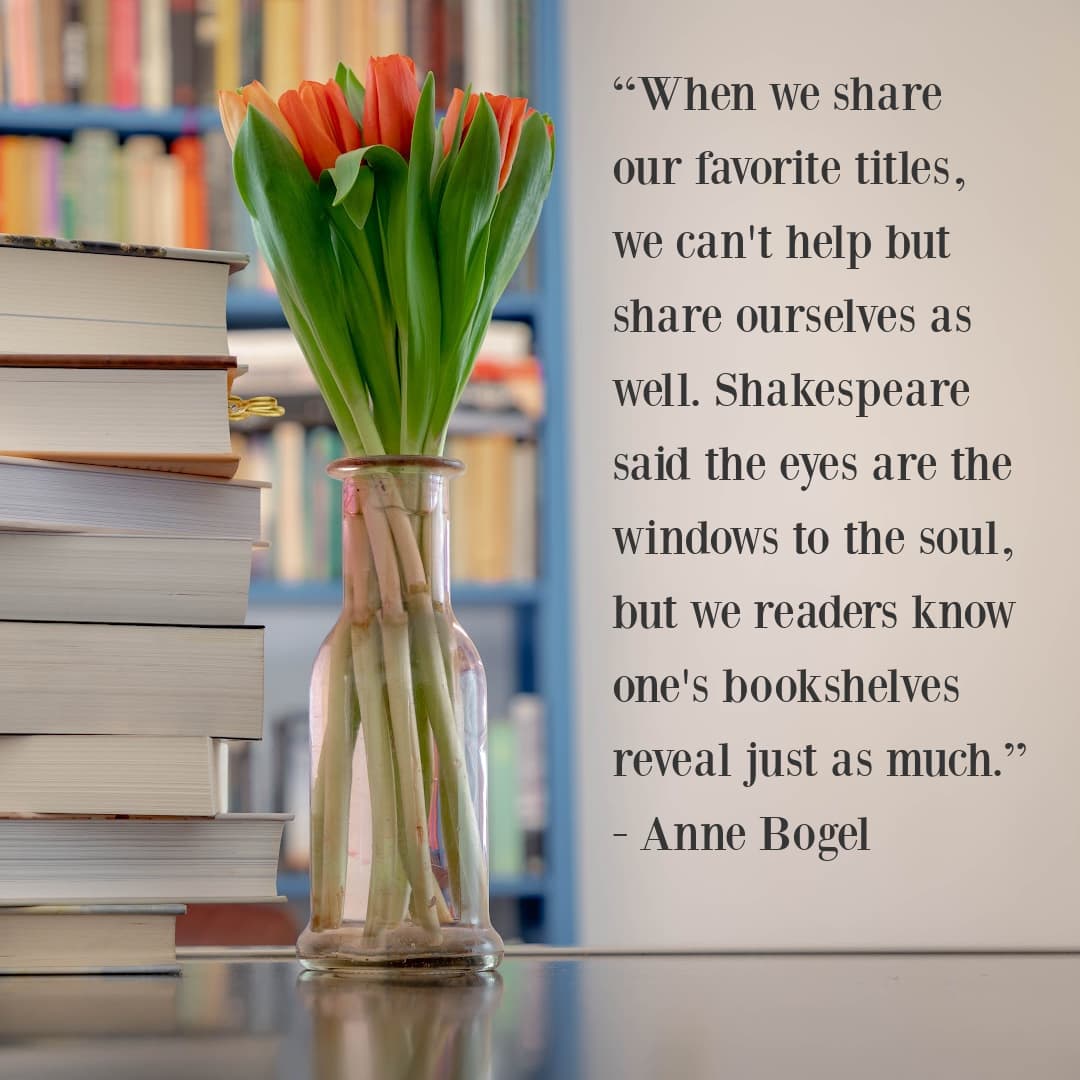 The second half of this superlative roundup includes the superlatives I would give to my 22 favorite reads from last year.
FICTION
The Murder of Roger Ackroyd, by Agatha Christie: Best Genre-Defining Classic (Review)
Love & Saffron, by Kim Fay: Sweetest Friendship Story, Best Epistolary Novel (Review)
The Appeal, by Janice Hallett: Most Creative Structure/Format, Funnest Reading Experience (Review)
Small Things Like These, by Claire Keegan: Most Memorable Christmas Story (Review)
Ordinary Grace, by William Kent Krueger: Most Remarkable Father Figure, Best Coming of Age Story (Review)
This Tender Land, by William Kent Krueger: Best Historical Fiction (Review)
The Man Who Died Twice, by Richard Osman: Best Mystery, Best Sequel(Review)
The Swimmers, by Julie Otsuka: Most Unusual Narration, Most Likely to be Misunderstood by Other Readers, Most Heartbreaking Mother/Daughter Story (Review)
Adventures With Waffles, by Maria Parr: Best Middle Grade Friendship Tale, Best Book in Translation (Review)
The Lincoln Highway, by Amor Towles: Best All-Around, Best Adventure Tale, Most Superb Writing (Review)
French Braid, by Anne Tyler: Most Unforgettable Family (Review)
NONFICTION
The Enneagram Made Easy, by Renee Baron and Elizabeth Weagle: Best Enneagram Primer (Review)
Four Thousand Weeks: Time Management for Mortals, by Oliver Burkeman: Best Book on Productivity (Review)
Faithfully Different: Regaining Biblical Clarity in a Secular Culture, by Natasha Crain: Best Theology Tutorial (Review)
The Life We're Looking For: Reclaiming Relationship in a Technological World, by Andy Crouch: Most Timely Spiritual Exploration (Review)
The Common Rule: Habits of Purpose for an Age of Distraction, by Justin Whitmel Earley: Most Applicable Book on Spiritual Formation (Review)
Honest Advent, by Scott Erickson: Best Unconventional Advent Devotional (Review)
Are My Kids on Track? The 12 Emotional, Social, and Spiritual Milestones Your Child Needs to Reach, by Sissy Goff, David Thomas, and Melissa Travathan: The Book Every Parent MUST Read (Review)
Wintering: The Power of Rest and Retreat in Difficult Times, by Katherine May: Coziest Memoir (Review)
Gentle and Lowly: The Heart of Christ for Sinners and Sufferers, by Dane Ortlund: Best Hug from Heaven, Best Nonfiction of the Year (Review)
Laundry Love: Finding Joy in a Common Chore, by Patric Richardson Most Giftable, Most Surprising Favorite Read (Review)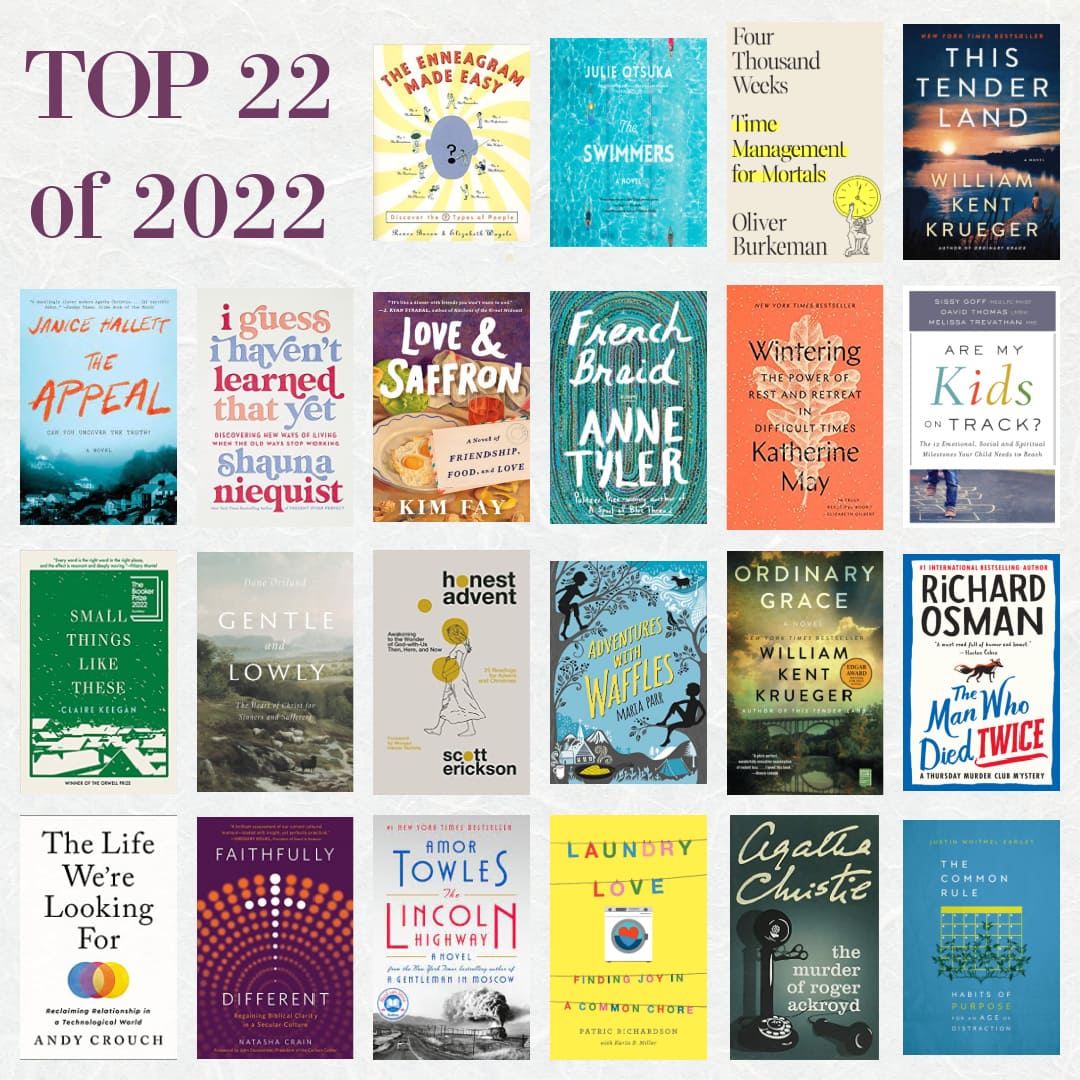 If you would choose a different superlative for any of these titles, I'd love to hear it!