Oh, the day after Christmas—unquestionably the saddest day of the year. Its saving grace is its positioning at year's end, which is prime time in internet circles (and personal journals) for all manner of reflection. . . not the least of which is an abundance of "Best Of" lists and various other reflective roundups.
Is there such thing as too much recapping and reflection? Possibly. Am I personally prone to overindulging in such year-end review? Also quite likely. But will I be reining in the recollective tendencies this year? Not a chance. This week, my blog content will be all about year-end reviews. On Thursday I will be sharing a meditation on some things I learned in 2022, and on Saturday I'll be commemorating New Year's Eve with a 2022 Highlights Reel. Today I'm kicking off recap week with a look back at my reading life over the past year.
This is always one of my favorite (and most popular) posts of the year! For those interested in seeing what my reading life looked like in previous years, plus a whole lot of backlist book recommendations, you can see each of my past recaps here: 2021, 2020, 2019, 2018, 2017, 2016, 2015, 2014, and 2013.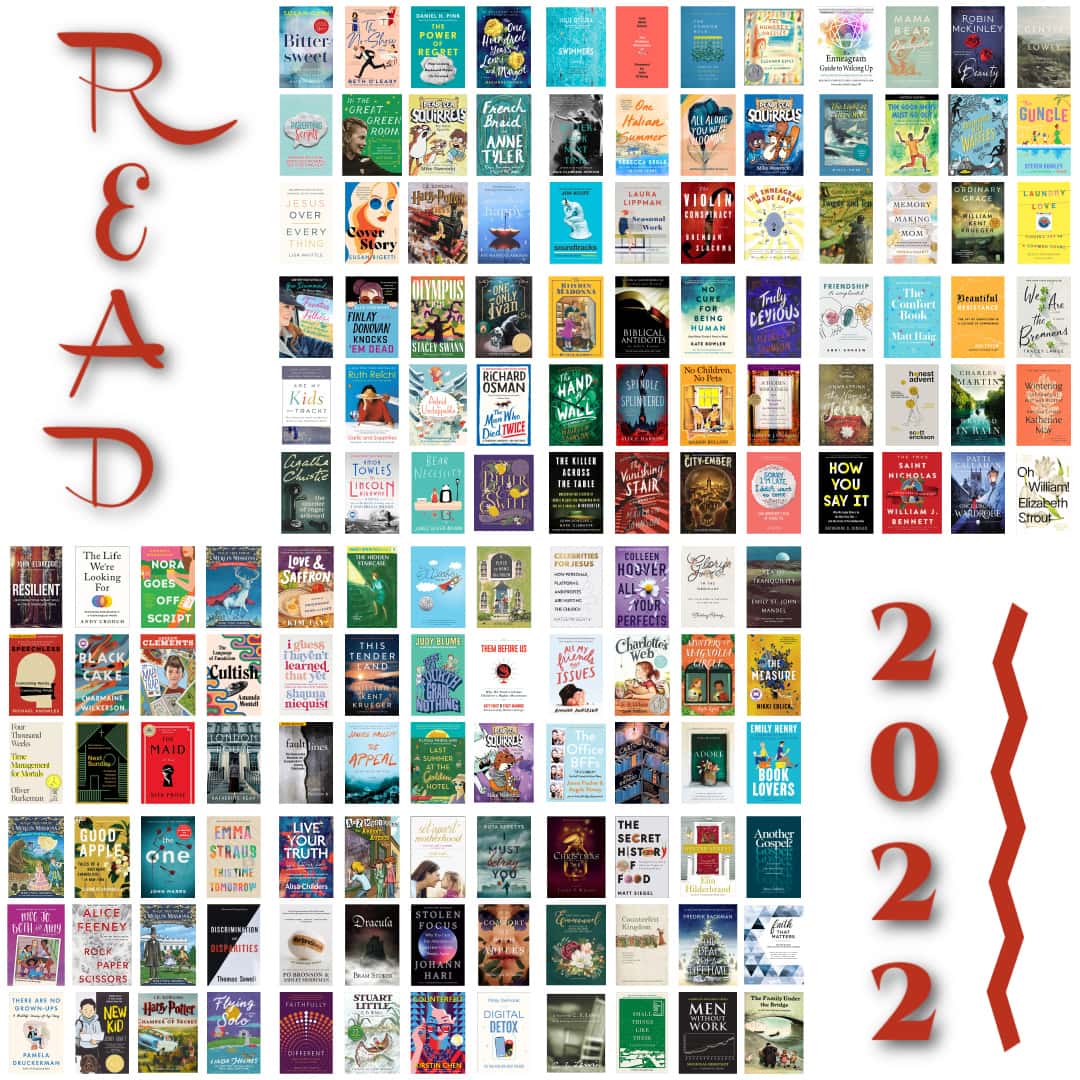 Looking back over a year of books, I can't say that 2022 was a banner reading year for me. I got off to a rocky start, as I was primarily reading books to satisfy categories for a library Book Bingo—which was a fun challenge but led to some less-than-stellar book choices. I hit my reading stride in spring and summer, but as the seasons turned I fell back into a reading slump I'm still trying to climb my way out of.
I recognize this current slump has little to do with the books themselves and everything to do with me and my frame of mind. While I can't say that my reading this fall was especially satisfying, I did read a handful of objectively stellar books in the past couple of months, and many MORE than a handful over the course of the year: my average book rating for 2022 was 4.1 stars (exactly where it was in 2021), with more 5-star reads than ever before (37!) and just thirteen books falling under my 3.5-star success threshold. For those curious about which books fell into which star categories, you can see the full breakdown of books on this Pinterest board.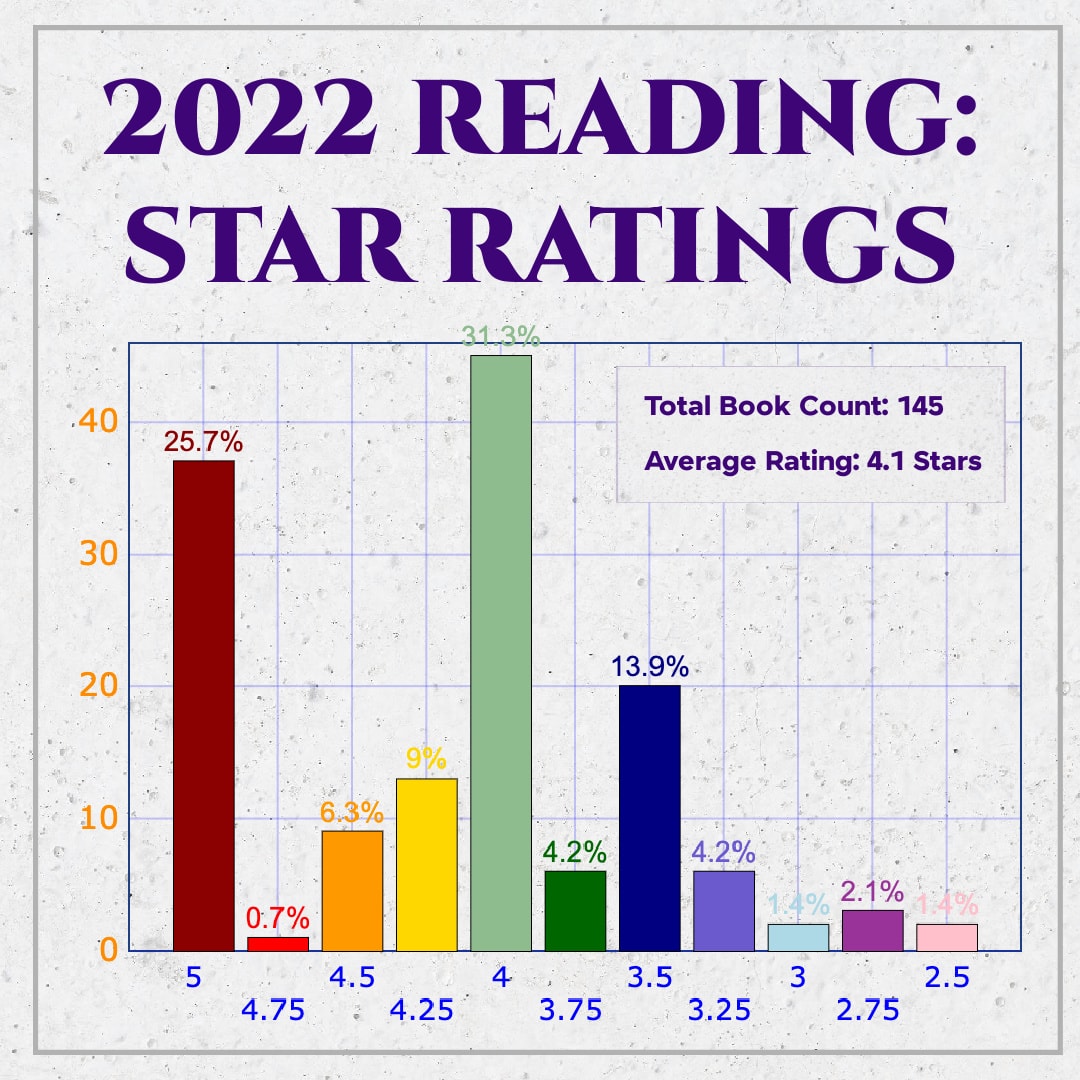 The makeup of my reading this year saw a continuation of some trends. Most notable was the decrease in my annual book count: my book total for this year came in at 145 books (for comparison, I read 155 books in 2021, 168 books in 2020, 170 books in 2019, and 205 in 2018); this number feels low for me, but is still higher than every other year prior to 2018. The reasons for this decrease in total book count are numerous, but the biggest explanation (other than the fact that I'm simply busier these days and have less time for reading) is that I have cut WAY down on my audiobook consumption. In the past, it was not unusual for audiobooks to make up nearly three-quarters of my annual reading. This year, less than a third of my total books were audiobooks. This was an intentional choice, as I tend to find the listening experience less enjoyable and also less memorable. I am thankful for the existence of audiobooks, and especially for the widespread adoption of this reading format in recent years, but it remains my least favorite way to consume a book, and I'm fine with a lower total book count if it means a greater percentage of my books are coming in a format that is a better fit for me.
Speaking of reading formats, this might be the first year in all my years of book tracking that I read more of my books in print than in any other format, including books on Kindle. This is partly because I read a lot of books with Charleston this year (twenty read-alouds!), and those books were all print. I've also been making better use of my library card and holds, meaning that I have access to physical copies of the books I want to read. Now that the kids are older, it's easier for me to read a physical book than when they were babies and much of my reading was done with kid(s) in one hand and my Kindle or phone in the other. As much as I love my Kindle (especially its easier access to books), I am so happy to have physical books as a big part of my reading life once again. You can see the breakdown of my book categories on this Pinterest board.
I maintained a fairly even balance of fiction and nonfiction this year, which continues to feel right for my personal reading rhythms. There were shifts in my genre choices, though; this year I was less interested in my go-to genres of mystery and thriller, and instead found myself reaching for the extremes of literary fiction (which I mostly loved) or "brain candy" (middle grade or Chick Lit, with mixed success). My project of reading one Word-related book each month led me to twelve books that would fall under the umbrella of Christian Living, and almost all of these were 4.5- or 5-star reads. I also had great success with novella-length reads, as well as with some very niche nonfiction picks. Most of this year's reading was backlist, with only 39 of my books published in 2022 (though I have many more 2022 books on my TBR).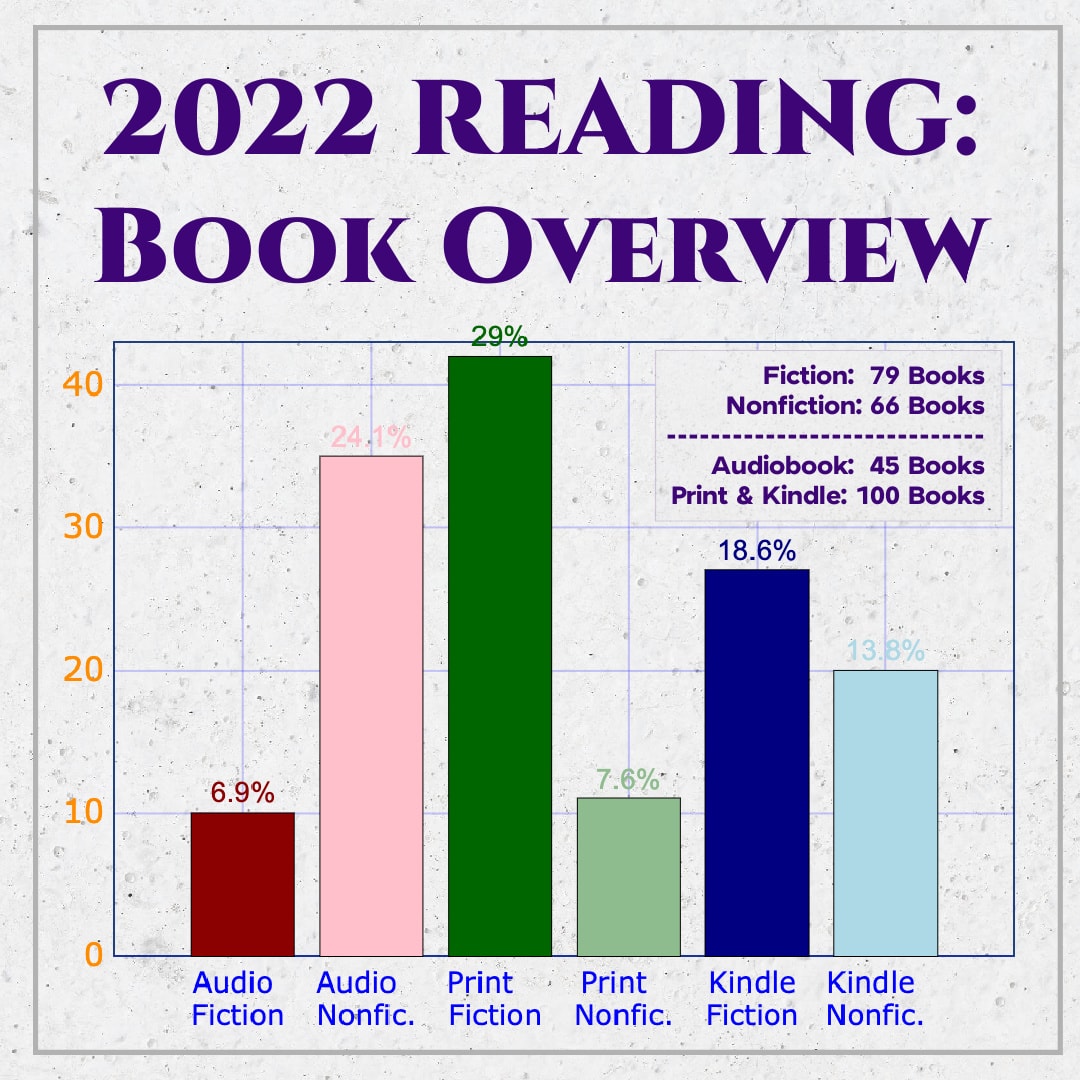 As much as I'm sure you all are intensely fascinated by my reading stats and analysis (she says with tongue planted firmly in cheek), I know you're really here for some great book recommendations, and boy do I have some for you! As always, it was a challenge to narrow my favorites down to a manageable number. I finally got my Favorites List to 22 titles—eleven fiction, eleven nonfiction—though you'll see quite a few bonus picks sprinkled in, so really the number is quite a bit higher! I did not include any rereads on this list, and I prioritized books with staying power; these are the books I found myself thinking about long after reading. I wanted a healthy variety for this list, leading me to prioritize unique reads so that I wasn't simply highlighting many variations of the same book. 😉
(Before we get started, I should note that this is not a Best of 2022 in the true sense of the classification, as just six out of my 22 favorite books for the year were actually published in 2022. Most of these titles are backlist, which is great news if you are using this list for book recs and hoping for library availability!)
And now, without any further ado, let's get to my list of very favorite books of the year. You may find some of your own favorites on this list, and my hope is it might guide you to a book or two you are eager to read in 2023.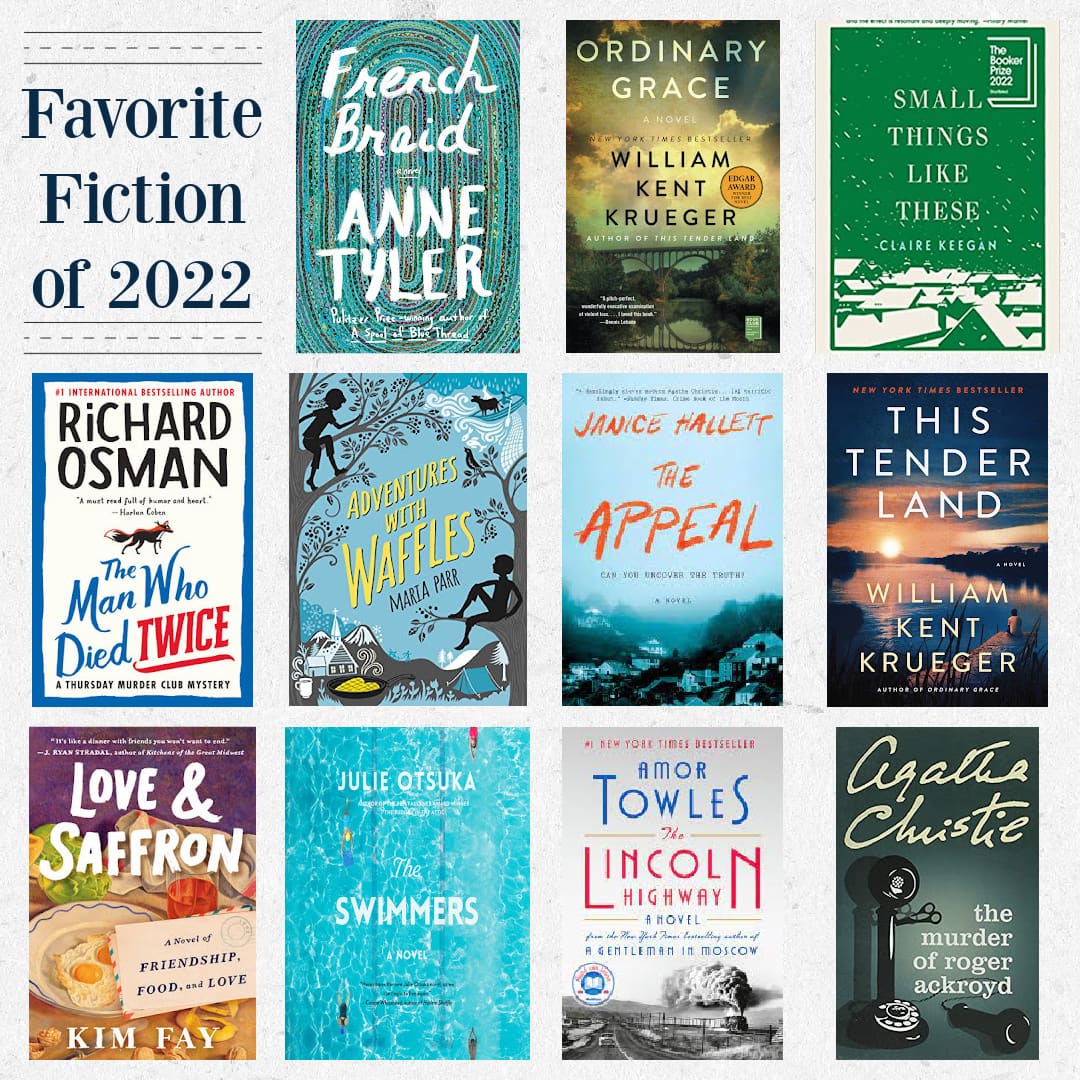 The Murder of Roger Ackroyd, by Agatha Christie: Ms. Christie earns her reputation as Queen of Crime Fiction with this book that I (an avid Agatha Christie fan) had somehow missed reading until this year: renowned detective Poirot is at his peek quirkiness and brilliance, navigating the big mystery as well as several smaller ones as only the eccentric detective can. I loved the quaint village setting as well as Christie's use of literary tactics that are common in modern mysteries but were absolutely groundbreaking for their time; I see why this is considered one of the most influential titles in the genre. A must read for every mystery enthusiast. (Review)
Love & Saffron, by Kim Fay: I adored this uplifting epistolary story of a cross-generational friendship set in the early 1960s. With its evocative food descriptions, exciting historical backdrop, and endearingly inspirational protagonists, this nostalgic little book is impossible to dislike; it is high on the comfort scale, exuding vibrant reflection, bittersweet undertones, delicate humor, and oodles of charm, and it is the novel I found myself recommending most often this year. (Review)
The Appeal, by Janice Hallett: This mystery set in the world of local theater wins first prize for the most creatively structured book I read this year: taking the epistolary format to the next level, it is comprised entirely of emails and text transcripts, with a few newspaper headlines sprinkled in. Though this is technically a novel, reading it felt less like sitting down with a book and more like working my way through a puzzle—and I absolutely inhaled it! This would make a fantastic book club or buddy read. (Review)
Small Things Like These, by Claire Keegan: This hard but heartwarming tale of heroism, which takes place in a small Irish town at Christmas in 1985, was my first exposure to Ireland's Magdalene Laundries—a dark spot in the history of Ireland and of the Catholic church, but a subject worthy of exploration and exposure. With hypnotic prose and razor sharp insight into issues of corruption, complicity, and human complexity, Keegan shares an inspiring and life-affirming Christmas tale of courage, compassion, and community. Reminiscent of It's a Wonderful Life, this is a seasonal story with a strong sense of place but universal message. (Review)
Ordinary Grace, by William Kent Krueger: This stunning backlist gem is the coming-of-age story a thirteen-year-old boy who encounters four distinct deaths (by accident, nature, suicide, and murder) in just a few months in 1961. The book, which is filled with Christian themes without being explicitly "Christian," is memorable not only for its gripping plot and exquisite prose, but also its exploration of grief, the loss of innocence, prejudice, and forgiveness. (Review)
This Tender Land, by William Kent Krueger: I loved this atmospheric literary adventure story of four young vagabonds who embark on a canoe ride down the Mississippi in the summer of 1932. Among other important themes (including found family, redemption, forgiveness, and the nature of storytelling) is a quest to understand God and faith; Krueger has such a unique and beautiful way of weaving theology into his storytelling, so it's not a surprise that he penned two of the eleven best novels I read all year. This was a great read-alike for The Lincoln Highway (which I read first), and though it doesn't have quite the wow factor of that book, it is a remarkable book that I haven't stopped thinking about since I read it in July! (Review)
The Man Who Died Twice, by Richard Osman: It's rare for a sophomore novel to live up to its predecessor, but Osman blew my expectations out of the water with this second book about four octogenarian mystery enthusiasts who take on real crimes. It is the perfect balance of character-and plot-driven, with a complex plot and characters that nestled their way right into my heart. With its high body count and complicated storylines, this mystery isn't exactly cozy, but it's definitely heartwarming. (Review)
The Swimmers, by Julie Otsuka: I have never read anything like this book, which is told in the collective first person by a community of swimmers who gather at the community pool. The story then zeroes in on one of the swimmers, a woman with dementia whose story of cognitive decline brings us forward into a present-day memory care facility and backwards to a Japanese internment camp in during the Second World War. The writing in this witty, tender, and artfully human story is rhythmic and haunting, at once universal and deeply intimate. The book is highly literary and won't be to everyone's taste, but personally I loved the ways this book evoked both my intellect and my emotion. (Review)
Adventures with Waffles, by Maria Parr: In one of our favorite read-alouds ever, we follow two young best friends on their various escapades, laughing through their misadventures and aching alongside them as they get their first tastes of grief and loss. We loved the window into Norwegian culture and customs, and I appreciated the delicate handling of difficult but important subjects, as well as the beautifully uplifting themes of family and loyalty. (Review)
Related Bonus Picks: We loved Parr's Astrid the Unstoppable (Review) *almost* as much. Two other favorite read-alouds of the year were Mystery on Magnolia Circle (Review) and No Children, No Pets (Review).
The Lincoln Highway, by Amor Towles: This adventure tale from a favorite author covers just ten eventful days in the lives of a group of teenage boys in the summer of 1954. The story itself is captivating, and Towles' character exploration and prose are phenomenal. The Lincoln Highway is a brilliant and quintessentially American ode to reading, storytelling, adventure tales, roadtrips, brotherhood, and growing up, and it's the only novel I read this year that landed a spot on my list of All Time Favorite Reads! (Review)
French Braid, by Anne Tyler: This is the decades-long story of one Baltimore family whose lives and stories and personalities are braided into an intricate portrayal of family across three generations. In chapters set a decade apart, we are offered unique perspectives from various family members whose little vignettes come together to paint the complete portrait of this misunderstood family. The book is not fast-paced, but it had me riveted, and I came to the end wishing for more time with this extraordinarily regular family whose story is an exploration of closeness, misperception, selfishness, sacrifice, family roles, generational stereotypes, and the ability of outsiders to view us in ways we can't quite see for ourselves. (Review)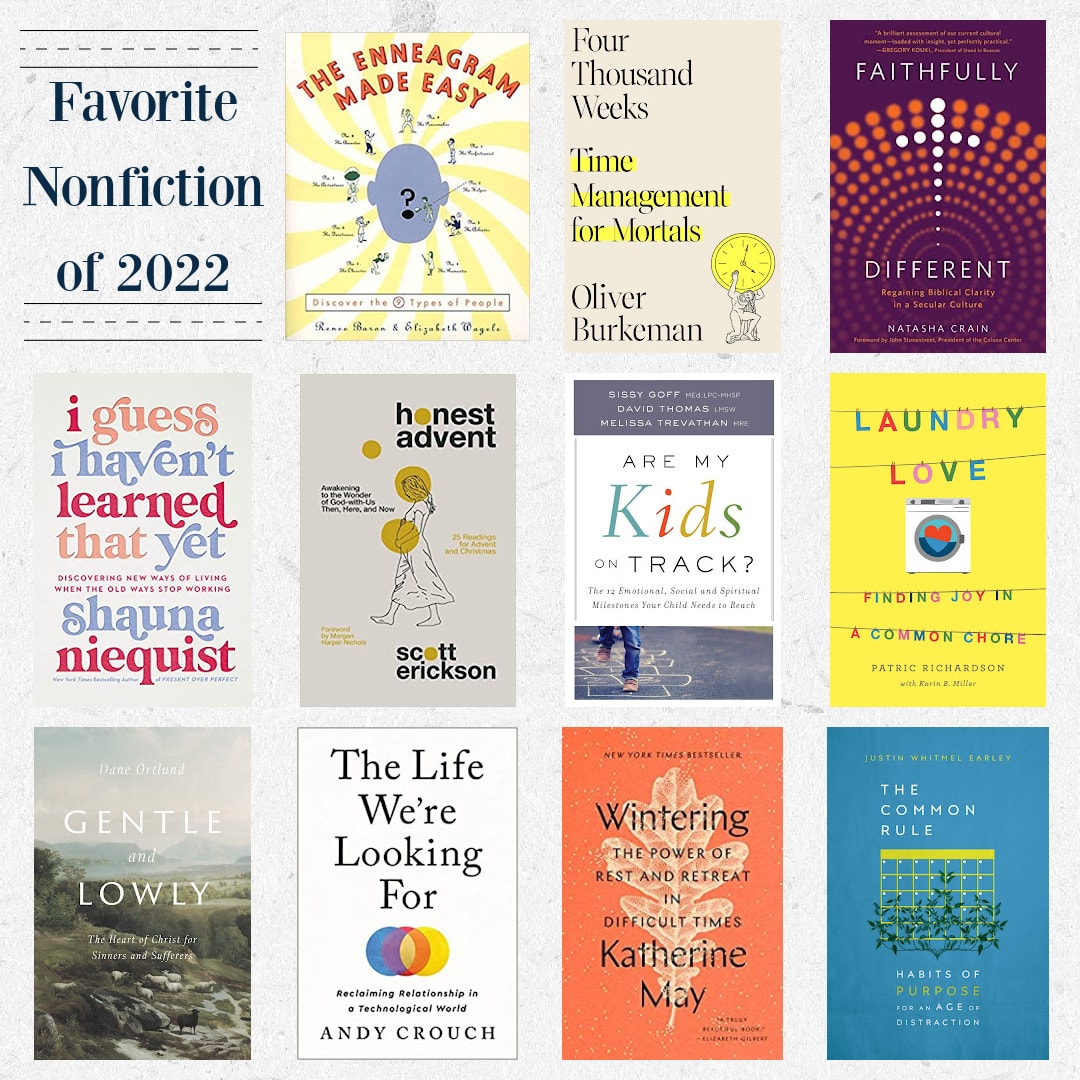 The Enneagram Made Easy, by Renee Baron and Elizabeth Weagle: People regularly ask me where to get started when learning about the Enneagram, and I finally found the answer with this book that offers a fun and simple guide to Enneagram basics and the nine types. With plenty of diagrams and witty illustrations, it is an easy read packed with helpful information. It lives up to its title as EASY and is a fantastic tool for those still looking to determine their type, or those wanting to dig a little deeper into the Enneagram without getting too in the weeds.(Review)
Four Thousand Weeks: Time Management for Mortals, by Oliver Burkeman: I finally understand the hype around this book that is ostensibly about time management but is really a philosophical treatise on our orientation to time, expectations, and the making of a meaningful life. This book offers both the motivation we need to make the most of our time, while also giving permission to set aside some unnecessary burdens we're carrying related to personal purpose and mission. (Review)
Faithfully Different: Regaining Biblical Clarity in a Secular Culture, by Natasha Crain: This apologetics-themed book, written with a Bible-believing Christian audience in mind, puts forth a model for living out our faith with conviction, discernment, and courage. Crain's clear-eyed analysis of secularist ideology was revelatory for me, and I appreciated her thoughtful take on how Christians can begin to believe, think, and act differently from mainstream culture. (Review)
Related Bonus Pick: Another Gospel, by Alissa Childers, was another helpful (and possibly more approachable) book on this topic. (Not Yet Reviewed)
The Life We're Looking For: Reclaiming Relationship in a Technological World, by Andy Crouch: In this insightful and very timely book, Andy Crouch (a theologian and cultural commentator known for his insights into the potential harm of our tech obsessions) provides an analysis of the current relational landscape: what has gone wrong, what needs to change, and where we can look for models of genuine human flourishing. Crouch's Christian perspective builds nicely on the ideas presented in (the secular) Four Thousand Weeks. (Review)
The Common Rule: Habits of Purpose for an Age of Distraction, by Justin Whitmel Earley: A common rule is a community-adopted set of habits a group commits to in order to grow in love of God and neighbor, and in this book a former missionary shares his personal common rule consisting of personal, communal, daily, and weekly habits designed to help the practitioner embrace the good and erase the bad. Earley is an empathetic and humble guide in the spiritual formation process, and I came away from this book with a greater understanding of how to embrace a new set of rhythms in my walk with Jesus. Though appropriate any time of year, this would make an especially great January read for those hoping to get the year with God off to a strong start. (Review)
Honest Advent, by Scott Erickson: This is an Advent book unlike any other: artist Scott Erickson begins with the premise that nostalgia and tradition—both prominent during the Christmas season—can steal from the wonder we long to experience as we celebrate Jesus' birth, because wonder thrives in the absence of traditional narratives. With this in mind, Erickson shakes up traditional ideas about Christmas using evocative imagery and reflections that go beyond the usual pristine Christmas images and themes we're all familiar with. Raw and a little edgy, but incredibly powerful, memorable, and moving. (Review)
Related Bonus Picks: Other Advent books I wholeheartedly recommend are Ruth Chou Simons' Emmanuel (Review) and Unwrapping the Names of Jesus, by Asheritah Ciuciiu (Review). And if you're looking for a Lenten devotional, I can't say enough good things about Tsh Oxenreider's Bitter and Sweet (Review).
Are My Kids on Track? The 12 Emotional, Social, and Spiritual Milestones Your Child Needs to Reach, by Sissy Goff, David Thomas, and Melissa Travathan: This book from three child psychologists provided me with the knowledge and skills I need to help my children develop into confident, courageous, intelligent, and kind adults who live out their faith, appropriately manage their emotions, and interact well with others. This book is practical, relevant, and actionable, and I have pressed it into the hands of nearly every parent I know this year! (Review)
Related Bonus Pick: I also gleaned many helpful parenting tips from Parenting Scripts: When What You're Saying Isn't Working, Say Something New, by Amber Lia and Wende Speake (Review).
Wintering: The Power of Rest and Retreat in Difficult Times, by Katherine May: This reflective memoir about the author's personal winter season (endured across several months of an actual winter) is the perfect winter read—brimming with sights and sounds and feelings of winter, while drawing the reader into the cozy warmth that can be experienced only from within the dark and cold of this season. May's prose is mesmerizing, recounting engaging stories and brilliantly paced observations in philosophical, marvelously poetic language. This would make the perfect gift for someone experiencing a painful time and in need of bookish encouragement without the slightest hint of toxic positivity or shameless melancholia. (Review)
I Guess I Haven't Learned That Yet: Discovering New Ways of Living When the Old Ways Stop Working, by Shauna Niequist:  This poignant essay collection documents a formative time in the Niequist family as Shauna, her husband, and their two sons left their suburban lives in the midwest for urban life in New York City. Shauna's honest take on the experience is refreshing and hopeful, serving as a window into life in the big city and the pain of a public family scandal, and also as mirror to much of my own journey including a transformative move across country, mental health struggles, body image woes, maturing faith, a transformation of identity and perception, and a grappling with one's beliefs. I've loved all of Shauna's books, but I believe this is her best offering yet. (Review)
Gentle and Lowly: The Heart of Christ for Sinners and Sufferers, by Dane Ortlund: This insightful and highly approachable book leads readers beyond sterile doctrines into the very heart from which these doctrines were birthed. . . the heart that is the originator of all . . . the heart that abounds in love . . . the heart of Jesus. Though its premise is simple, its messaging is profound, making it my #1 favorite nonfiction read of 2022 (and probably the only book on this list that I plan to reread cover-to-cover in 2023!). (Review)
Laundry Love: Finding Joy in a Common Chore, by Patric Richardson: I'm as surprised as you are that a book about laundry made it onto my list of favorite books of the year, but it earned its place here: this book that is part memoir, part tutorial, really does manage to make laundry an exciting and even joyful endeavor. The book is chock full of useful laundering advice, and all of these game changing tricks are presented in Richardson's endearing southern style: you'll come for the laundry tips and stay for the tip-giver, I promise. (Review)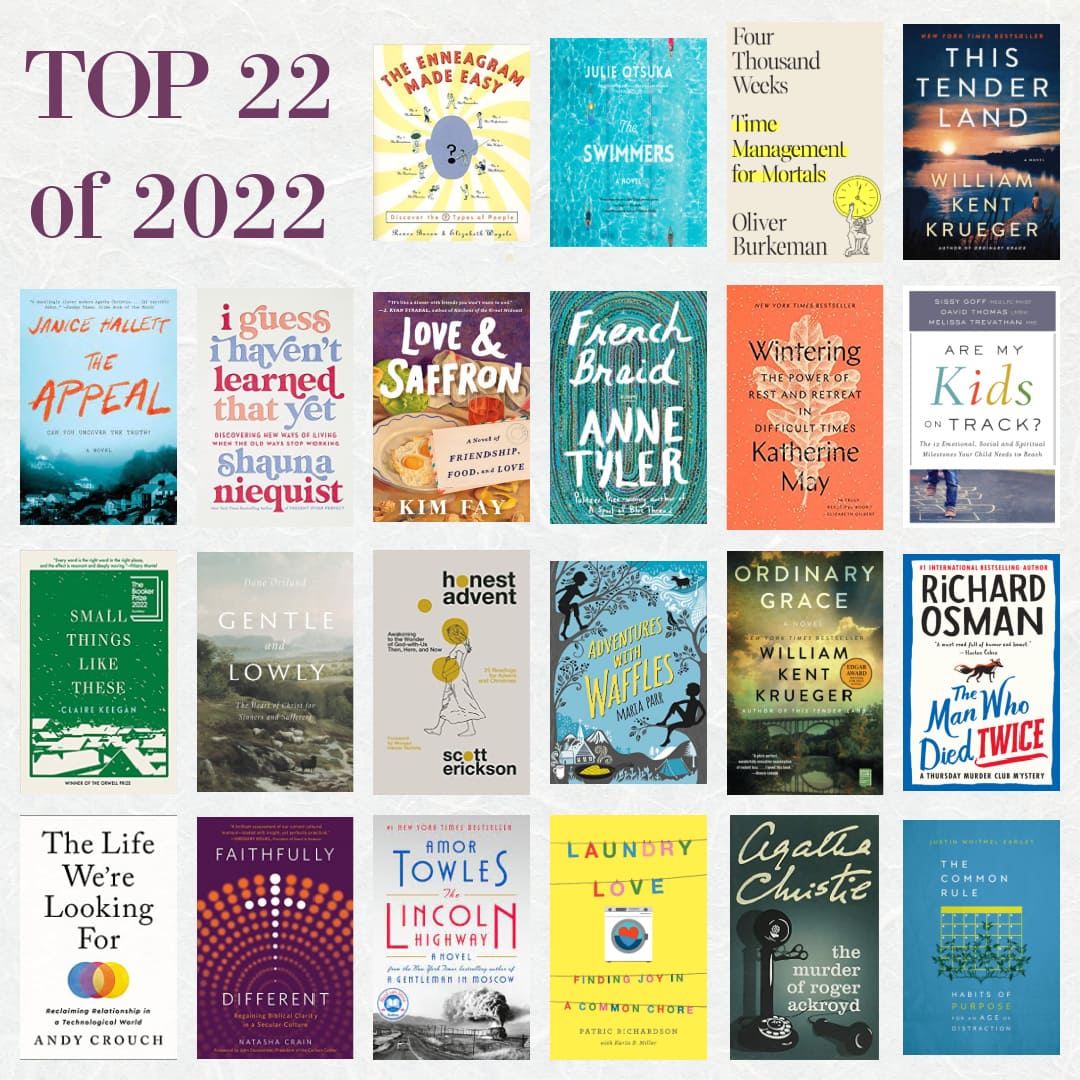 That's a wrap for this 2022 edition of reading favorites, but it won't be the last you'll be hearing about my 2022 reading selections. I have a post in the works (slated for early January) outlining some bookish superlatives from the year—some of which were highlighted in this post, but many that were not—so stay tuned. . . .
I'll close out this post the way I always do by tossing it back to you: what were some highlights (or lowlights) of you reading life in 2022? I'd love to hear all about them!