These past few weeks have been an absolute flurry of busyness, decision-making, and abundant stress-out-moments growing opportunities. I told God that I wanted to be stretched in new ways in 2015, and He is certainly holding up His end of the deal! Just as I was settling into my routine as a new mom, our family has suddenly found ourselves navigating a whole new type of adventure. As I shared a couple of weeks ago, Luke was recently offered a job in San Diego, so we began preparing (physically/emotionally/mentally) to move there at the end of the month.
Well. . . after a few weekends of exploring our housing options in San Diego, and then receiving a counteroffer from Luke's current company, we've decided that San Diego isn't in the cards for us right now. However, we also don't feel that staying in Orange County is currently what's best for our family, so we are continuing to consider our options and looking to make an out-of-state move in the near future. These decisions and opportunities have been exciting but overwhelming, and I've been thankful for the mental diversions that have given me an emotional reprieve amidst the weightiness of life right now. So, shifting to the lighter side of things, here's what's been on my radar this month.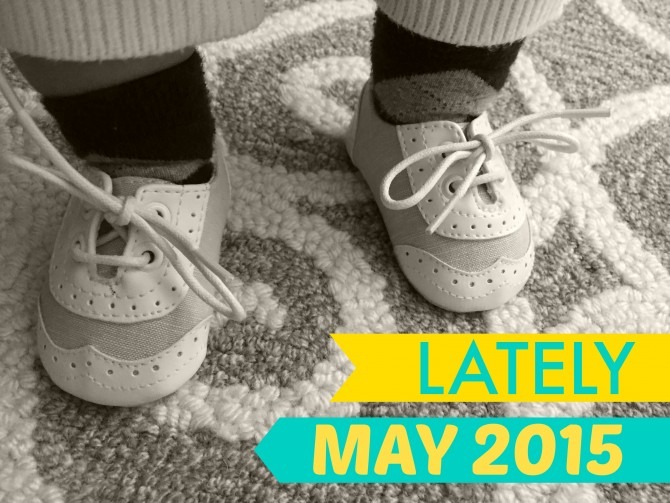 On My Kindle . . .
The Handmaid's Tale, by Margaret Atwood: When I included this dystopian classic on my list of Reading Resolutions for 2015, I knew it was unlikely to become a favorite, but as one of the most widely read novels of this generation, I felt it was a book I probably should become familiar with. Set in the not-too-distant future, the novel is a frightening portrayal of a theocratic dictatorship, told from the perspective of a woman being kept as a "birth vessel" by members of the ruling class. I'm taking my time with this book, giving the disturbing themes and psychological complexities some time to marinate. (And because I'm an absolute nerd, I'm reading the SparkNotes commentary as I go along in order to "enrich" my reading experience.) Though I find myself loathing the storyline, I have been captivated by the poetic language and literary nuances, and I can understand why this book has become a paramount of dystopian literature. My Rating (so far): 4 stars.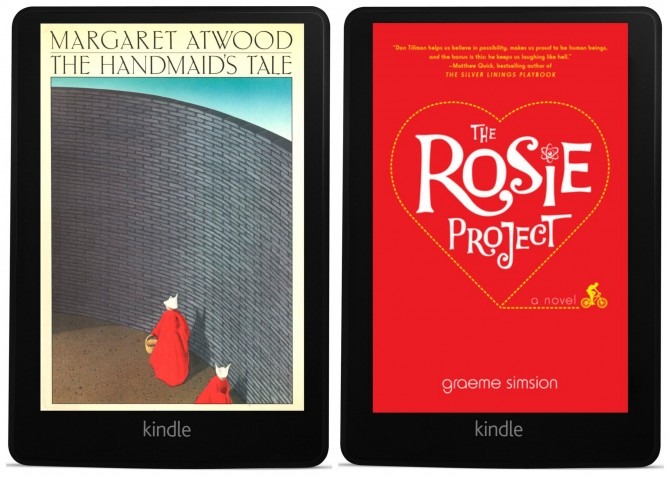 The Rosie Project, by Graeme Simsion: Though I generally steer clear of romantic comedies (in books, at least), a number of rave reviews from some of my favorite readers inspired me to include this book on my list of books to read this year, and I'm so glad that I did. The protagonist, Don, is an offbeat genetics professor who—though he is unaware of it himself—is clearly on the autism spectrum. When Don determines that it's time to begin considering marriage, he embarks on the highly systematic "Wife Project" to help him find a suitable spouse. But when he meets a free-spirited bartender named Rosie, he abandons his personal project to help her find her biological father. Their search takes them from their home in Australia to New York City, and soon Don finds himself experiencing something he'd never expected to encounter: love. This is a quick and endearing read, with some surprising twists and psychological insights. I immediately fell in love with Don's idiosyncratic mannerisms and enjoyed experiencing the story through the lens of a non-traditional leading man. My Rating: 4.5 stars.
In My Ears. . .
The Rosie Effect, by Graeme Simion:  After reading and loving The Rosie Project, I couldn't wait to read The Rosie Effect; sadly, it did not live up to my high expectations. The Rosie Effect picks up where The Rosie Project left off: Don and Rosie are happily married and living in New York city when they are presented with their biggest challenge yet—Rosie is pregnant! Having just gone through a pregnancy myself, I of course loved this aspect of the plot, and as with The Rosie Project, Don's quirky personality and unconventional narration are a highlight of this book. However, the supporting characters are rather lackluster, and I was disappointed by Rosie's absence from a majority of the novel. The Rosie Effect also lacks the riveting storyline of its predecessor, and though this book does have its humorous moments, many of the jokes that sparkled in The Rosie Project feel a bit stale and even uncomfortable the second time around. My Rating: 3 stars.
Heat Wave, by Richard Castle: Nikki Heat is an NYPD Homicide Detective who is investigating the death of a real estate tycoon with the assistance of a Jameson Rook, a ride-along journalist-turned-love interest. Prior to listening, I was unaware of the book's TV tie-in (it's "written" by the title character of the show Castle). Heat Wave offers exactly what you would expect from a book written to promote a television series: entertaining, but far from high literature. The story is shallow, as are the characters. I have a feeling I would have appreciated this book more if I were a fan of the show. My Rating: 3 stars.
Fairest: The Lunar Chronicles: Levana's Story, by Marissa Meyer: This latest installment of The Lunar Chronicles is a prequel to the rest of the series and tells the story of the evil Queen Levana. Though Fairest lacks the plot development of the other books, I enjoyed getting a glimpse into this intriguing villain's mind and motivations. Meyer does an excellent job of helping her readers understand Levana without making her overly sympathetic (she IS the series' antagonist, after all). This was my least favorite Lunar Chronicles book, but it succeeds in adding depth to the series and has me excited to read the final installment. My Rating: 3.5 stars.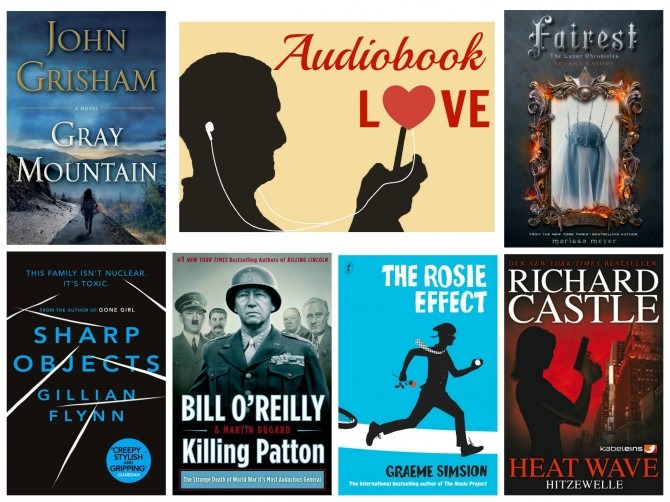 Sharp Objects, by Gillian Flynn: Having now read all three of Gillian Flynn's books, I can unequivocally attest to Flynn's mastery of the deeply disturbing psychological thriller. As with her other two novels, the pages of Sharp Objects bleed insanity, viciousness, and undiluted evil. The novel follows Camille Preaker, a mentally unstable Chicago reporter who returns to her hometown to cover the murders of two preteen girls. Camille's reporting leads to a reunion with her neurotic mother and malicious half sister, and Camille is forced to unearth her personal demons as the investigation lands uncomfortably close to her own home. Though indescribably dark, Flynn's writing is brilliant; however, the depths of human depravity explored in this novel make it far less appealing than her subsequent books. My Rating: 3 stars.
Killing Patton, by Bill O'Reilly and Martin Dugard: I debated whether or not to read this book: I enjoyed Killing Kennedy, but I generally don't care for war-themed books and couldn't even bring myself to finish Killing Lincoln. However, I was intrigued by the book's premise that General Patton's death might not have been all that it seemed—I do love a good conspiracy theory!—so I decided to give this one a shot. The book covers the final year of Patton's life, but it is more of a historical overview of the players in World War II than a study of Patton's life and death. I was fascinated by the book's insights into the lives of FDR, Hitler, and many key historical figures, but did not enjoy slogging through descriptions of battles and military tactics to get to these biographical vignettes, nor did I see how they related to Patton's killing. I was highly disappointed by the lack of evidence for any suspicious activity surrounding Patton's death (which occupies a very small portion of the book). I also found myself growing annoyed with the artificially suspenseful tone—I know this is a trademark of O'Reilly's Killing series, but after four books it gets a bit old. Ultimately, this book has some highly intriguing moments, but is better suited for War Buffs and for those willing to accept that the "Killing Patton" title is a bit misleading. My Rating: 3 stars.
Gray Mountain, by John Grisham: It's 2008 and as the economy begins to plummet, Samantha Kofer's promising career in cooperate law is suddenly derailed when she becomes a victim of her law firm's downsizing efforts. Samantha relocates to a rural Virginia town where she discovers a whole new level of legal work and is immersed in the dangerous world of coal mining. On the surface, this novel appears to have it all: a likable protagonist, a relevant ecological topic, a mysterious death, and even a touch of romance, but Grisham seems to have forgotten to incorporate an actual storyline in his efforts to adequately demonized the strip mining industry. In the past I've enjoyed John Grisham's legal thrillers and even some of his slower-paced novels, and while Gray Mountain wasn't a horrible read, it does have me questioning Grisham's status as one of my favorite authors. My Rating: 3 stars.
And. . . I just realized I gave 3 stars to every one of the audiobooks I listened to this month. I think I'm in a bit of a listening rut.
Courtesy of Redbox and Netflix. . .
Chuck: Our binge-watch of the month is a show that I'd been reluctant to watch, and for a silly reason: I was biased against the show's name! However, this clever comedy/spy-drama has won me over. The story centers around an average computer whiz who inadvertently finds himself acting as an undercover spy when his brain is downloaded with critical government secrets. The episodes are exciting, without being too action-heavy, and there is plenty of character development, witty dialogue, and subtle romance to keep me interested. My Rating (so far): 4 stars.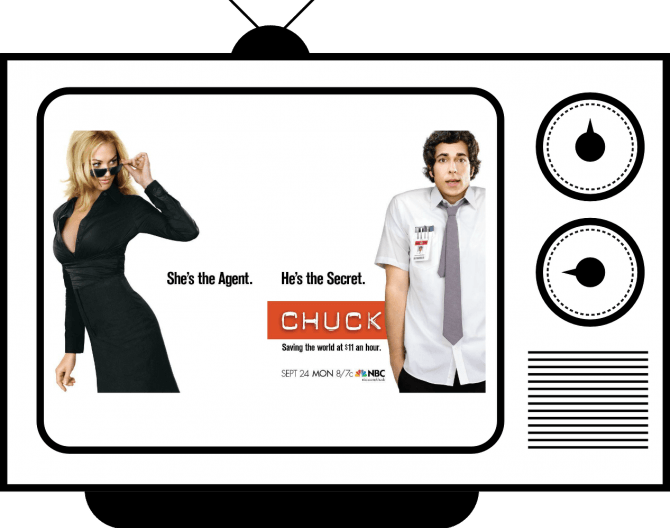 Interstellar: If I had one word to describe this film, it would be "ambitious." Interstellar attempts to transcend barriers of genre, cinematography and even science, and for the most part, it succeeds. This science fiction(ish) film features a futuristic Earth in which a Dust Bowl is threatening to render the planet uninhabitable. Matthew McConaughey is a widowed father of two who travels with a team of researches through a wormhole in search of a more hospitable planet. This is a surprisingly cerebral film with complex themes, intriguing ethical issues, and thought-provoking bits of dialogue. Some of the futuristic cinematography was was a bit much for me, and a lot of the scientific explanations went over my head, but I was very impressed with the film's production and found it enjoyable overall. I particularly liked Matthew McConaughey in his role and I've come to respect him more and more as an actor with each new film that he's been in of late. My Rating: 4 stars.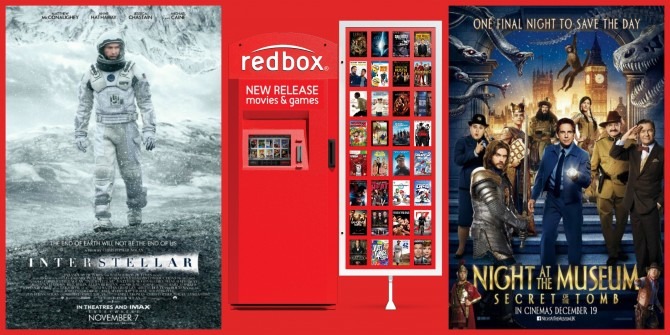 Night at the Museum: Secret of the Tomb: This one was definitely a Luke pick, mostly because I didn't remember much of the first two movies. (I felt like I spent a majority of this film trying to remember what had happened previously in the series.) In this third installment of the Museum series, night watchman Larry Daley and his assortment of buddies travel to London in an attempt to save the magic that brings the museum's inhabitants to life. Though it's pretty cheesy, Secret of the Tomb has a fun vibe, and I loved seeing so many famous faces: Rebel Wilson was a particularly great addition, as was the unexpected cameo from Hugh Jackman. There are a few sections of very clever dialogue, and the movie seemed to be a fitting conclusion to the trilogy (again, from what I remember of it. . .).  I did find the conclusion very sad, particularly knowing that this was the final film appearance of Robin Williams. My Rating: 3.5 stars.
Enjoying This Month. . .
My First Mother's Day: After years of wondering if and when I would ever have kids of my own, it was such a wonderful feeling to celebrate my first Mother's Day as a mom. Despite a crazy weekend, Charlie gifted me with plenty of smiles on my special day and Luke spoiled me with gifts: a gift certificate for a massage (between holding Charlie during feedings and wearing him whenever we're out, the promise of some back relief has never seemed so appealing!) and a beautiful necklace with Charlie's birthstone (the garnet). I am one blessed mama!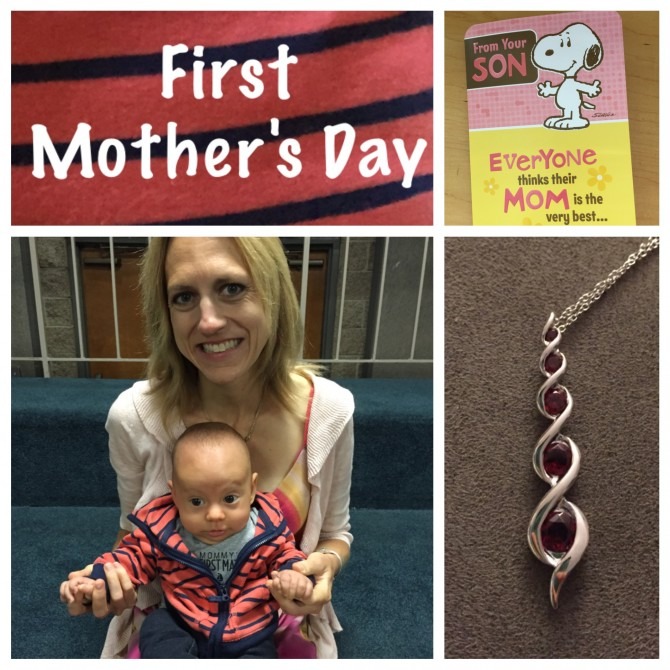 Having a Crafty Mother-in-Law: And by crafty, I mean good at crafts! Grace is seriously talented with a sewing machine: she made Charlie's bed skirt out of a curtain panel, fashioned an awesome Dr. Seuss-themed nursing cover for me, and made Charlie some adorable quilts. I love that she embroidered the image of Charlie's birth announcement onto the back of one the quilts—so clever!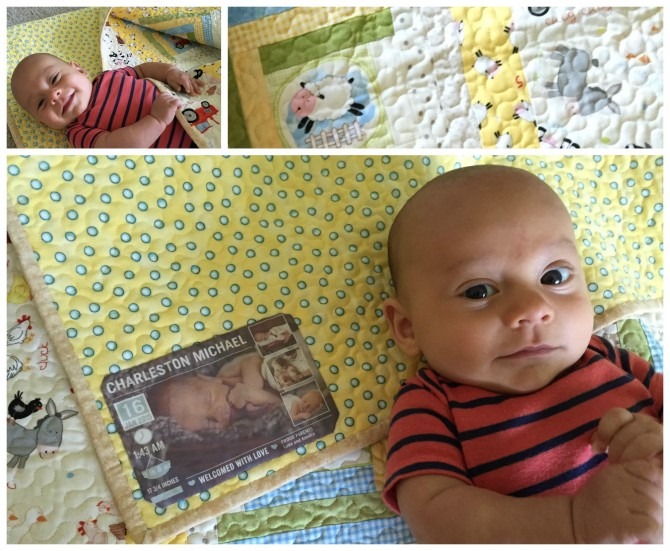 Brushing My Teeth: Our dentist has been pushing us to go electric for years, so when the Philips Sonicare two-pack went on sale at Costco I picked them up. What a difference a battery makes! Though it took a bit of getting used to at first, I've fallen in love. We've been using these toothbrushes for a couple of months now, and my teeth feel amazing. For the first time in my life, my teeth weren't feeling grimy by the time I headed to my six-month dental cleaning, and my hygienist said she could definitely notice the difference. My only regret is that we waited this long to go the electric route!

Walks, Talks, and General Life-Living With the Most Amazing Husband: These last few weeks have involved lots of loooong walks and talks as Luke and I have spent time evaluating our future and making some of the biggest decisions of our marriage.  It's been a month for the books, but I'm thankful to be navigating the craziness alongside a level-headed, patient, and understanding husband who values my opinions and has Charlie's and my best interests in mind. When I married Luke, I knew that he would be a good husband and father, but he has exceeded my greatest expectations. Wherever we end up, I know we'll be okay because we have each other and that's what matters.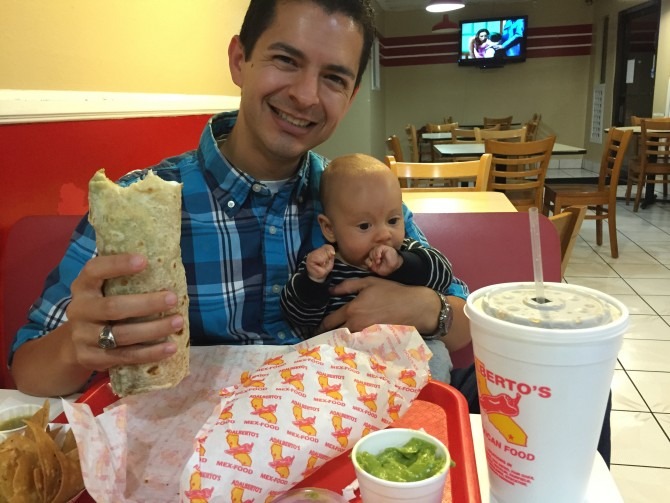 I'm linking up with Leigh Kraemer to share what we're into this May. Check out her blog to see what she and others from around the blogosphere have been digging lately. And as always, leave me a comment to let me know what you've been up to lately!