At the start of the year, I proclaimed that the word "Open" would serve as my mantra for 2015. My hope was that this word would act as an overarching theme for my year, reminding me to stay flexible and receptive to whatever adventures lay in store for me as I crossed the threshold into parenthood.
This ambitious goal was put to the test almost immediately when Charlie's early arrival provided me with a plethora of opportunities to exercise my capacity for handling the unexpected. Those opportunities have continued to flow my way—more than I could possibly have predicted when I claimed "Open" as my word just four short months ago.
This past week, Luke and I remained faithful to this attitude of receptiveness when we committed to embark on a whole new journey: Luke has accepted a job in San Diego, and we will be moving down that way within the next few weeks. Having never lived outside of Orange County, this will be a very new experience for me, and though I believe it is what is best for our family, it will undoubtedly be challenging. We are moving further from family and friends, away from a church that we love, and out of the condo that has served as Charlie's very first home. Apart from the growing pains that will accompany this fresh start, I'm sure the move itself will be tough; I've never liked the process of moving—who does?!—and can only imagine how much more difficult it will be when there's an infant thrown into the mix!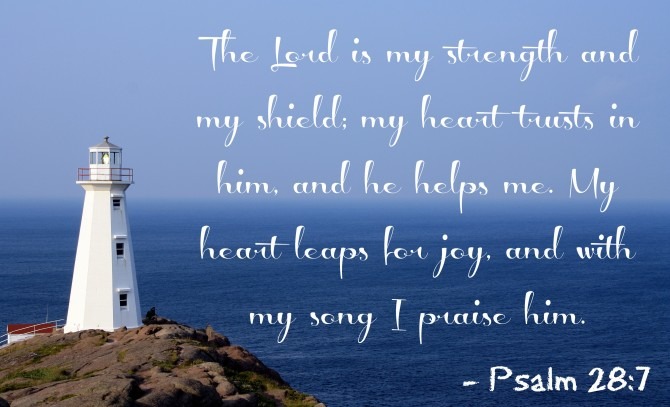 April's verse (Joshua 1:9) has provided tremendous comfort amidst my anxieties about this new endeavor, and I am immensely thankful for that reminder that the Lord will be with me wherever I go. . . all the way down to San Diego! The verse I selected for May is continuing with the theme of trusting God and relying fully on Him. Psalm 28:7 will also remind me of my decision to focus on having a joyful heart throughout this move. When I grow overwhelmed by the process of looking for a new home and packing up boxes, I can remember that Christ is the source of my joy. Rather than grumbling about petty inconveniences, I will praise Him for this incredible opportunity and for this new adventure that awaits us!
***As a side note, I'm sure that this move will be consuming a great deal of my time in the coming weeks. So, if my posting here is a bit sporadic for a while, you will know why!***